Last updated on August 24th, 2022
Gleaming gold foil, crimson letterpress, and vibrant seasonal patterns strung up and bringing holiday well wishes have become a quintessential part of any holiday décor. With the vast array of beautiful designs and paper options on the market, selecting the perfect holiday card to connect with friends and family warrants more consideration than ever before. From traditional to modern styles, there is something for everyone to enjoy. Here is a quick guide to the latest styles, trends, and available services from Bella Figura's holiday collection to help you capture the joy and celebratory spirit of the season.
Start by selecting your style.
Traditional
The most traditional styles keep to a simple, meaningful message. Typically, they display an elegant border or just include classic script typography. It's a no-muss, no-fuss holiday greeting that remains timeless each year. The perfect complement to your simple yet luxurious style.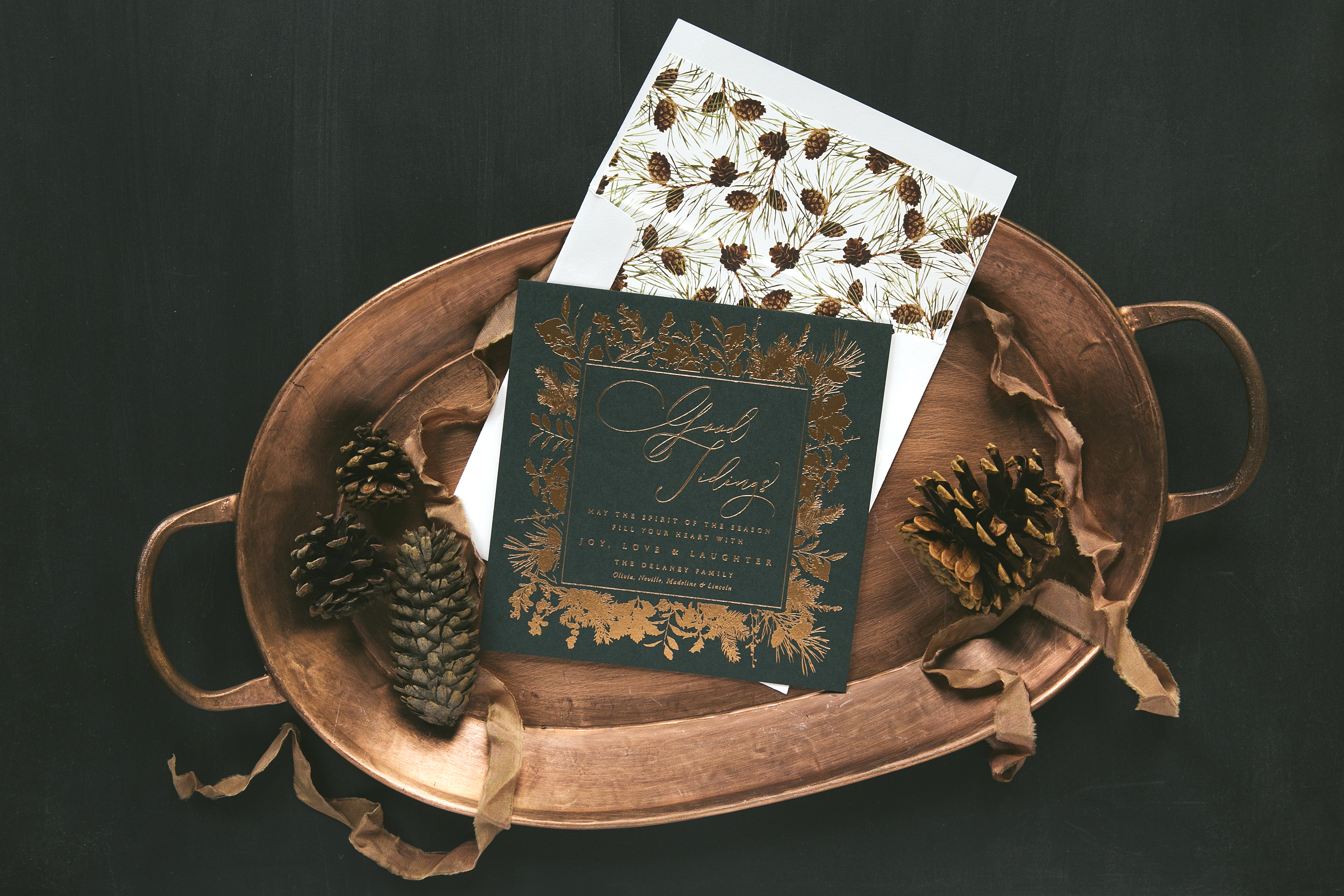 Modern
Modern holiday designs have a more playful and fresh vibe. These designs may feature geometric or organic patterns, graphic typography, and even non-traditional pops of color. If you are looking for a card that reflects your carefree spirit, this could be the one.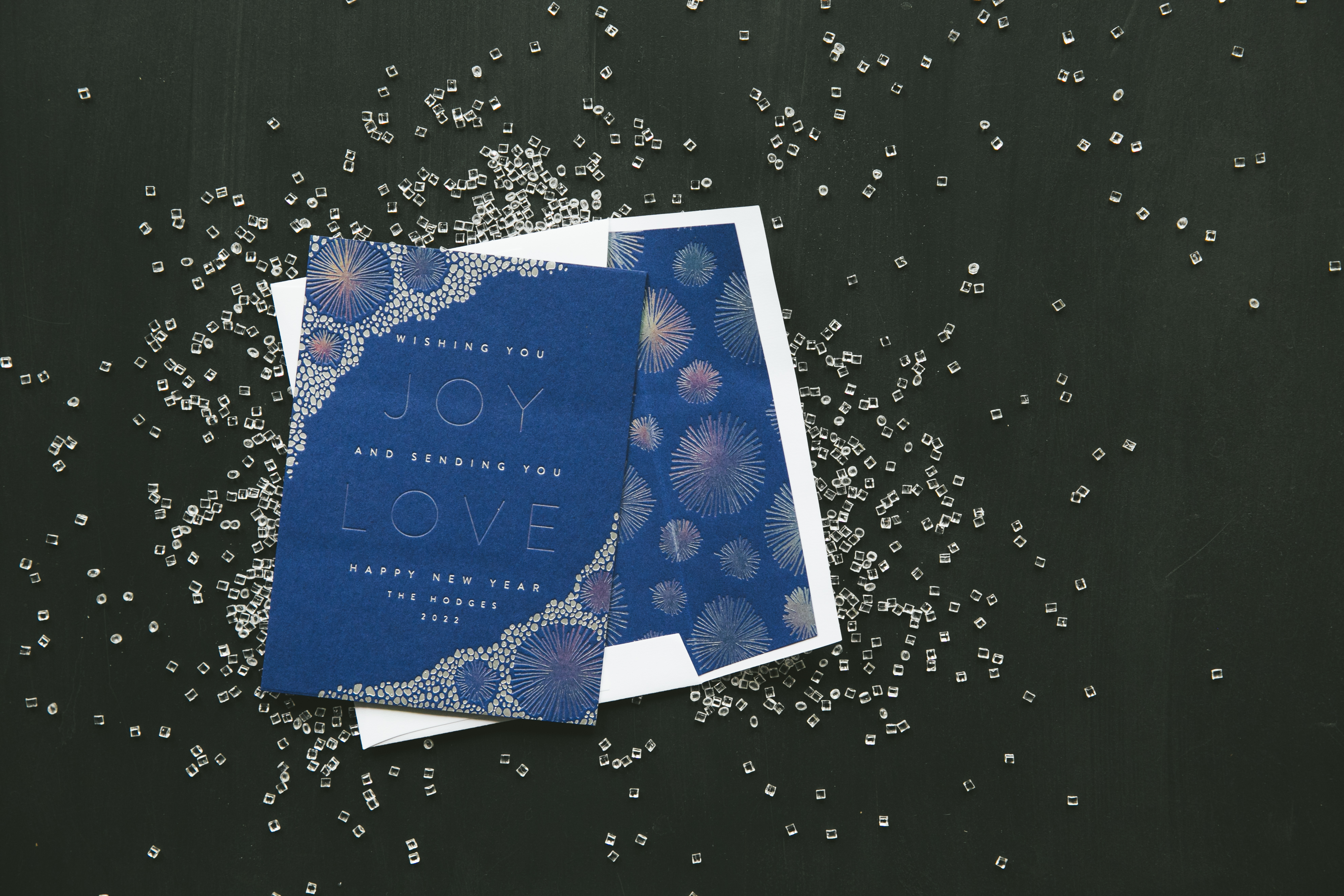 Family Focused
Cherish family moments and include a favorite photo into your season's greetings. Each year Bella Figura sees holiday cards featuring family photos – this is a great way to personalize your beautifully designed mementos.
Then, consider the trends.
Bold Colors
The use of colored paper has become increasingly popular over the past year. There's something about shimmering foil stamped into a rich colored background that appeals to the senses. Think of colors like deep red or forest green paired with a warmer foil color like bronze rather than a traditional gold.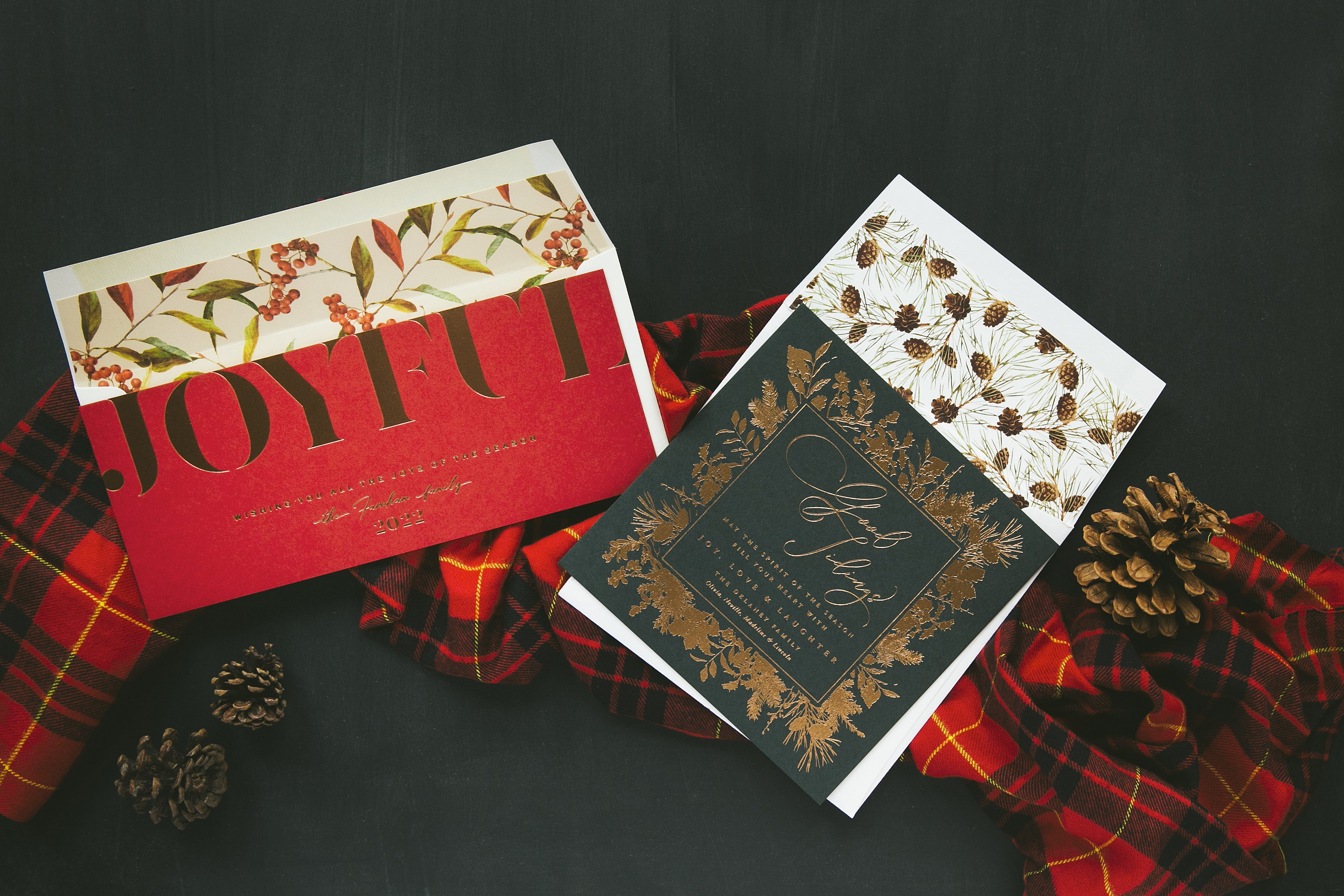 Typography & Patterns
Bella Figura is seeing bolder typography designs paired with vintage print patterns used for the envelope liner. These prints add a softer, more traditional aesthetic to an otherwise modern design direction.
Bright Foils
Holographic foil on bright white paper has been another favorite show-stopper that spreads New Years cheer in a bold and refreshing way.
This year, show your family and friends how much you appreciate them with an artistically created message. Whether a professional designer places intricate artwork across parchment or you personally send out a holiday note, it is an opportunity to spread cheer to loved ones with a heartfelt token. Bella Figura's design and coordination team are happy to help any holiday vision and personalized stamp design come to life with a one-on-one consultation. Send out beautiful mementos without hassle as they also offer a complete assembly and mailing service.
(Photography by Amelia Beamish.)
Bella Figura, a Central New York printer who makes unique wedding invitations with over 300 designs, and who offers one of the largest collections of letterpress wedding invitations anywhere in the world, contributed to this story. Thank you card photos courtesy of Bella Figura.