Last updated on August 31st, 2022
Let's face it. The laundry room is probably not your favorite place to spend time in your new home. However, by making this space as stylish and organized as possible, this everyday task can feel a little less like a chore. Here are some creative ways to design your laundry room so that it is as inviting and functional as the rest of your home.
Design and Color Choices
A well-designed home, like the ones featured here in Toll Brothers communities across the country, includes a spacious and convenient laundry room built into the floor plan design. The next step is to select the color palette. In order to pick the right pop of color or even a monochromatic white scheme, as seen below, you need to decide if you want to continue the flow of color from the rest of your home or give this space its own personality. Test out any color you want with the ColorSnap Studio for iPad. Just download this handy Sherwin-Williams tool, take a picture of your room, and then define an area to paint.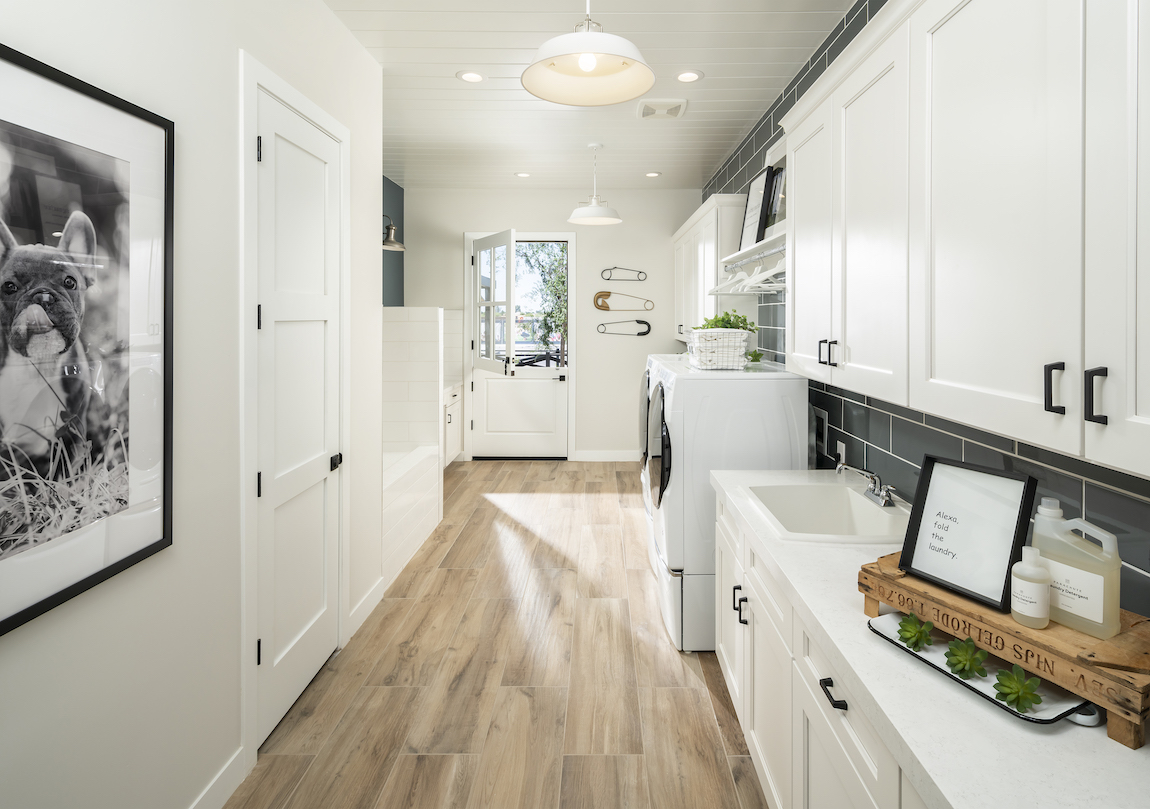 Storage and Organization Ideas
Organization is key to a functional and stylish laundry room. Try some of these storage and organization ideas in your space:
Add a tall shelving unit with bins labeled for each family member or by garment color to keep laundry organized.
Use recessed open shelving for quick access to laundry supplies.
Hang an ironing board on a wall or on the back of the door for easy access.
Incorporate ample cabinetry to hold cleaning supplies, linens, and other necessities.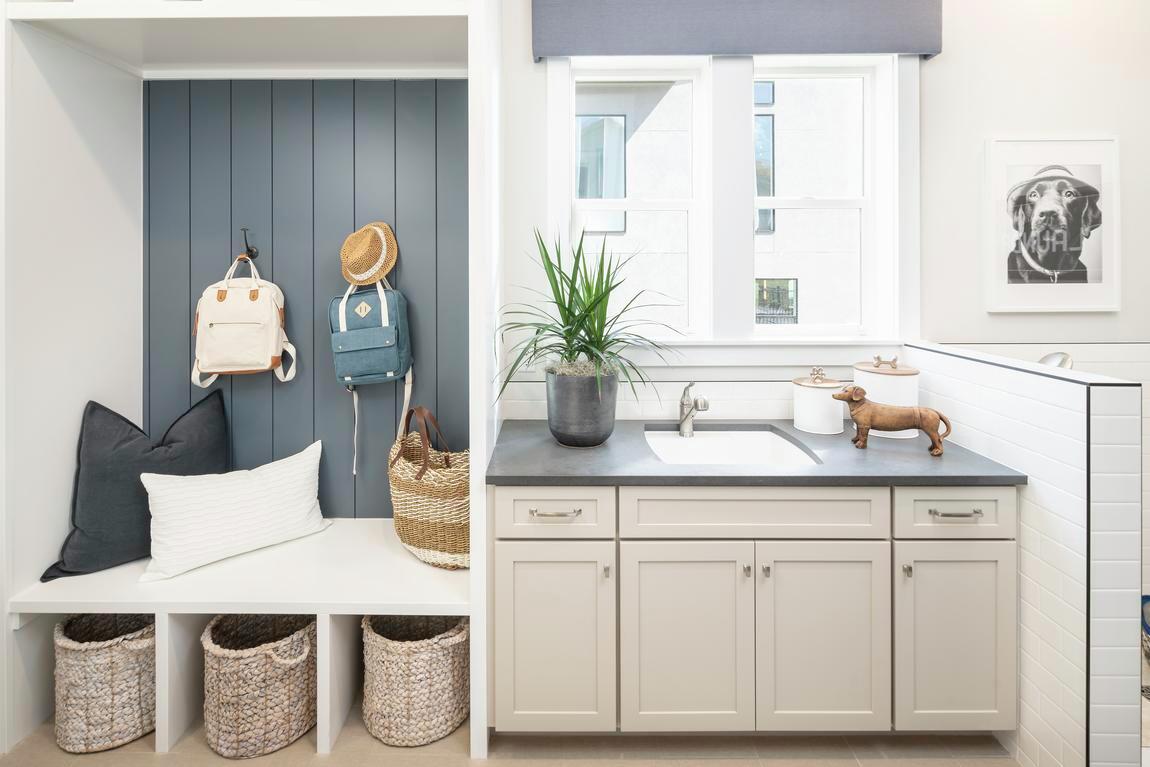 Decor and More
Accessories are a wonderful way to personalize your laundry room space. One unexpected option is an area rug. From geometric, floral, or southwestern to stripes and abstracts, there are endless opportunities when it comes to selecting the perfect rug to complement your design. To complete your laundry "look," find some fun, laundry-themed décor to adorn the walls, fill apothecary jars with detergent and other small necessities, and use stylish canvas and wicker baskets for holding bigger items.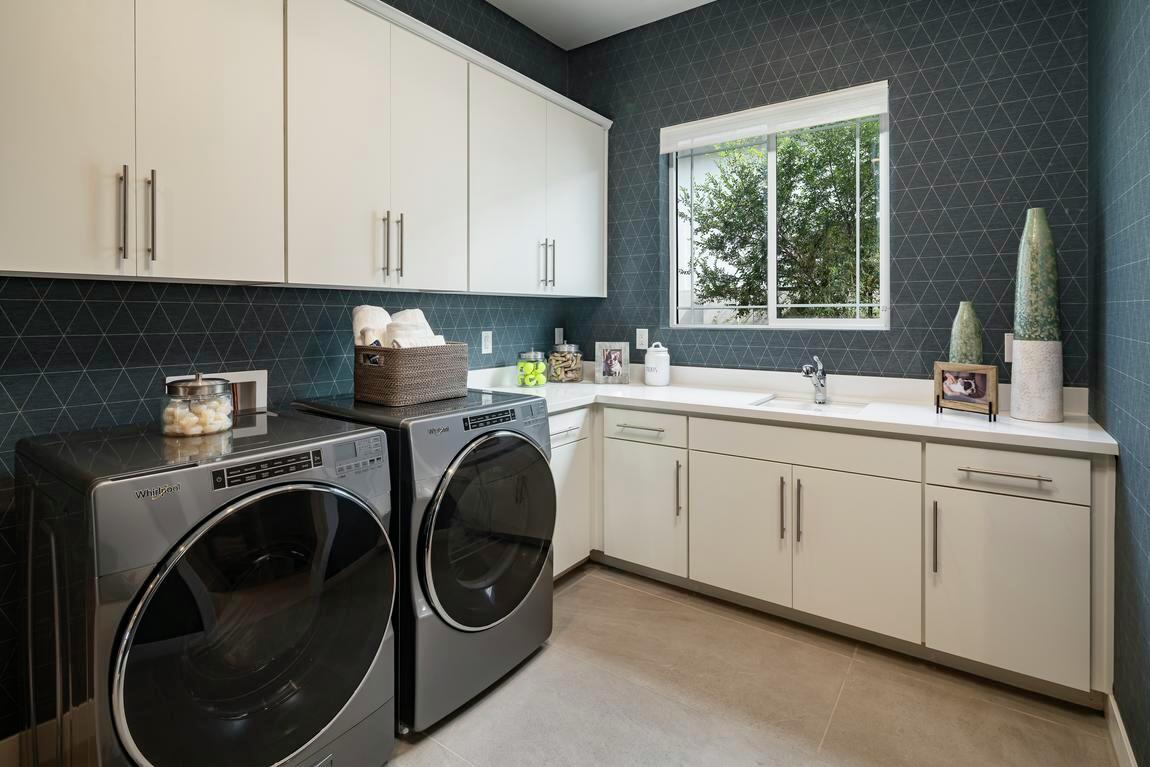 Having a beautiful, well-organized laundry room makes a big difference in the way it makes you feel. By following the above suggestions, your laundry may even become – dare we say – enjoyable!
For more inspiration to make every room of your home beautiful, check out our website.
Toll Brothers design options vary by market, community and home design across the country. For more information regarding design options offered in a specific Toll Brothers community or home, please visit our website or reach out to one of our Online Sales Consultants.