Last updated on August 24th, 2022
The kitchen is more than a place to prepare a meal—it's the heart of our living space. Once confined to the indoors, the kitchen has made its way outdoors in many homes and quickly become a favorite gathering spot. An outdoor kitchen is perfect for entertaining and can even increase the value of your home. When envisioning an outdoor kitchen of your own, keep these essential considerations in mind, including tips on functionality, aesthetic, and equipment.
Outdoor Kitchen Design with a Purpose
There are many types and sizes of outdoor kitchens. To determine what's best for you, start by thinking through the use of your new addition. If you are primarily cooking for family or small gatherings, you may not need as much space and seating as you would if you regularly host large parties. If children are a mainstay, items like a pizza oven are a must, while an outdoor bar is always welcome when entertaining adults. Those planning to use their kitchen on a regular basis will want to consider a roof to protect the space from the rain, along with equipment—like a refrigerator, sink and trash receptacle—that makes it as convenient to cook outdoors as it is indoors.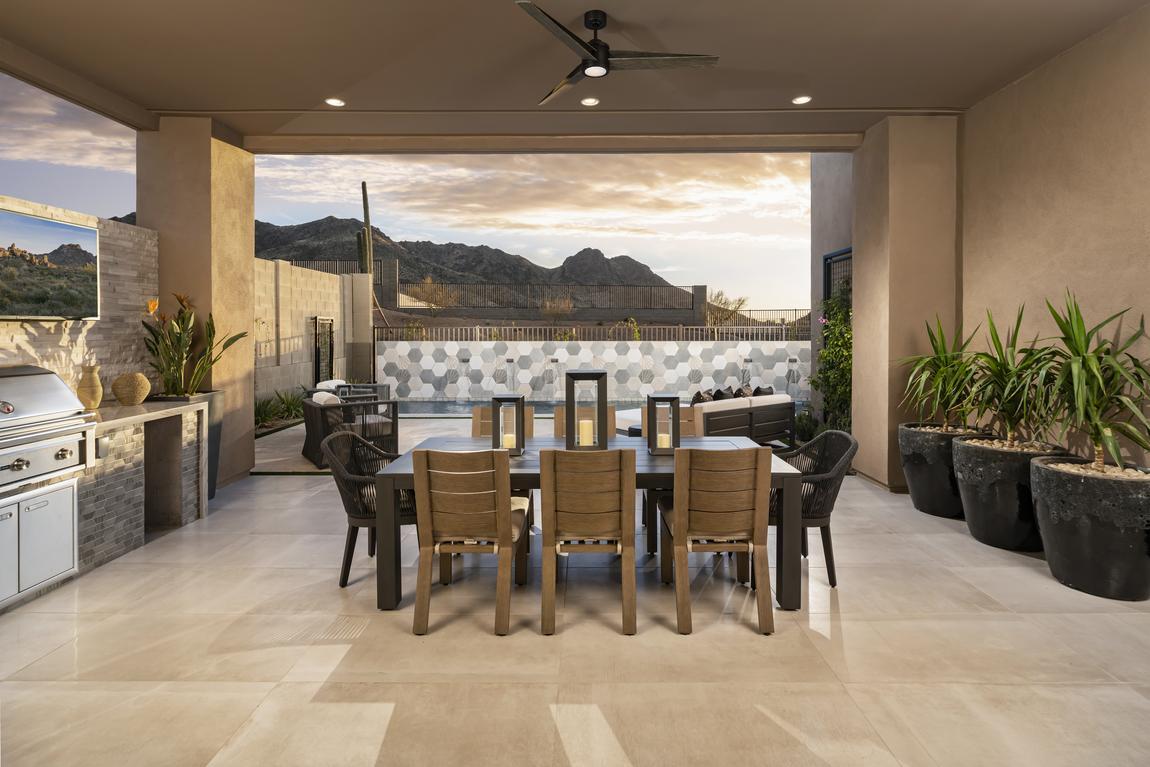 Outdoor Equipment Must-Haves
Once you've defined your allotted space and the purpose of your kitchen, you can outline your essential equipment needs and wish list. When it comes to appliances, invest in outdoor-rated stainless steel or ceramic equipment, which holds up best in all weather conditions. While a grill is usually the center of attention in an outdoor kitchen, a built-in smoker, flat-top, power-burner, and warming drawers also come in handy, especially if you're entertaining. Before adding any items, consider the gas, electric, and waterline implications you will need to accommodate each piece. Also, make sure you leave plenty of room for counter space.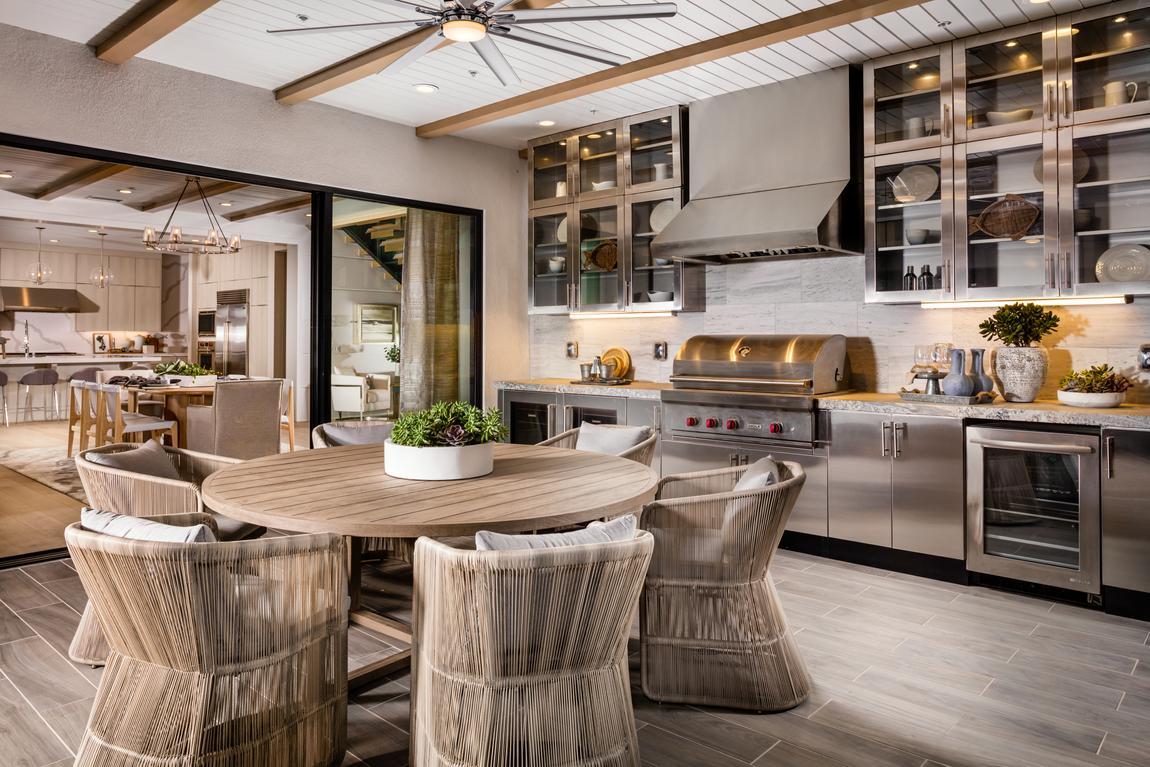 Layout Design Ideas
Your kitchen should fit seamlessly into your outdoor living space. Based on the amount of equipment you plan to install, this can sometimes be a challenge. An open layout, like an L-shaped design, helps to maintain the flow of the area and can accommodate a number of styles, from modern to traditional. The look you choose should complement the exterior of your home and coordinate in color with the interior to create a cohesive aesthetic. One of the best ways to accomplish this is through your choice of countertop. At the top of today's trends is concrete, which has a clean, contemporary look. The most durable options are natural stone and tile, both of which come in numerous colors and styles. Chairs, lighting, and decorative objects complete your space and make your outdoor kitchen a place to enjoy, relax, and entertain.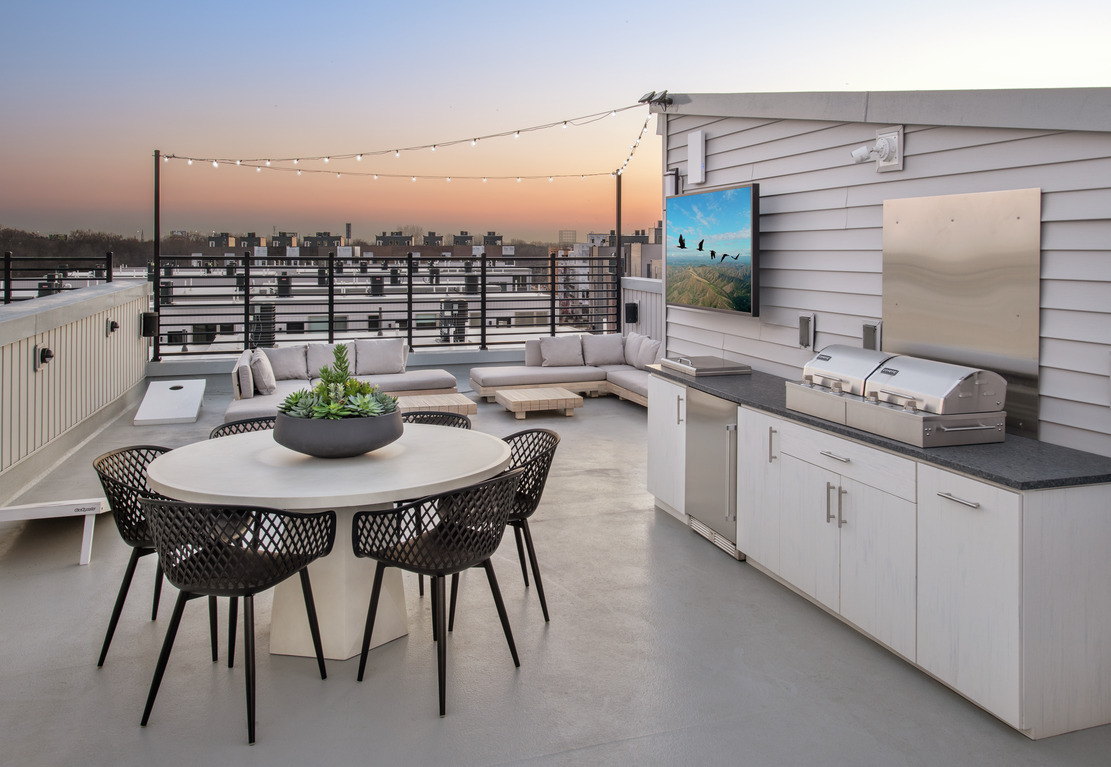 For more inspiration, check out our 25 Luxury Kitchen Ideas and find your new obsession.
Toll Brothers design options vary by market, community and home design across the country. For more information regarding design options offered in a specific Toll Brothers community or home, please visit our website or reach out to one of our Online Sales Consultants.