Last updated on August 24th, 2022
Experience swoon-worthy, chef-inspired kitchens and discover a world of culinary and entertaining possibilities. Indulge in cascading waterfall-edge countertops, elaborate statement fixtures, and natural light-filled spaces. Let your mind wander to intricate cabinetry, open floor plans, and designer fixtures and to bring your dream kitchen to life.
Check out our twenty-five luxury kitchen ideas and expansive culinary spaces and if you're looking for more obsession-worthy spaces, explore our list of stunning bathrooms.
1. Double Kitchen Island
The beauty and structural details exhibited in this space are perfection! The color palette is clean and modern, and the dual island lends itself perfectly to hosting large gatherings.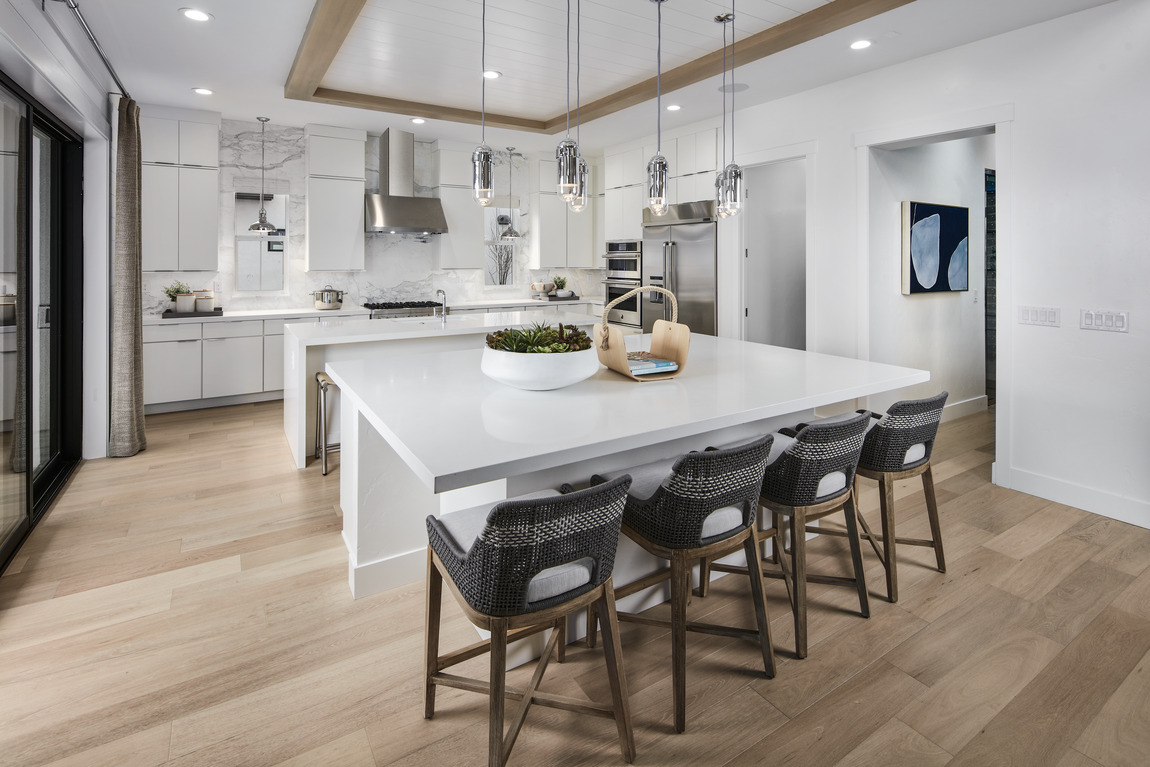 2. Pop of Color in Kitchen Decor
The bold blue island gives this kitchen such unique style and character. This is a modern, one of a kind look that will not be easily forgotten.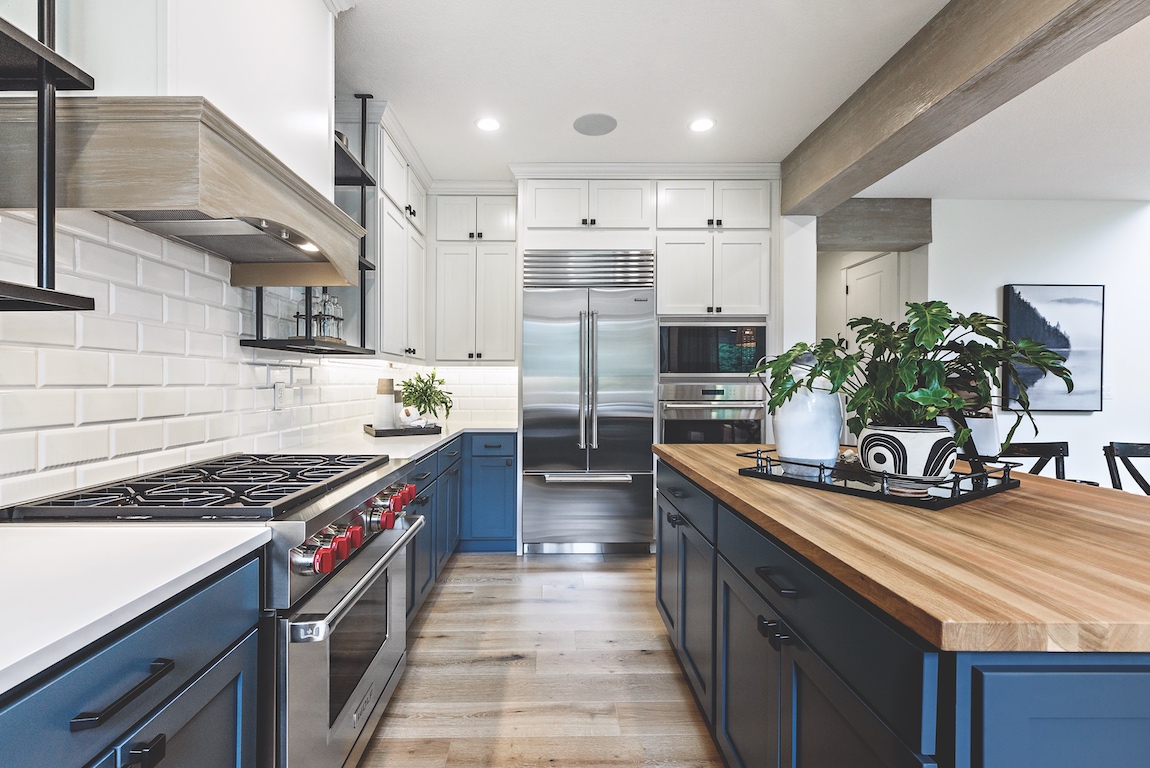 3. Seamless Transition from the Kitchen to the Outdoors
Outdoor living spaces are becoming more and more popular. This stunning example of luxury combined with comfort while bringing the outdoors in is perfected by keeping the colors simple and understated.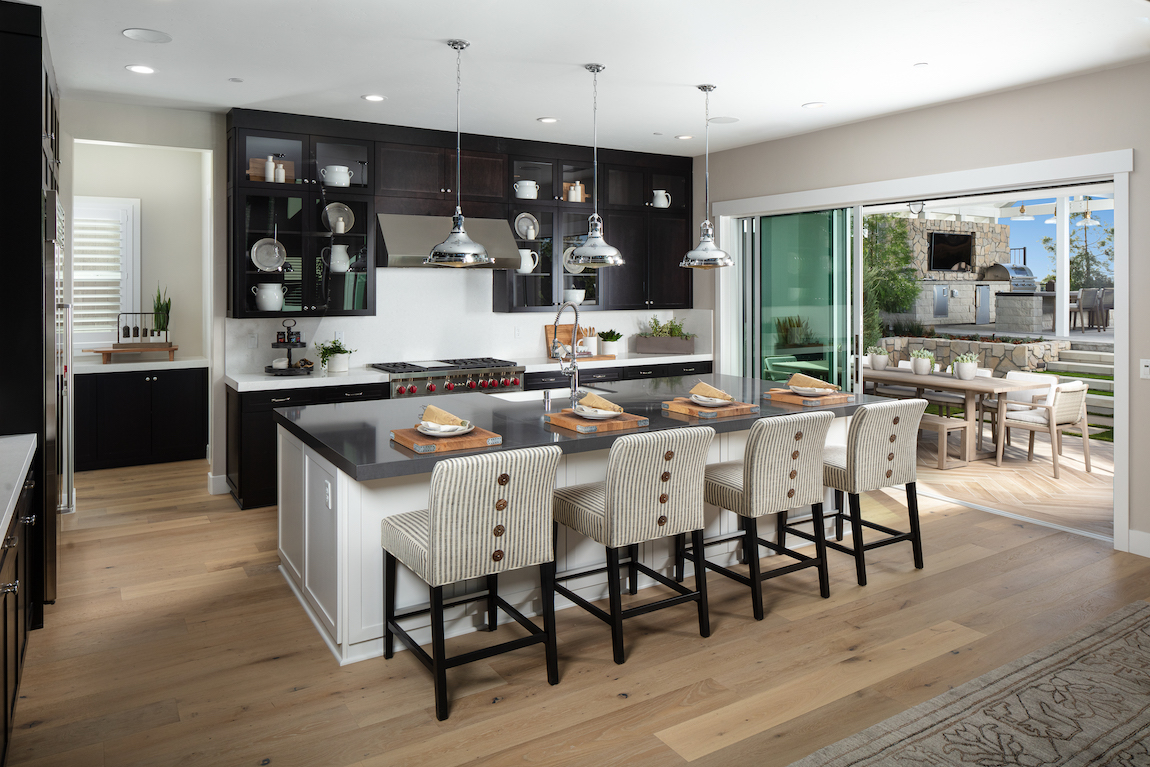 4. Rustic Kitchen with Stainless Steel Hood
Create a rich yet rustic space by mixing wood tones, textures, and colors. The stainless steel hood is the statement piece, highlighting the large industrial slide in range perfect for any chef.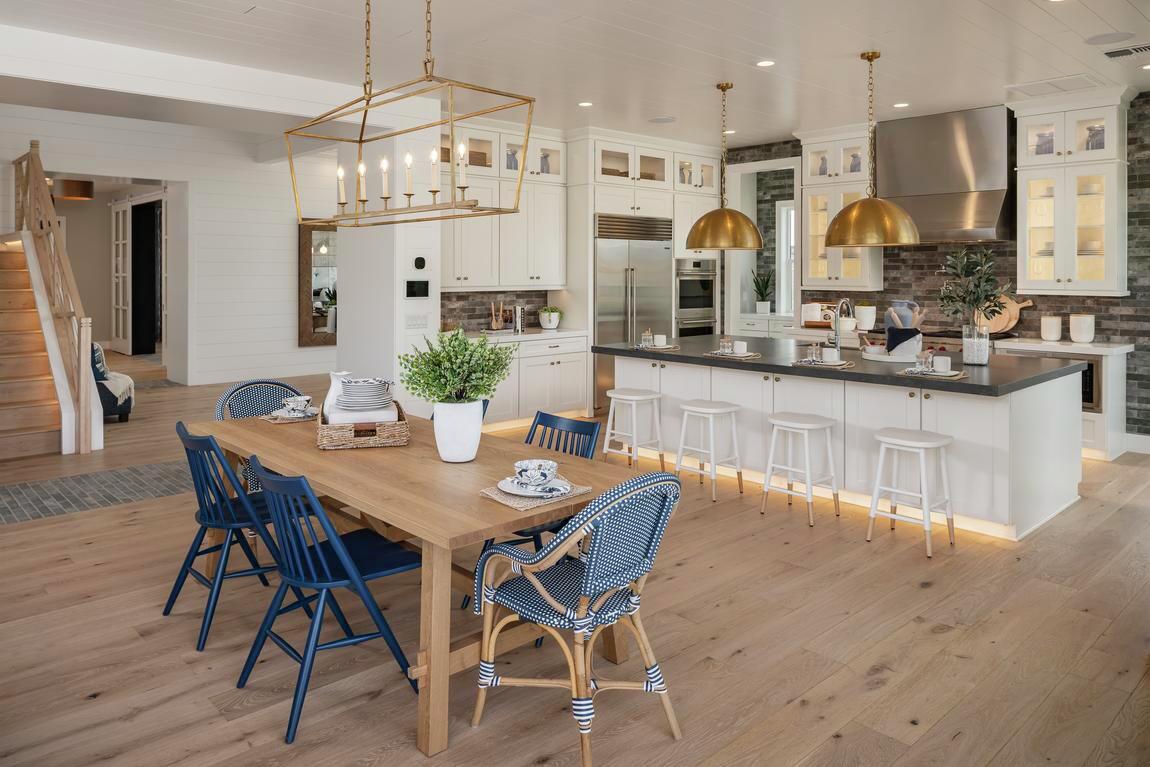 5. Luxurious Display for Wine
Statement wine storage within sleek cabinetry will enhance the sophistication of any kitchen, providing any wine lover with a clear view of their collection.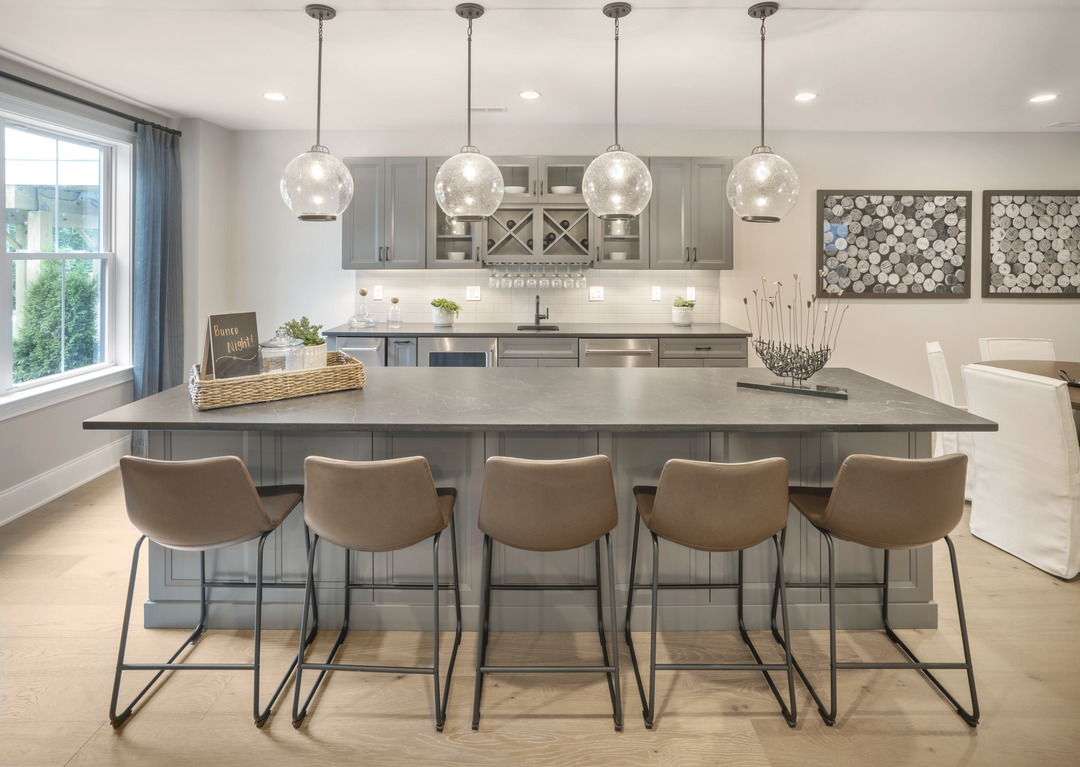 6. Herringbone Pattern Backsplash
The herringbone pattern adds additional character to the already unique off-white ceramic backsplash. The clean grey cabinets are simple yet impactful in this tasteful, modern kitchen design.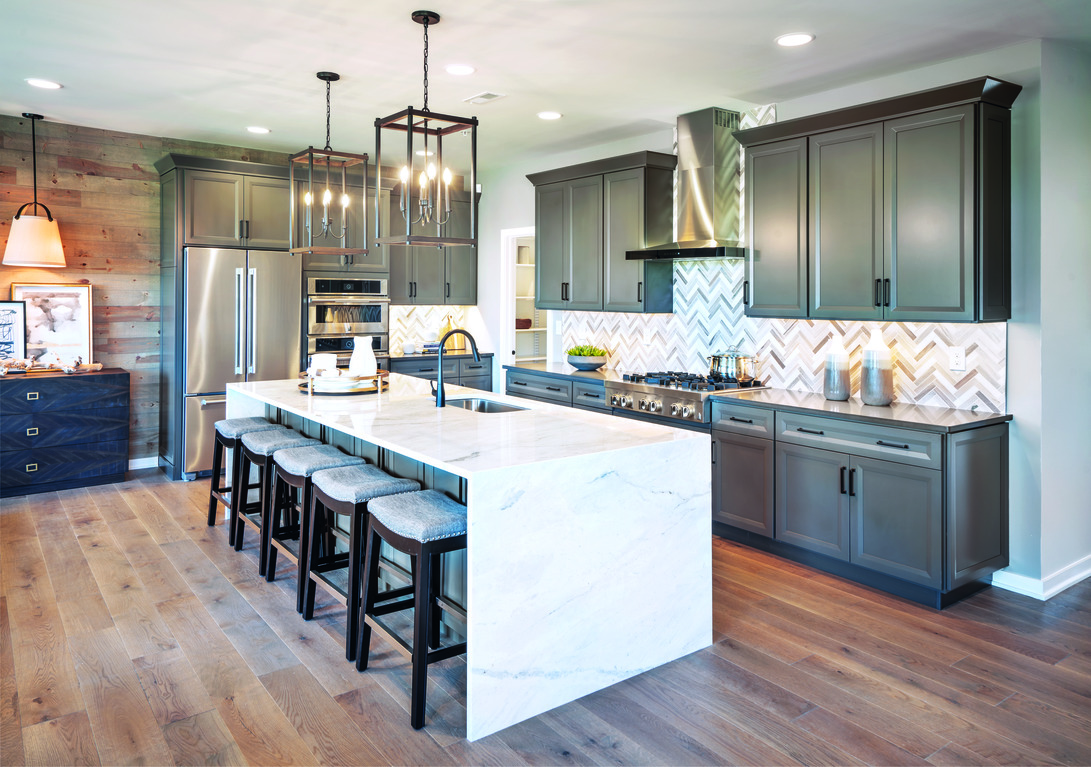 7. Transitional Style Design
Mixing cabinet finishes, textures, and styles is an easy yet impactful way to add to the transitional feel of a space. The tan color of the oversized lighting fixtures beautifully compliments the white island cabinetry.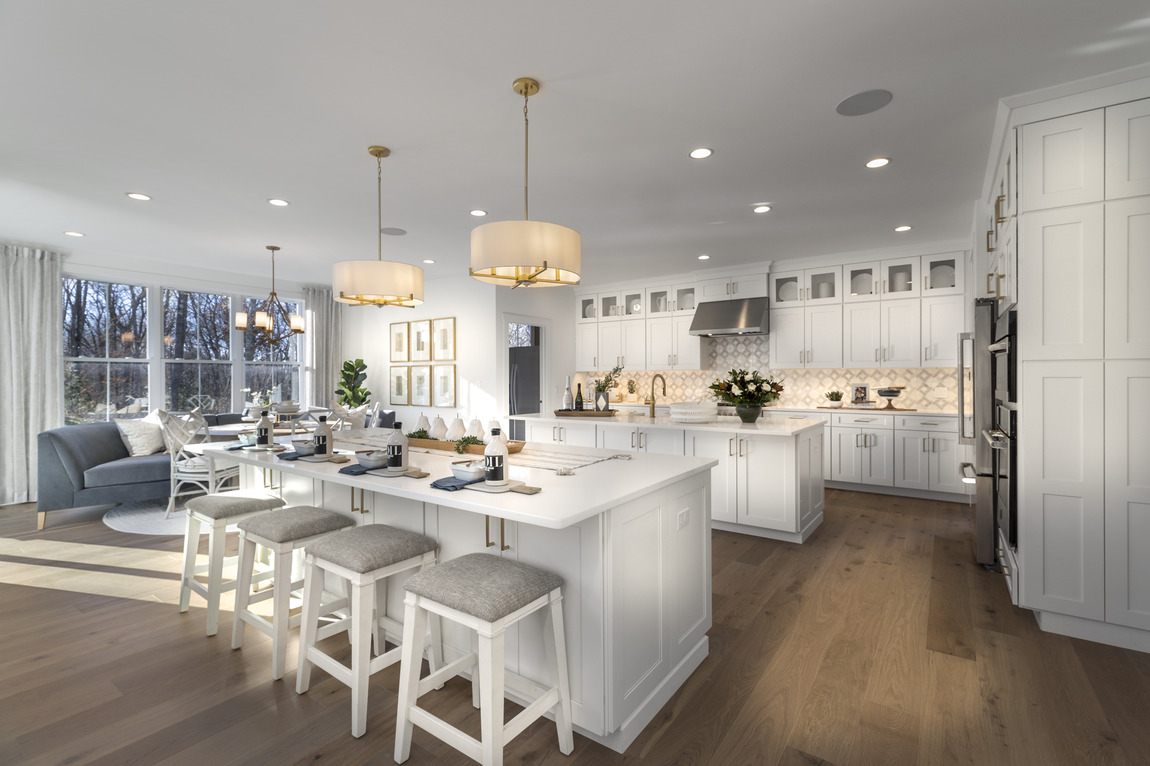 8. Pot Filler Faucets
Integrating a pot filler in any kitchen is an effective way to provide convenience and ease while preparing meals. It is a feature that appeals to even the most seasoned chef.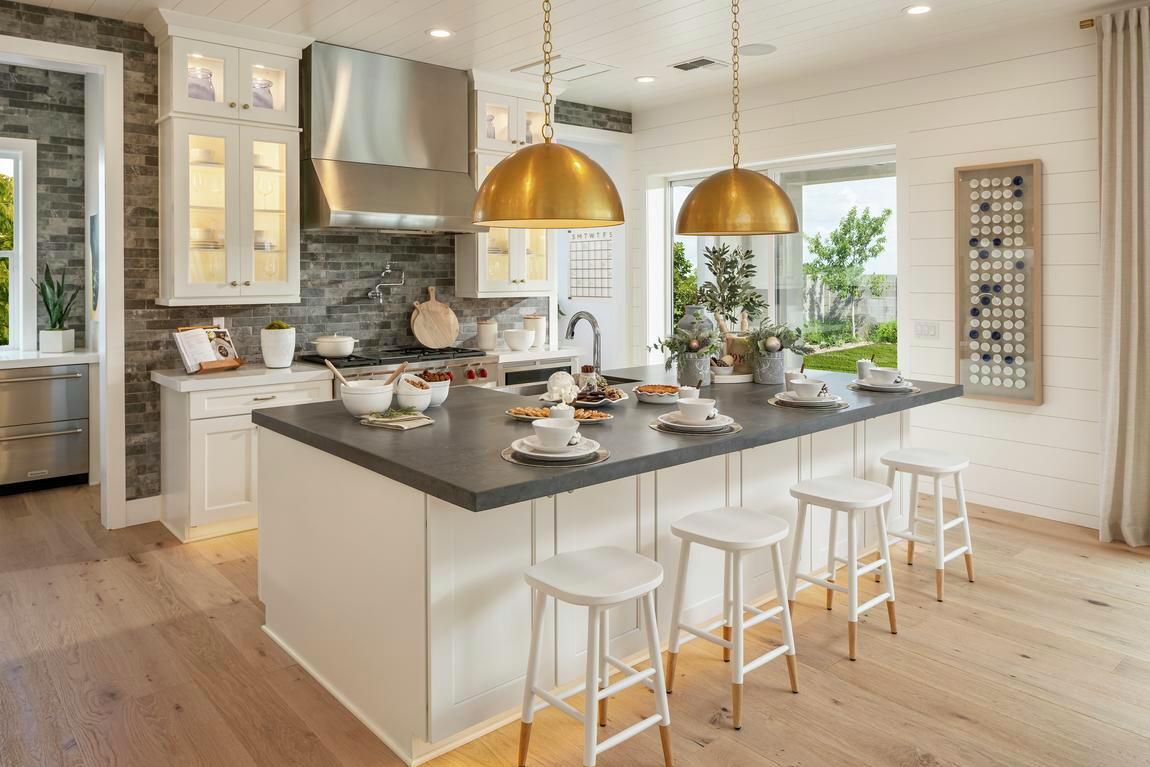 9. Industrial Style Kitchen
An industrial style can be modernized by incorporating accessories and artwork with clean lines and pops of color.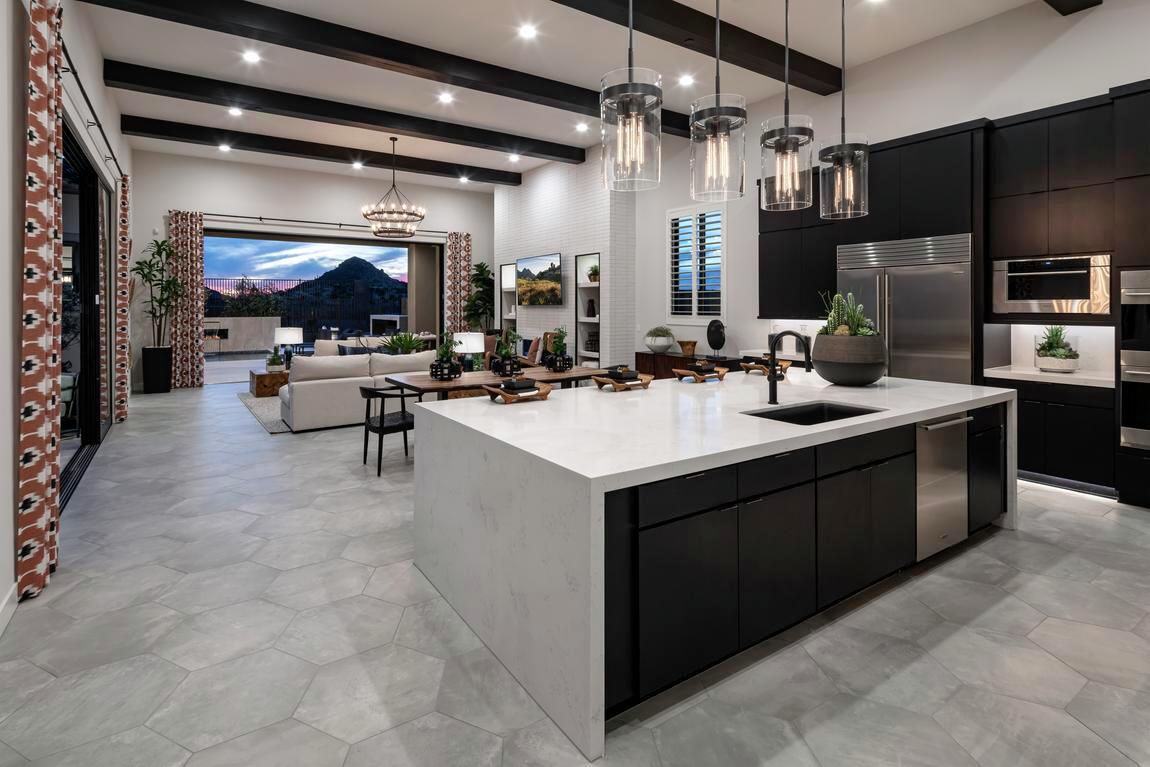 10. Off-the-Kitchen Sunroom
The addition of a sunroom not only creates more seating for dining and entertaining, but is a lovely way to bring more natural light, space, and warmth to any kitchen.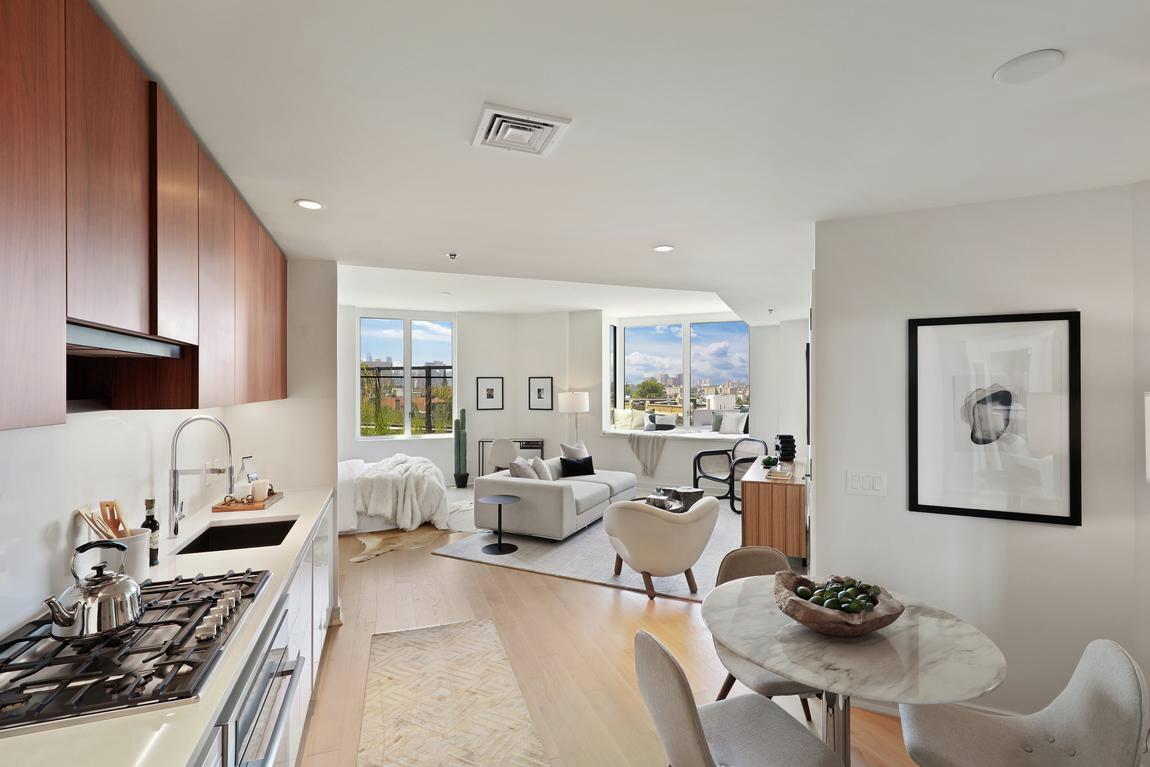 11. Glass Cabinets
A beautiful way to showcase your favorite wine glasses, champagne flutes, or even best china is to incorporate glass doors. They are not only decorative but add to the illusion of higher ceilings in any kitchen.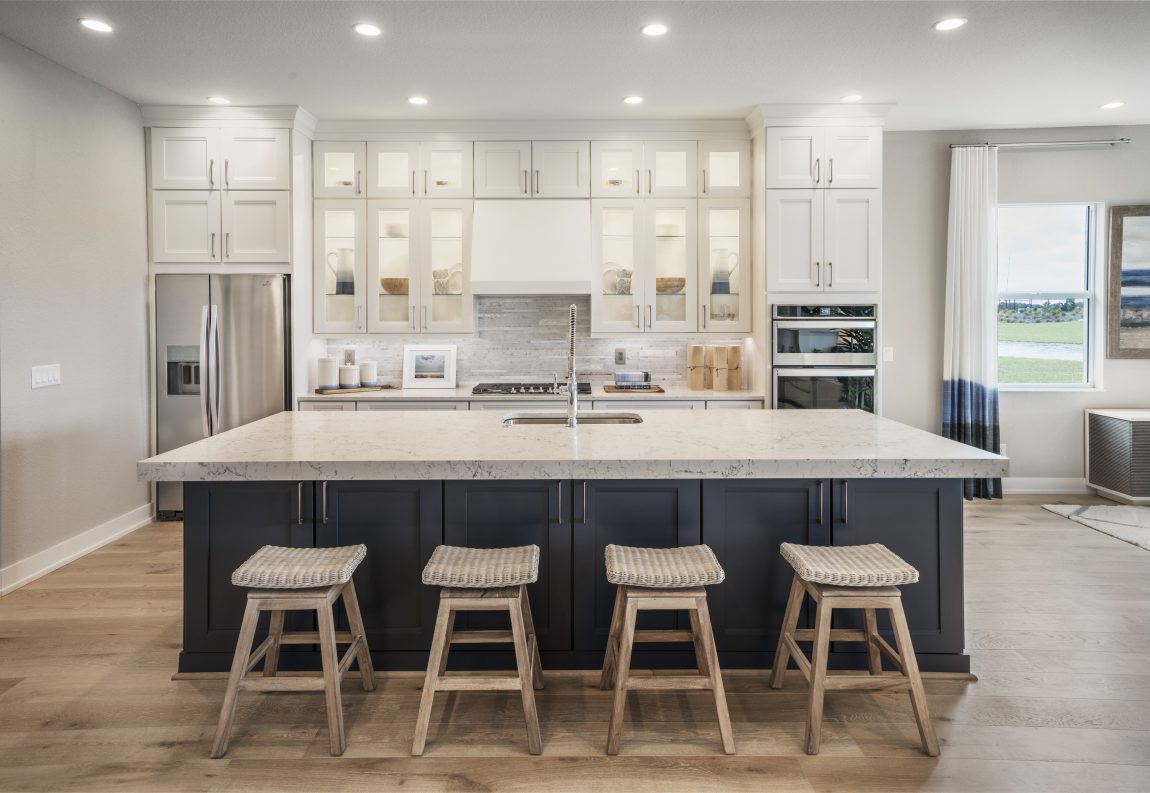 12. Stacked Cabinets
The illusion of higher ceilings is not the only benefit of the stacked cabinets. They also provide additional storage while creating a very finished look.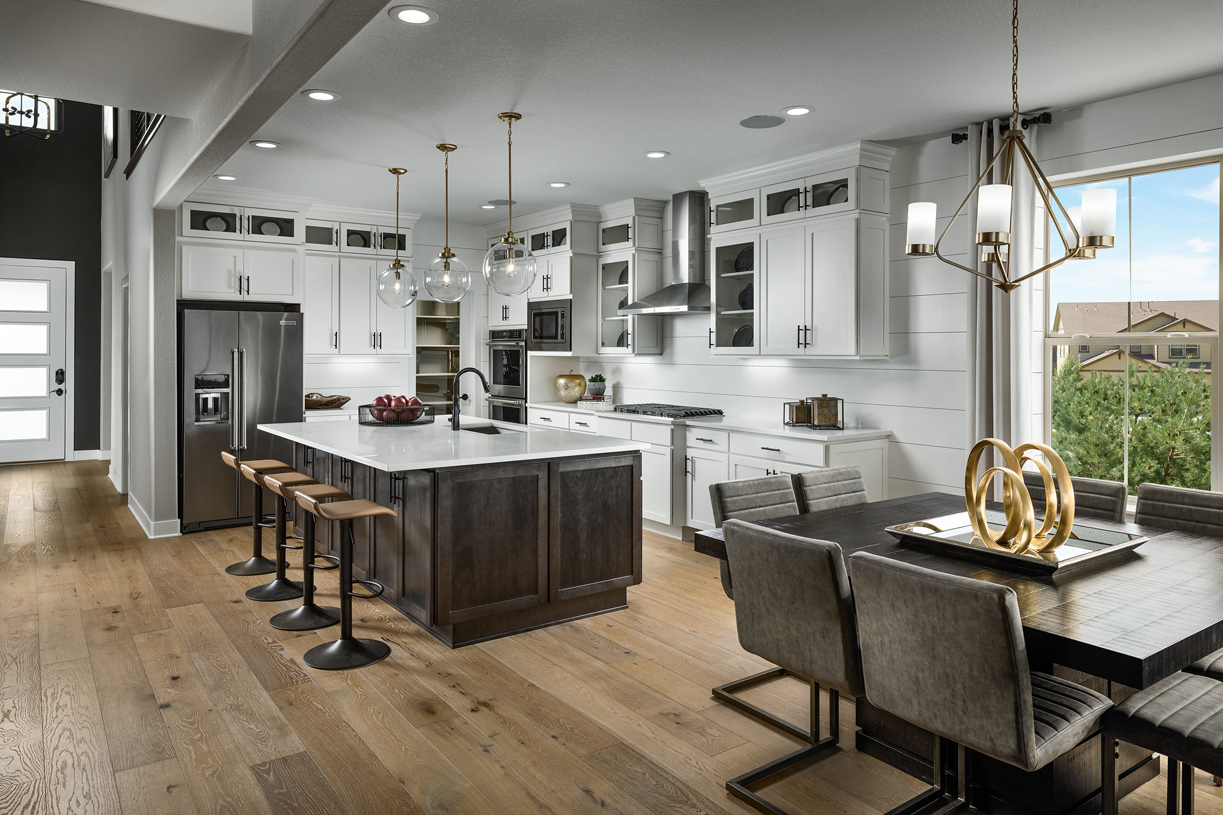 13. Perfectly Symmetrical Kitchen Design
A symmetrical space is accomplished by creating visual balance. This can be achieved with balanced seating and lighting.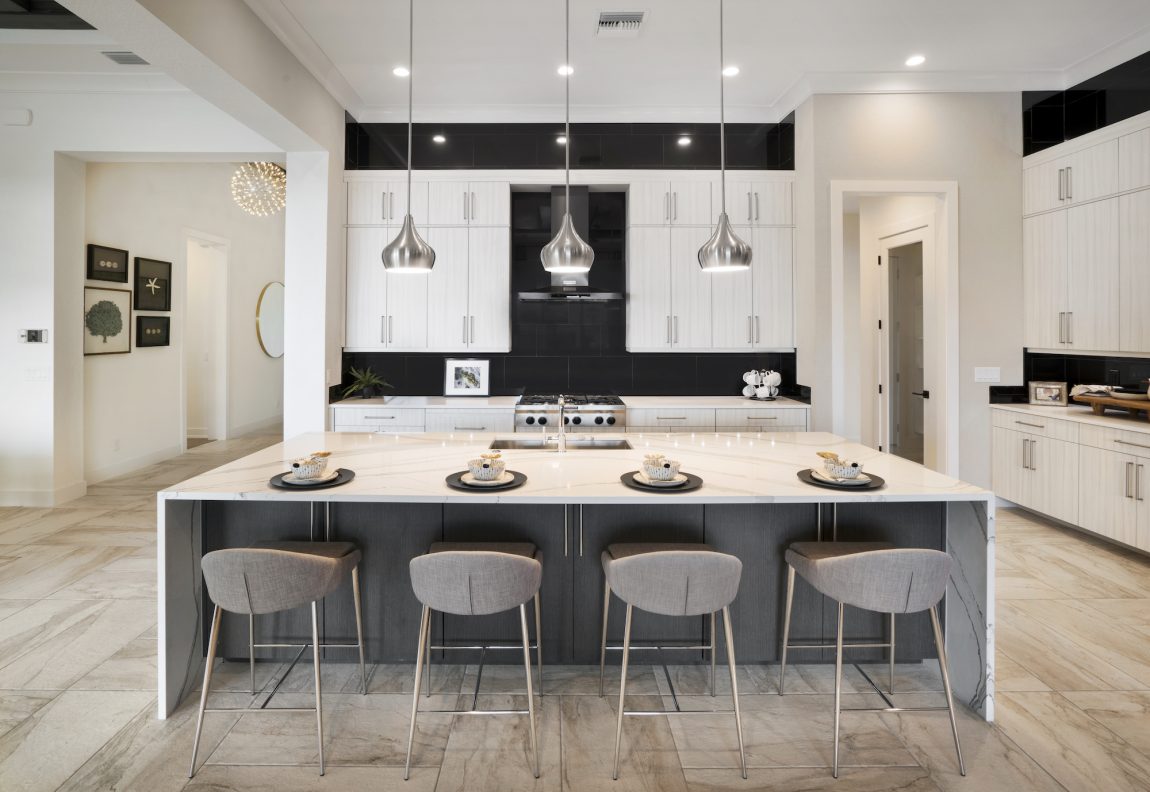 14. Perpendicular Kitchen Island
An innovative and functional use of an island is a perpendicular design. It has become one of the latest kitchen trends and eliminates the need for a separate breakfast eating space.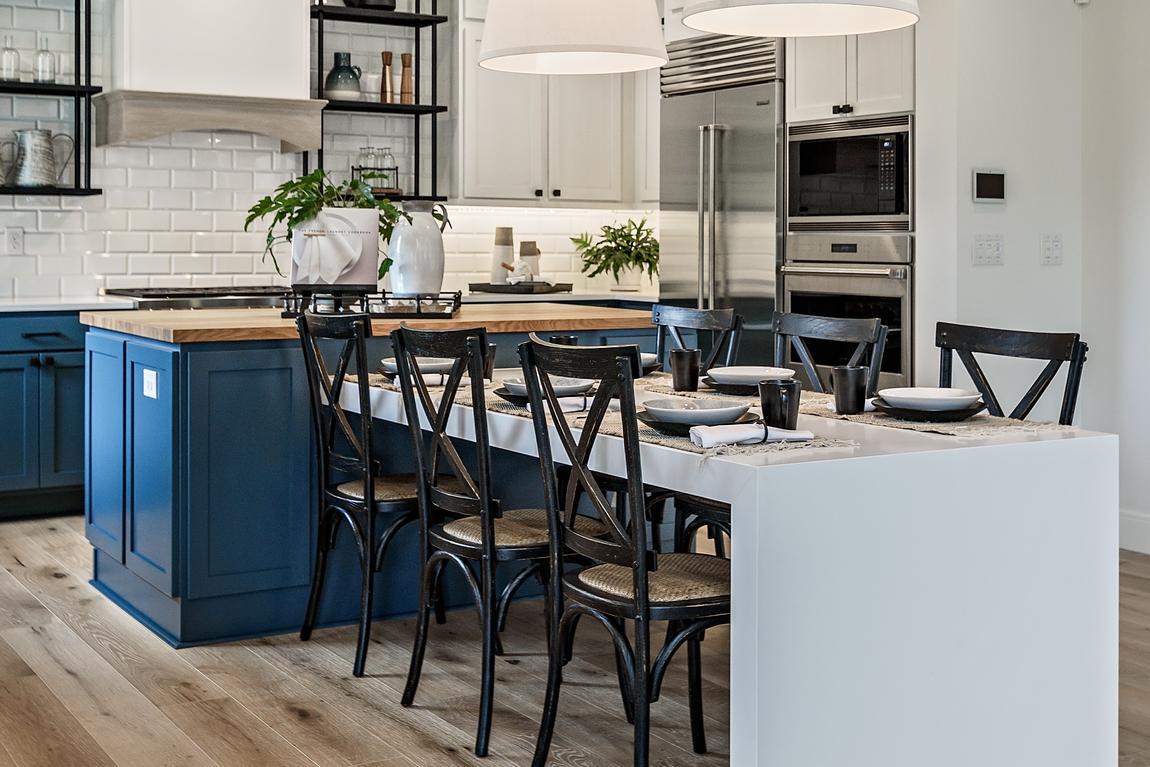 15. Colorful Kitchen Accents
Incorporating colored cabinets in a kitchen creates a striking and very custom feel to the space. Let the cabinets be the focal point by keeping other elements subtle.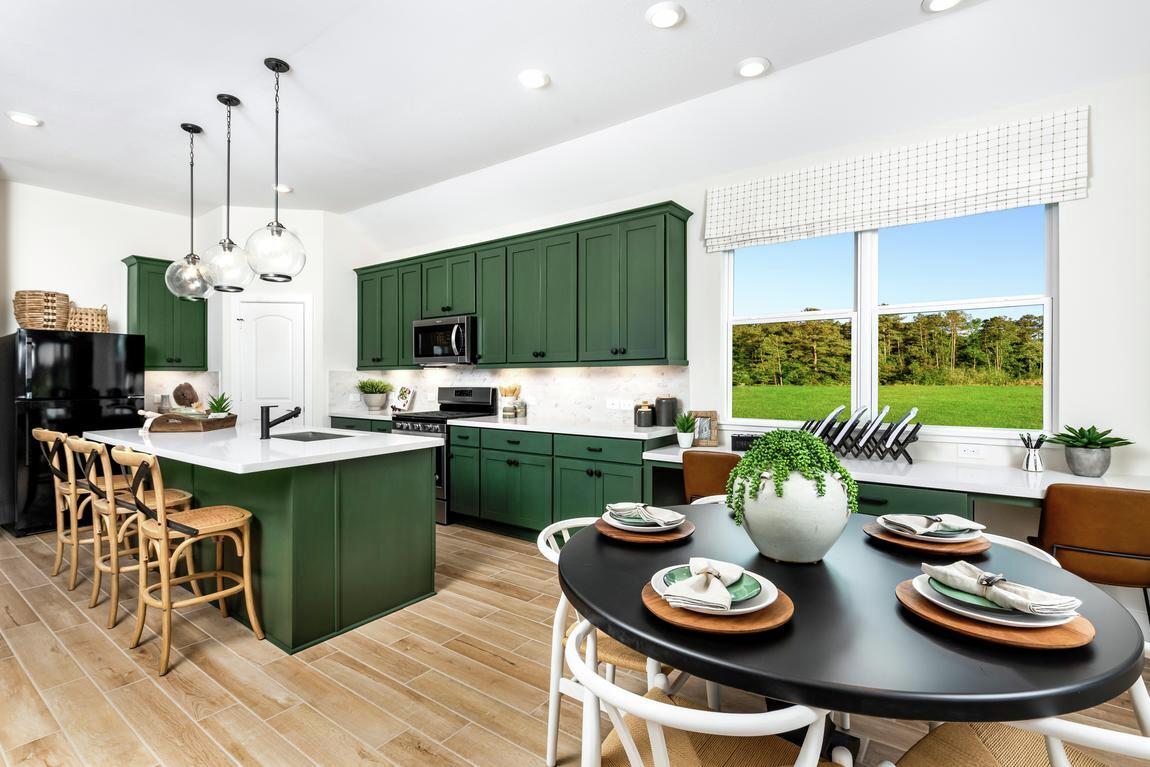 16. Waterfall Edge Countertop
A waterfall island creates an aesthetic focal point to any kitchen. It not only allows you to showcase the countertop but can be seen from every angle in the space.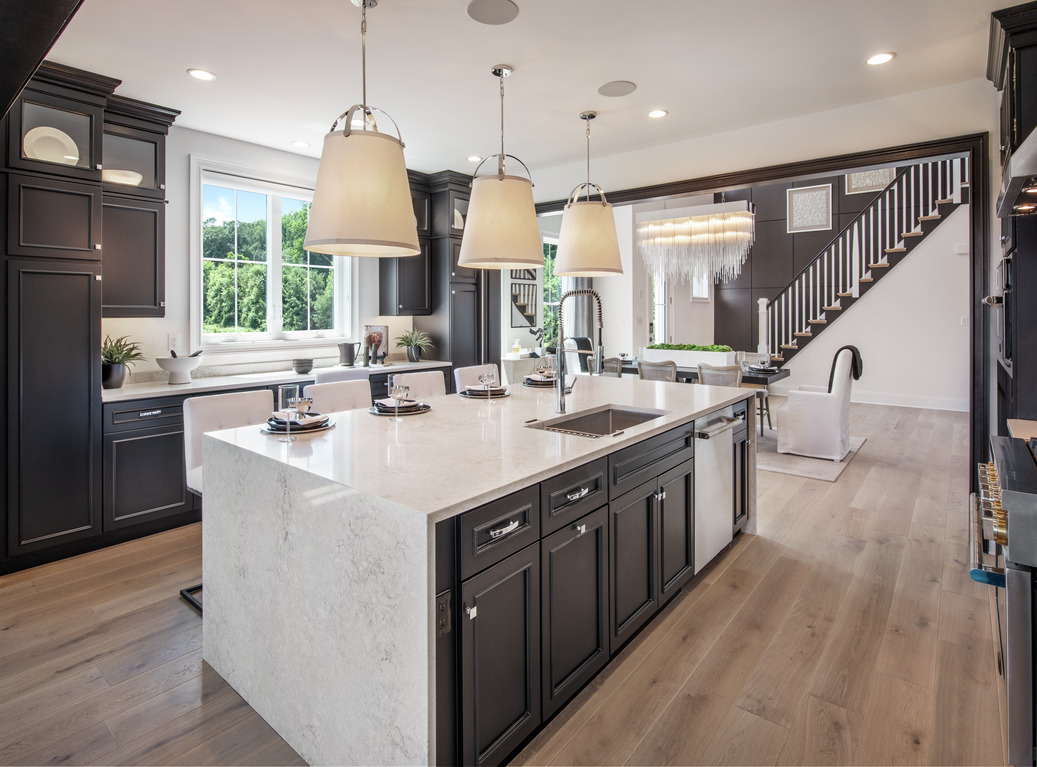 17. Mixed Metal Fixtures
One of the latest trends is mixing metals. This can be achieved with cabinet hardware, lighting fixtures, railings, and appliances.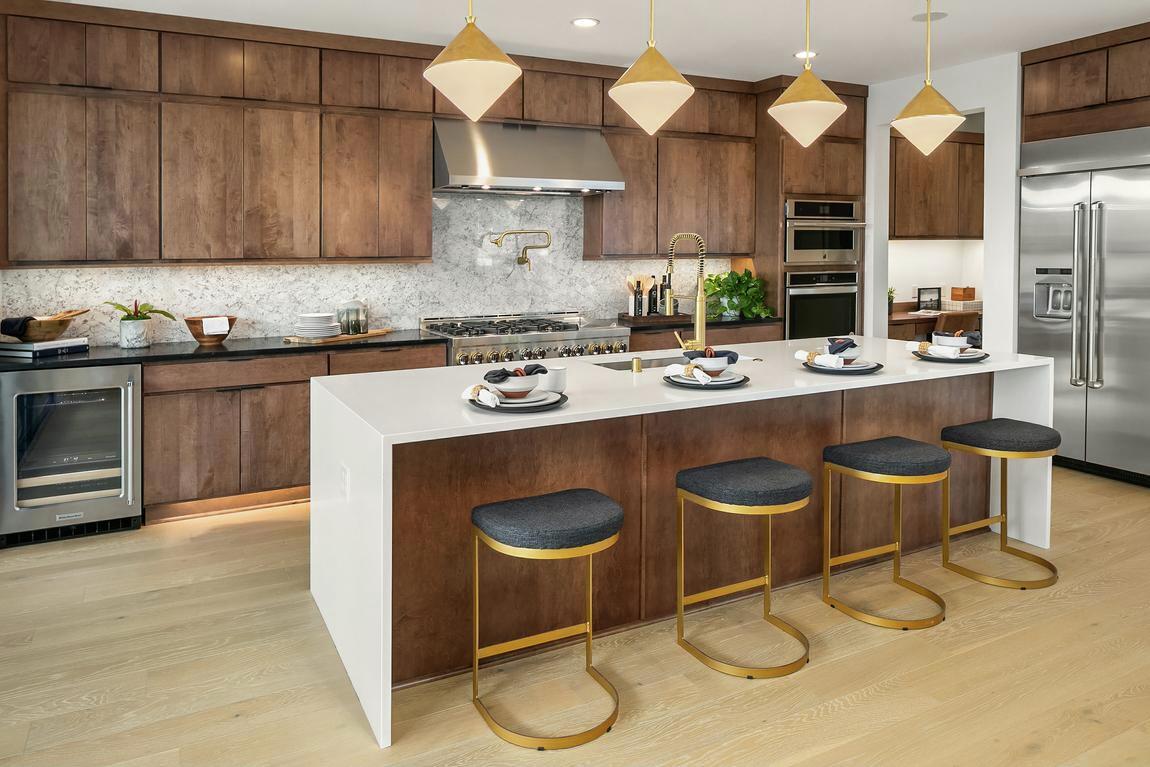 18. Backlit Cabinets
Backlit cabinets or under-cabinet lights provide task lighting and accent lighting to highlight your designer-style countertops and backsplashes.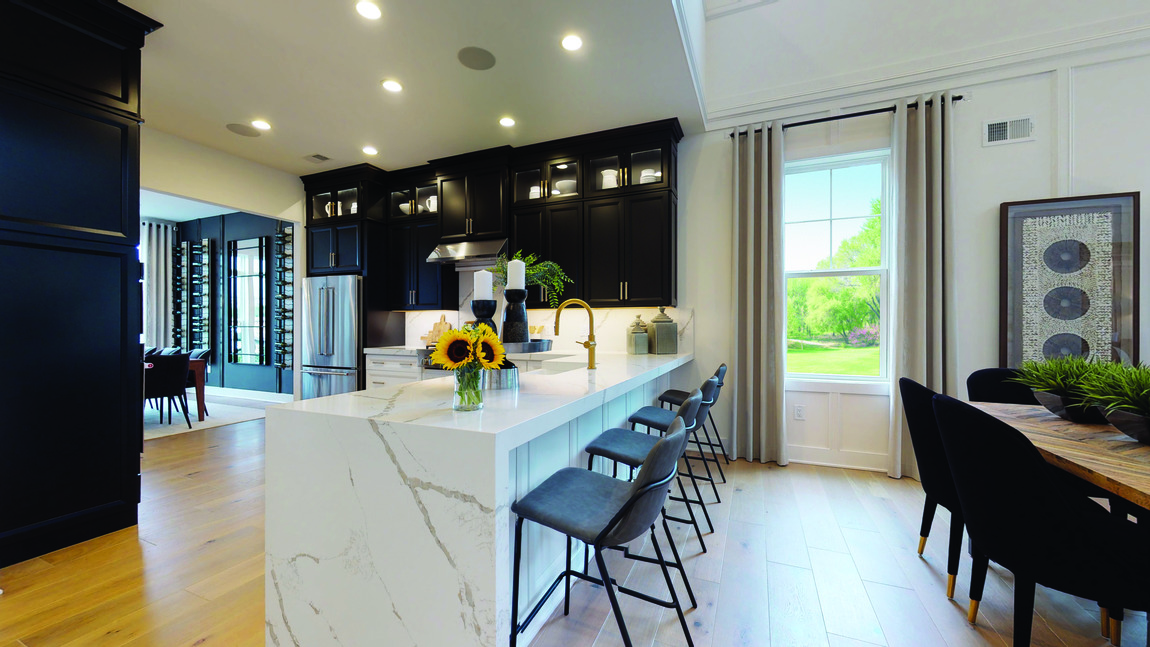 19. Two-Tone Cabinets
Taupe cabinets contrast with the blue island cabinetry to create an inviting space. The glossy finish on the backsplash reflects in the kitchen, making the room feel twice as large.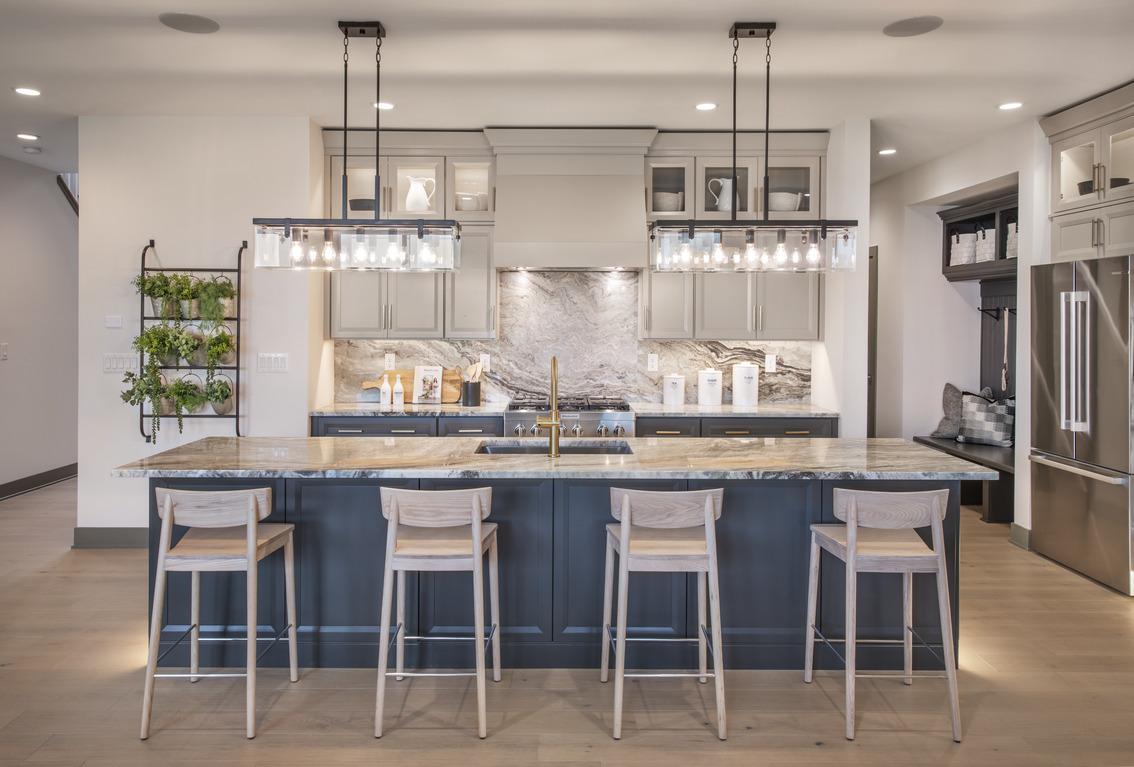 20. Luxurious Lighting Fixtures
Consider how you present your lighting, and work your lighting around the design and size of your room to give your kitchen a stunning finish.
21. Patterned Tile Floor
Any style kitchen can be enriched with a unique tile patterned floor. This is the perfect way to add a unique touch to your space.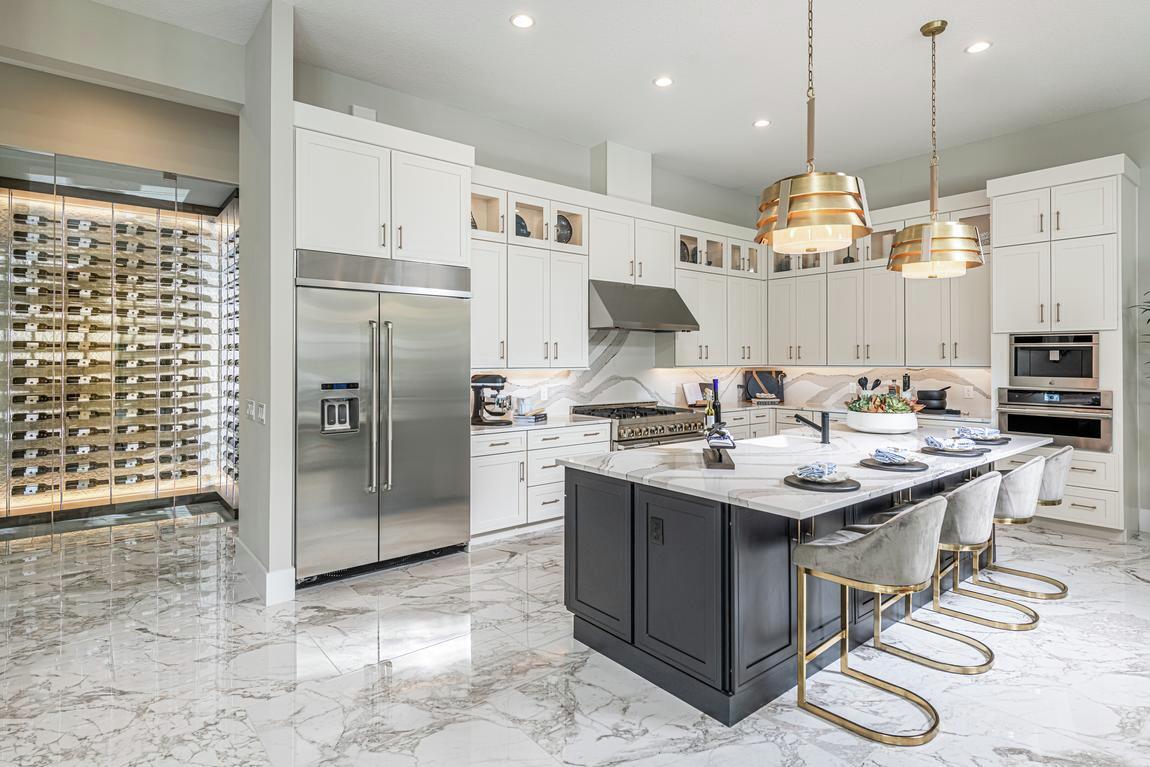 22. Achromatic Color Scheme
An achromatic color scheme is a sleek, modern style perfect in white or a color that speaks to your personal tastes.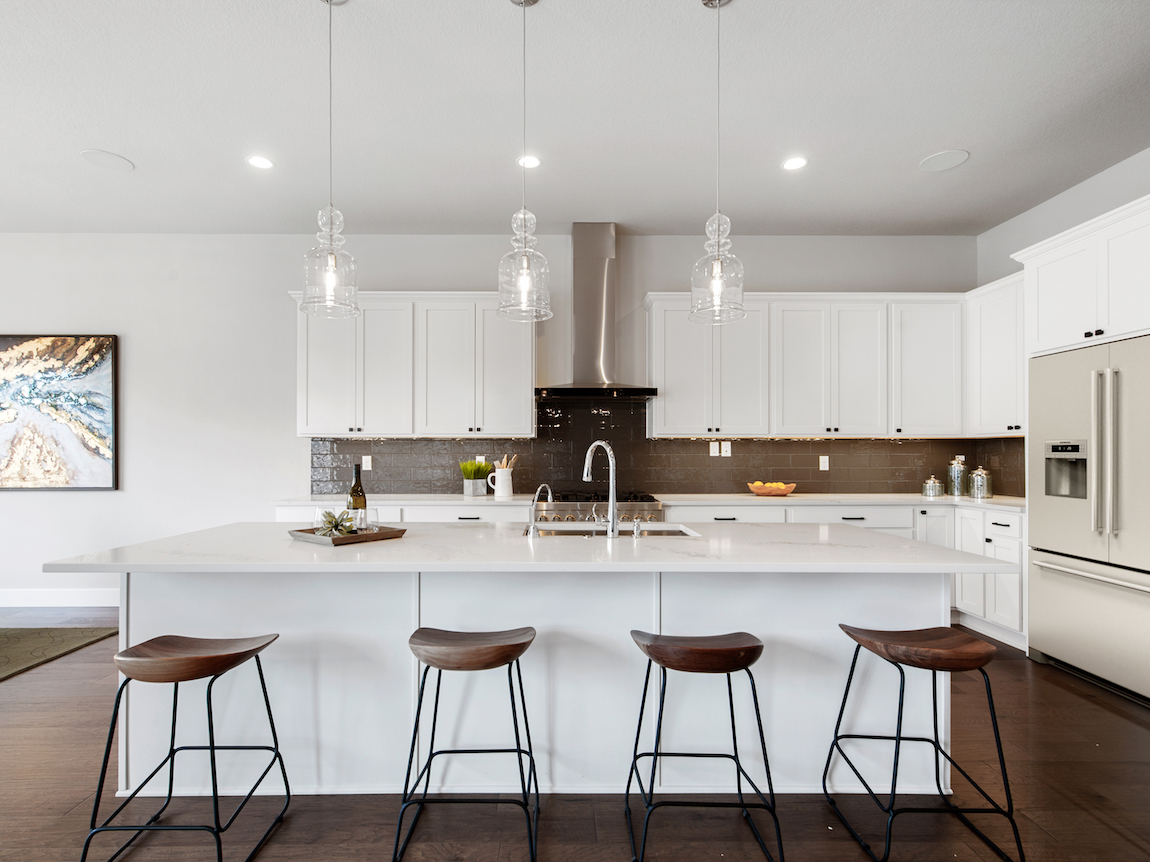 23. Gold Kitchen Features
Decorating with metallics, especially gold, is super trendy right now. The pairing of the dark cabinets and countertops create a subtle yet bold look.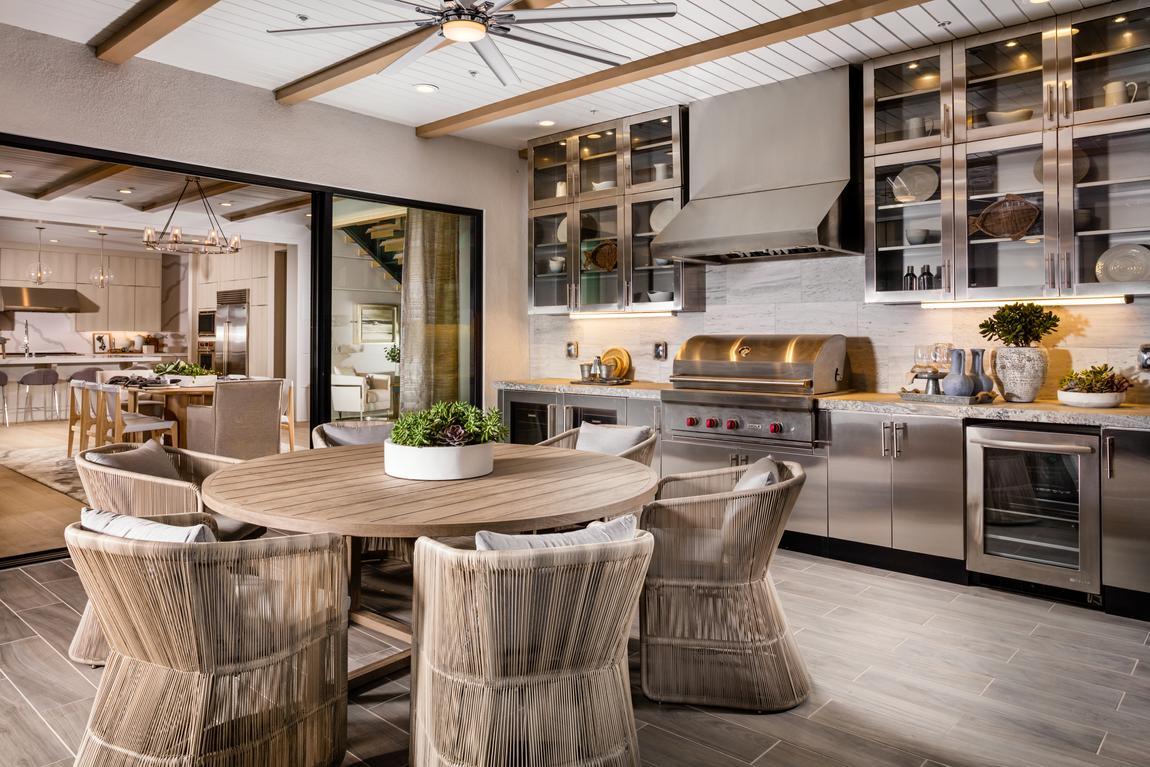 24. Toe-Kick Lighting
Toe-kick lighting is an elegant way to add a unique touch to a kitchen. The lights bring a glow to the room when it is not necessary to turn on the bright overhead lights.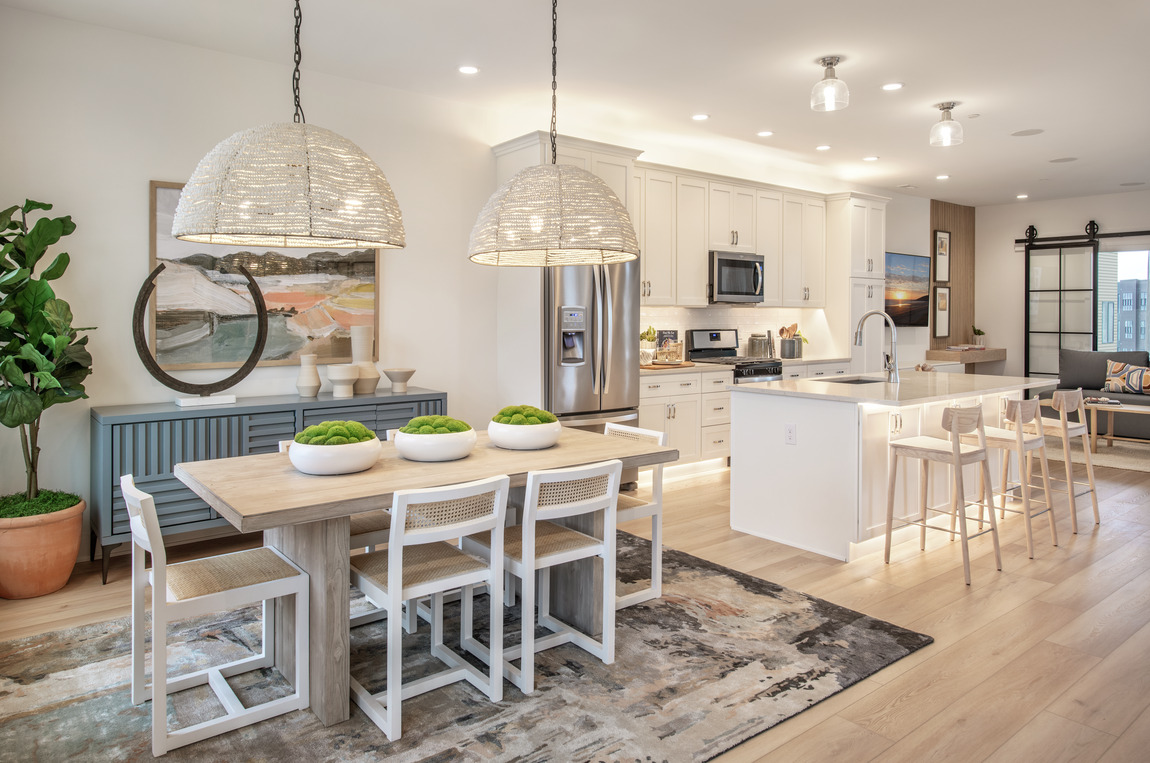 25. Island Dining Table
Add a dining table to the kitchen island for a seamless but functional look. It is an innovative way of creating additional seating and is perfect for hosting large gatherings.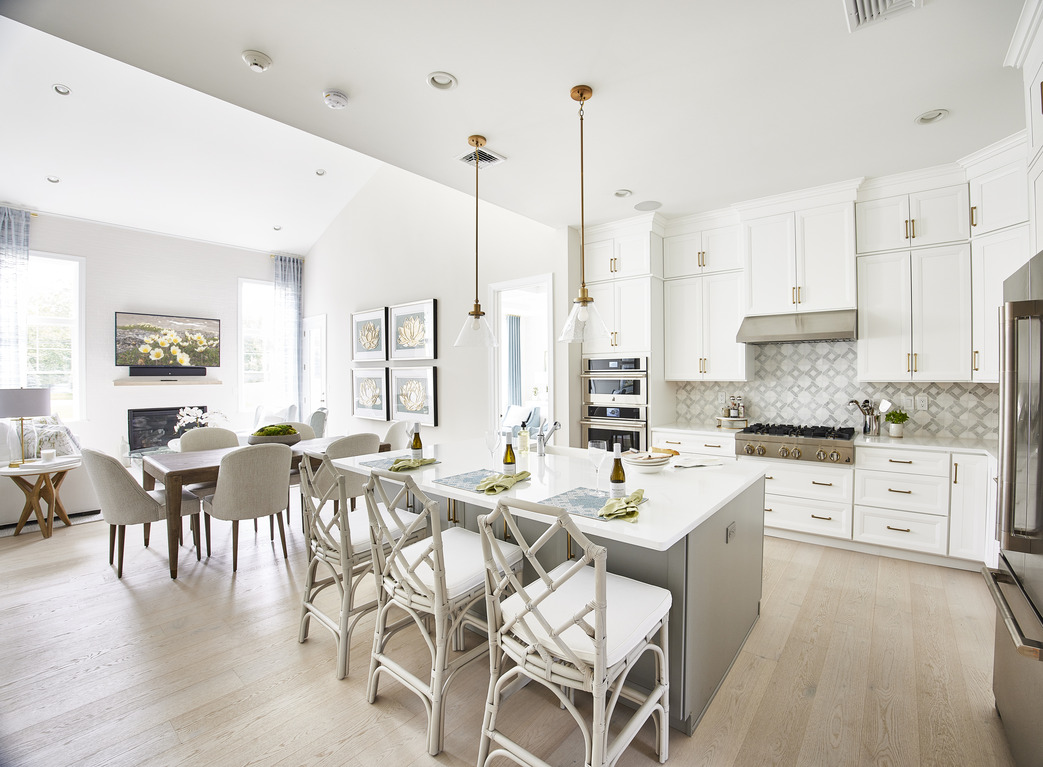 For more new kitchen ideas, explore quartz countertop options that are sure to transform the space.
Toll Brothers design options vary by market, community and home design across the country. For more information regarding design options offered in a specific Toll Brothers community or home, please visit our website or reach out to one of our Online Sales Consultants.