Last updated on February 27th, 2020
If you've ever found yourself scrolling through social media admiring the stunning spa-like bathrooms, you're not alone. These impeccably designed rooms are a point of envy for many—after all, who doesn't want their own personal oasis right off the bedroom?
The good news is you don't have to be a design guru to create your very own spa-inspired ensuite bathroom. The following steps will help you create the perfect bathroom for your lifestyle, starting with the high-level design choices and narrowing down to the most intricate details.
Start with a Custom Design
Most bathrooms are purely functional—the design doesn't consider aesthetics or user experience. If you want a wow-worthy ensuite bathroom, you're going to need a custom design that takes into account your wants, needs, habits, and personal tastes.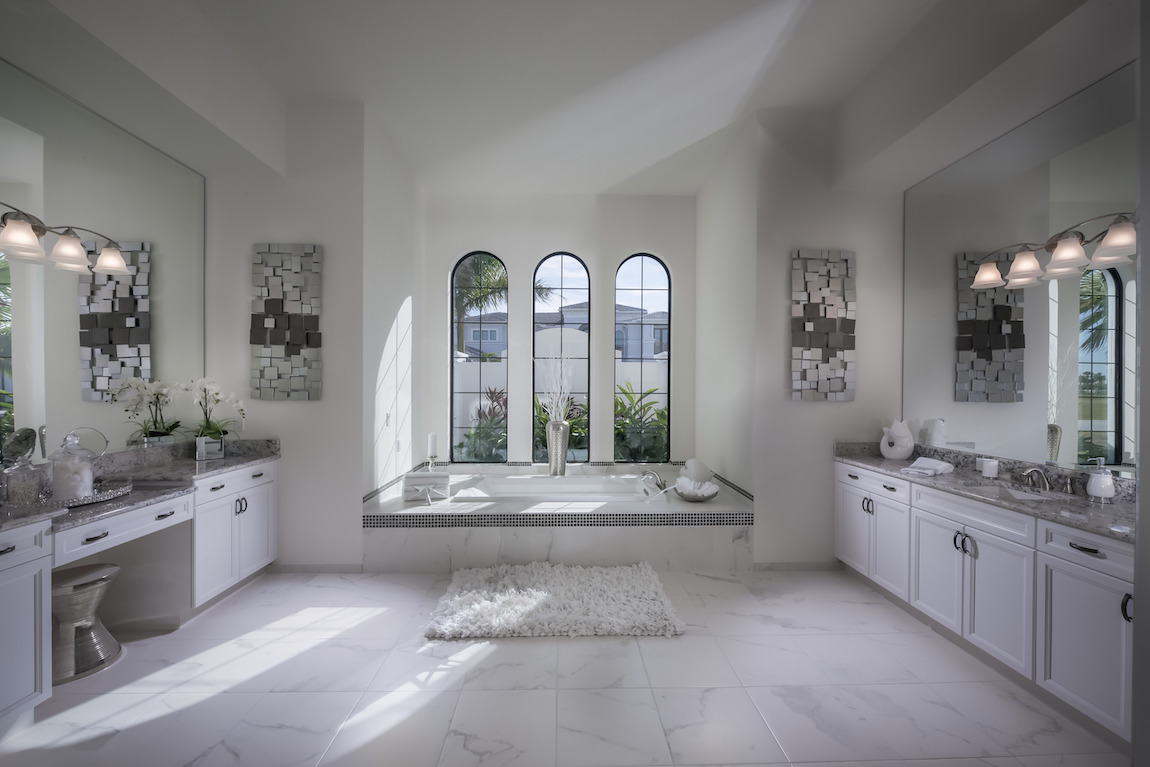 To figure out what design features will work best for you, start by thinking about the aspects of your existing bathroom that you'd like to improve. For instance, a privacy stall for the toilet can be helpful when you and your partner are getting ready in the morning. And a glass shower door or different bathroom layout could prevent any drafts from coming in.
If there's a specific spa feature you absolutely love, why not incorporate it into your own bathroom? If you use it regularly, then it's worth the expense. Some high-end features you may want to consider include:
Heated floors
A soaking tub
Glass partitions
A walk-in shower
High-end fixtures such as waterfall shower heads
A television
An adjacent dressing area
A fireplace
A "morning bar" with a coffee maker and makeup application area
A steam shower or sauna
Don't be afraid to mix and match certain features—with a custom-designed home, anything is possible!
Cater to All Five Senses
One of the reasons spas are so soothing is because they cater to all of your senses, providing a variety of relaxing stimuli. For the ultimate spa-inspired experience, you can do the same thing in your bathroom.
Sight
When you walk into your bathroom, the overall aesthetic is going to set the tone for your experience. A dimly lit, cluttered bathroom doesn't promise relaxation, which is why most spas embrace a light, bright, minimalistic design.
Choose an uplifting color scheme:
Many of the bathrooms that are featured on social media have a bright, all-white design, but you don't have to go this route if it's not your personal taste. What's important is that you choose colors that are welcoming and soothing to you. For instance, a nature-inspired color palette that uses gentle shades of brown or green will give your bathroom a more organic feel, while a light blue or green can invoke beachy vibes.
Don't skimp on lighting:
Proper lighting is essential to a high-end bathroom—otherwise, you may find yourself struggling to apply your makeup or showering in dim conditions. For best results, use a variety of light fixtures to illuminate the space. For instance, you may want pendant or vanity lights over the mirrors, as well as recessed damp-rated ceiling lights over the shower or tub. You can even install motion-activated strip lights under the counters for your late-night bathroom trips or an elegant chandelier for an upscale vibe.
Use art to show personality:
Greenery and artwork add color and personality to any bathroom. Plants typically thrive in the bathroom thanks to the higher level of humidity, so adding an aloe plant, bamboo, or philodendrons can be a great way to make your bathroom even more peaceful. A few thoughtful pieces of art can also make your space feel more homey and soothing.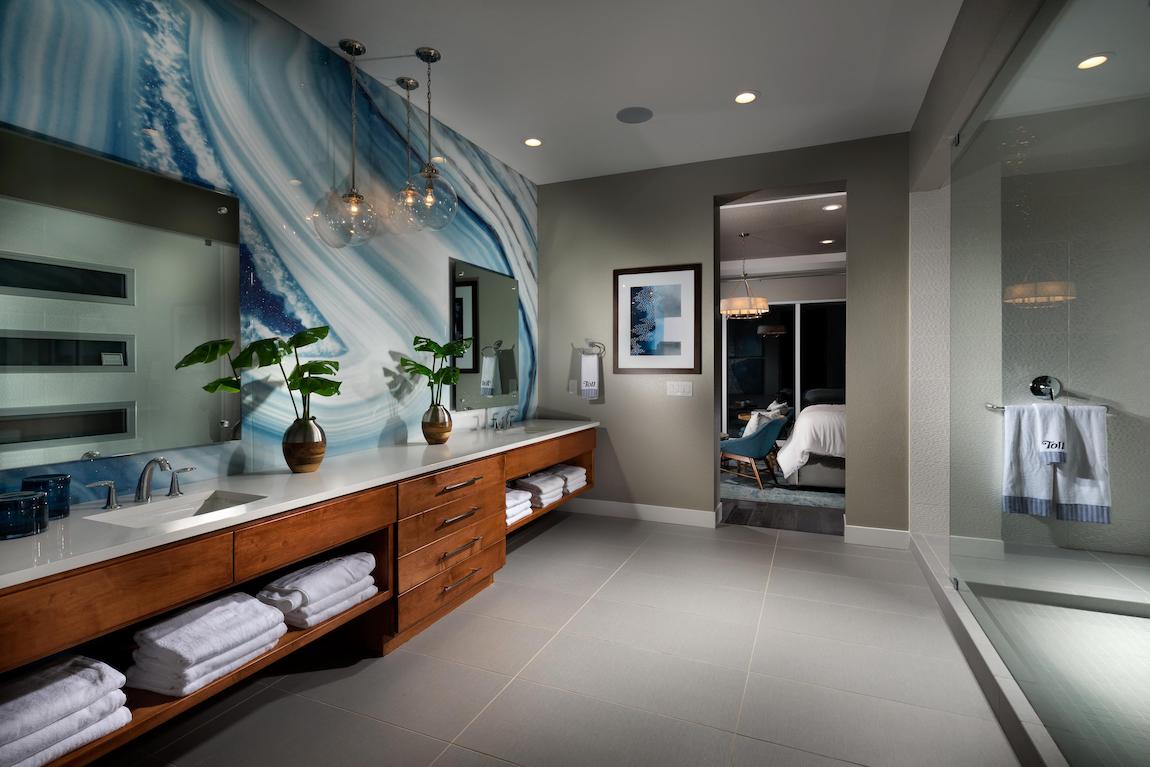 Touch
While you might not be able to include a massage therapist or aesthetician to your spa bathroom, there are a few key accessories that will help engage this sense.
Give yourself an at-home spa experience:
There are a number of bathroom fixtures that can replicate the effects of a good spa treatment. For instance, a freestanding soaking tub will wash all of your worries away, while a tub with water jets can help to work out sore muscles. You may also want to consider a massaging showerhead or body sprayers for your new bathroom.
Stay warm from head to toe:
Keep your body comfortably warm with a few key features, such as radiant heated flooring and a towel warmer.
Sound
For the ultimate relaxation experience, you should try to drown out any outside noises. Luckily, there are easy ways to use soothing sounds in the bathroom.
Integrate speakers into the space:
There are several options when it comes to playing music in the bathroom. You can use high-tech gadgets, such as a showerhead with a built-in speaker, or just include wireless smart speakers that connect to your phone. Either way, you'll be able to play your spa playlist or meditation soundtrack as you unwind from a long day.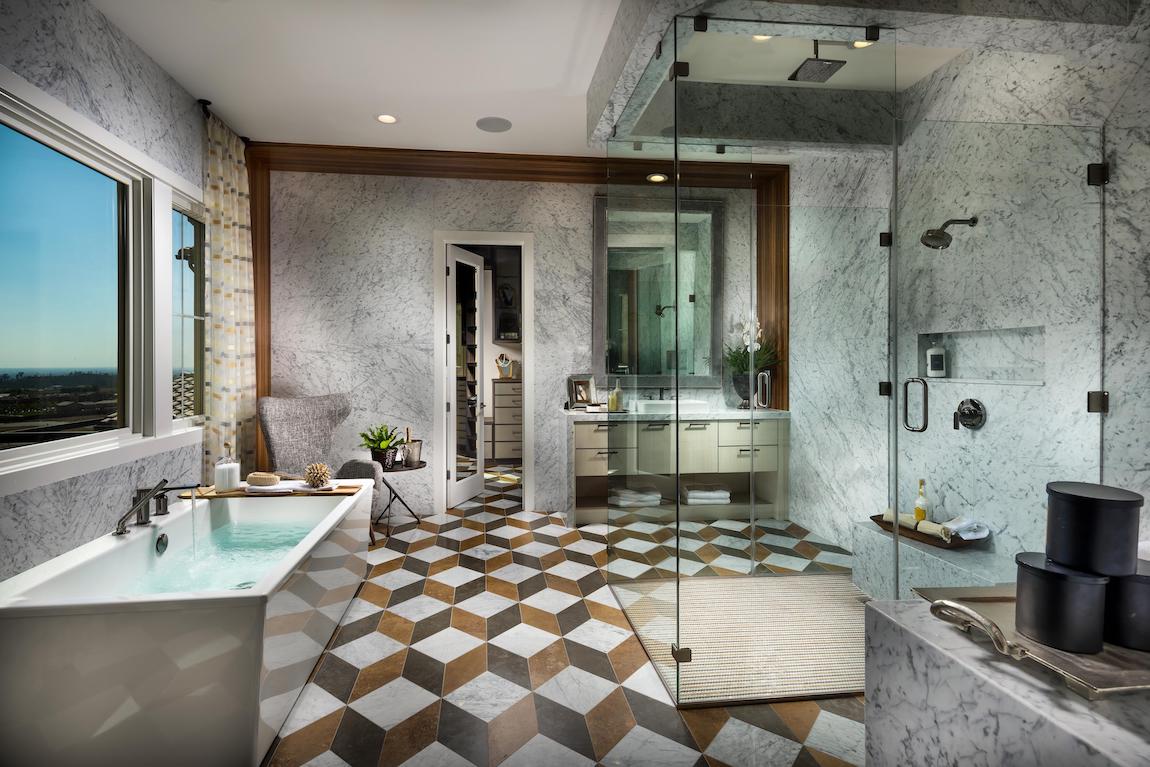 Smell
Engaging your sense of smell can go a long way toward boosting your mood. To this end, you may want to bring aromatherapy tools into the space.
Incorporate aromatherapy accessories:
Aromatherapy shower heads from Aroma Sense deliver a cloud of scent every time you turn on the water. Essential oil diffusers let you mix and match scents to create your own personal paradise.
Treat yourself to fresh flowers:
Another way to cater to your sense of smell—and your sight—is with fresh flowers on your vanity or windowsill. Subscription services, such as Bouqs, deliver bouquets to your house.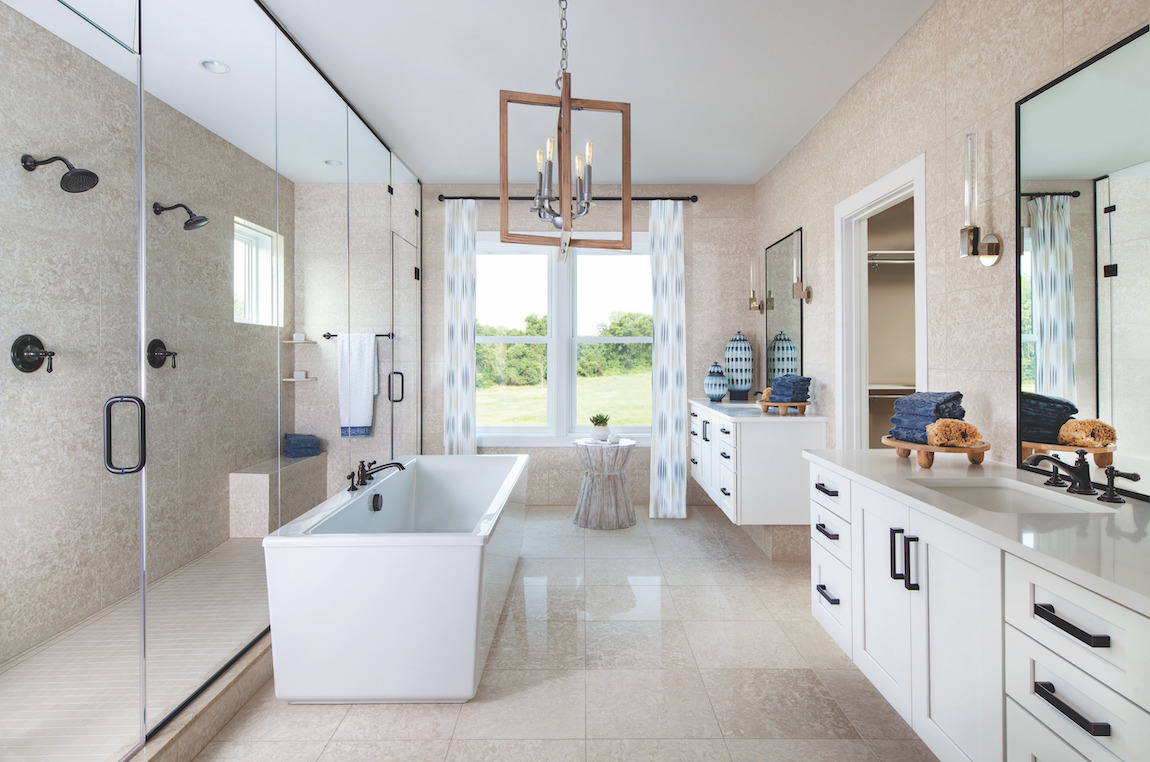 Taste
Taste is probably the trickiest sense to cater to in your bathroom, but there are definitely ways to indulge if you get creative.
Install a wine cooler:
Love to relax in the bath with a glass of wine? You can keep your favorite beverages close by with a mini wine cooler in the bathroom. Install one in the wall or under the cabinets for a seamless look.
Create a coffee bar:
If you get ready for the day in your ensuite bathroom, it can be a pain to carry your coffee upstairs from the kitchen. Instead, create a miniature coffee bar in one corner of your luxury bathroom so that everything you need is in one place.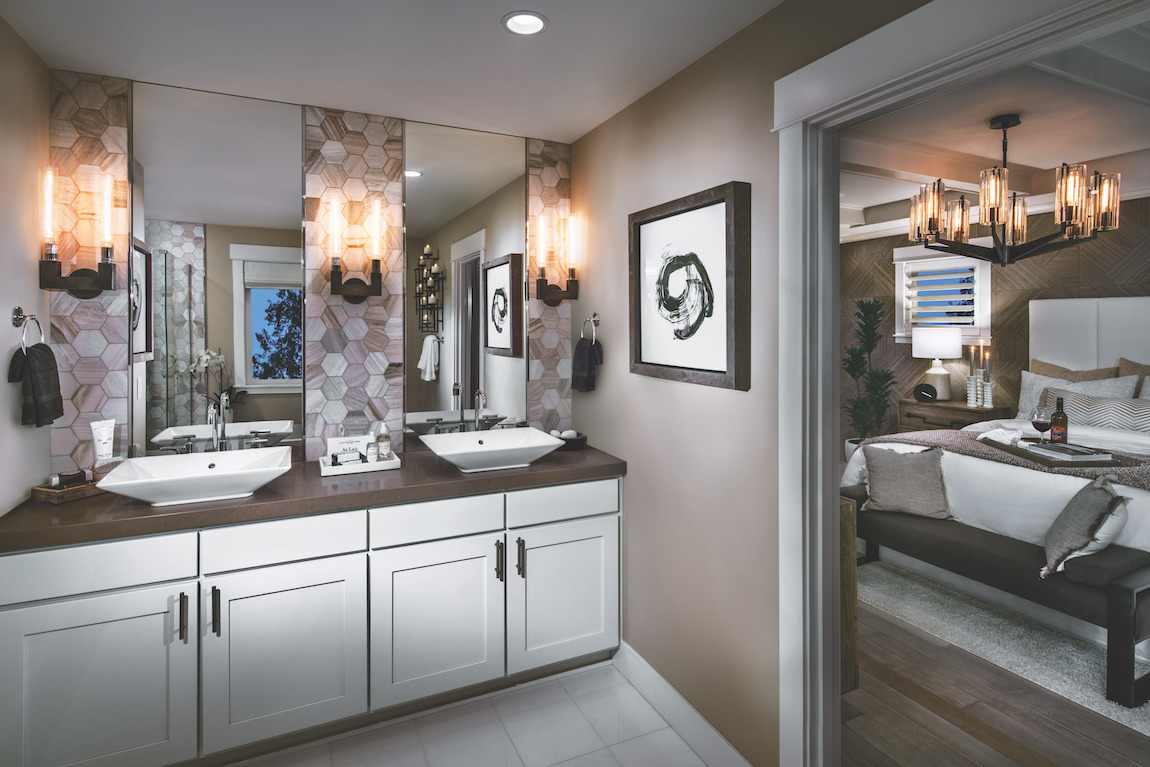 Don't Forget the Latest Home Tech
Home automation technology can make your life more convenient and efficient, and no ensuite bathroom is complete without a few key pieces of tech. In addition to wireless Bluetooth speakers, you may also want the following gadgets in your new luxury bathroom:
Designing the perfect ensuite bathroom takes quite a bit of thought, but if you carefully plan out which features you want in your spa-inspired bathroom, you'll be able to create an amazing, soothing space that you can retreat to after a long day.