Last updated on July 20th, 2022
If you've been on Pinterest in the past year or tuned into HGTV, you've probably seen many designers and DIYers using modern farmhouse design. According to Google, before 2015, the term modern farmhouse was virtually nonexistent. Since then, one can hardly miss this style trend's dynamic impact. Fixer Upper's Chip and Joanna Gaines, the HGTV powerhouse, started fixing homes utilizing this aesthetic and have taken it to a new level. Millions of Americans are now obsessed with this design trend that's the perfect combination of modern and rustic, with a lot of charm.
What is Modern Farmhouse Style?
The core of every modern farmhouse is an open, spacious floor plan, barn-style doors, and wide plank wood flooring. The open floor plan allows light to flow through each conjoining room, creating an effervescent environment that pays homage to the traditional farmhouse style. With all of our modern-day stresses, it has become so important to return home to a place that is comfortable and welcoming, a home that feels like a sanctuary.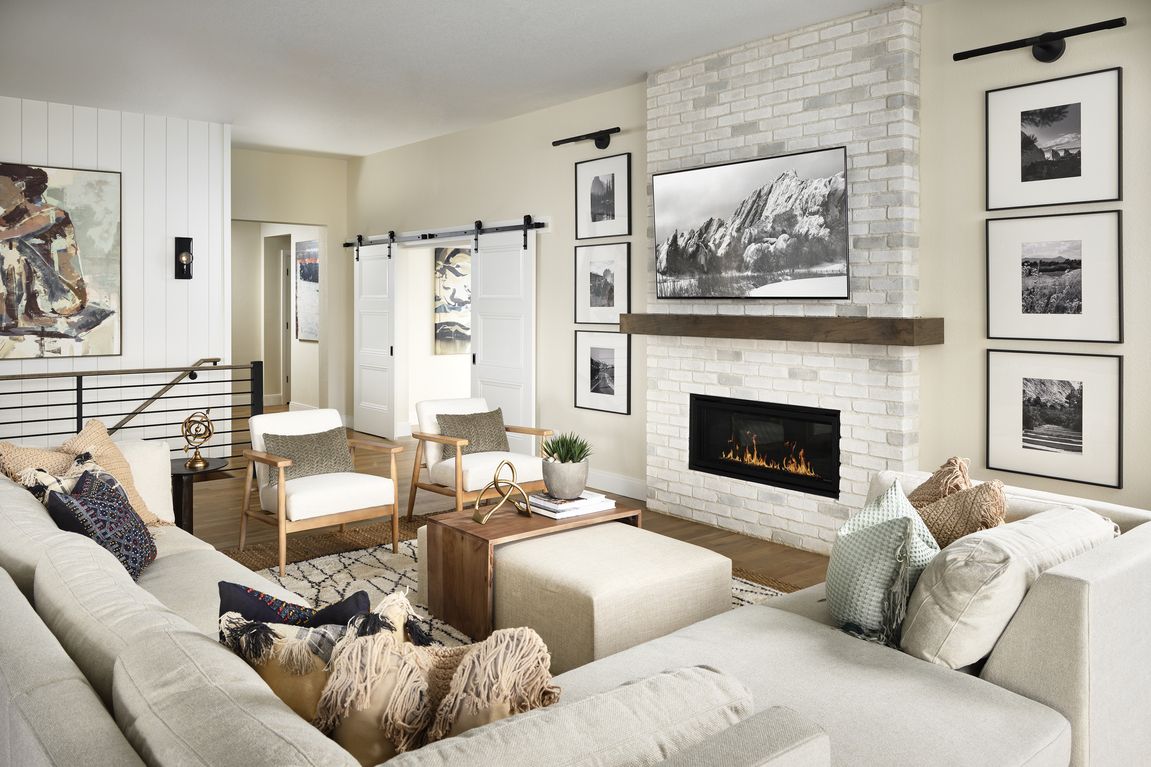 Modern Farmhouse Colors
The warm shades and natural materials that are staples of a modern farmhouse design create a cozy, inviting, and relaxing scheme. Taking a step back from bright colors and bold patterns, a neutral color palette takes center stage and creates the perfect foundation to collect upon.
Modern Farmhouse Design Elements
Further, incorporating the elements of the farmhouse look without going over the top usually consists of using clean lines, warm woods, and touches of black accents. Other staples would be industrial lighting, the ever-present shiplap, and black metal window frames. This high-contrast look is fresh and adds tremendous curb appeal.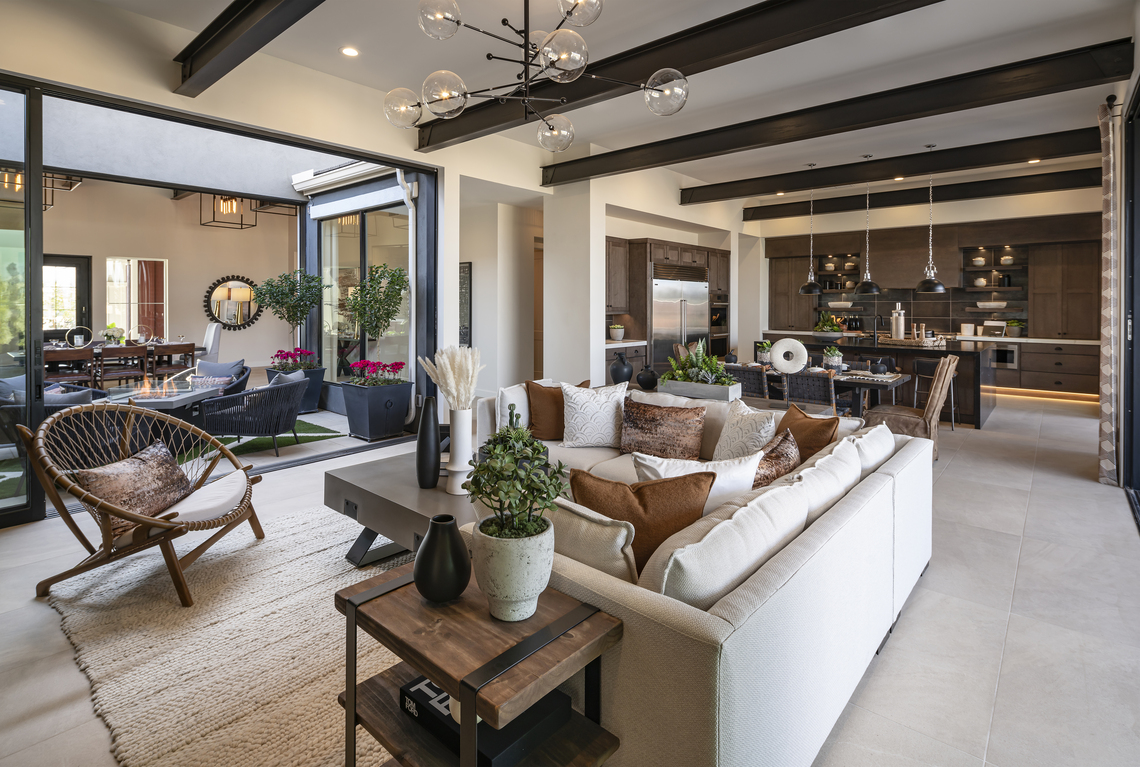 Modern Farmhouse Kitchen Ideas
Most modern farmhouse kitchens are the home's meeting place. In them, you'll find solid surface backsplashes and open shelving, the perfect location to showcase your collectibles.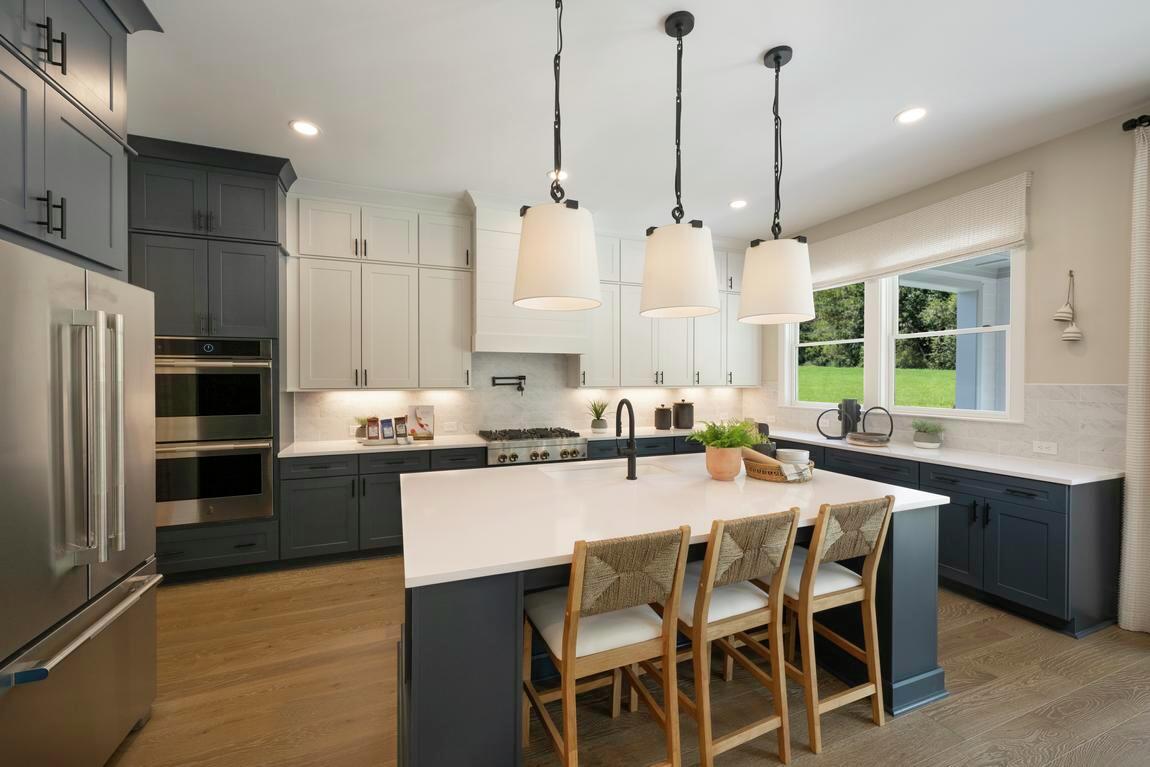 Modern Farmhouse Decor Ideas
When accessorizing a modern farmhouse, try not to clutter your home with meaningless decorations. Instead, keep your design minimal and decorate with chunky wool blankets or woven baskets. The décor should be casual, comfortable, and accessible.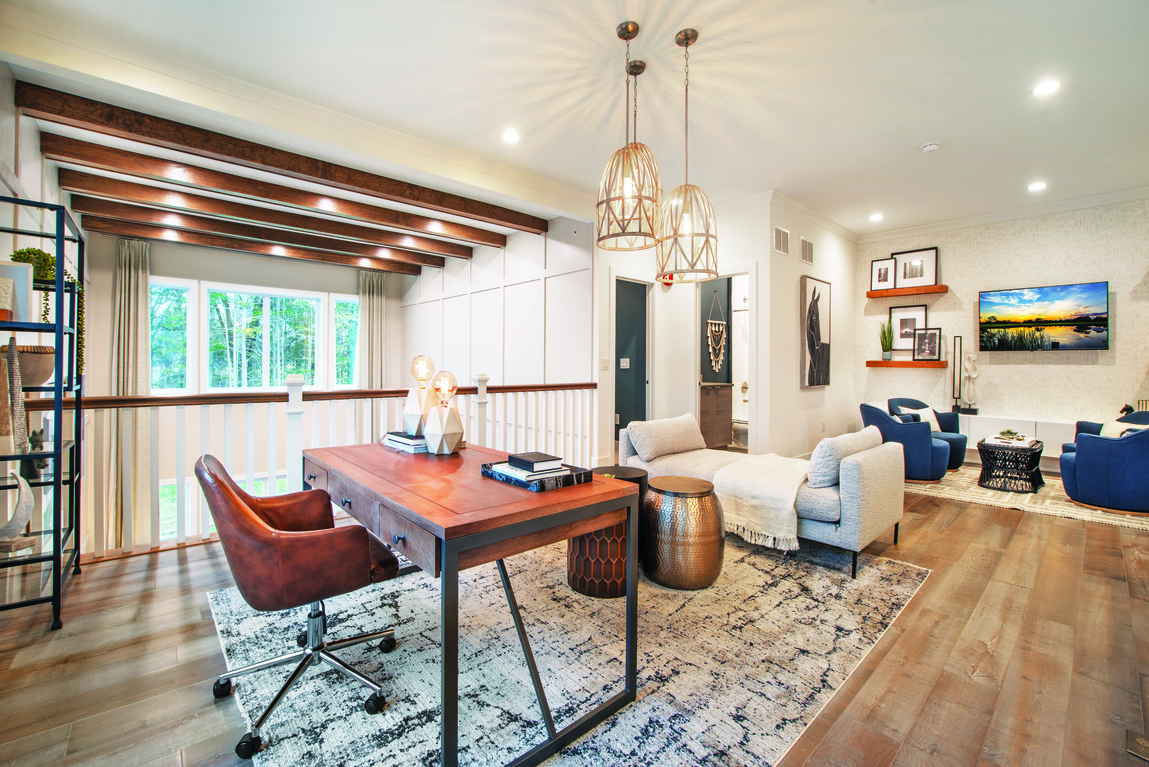 Incorporating a Modern Farmhouse Design Throughout a House
It can be quite the undertaking to revamp your entire home. However, pairing your existing contemporary, modern, or traditional design with the modern farmhouse look is easily achievable with a few small touches. If you currently have a contemporary house but want to incorporate the style, aim to add warmth and texture by layering warmer wood tones and natural fibers with pillows and throws. Traditional homes need to remove strong patterns and overtly cluttered accessories that are too detailed to make things look cleaner and understated.
Add Texture for a Rustic Feel
Texture also plays a critical role in a farmhouse aesthetic. Adding unique and varied materials to any room gives a personal feel you wouldn't find in a seemingly stark, modern home. For example, adding elements such as wool and seagrass to your floors and walls will achieve natural texture with stunning details.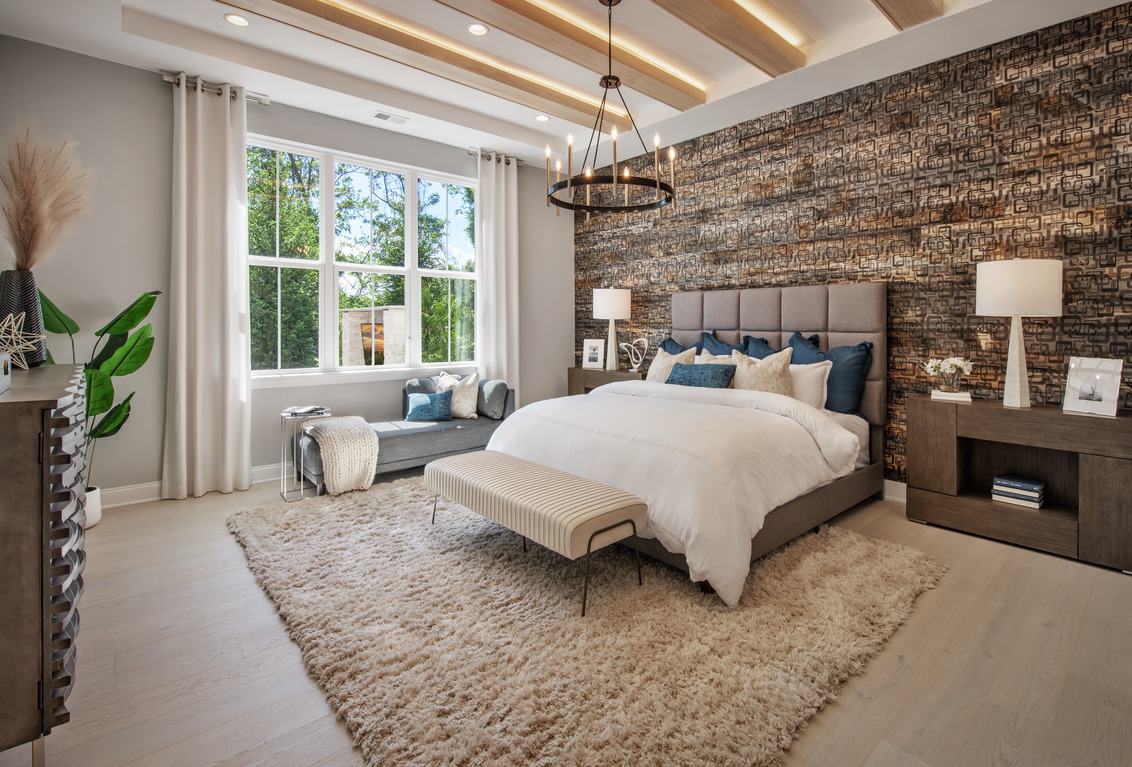 Accent Rooms with Vintage Shades and Finishes
Storage and shelves should be clean and well displayed. Play around with beige, white, and grey shades, or incorporate earth tones to create a grounded feel. The finishes will also play a vital role. Look for furnishings and collectibles that have an antique or vintage feel.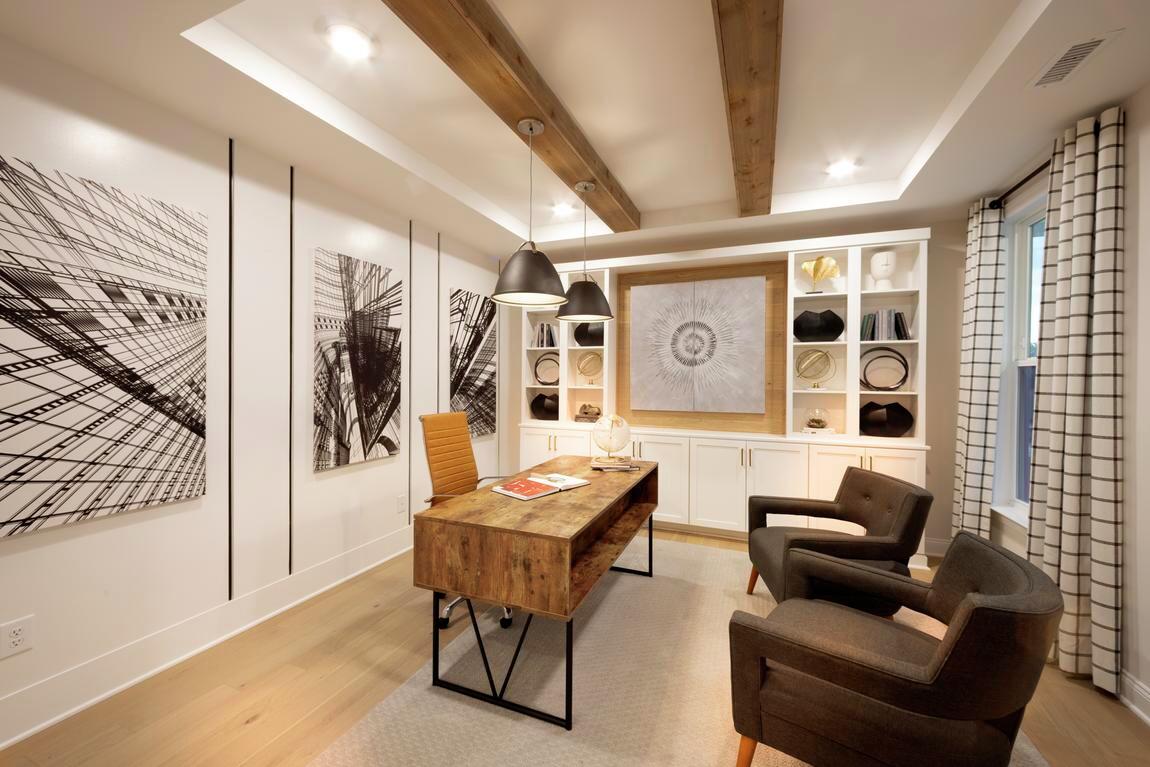 Create a Cozy Space
To create a more collected design story, utilize antiques or showcase family heirlooms that feel nostalgic and meaningful. Then, concentrate on creating a cozy place where you and your loved ones can gather to create memories. Farmhouse style has been around for decades, but this modern twist makes an old design feel more current, fresh, and stylish. No matter what style of home you currently have, with a few tweaks and additions, any space can feel as fresh as a modern farmhouse.
It is no surprise that this homespun yet chic décor is changing how people are styling their homes. People love the look of a country-inspired space with clean lines and a slightly urban edge. Many have been ditching their previous décor and embracing the modern farmhouse look because it is obtainable, versatile, and feels collected. It is also a family-friendly approach but still has high style—perfect for any age range or income. Everyone wants to live in a place that feels comfortable and personal. Thus, the warm and collected farmhouse décor creates the perfect environment to return home to every day.
Want more ideas to get the farmhouse look? Read our blog on creative ways to use shiplap, and get inspired to update your home.