Last updated on August 24th, 2022
What's the rule of thumb for mixing textures and metals in interior design these days? We asked our design partner, Possibilities for Design, for some guidance. Doris Pearlman, Possibilities' Founder and Chief Metal Officer, had this to say:
Mix it up! We are seeing a layering of varied textures and fun surprises everywhere in the fashion and design world right now. Metals are available in the widest variety, with choices like brushed nickel, polished chrome, brushed chrome, polished nickel, oil-rubbed bronze, brushed gold, polished brass, and antique bronze widely used and mixed. Texture upon texture is today's norm. In clothing, a single outfit can include sleek leather, hammered jewelry, soft cashmere, and, as a surprise accessory, the glovelette. Bedding combinations are all about layering textures—crisp Egyptian cotton, quilted velvet, and faux feathered pillows can easily appear in one ensemble. How does a Toll Homeowner interpret these trends within their own luxurious home?
First, toss the old adage that says a home has to have an all-is-one approach in terms of finishes. It's simply not true today. Instead, select finishes that enhance and complement one another throughout your entire home. Featured in our Ralston model in Colorado's Toll Brothers at Flatiron Meadows community, below are ten ideas to create unforgettable spaces with texture and finishes.
Greet your guests with a show-stopping entry
Tile or wood can be configured in a multitude of patterns, elevating your style the moment your front door opens. Chevron, Versailles, and Herringbone are just a few of the most popular patterns that are high impact.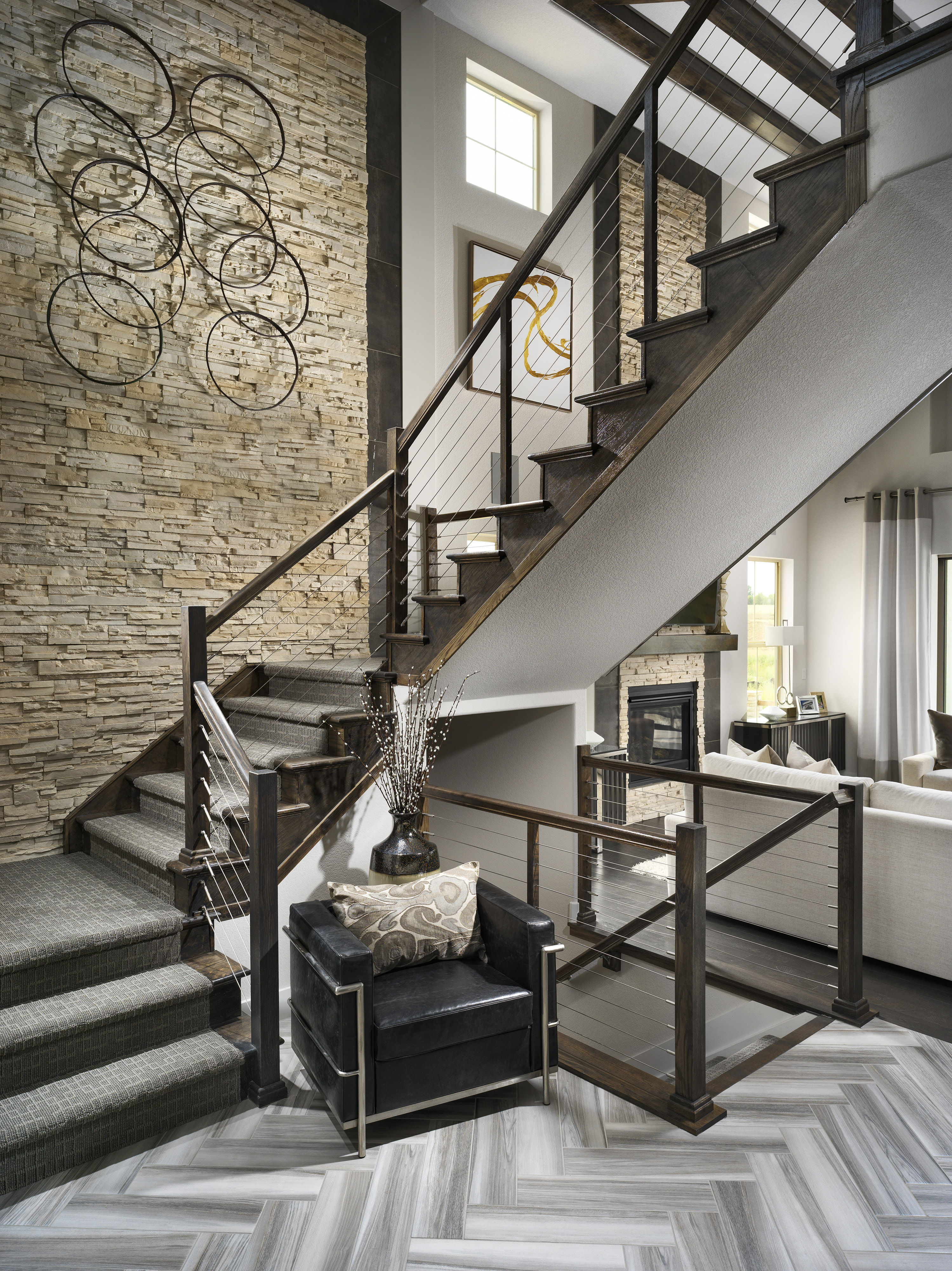 Replicate lighting finish
If your entry and great room have volume ceilings, replicate lighting finish and style in both areas. This gives design continuity and drama where it's most visible.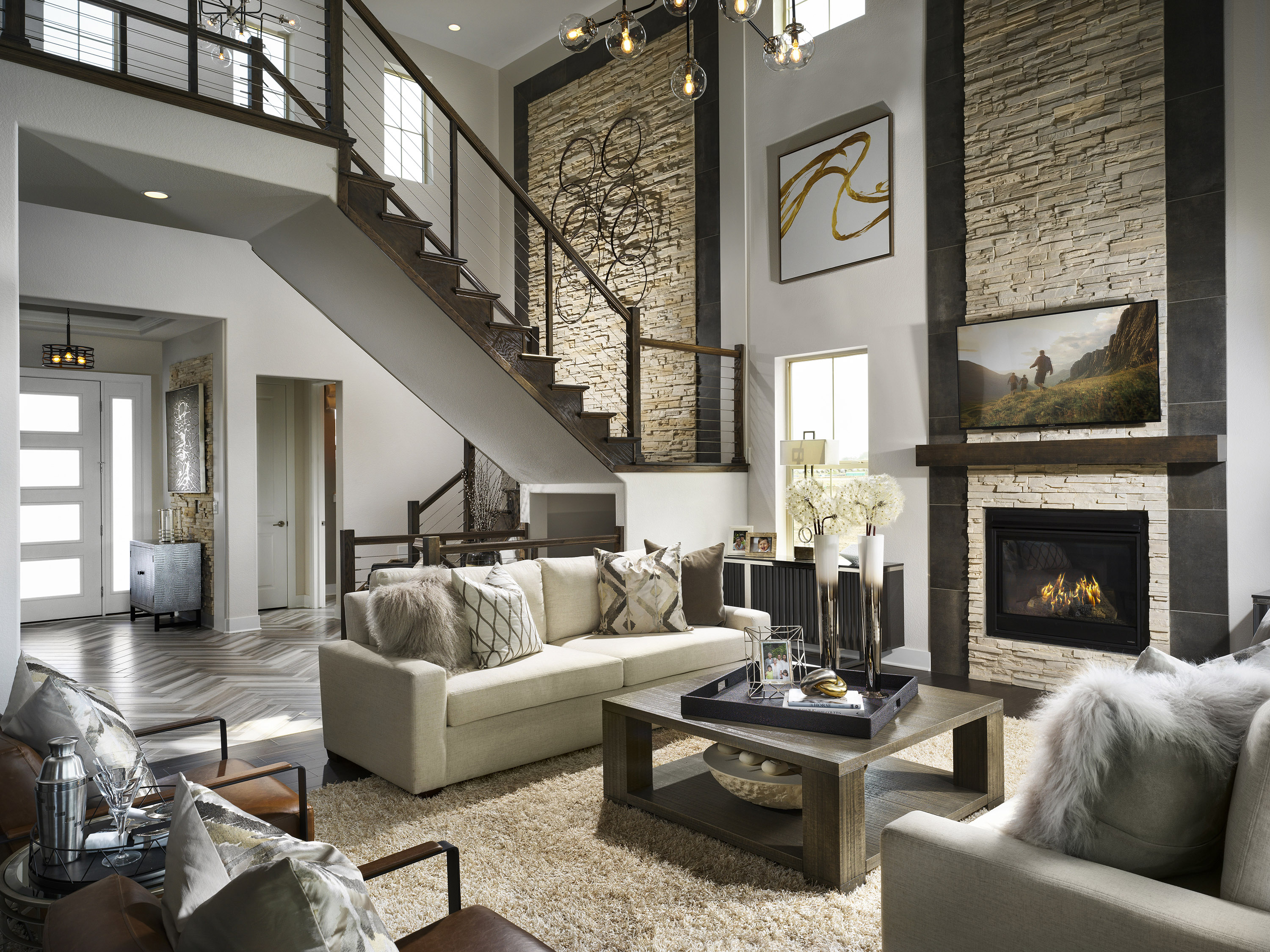 Find ways to express art and craftsmanship
Create an artistic expression by applying stone or tile accents to a two-story wall.  Simply adding unexpected texture to a space can sometimes be all that's needed.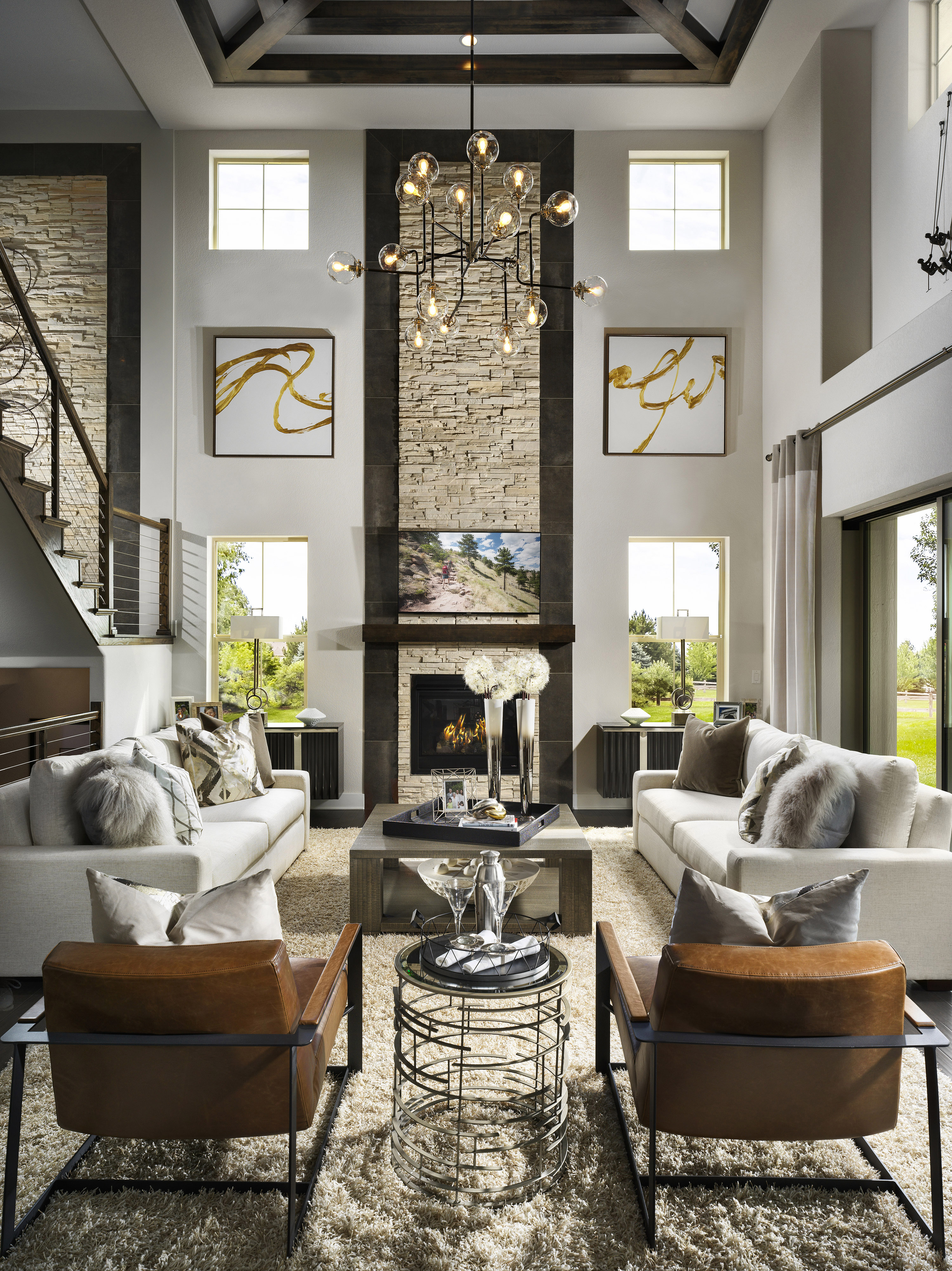 Keep your kitchen nook friendly, not fussy
Use contrasting colors on your cabinets and countertops, and make sure your barstools are memorable and comfortable.
Have fun with your island pendants
This is an opportunity to add flair and texture. We recommend selecting similar metal finishes in pendant and nook lighting.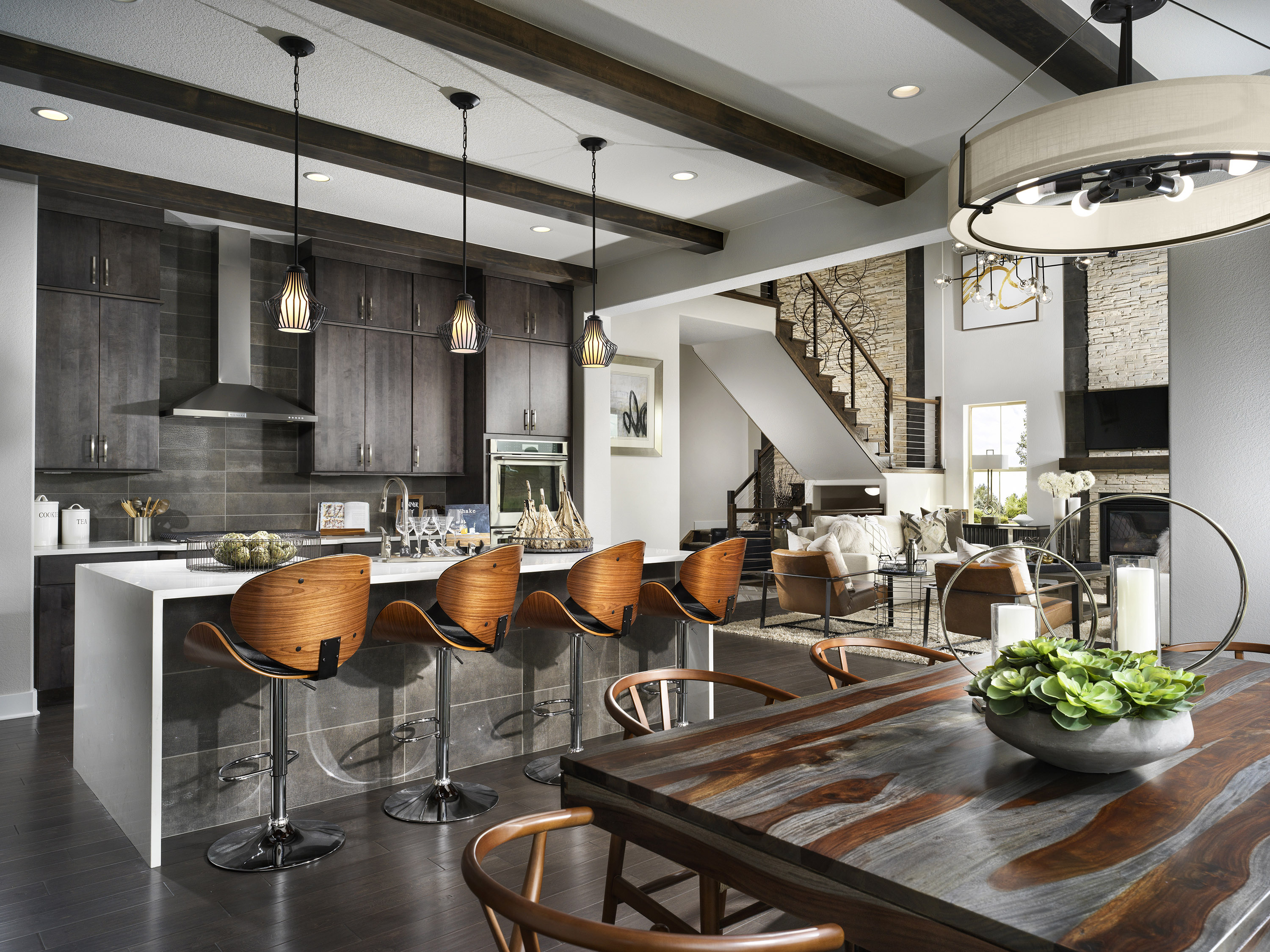 Look up
The ceiling is an oft-forgotten, critical space in interior design.  And the perfect place for texture.  A wood ceiling in a bedroom can add warmth, a memorable trim detail can make a dining room coffer feel like a critical, structural element.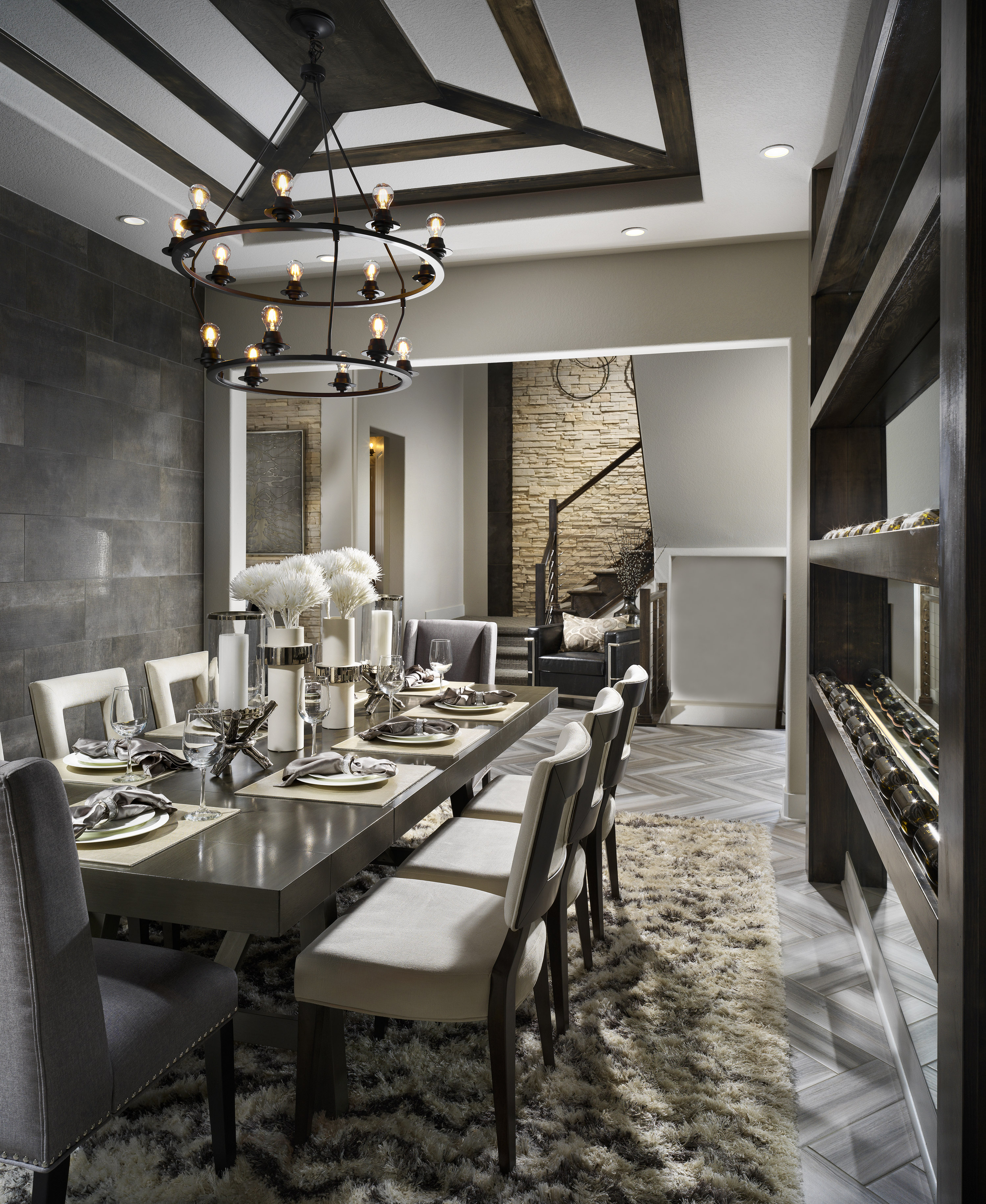 Look down
Carpeting and area rugs are another way to give expression to space.  Small-print patterned carpet is a surprising way to bring personality into a secondary bedroom, while a fluffy, comfy area rug in a great room can bring depth and contrast to large areas.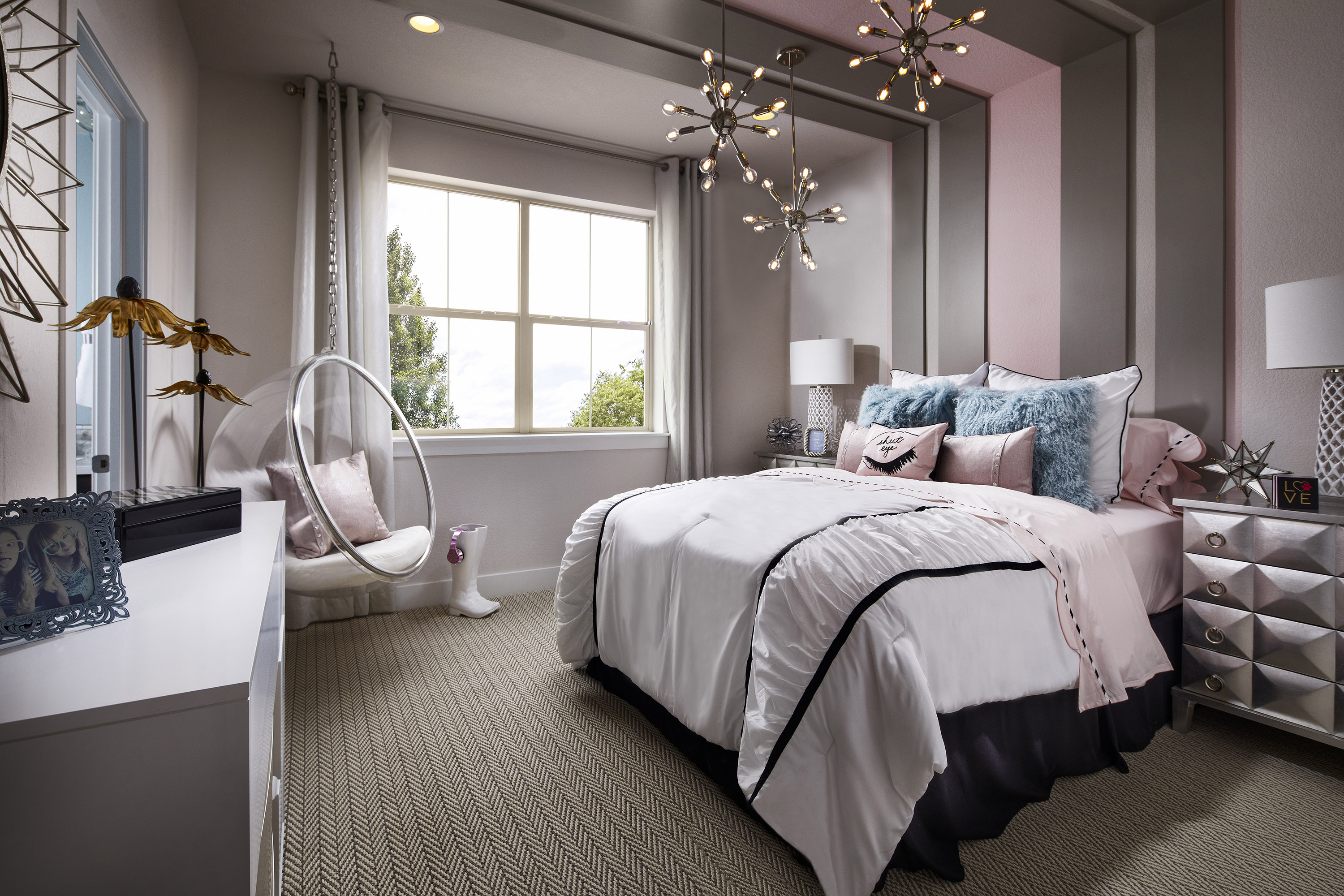 Add a chandelier in a bedroom to introduce another level of layering
The most important consideration when selecting a bedroom chandelier is to match it to the style of the room. The finish is secondary.
Wooda, shoulda, coulda!
Wood, our favorite material, is the star of the show in homes today. Whether it's a live-edge table that brings organic energy to a space, unique stain combinations in furnishings, or slab-front cabinets that are content to let beautiful hardware shine, wood is in.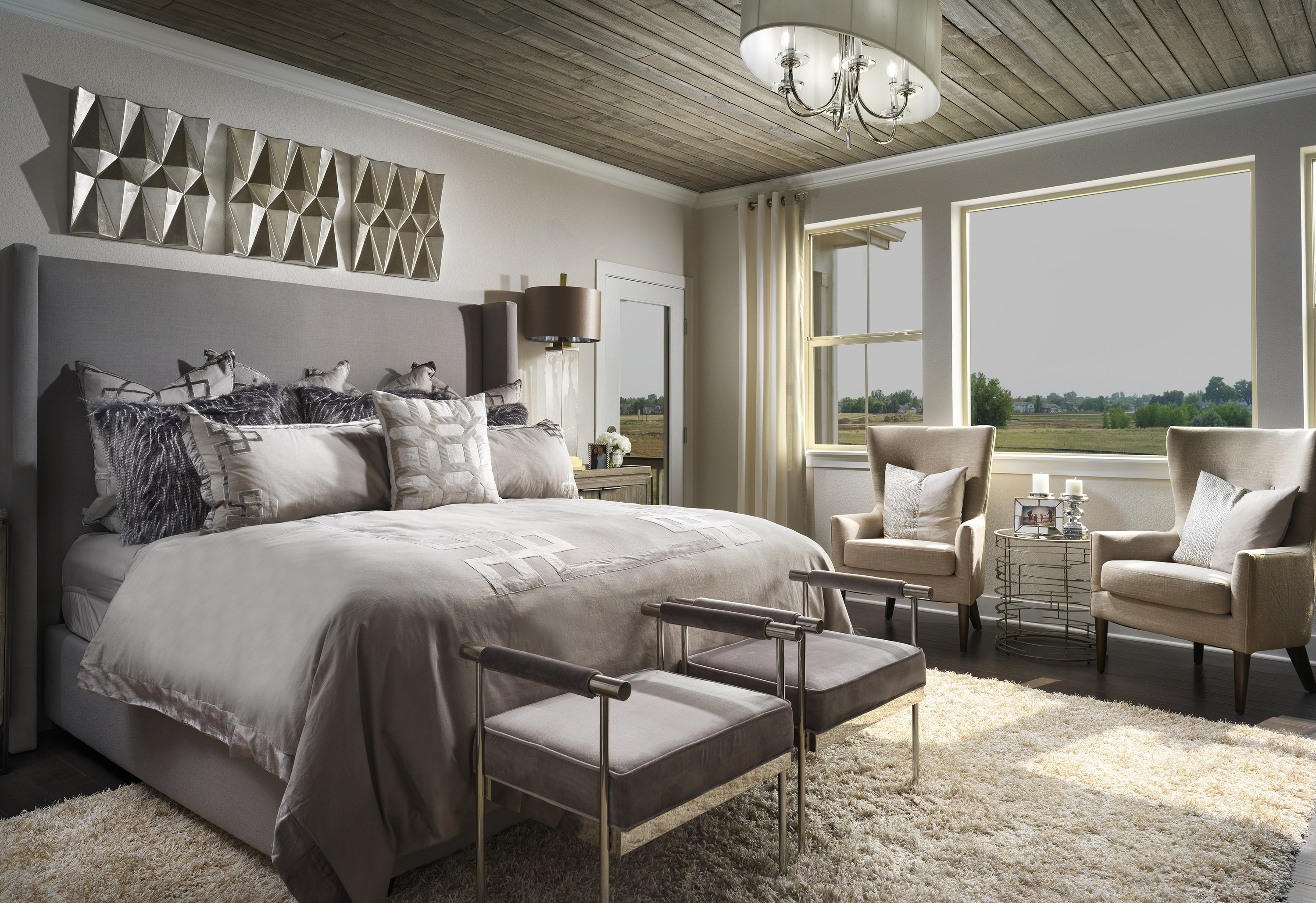 Black is the new black
Used as iron accents on contemporary chairs, as the focal point for industrial-inspired lighting, or as fabric for a statement chair, black is back as a foundation. There's no fabric, color, or pattern that it doesn't love. Use it wherever you need a perfect backdrop for accent colors or stylish details.
For more inspiration around mixing metals, please visit Toll Brothers on Pinterest.
This story features Doris A. Pearlman, founder of Toll Brothers' design partner Possibilities for Design, Inc., a nationally recognized, award-winning, interior design firm based in Denver, Colorado.