Last updated on August 24th, 2022
Your kitchen is undeniably the hub of your home. This is where your family cooks meals together, enjoys delicious dinners, and connects over a quick snack. Thankfully, Jenn-Air has developed new kitchen tech to make your cooking areas even better. These are just a few of the advantages you can incorporate into your Toll Brothers home.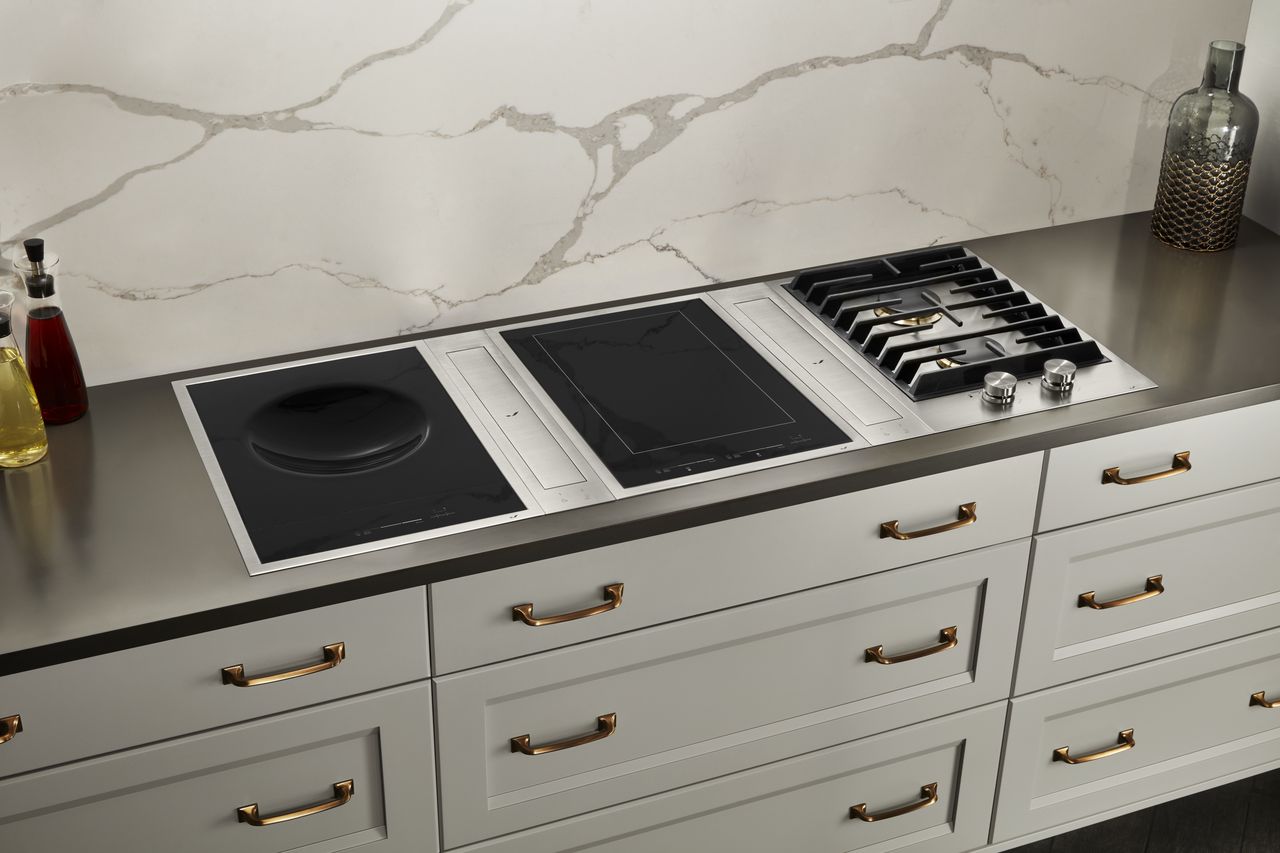 Wall Oven
Pass on secret recipes to loved ones or cook meals to perfection with Jenn-Air's Connected Wall Oven. Instead of constantly checking to make sure the chicken hasn't dried out, enjoy spending time with family in your spacious living room or relaxing in your outdoor escape. Your Jenn-Air Wall Oven will preheat remotely and provide cooking progress updates. You can even ask Alexa to preheat the oven, set a timer, adjust the oven temperature, or report how much cooking time is left.
If you need to remember a recipe or learn more about how to prepare a meal for the holidays or birthday celebration, this innovative wall oven can remember the settings to your favorite dishes and provide you with color images and visuals to explain the instructions. For example, you won't have to guess where to insert the thermometer on your Thanksgiving turkey. Equipped with more than 30 food options, the oven guides you through the cooking process with a technology that takes into consideration the type of food, the bakeware, and the desired doneness for the dish.
Module Cooktops
Cooking a holiday meal for a large group of friends or relatives? Is there more than one chef in the kitchen whipping up a culinary concoction? Take advantage of a flexible cooking area designed specifically for your unique cooking habits. Jenn-Air's module cooktops can supplement an existing cooktop or be placed in different areas of the kitchen so that you aren't restricted to prepping and cooking in one area. Feel free to set up your "pop-up" prep station in your Toll Brothers City or Apartment Living spaces, a guest house, or a sophisticated bar area to enhance functionality where space is limited.
Smart Refrigerator
Whether your refrigerator is loaded with field trip snacks, camping meals, or the ingredients for an elegant dinner, Jenn-Air's smart 72-inch counter-depth French door refrigerator featuring Wi-Fi connectivity keeps ingredients at their freshest.
Returning from the store with bags full of groceries? Use the Max Cool setting to temporarily lower the temperature of your fridge and freezer to save your melting ice cream. Worried about running out of ice for the party? Remotely activate your smart fridge to increase ice production while you're picking out decorations. Headed to the game? Use the Favorite Fill feature to get the precise amount of water to fit your bottles (or coffee pots for those early morning practices).
With updated notifications, voice-activated commands, and remote-controlled capabilities, Jenn-Air's innovative technology enables you to live your life without worrying what's in your fridge. Stay connected to your kitchen with ease and spend more time doing things you love with the people you care about most.
To learn more about our kitchen tech, or a luxury Toll Brothers community near you visit our website. To read more articles on the latest technology trends for your home visit our blog homepage, or click here for more information about Jenn-Air appliances.
Featured image: Estates at Bamm Hollow, Henley model home, New Jersey