When it comes to building your new luxury home, the thoughtful design choices made at the Toll Brothers Design Studio go a long way toward giving each room a distinct sense of personality. In today's kitchen and bathroom designs, tile remains both a stylish and practical choice. The wide array of tile patterns, colors, and textures available provides the perfect opportunity to make a design statement while remaining durable and easy to maintain. Make your home your own with these popular tile styles that our designers love in Toll Brothers homes across the country.
Large Format Tile
Tiles that measure larger than 12 inches by 12 inches, known as large format tiles, are a popular choice among home buyers. Along with porcelain slabs, large format tiles show fewer grout and joint lines throughout the space than their smaller tile counterparts, creating a sleek and polished look. Their versatility is also an attractive feature as they work well on both floors and vertical surfaces.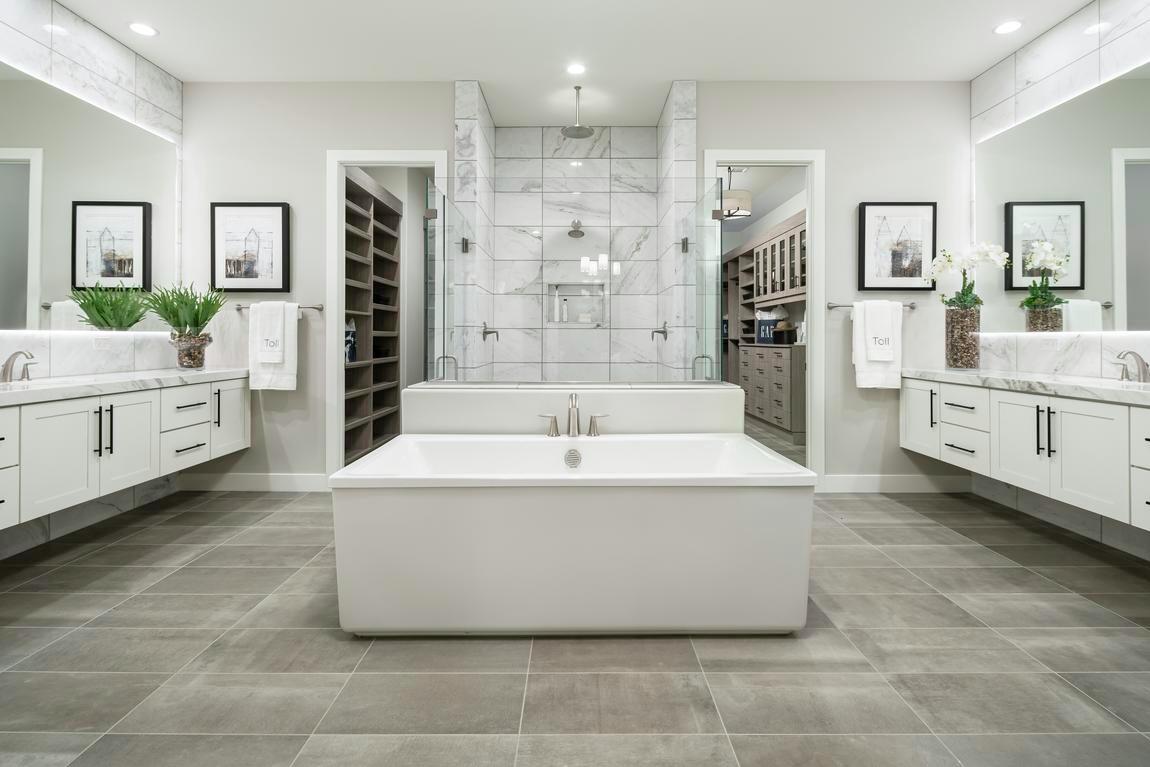 Another part of the appeal of large format tiles is that they tend to recede into the background, allowing other design elements—such as a statement rug, large plant, or other décor items—to draw focus. Concrete and marble tile are especially well suited to this context, along with white and taupe colors that are gaining in popularity.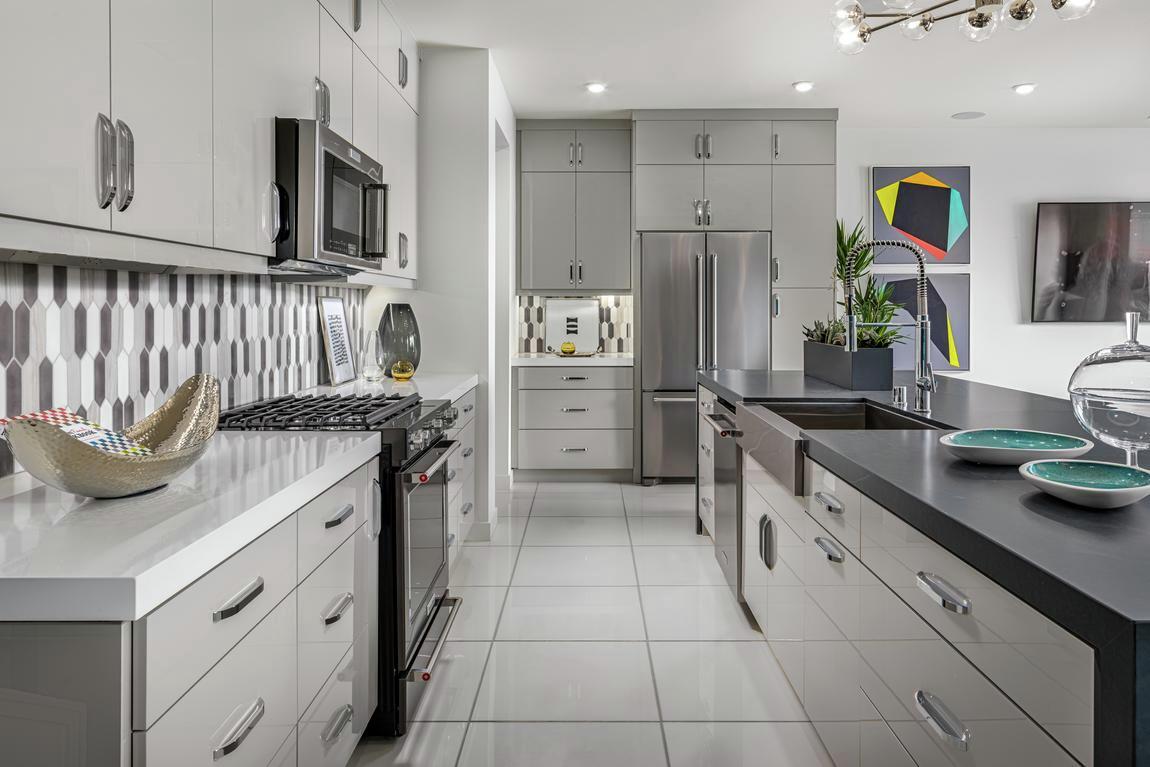 Neutral Tile
Less truly can be more. Neutral bathroom tiles are ideal for cultivating a calming, spa-like ambiance with a luxurious feel. Pair marble walls with gray floors for a bright, invigorating atmosphere, go bold with dark tile and gold-tone fixtures or create an industrial-chic look with navy blue bathroom walls in a solid color and reddish-brown shower tile that bears a resemblance to exposed brick.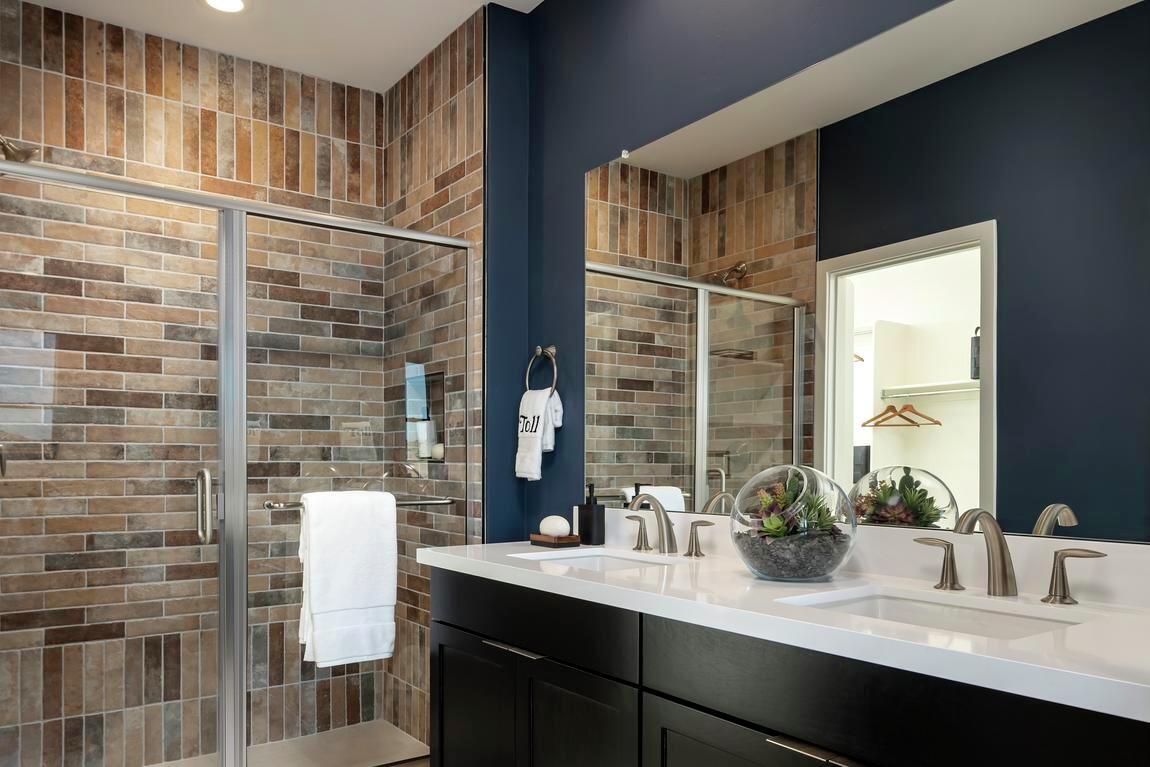 If you prefer an understated tile design in the kitchen, consider a light pattern that mimics a tweed look or a soft texture on warm gray tile. A neutral tile selection will help to highlight other design choices, such as bold lighting fixtures or a vibrant piece of art.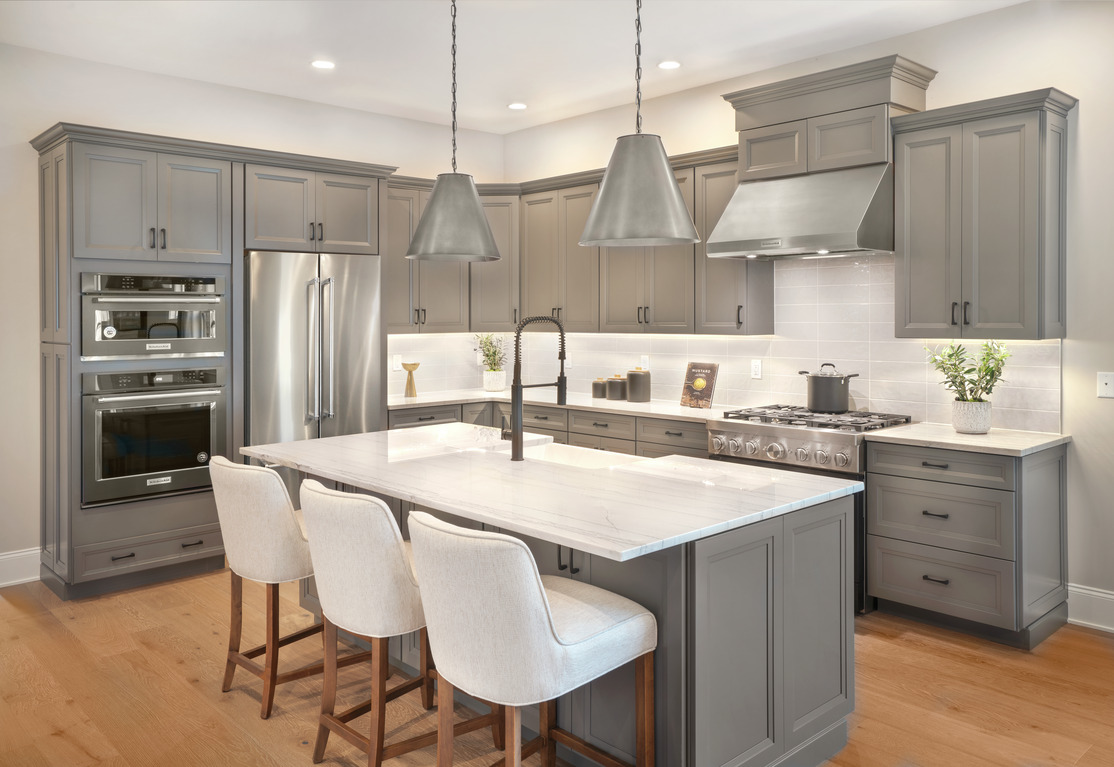 Decorative and Unique Tile
Unique, bold tile designs are an effective way to give your home some extra personality. Colorful, patterned hand-glazed tiles work beautifully as accents, creating a significant "wow" factor that elevates any space. Kitchen backsplashes, the front side of a kitchen island (especially islands with waterfall edges), and shower walls are ideal places to use artisanal tile to create a distinctive, handmade look. Dark, dramatic colors and patterns can be particularly striking.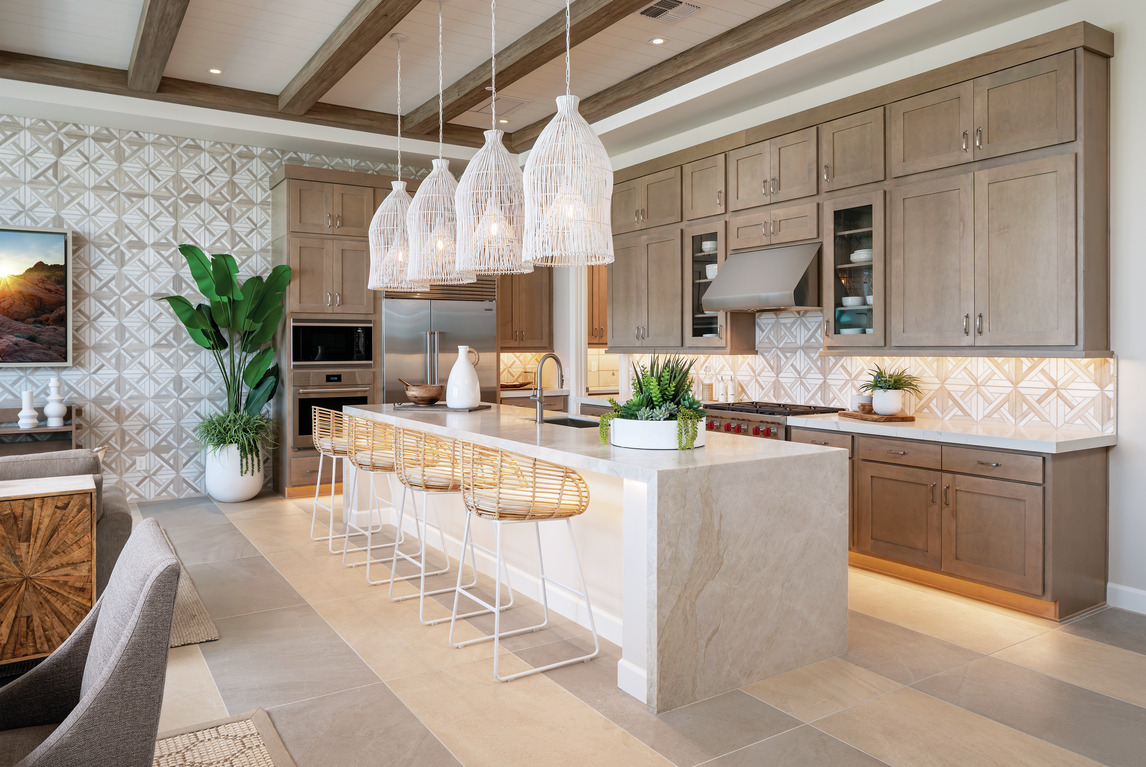 Another way to create a unique look with tile is to implement decorative metal profiles. Tile and metal are a winning combination, and there are many options for mixing and matching. For example, brass tends to mesh well with darker tile, while white marble and white subway tile are stunning paired with matte black metal.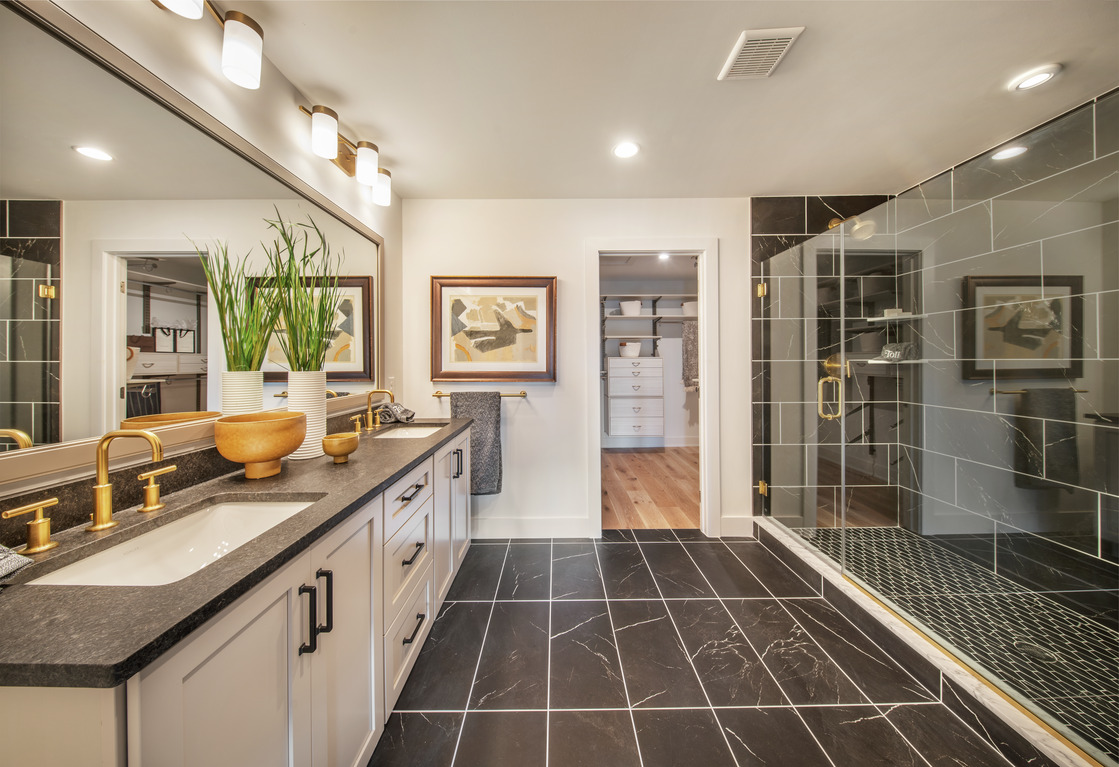 Geometric Tile
Incorporating geometric tile design is an excellent way to add visual interest to your space. Much like hand-glazed and artisanal tiles, geometric tiles are effective as decorative accents, and they can also stand out when used as flooring.
When choosing shapes, don't hesitate to get creative and experiment. Hexagonal and herringbone tiles, for instance, can help to create a more refined, classic look, while cubes and chevron patterns offer a modern touch.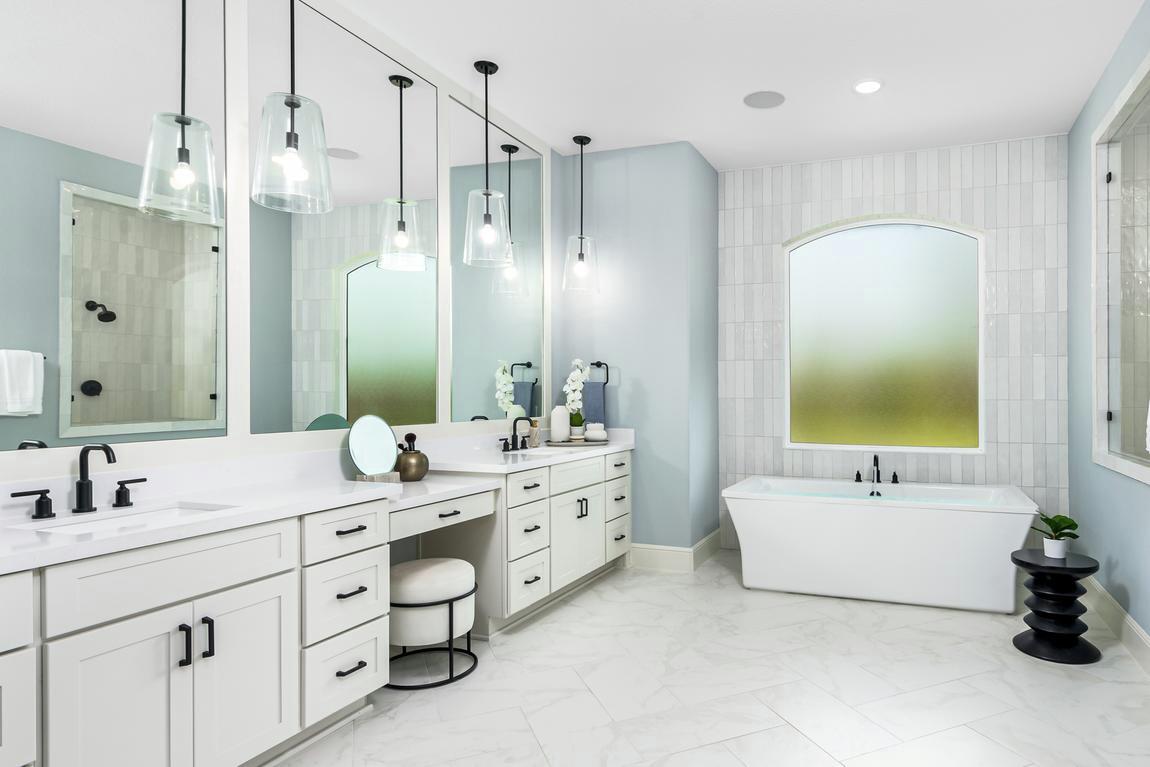 Tile is a timeless design choice. By incorporating these popular tile styles and complementary elements into your kitchen and bath spaces, you can create a one-of-a-kind home that showcases your sophistication.
Toll Brothers design options vary by market, community and home design across the country. For more information regarding tile design options offered in a specific Toll Brothers community or home, please visit our website or reach out to one of our Online Sales Consultants.