Last updated on August 24th, 2022
We often take lighting for granted. It is such a common element of our home, that we rarely give thought to the comfort, function, safety, and personality it brings to our space. Truth is, the correct light can make a big difference, especially in your child's room. Whether you want to protect your newborn's eyes, scare off the monsters in your toddler's bedroom, or spunk up your teenager's space, we've got some kids room lighting ideas that are sure to grow with the needs of your child.
Nursery Lighting Ideas
With a new baby on the way, the last thing you're probably worrying about is nursery lighting.   The number one thing to remember when lighting a nursery is to avoid harsh lighting. Harsh lights can overstimulate, or possibly harm, your baby's sensitive, developing eyes. Soft lighting minimizes the contrast of light and dark and lets your child's eyes rest. So, steer clear of exposed light bulbs and halogens, and go for shaded fixtures and diffused light. Also, installing a light dimmer can help create different atmospheres in the room for playing, nursing, and sleeping as well as make those late-night feeding and diaper changing sessions a lot easier.
Having multiple light fixtures (minimum of three), such as a ceiling light, a standing lamp, and table lamp, gives you the right amount of light wherever you need it in the room. Don't be afraid to get creative with your lighting by using whimsical streaming lights, fun lampshades, or elegant chandeliers.
Kids' Bedroom Lighting
The most important lighting consideration for your child's room is safety. Choosing lighting that is unbreakable, such as wood or plastic, and avoiding breakable materials like glass or pottery helps avoid any unfortunate disasters. If your little one is accident prone, make sure to secure loose cords to either the floor, the wall, or the leg of a table. Also, make your child feel safe by keeping a comforting night light nearby, such as a fun color-changing unicorn or a glowing campfire.
Creative lamps are a simple way to accent and spice up any decor. Finding the perfect lamp is easy because you can choose from hundreds of various sizes, shapes and designs, such as this bendy giraffe or this color constellation projector.
The ceiling lights in your child's room should add to the aesthetic of the space. Play into a theme with lights like hanging drums or add style with this elegant wood bead chandelier.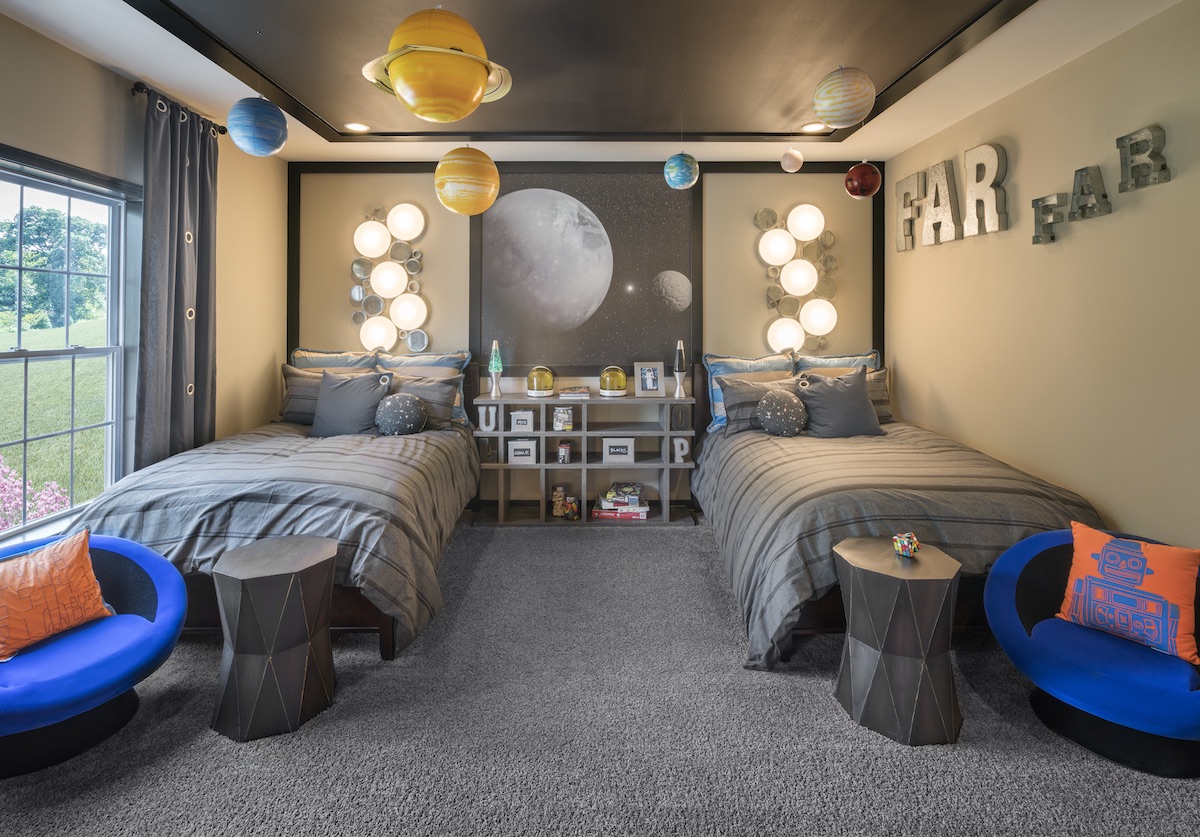 Teenage Bedroom Lighting
When lighting a teenager's room, it is important to think about what kind of lighting will best serve their needs. Consider how much your teen studies and watches TV, along with any other activities they like to do in their own space. Add layers of light fixtures that they can adjust to their liking, such as recessed lighting, an eye-catching chandelier, and table lamps. Consider hanging lights on each side of the bed to serve as great bedside lights without taking up space on the nightstand.
Desks or other areas where your teen will do an activity require task lights often in the form of table or floor lamps. Floor Lamps can also be great for illuminating dark corners or lounge areas for reading or writing. Table lighting can second as decorative accents that add personality to the space.
For more inspirational kids room lighting ideas, visit Toll Brothers on Pinterest.