Last updated on November 30th, 2022
In today's busy life and world, taking the time to take a bath can seem like the ultimate luxury. 
Bath time can encompass many elements: refreshment, wellness, relaxation, meditation, muscle rehabilitation, and more. It's important to choose a bathtub style that suits your home, luxury bathroom design, and lifestyle. There are plenty of bathtub designs to choose from, each with its unique style and benefits.
Explore these five bathtub designs found within Toll Brothers model homes across the country, each with a style and functionality that provides the ultimate luxury bathroom design in your new home.
Freestanding Bathtubs
Freestanding bathtubs have exploded in popularity in recent years as a centerpiece of the luxury primary bathroom suite. Best suited for expansive bathroom layouts, freestanding baths are visually striking, extremely comfortable, and can serve as the main focal point of your space.
Whether positioned directly in the center of the room or next to a walk-in shower, this bath type comes in a variety of different styles: clawfoot, pedestal, or flat bottom. In addition, the shape of your freestanding bath can vary from square to rectangular, cylindrical to oval. If you're looking for a bathtub design to complete your luxury bathroom, look no further than this style.
Alcove Bathtubs (Recessed Bathtubs)
One of the most popular bathtub designs among homeowners, alcove baths are installed within a three-sided enclosure with one accessible finished side. The main benefits of this bath style are its convenient dimensions and option to add a showerhead and faucet to maximize space. Alcove baths also provide the opportunity to stylize and add amenities for a more luxurious look and overall experience.
Drop-in Bathtubs (Platform Bathtubs)
Drop-in tubs consist of two parts: the shell of the tub and a frame to put it in. The main draw of this design is its ability to perfectly match the rest of your bathroom's style. If you like consistency in your interior design, drop-in baths are the perfect option for you. Additionally, this type of bath offers ample depth for deep soaking relaxation as well as plenty of siding on which to place essentials such as toiletries. A variation of this design is an undermount tub, which is similar in installation but different in its style of rim.
Outdoor Bathtubs
While indoor baths can be extremely relaxing, there's nothing quite like the serenity of soaking in an outdoor bath. Undisputedly luxurious, this design is generally a secondary bathing option for homeowners who like the unexpected and want to enjoy their outdoor living space to the fullest.
Bath & Shower Combo
As the most space-efficient design available, this bath style is best suited for homeowners looking to maximize their bathroom space by combining an alcove tub and overhead shower. Typically found in a secondary or guest bathroom space, bath and shower combos can still exude a luxurious look through an array of finishes, color schemes, and features.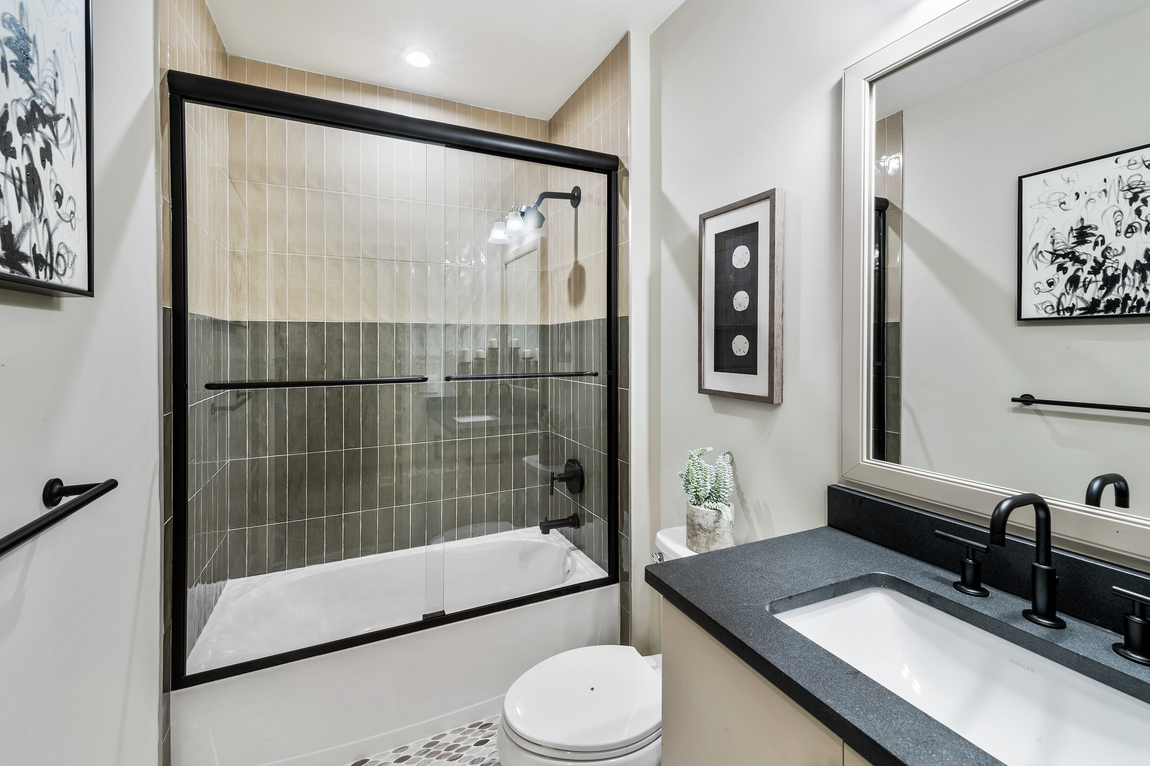 Toll Brothers design options vary by market, community and home design across the country. For more information regarding bathtub design options offered in a specific Toll Brothers community or home, please visit our website or reach out to one of our Online Sales Consultants.