Last updated on February 9th, 2021
The kitchen has evolved over the years from a functional space to prepare meals to the main gathering place of a home. It's where children do their homework and where families and friends create memories. To make the most of this area, you'll need clean and bright kitchen lighting ideas that put the spotlight on your kitchen's luxury design—from decorative pendants and recessed overhead lighting to chandeliers and under-cabinet lights. Here's how to enhance your kitchen's features with the latest trends in lighting design.
1. Recessed Fixtures Create Focused Light
Recessed downlights are ideal for providing high-quality lighting in areas such as cooking and serving zones. Because they're integrated into the ceiling, these fixtures are barely noticeable, yet they can also highlight the unique architectural features in your kitchen, such as crown molding or gorgeous backsplash inset tiles. Consider installing energy-efficient LED downlights, which provide thousands of hours of use.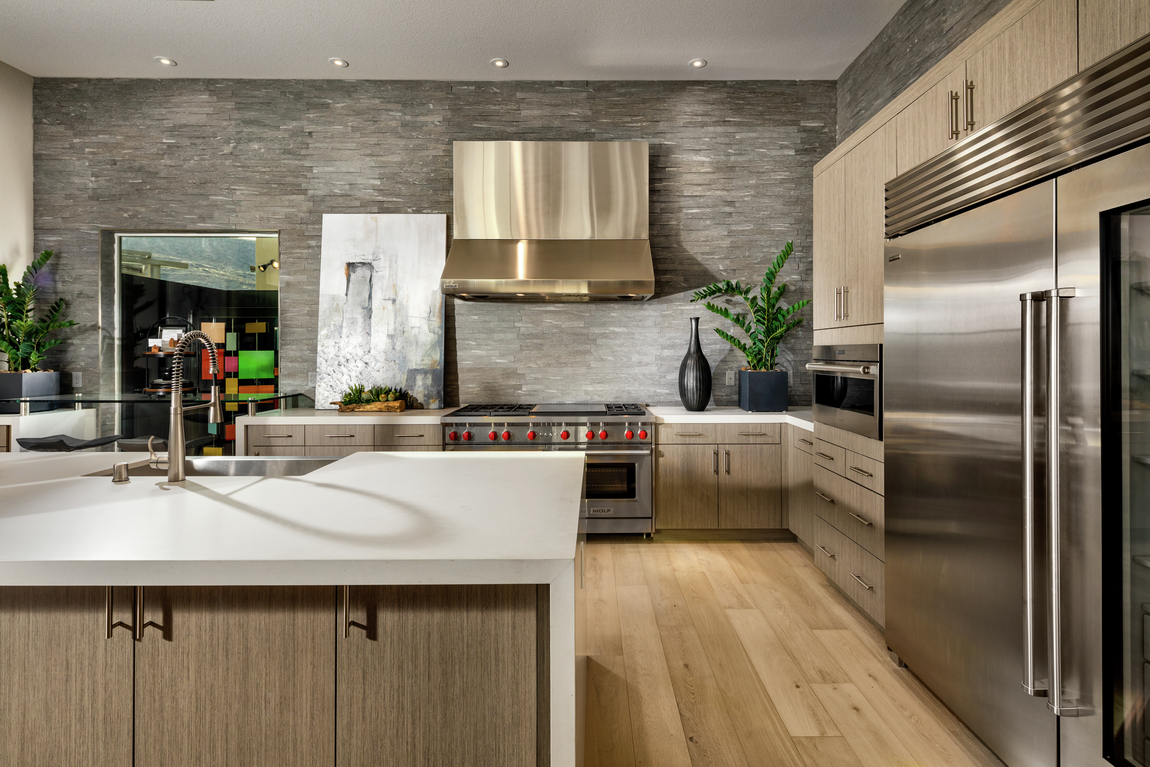 2. Decorative Pendant Lights Add Drama
To complement cabinetry, countertops, and sink areas, hang a pendant light to provide both task lighting and a bright atmosphere in your kitchen. Pendant lights are incredibly versatile, and they're available in various finishes, from warm antique brass to industrial black. You can also choose a single-bulb option from Progress Lighting's Mobi Collection for a dramatic, modern look. Many styles have an adjustable hanging rod that allows you to customize the angle of light that really shows off your kitchen's beauty.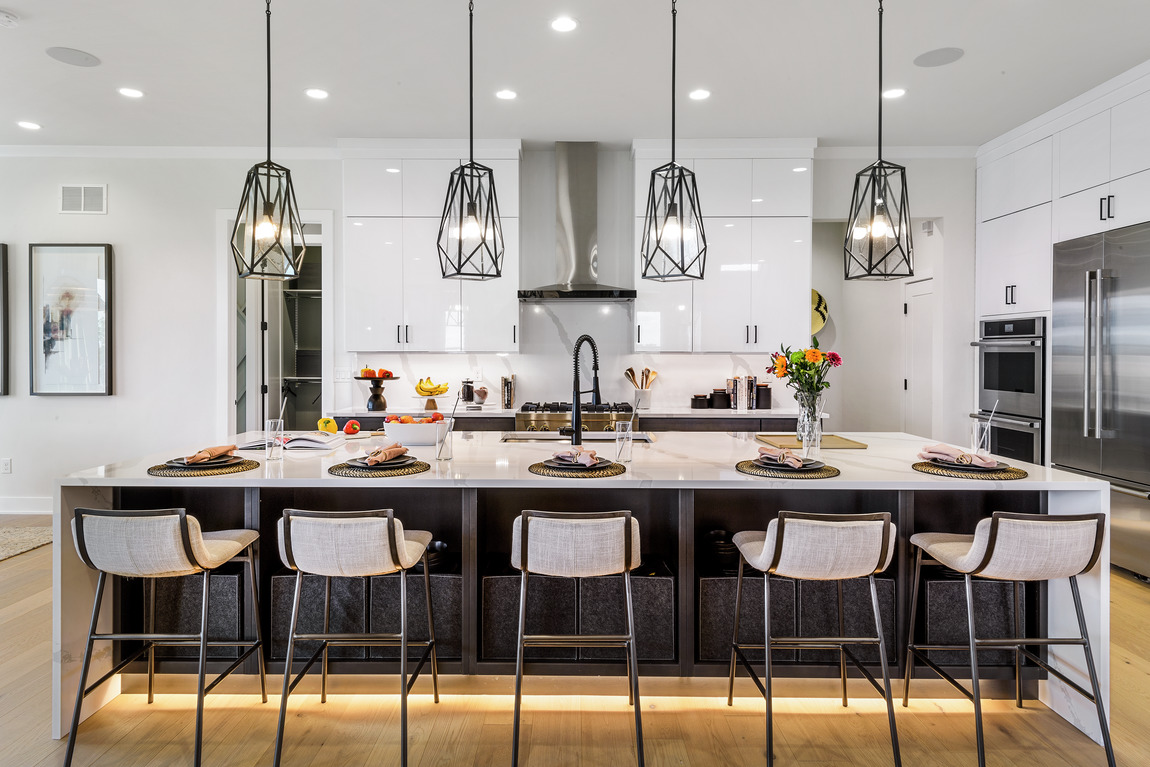 3. Track Lighting Offers Multi-Directional Function
Track lights are popular in the kitchen because they feature multiple fixtures that you can angle in different directions to bounce light around your space, adding function to different zones and hard-to-reach spots such as corners. The sleek LED Flex Track features a side-arm design that's ideal for the kitchen; its antique bronze finish will complement almost any contemporary decor. Many track lights are compatible with light dimmers, allowing you to easily adjust the mood.
4. Chandeliers Create Glamorous Focal Points
Large-scale lighting fixtures continue to be on-trend in kitchen lighting—be sure to pick one that makes a bold statement. Positioned over a table, over an island, or in the middle of the room, an oversized chandelier provides a splash of light, and it acts as an elegant centerpiece for your modern kitchen. The two-tiered Soiree Collection Nine-Light Chandelier from Progress Lighting's design series features a vibrant, repeating geometric pattern housed in an iron frame, adding sparkle to your space.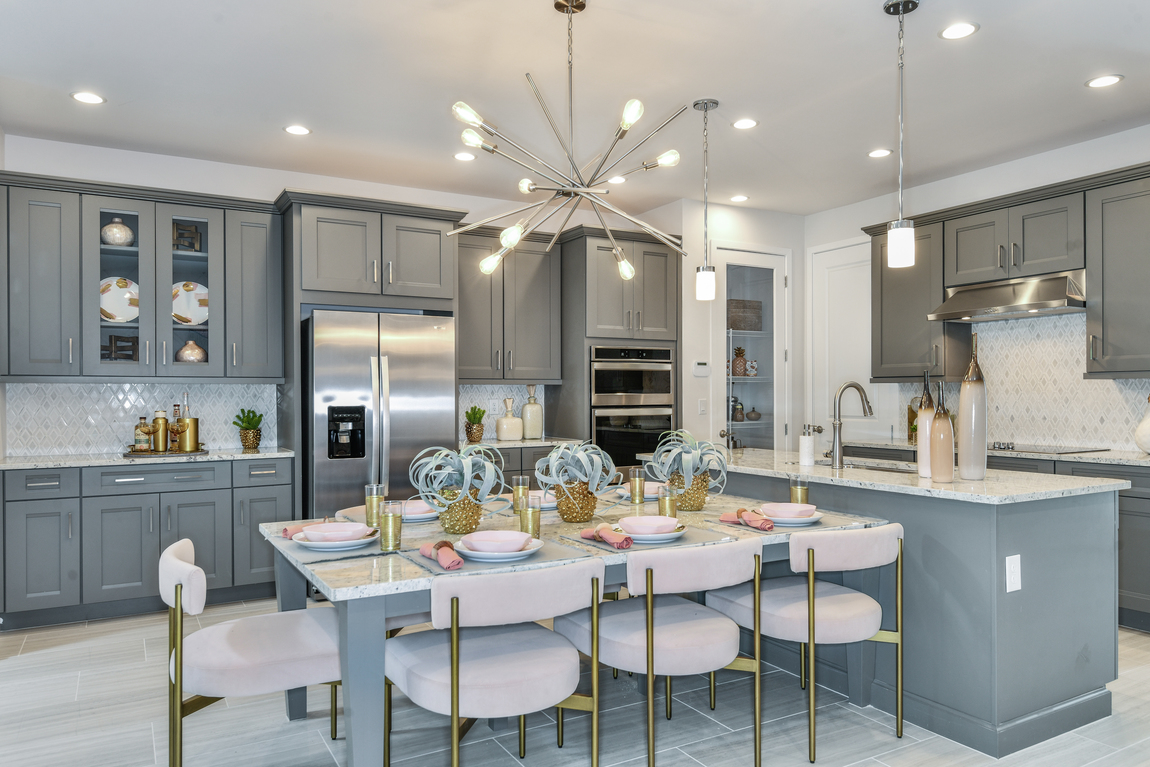 5. Flushmount Lights for Low Ceilings
Since they are affixed directly to the ceiling, flushmount fixtures can be used anywhere in the kitchen, such as a butler's pantry or bar prep area. Ranging in size, these lights offer consistent illumination so you won't have any dark corners in your space. Restoration Hardware's LED Davenport Flushmount features a lovely fluted rim and a burnished brass, bronze, or polished nickel finish for a striking, contemporary look.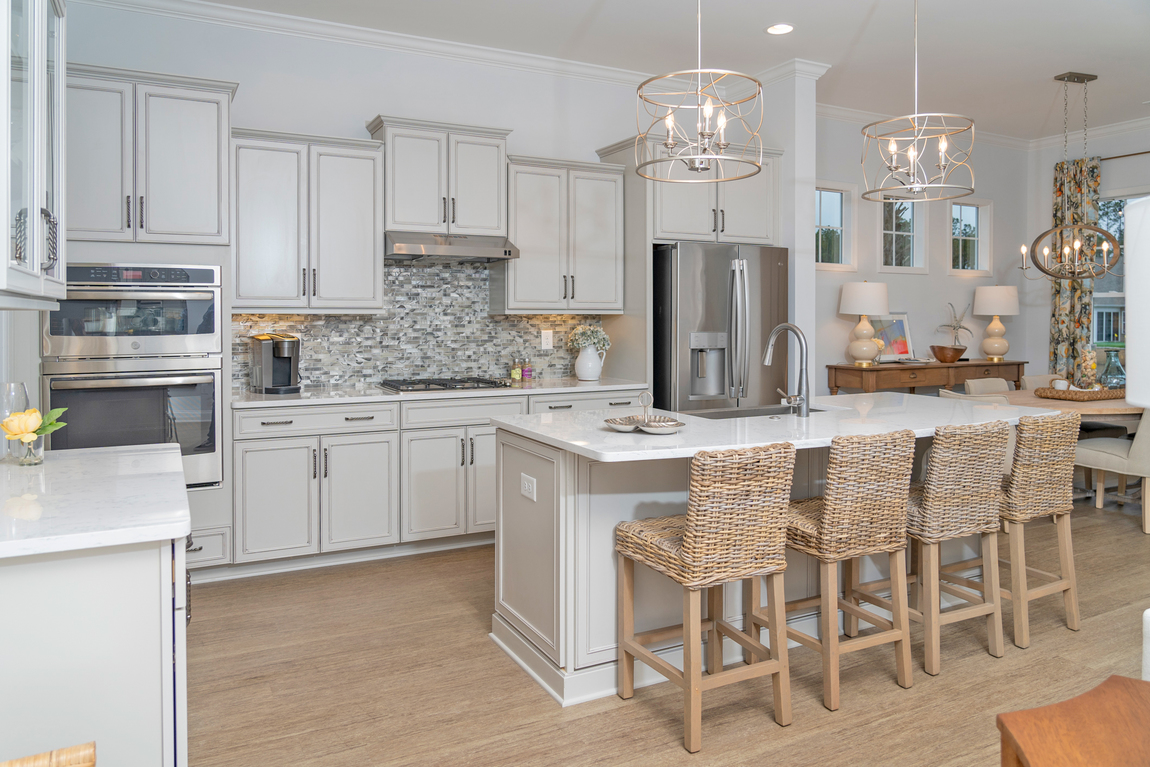 6. Island Pendant Fixtures Highlight This Central Spot
Whether you're using your island to roll out pie crust, lay out platters buffet-style, or set the kids up to do their homework, you'll need the right lighting hanging above. A row of pendant fixtures not only provide proper task lighting, they also create a high-impact focal point in your kitchen. Many island pendants are adjustable and dimmable, offering more versatility to your space. Progress Lighting's Mast Collection Four-Light Linear Pendant fixture features warm, faux-wood accents and antique bronze details that work well in coastal and modern farmhouse spaces.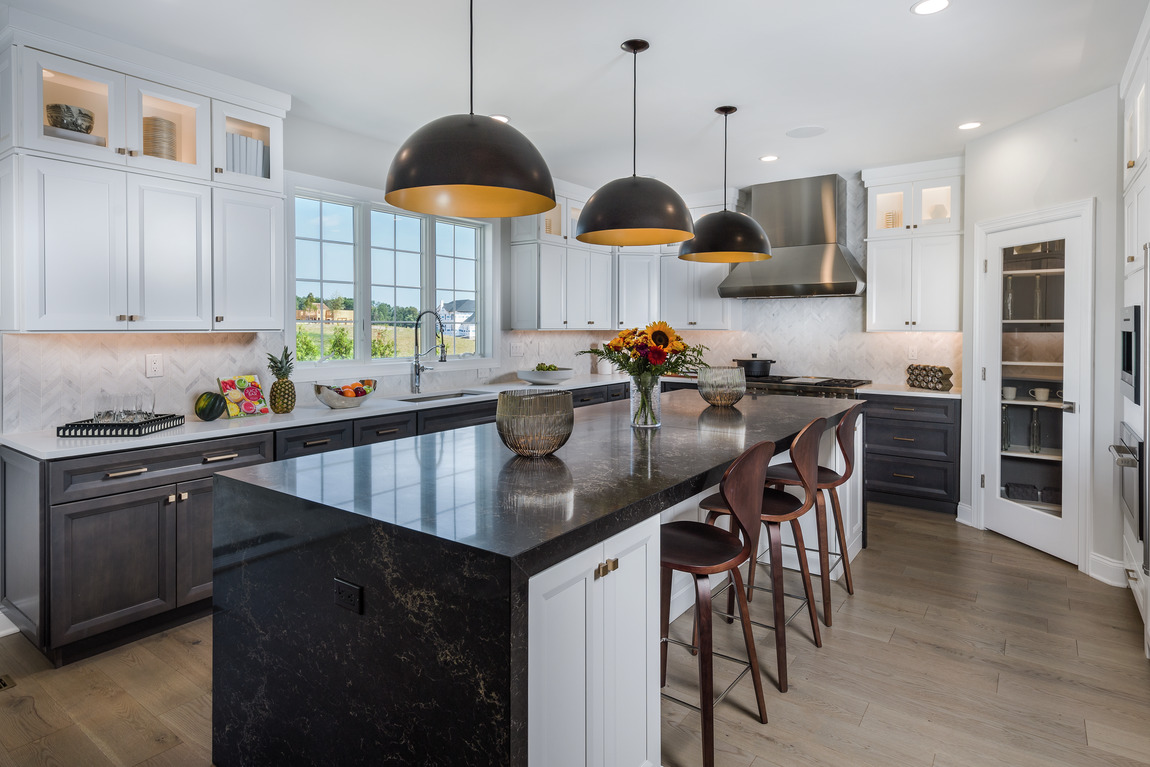 7. Under-Cabinet Lights Provide Extra Task Lighting
You can illuminate your counter area with focused light by installing some under-cabinet lights. Available in lengths between nine and 36 inches, and in slim profiles that make them virtually invisible, fixtures like the dimmable Hide-a-Lite allow you to see what you're chopping.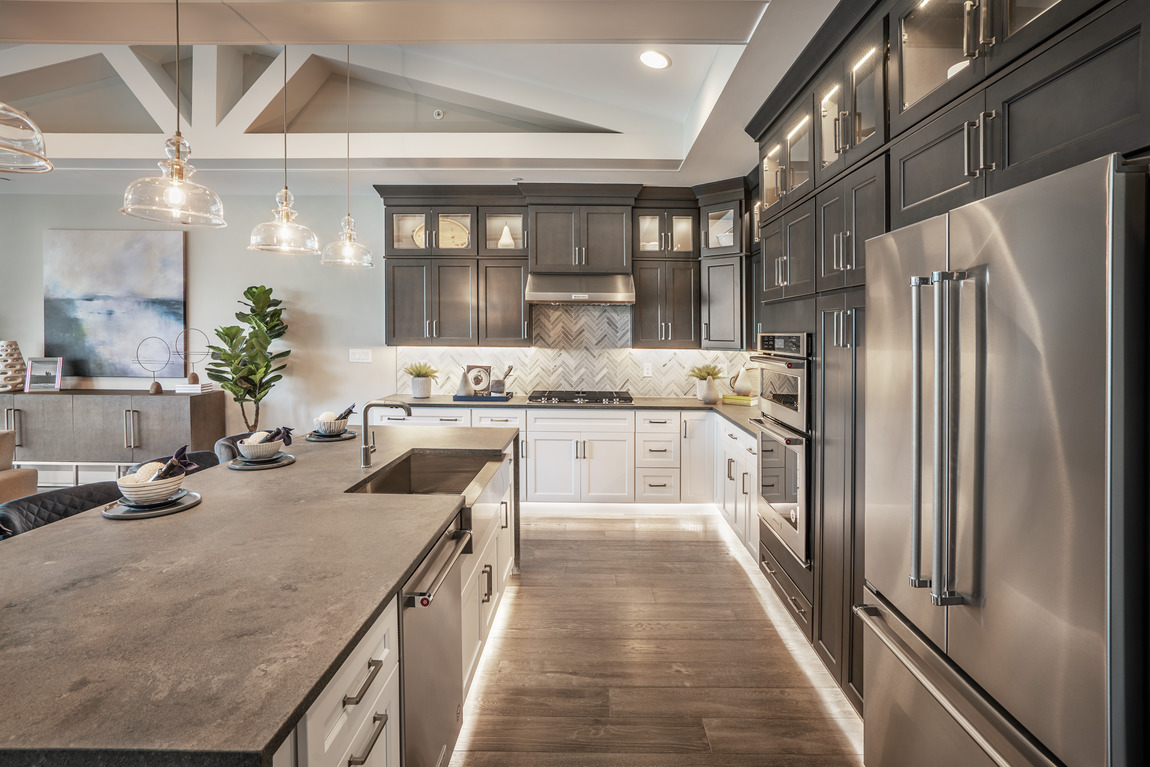 For more kitchen lighting ideas, visit the Toll Brothers and Progress Lighting shared board on Pinterest.