The cornerstone for everything from making school lunches and coming together for family dinners to hosting large social gatherings, the kitchen remains the heart of your luxury home. One of the foundational design choices that defines this essential space is its cabinetry.
Traditionally used for storing dishes, cutlery, cookware, and groceries, kitchen cabinets have encountered a rebirth, as many homeowners are personalizing their kitchens to fit their modern, contemporary lifestyles. As a result, today's kitchen cabinets are curated to exude a sense of artistry and individuality while maintaining practicality and function.
Toll Brothers home buyers enjoy a large selection of the latest cabinet styles and finishes for their new homes at the Toll Brothers Design Studio. Here are some of the leading kitchen cabinet trends for 2023, showcased in our stunning Toll Brothers model homes across the country.
A Splash of Modern: Bold Cabinet Colors
While white kitchen cabinets are timeless, there is a definitive shift toward bolder color choices that can give your kitchen a touch of personality. From muted greens and deep blues to neutral tans and soft beiges, painted cabinetry provides a fresh foundation to build upon, with many opportunities to incorporate creative design elements.
Painted cabinetry can act as the focal point of your kitchen without overpowering the overall scheme. This simple addition in bold color infuses life into the space while also allowing you to refresh when needed, so your kitchen never goes out of style.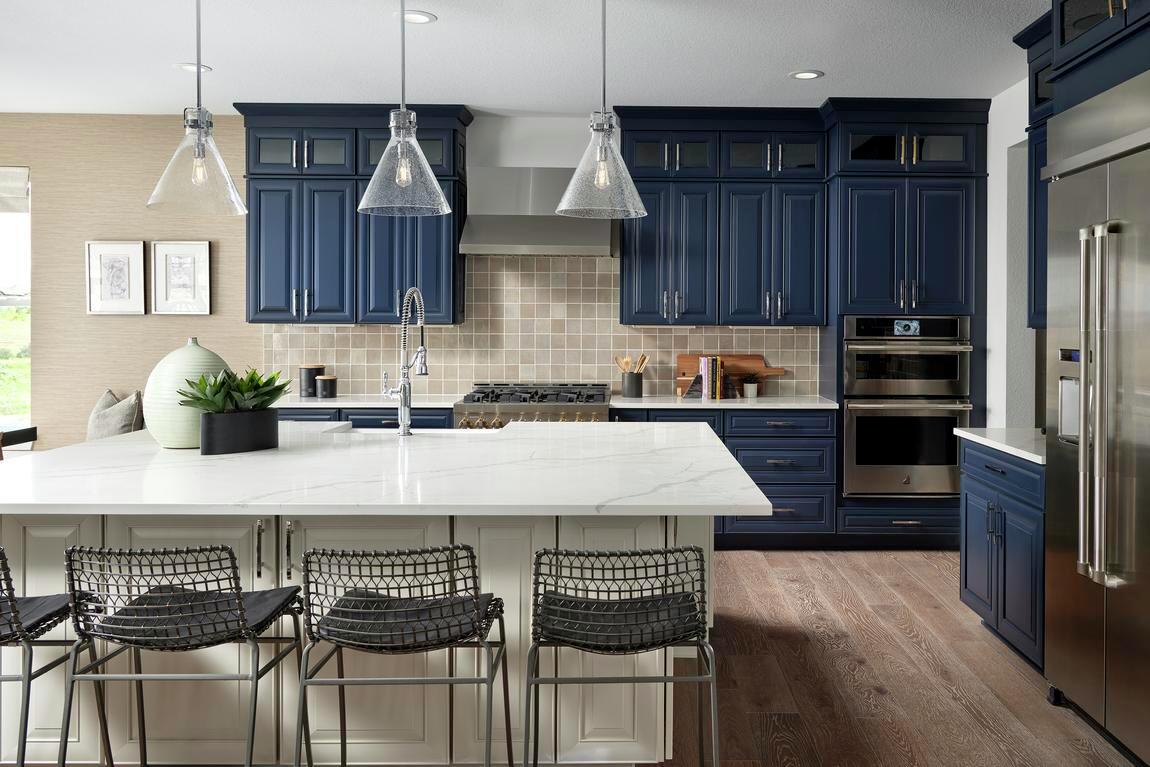 A Touch of Innovation in Cabinet Handles
There have been major enhancements in how cabinet handles can be accentuated in contemporary kitchens.
Decorative metallic and gold fixtures are prominent in modern kitchens, as they incorporate a layer of elegance and class. This design choice pairs well with other design elements in your kitchen, such as a backsplash, faucets, or lighting fixtures.
One of the most popular recent kitchen trends is eliminating handles altogether for a sleek design that creates a smooth, streamlined look. In addition, integrative pull- and push-open cabinetry creates a new level of convenience and style, representing a bold new approach to kitchen design that can be explored.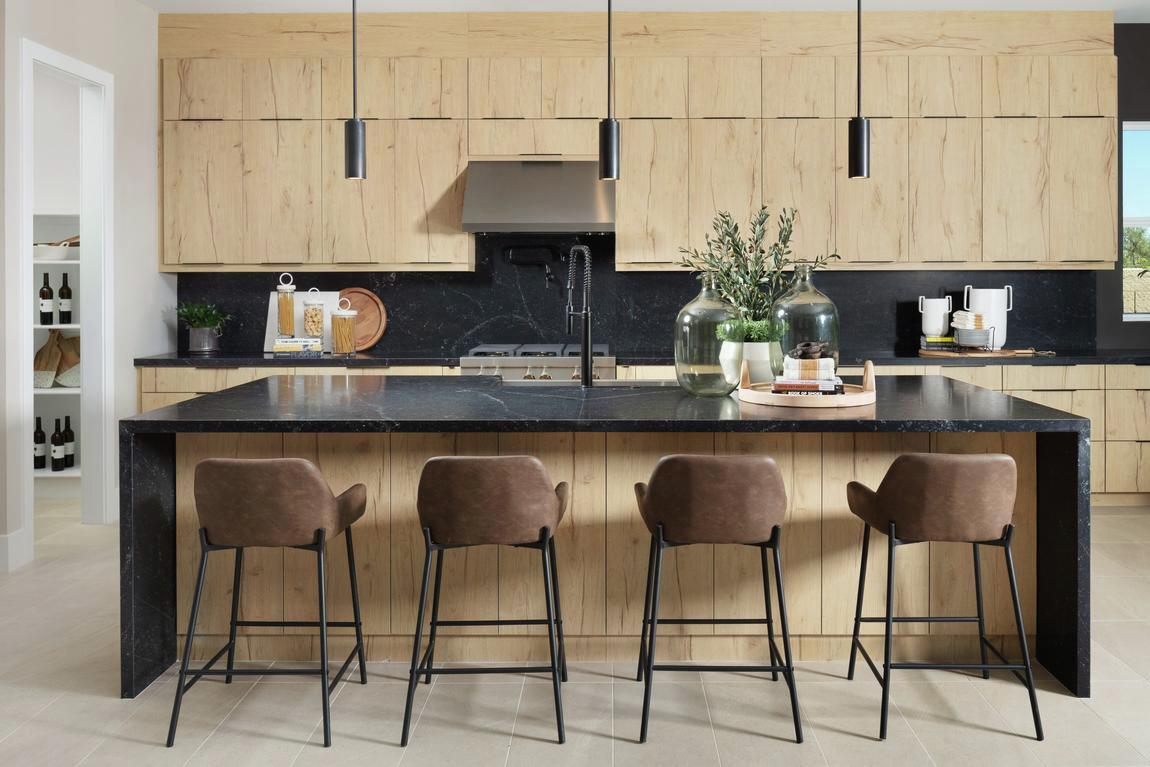 A Natural & Organic Presence
Incorporating wood and natural tones into your kitchen cabinetry – especially those featuring unique grain patterns – exudes an organic feel to your space and fuses well with other design elements of the kitchen area. Natural materials provide the added benefit of longevity, as wood tones tend to age gracefully.
Opportunities for a natural design are limitless, whether you prefer layered oak, aged walnut, or a stained cabinet finish that can provide a wide spectrum of options based on the overall scheme of your kitchen. Use this cabinet design trend to incorporate other facets of your kitchen, such as matching the finish of your cabinets with your refrigerator, oven, and dishwasher.
Opt for Open Shelving
Open kitchen shelving is a contemporary aesthetic swiftly growing in popularity among current homeowners, a fresh, unique alternative to traditional cupboards that adds depth and detail to the space. Unlock your kitchen and allow the creativity to flow with endless design and accessory options such as decorative plants, elegant stoneware, striking artwork, or trendy recipe books.
Opting for this modern design allows for ample storage and adds a unique layer to your space, infusing a sense of individuality and charm.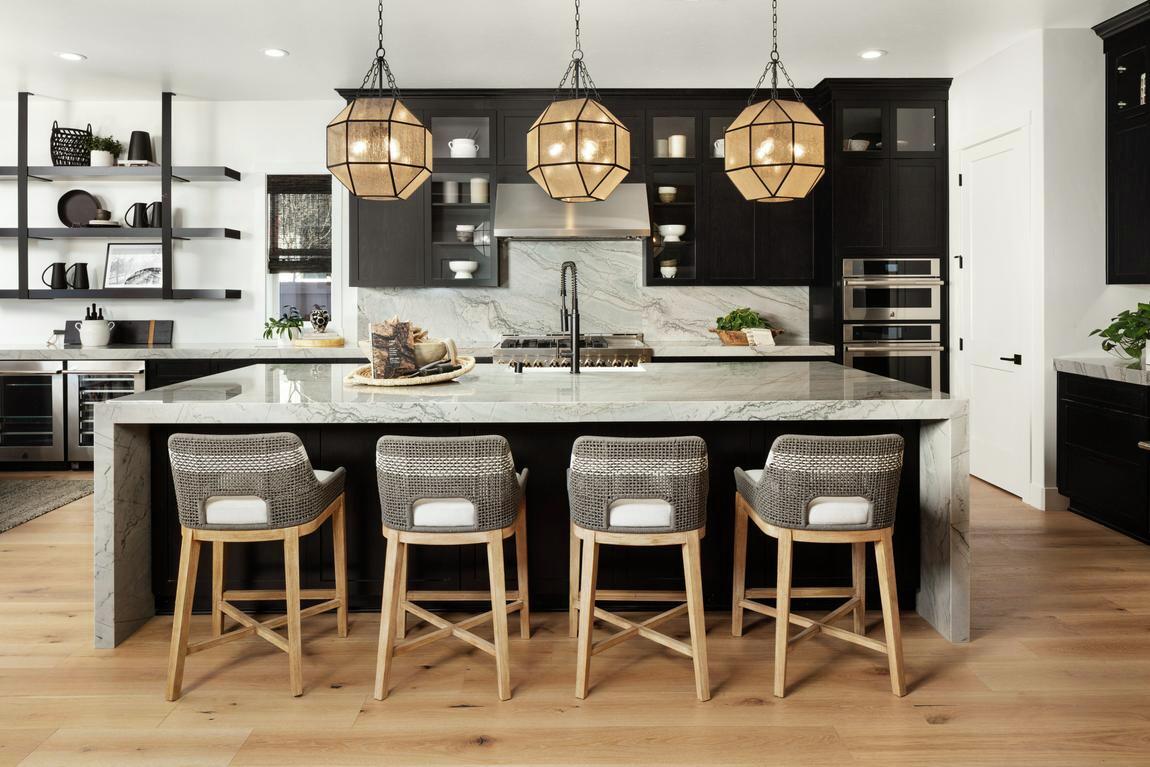 Utilizing Pantry & Island Storage
Practicality remains a focal point within contemporary kitchen design. Islands are a key focal point, acting as the centerpiece for entertaining with convenient bar seating and serving space. Built-in island storage space allows you to maximize every inch of your kitchen, creating exquisite design opportunities while maintaining a high level of organization and minimizing clutter.
Pantries are another kitchen staple that have undergone an innovative transformation, ideally suiting a modern lifestyle. Hidden doors and unique shelving can increase storage while maintaining a crisp, clean look.
With opportunities to transform your pantry into a coffee station, classy cocktail bar, or storage for home office materials, modern-day pantries expand past the old-fashioned method of storing nonperishables. Innovative storage trends like these free up space to craft your kitchen space exactly how you want it.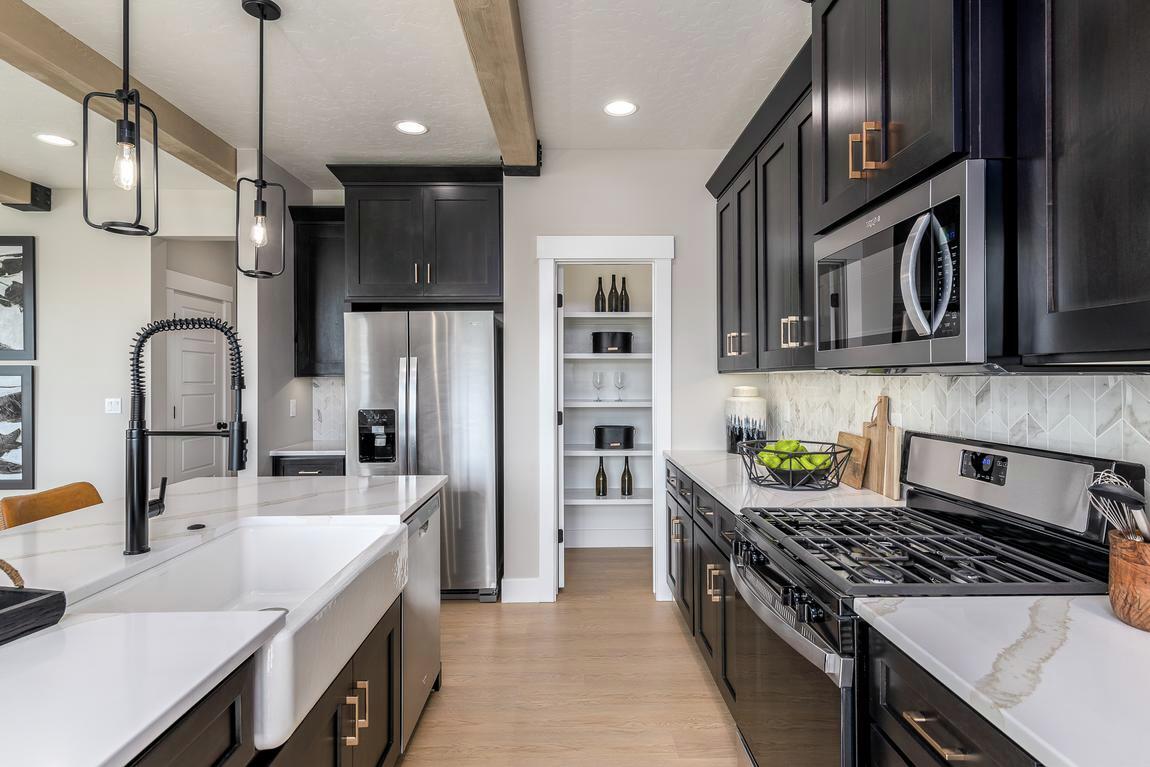 Characterize Your Cabinetry
Incorporating decorative cabinetry is becoming increasingly popular in modern kitchen designs, adding originality and sophistication. Distinctive door fixtures like stained glass and mesh patterns create a textured look that adds a unique design component to your kitchen.
Infuse some artistry that immediately grabs the eyes of guests with transparent doors showcasing elegant pottery and cookware that would typically be hidden in a traditional kitchen setting. Decorative cabinetry is another facet that makes a kitchen uniquely yours.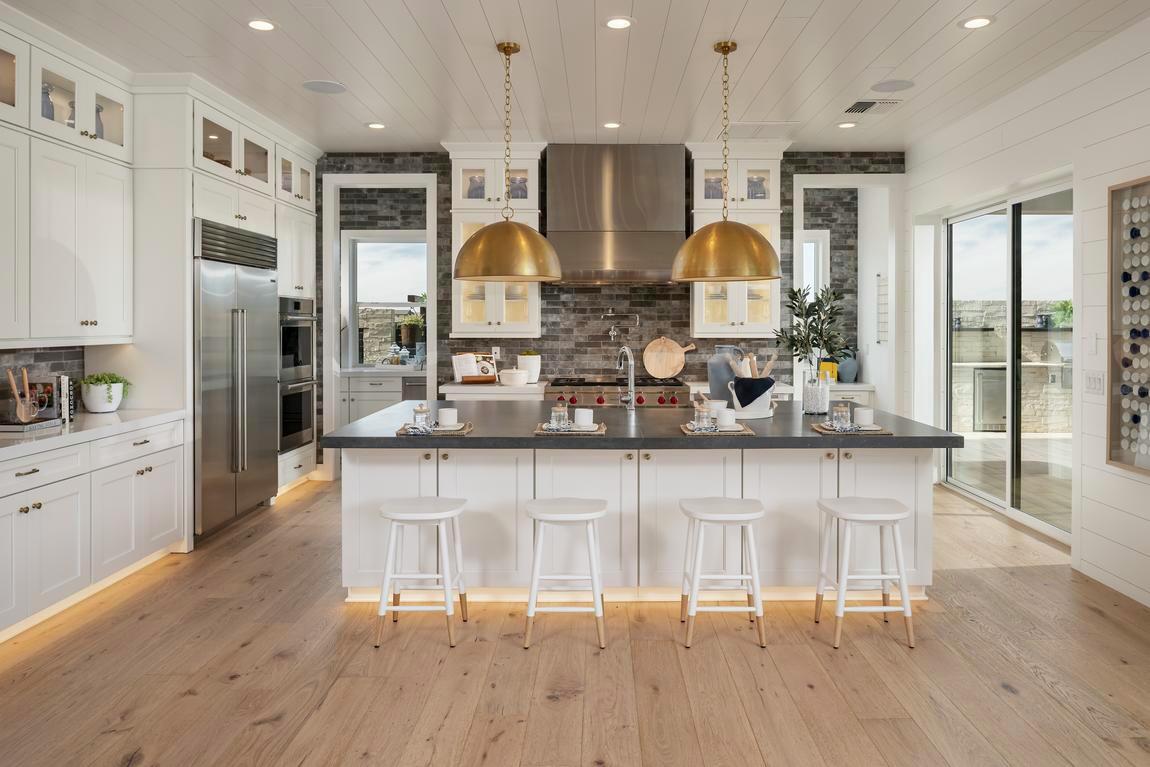 Whether adding a splash of color, incorporating fresh finishes, or maximizing storage space, these kitchen cabinet trends create boundless opportunities for innovation and can combine to create the kitchen of your dreams.
Toll Brothers design options vary by market, community, and home design across the country. For more information regarding cabinet design options offered in a specific Toll Brothers community or home, please visit our website or reach out to one of our Online Sales Consultants.