Last updated on April 16th, 2021
A functional home office space has become a new necessity. Whether you have a separate office or a quiet nook where you can be productive, creating a distinction between the office and the rest of the home has become an essential part of the home design process. It's also an opportunity to create a functional, comfortable space while expressing the rest of the home's design intent.
Proper lighting plays a key role in achieving all of these elements in the home office. It is essential to avoid fatigue, eye strain, and other discomforts while working – not to mention looking your best in virtual meetings. Additioanlly, today's lighting fixtures offer an array of design options that add beautiful visual appeal to the space.
At the Toll Brothers Design Studio, homebuyers can choose from a variety of lighting options to meet their needs and reflect their personal style. To help you make the most of your office space, our Design Studio partners at Progress Lighting have provided these lighting ideas and design tips for ensuring a beautiful and well-lit home office.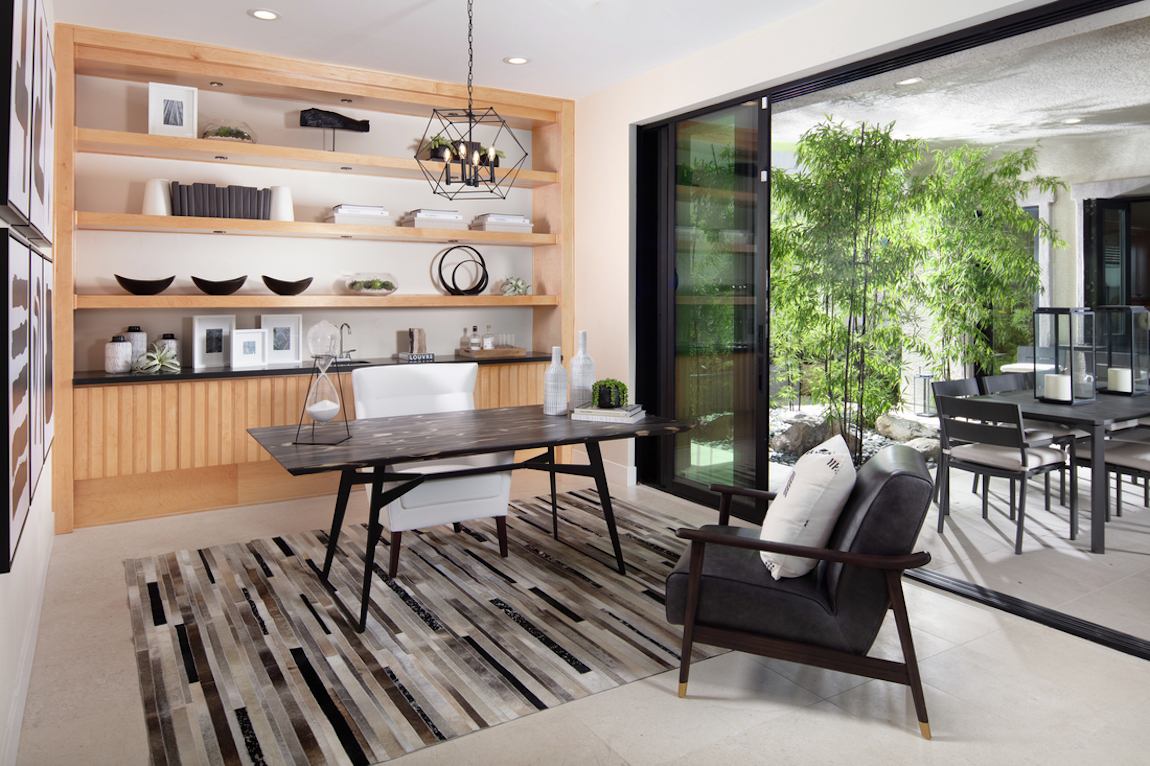 Take Advantage of Natural Light
Ideally, a home office should have access to natural light in addition to it's lighting fixture for the best, even illumination. Whether cast from windows, skylights, or doorways, natural light diffuses throughout the space, bouncing off the walls and ceilings. It also helps to cut down on glare that can reflect onto the computer monitor or a shiny desk surface.
Design Tip:
Place your desk to take advantage of the natural light. If the room has natural light streaming from windows, position your desk perpendicular to the window, facing north or south, to lessen shadows at certain times of the day. If an overhead fixture is the only light source available, situate your workstation so that the light shines from behind it.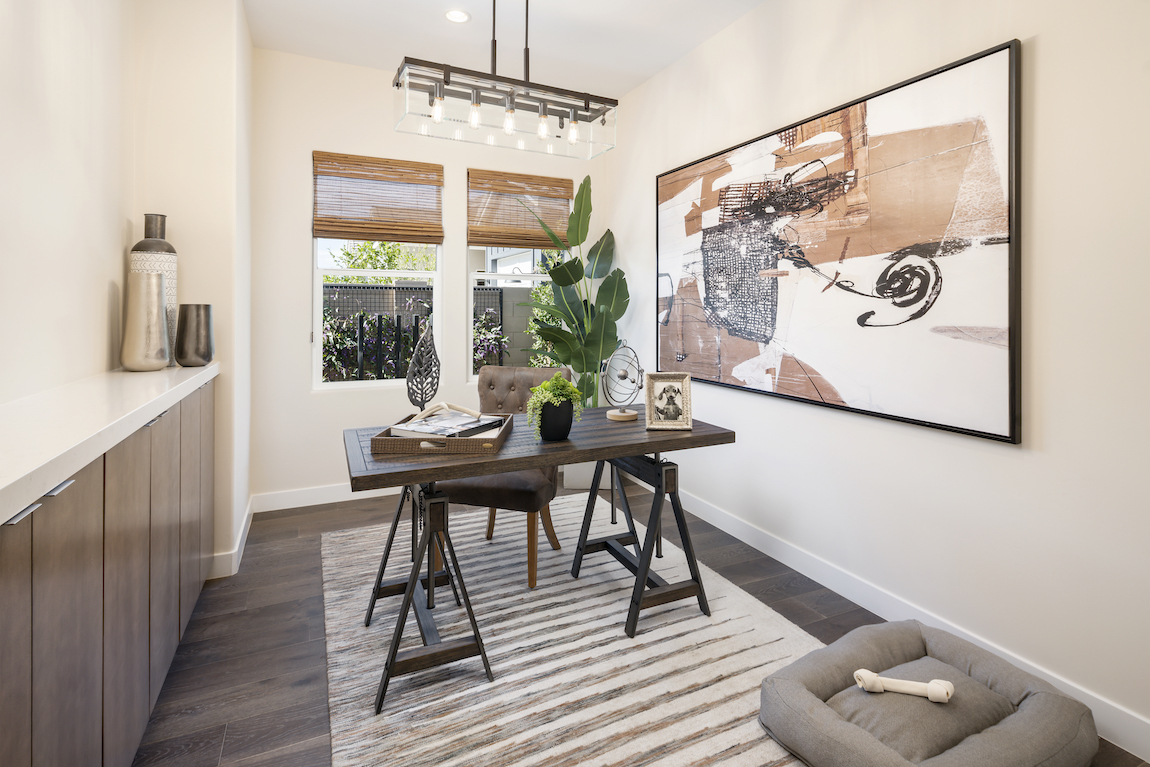 Layer Light to Add Functionality and Style
If the room's light levels fluctuate throughout the day, or perhaps you do some of your best work at night, light layering is an ideal solution. Light layering combines different light sources to create the desired atmosphere and visibility level. The three-light layers are general or ambient light, task lighting, and accent lighting.
Ambient Lighting Ideas
Overhead light fixtures are a common source of ambient light. Flush mount styles, semi-flush mount lights, and ceiling fans furnished with a light kit all hug the ceiling and create general light for the room. However, when used alone, overhead ceiling lights can sometimes be too harsh and cause glare, leading to headaches and eye strain. If overhead lighting is the only option, install a dimmer switch to vary the light levels as needed throughout the day.
Design Tip:
A fun trend in overhead office lighting is to use chandeliers and pendants. They make a strong visual statement, instantly expressing a room's style while also providing functional light. And they can double as task lighting when hung low over a desk.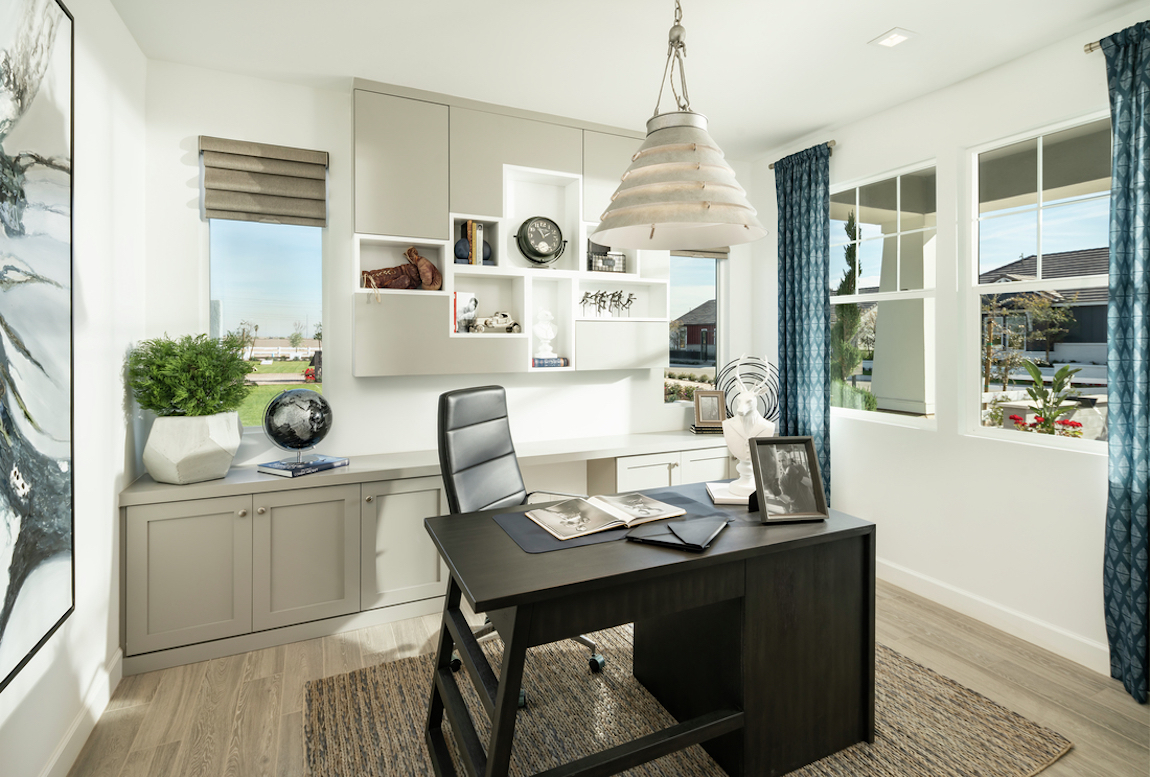 Task Lighting
Task lighting fixtures provide focused light. A classic desk lamp is a task lighting staple in a home office. Desk lamps typically have flexible arms so that the light can be positioned as needed throughout the day to provide the optimal light. Try placing desk lamps on the opposite side of the hand you use most to avoid casting shadows on your work.
Accent Lighting
Accent lighting can cast light on decorative objects in a room or highlight a specific area. Wall sconces are a versatile choice that can function as accent or task lighting while also serving as a decorative design element in the room.
Design Tip:
To supplement your focal chandelier, use a wall sconce or two as a substitute for a traditional desk lamp. Many sconces have movable arms, allowing for a nice range of motion. Sconces also free up desk space since they are mounted on the wall. Or install sconces on nearby bookshelves to shine task lighting on a nearby desk.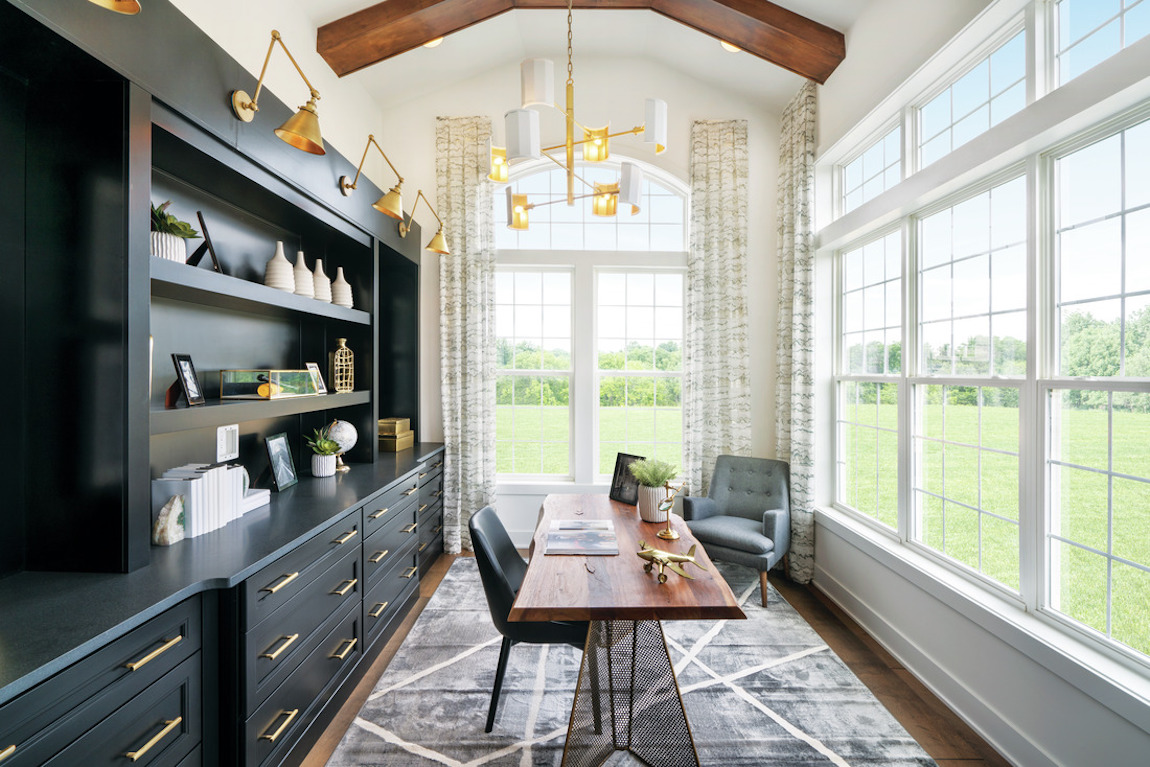 Undercabinet Lighting
Undercabinet lighting is a perfect complement for main lighting fixtures and a virtually invisible solution to add ambient, task, or accent lighting in a home office. Install puck lights under cabinets or bookshelves to cast focused task lighting on a work area or illuminate decorative objects and design elements in the room. Or control and enhance ambient light by adding LED tape lighting behind a monitor or under a desk for diffused light.
Design Tip:
LED tape light works beautifully on top of bookcases or in-ceiling coves or soffits as an additional source of diffused ambient light.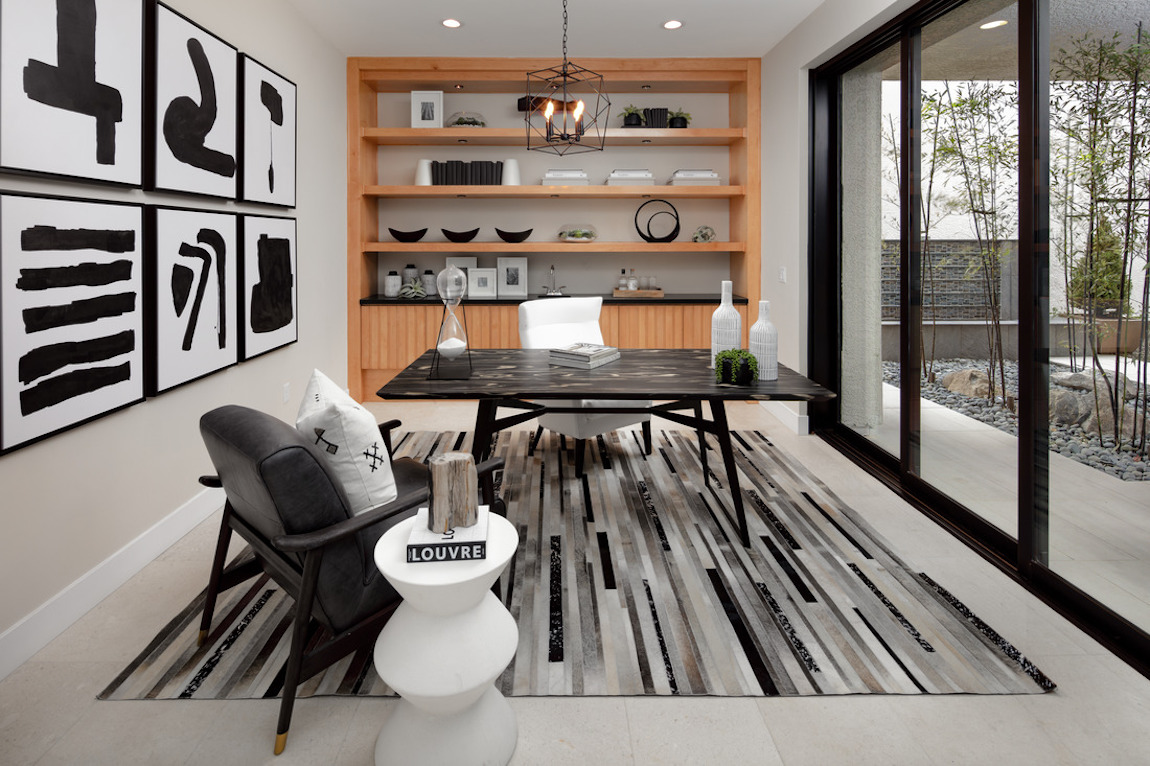 By layering your lighting and being creative with your lighting choices, you can create a home office environment that is comfortable, functional, and expresses your home's unique personality.
Toll Brothers design options vary by market, community, and home design across the country. For more information regarding lighting design options offered in a specific market, community, or home, please visit our website or reach out to one of our Online Sales Consultants.