Last updated on August 11th, 2022
Are you eager to take some of your indoor activities like cooking and lounging outdoors on a beautiful day? If so, you're not alone—indoor-outdoor living spaces are becoming increasingly popular.
This home design trend has become a must-have in many modern homes, as it allows you to seamlessly blend your interior and your yard. If you're considering having an indoor-outdoor living area in your home, this guide will walk you through popular outdoor living space ideas and help you find the best option for your family.
The Benefits of Indoor-Outdoor Living Spaces
Blended living spaces typically feature a partition, which is often achieved with a series of sliding or folding doors, but you can create a similar effect with a large servery window or even a high-end garage door. When the partition is removed, you're left with one large, seamless living space, no need to open the door to get out to the patio.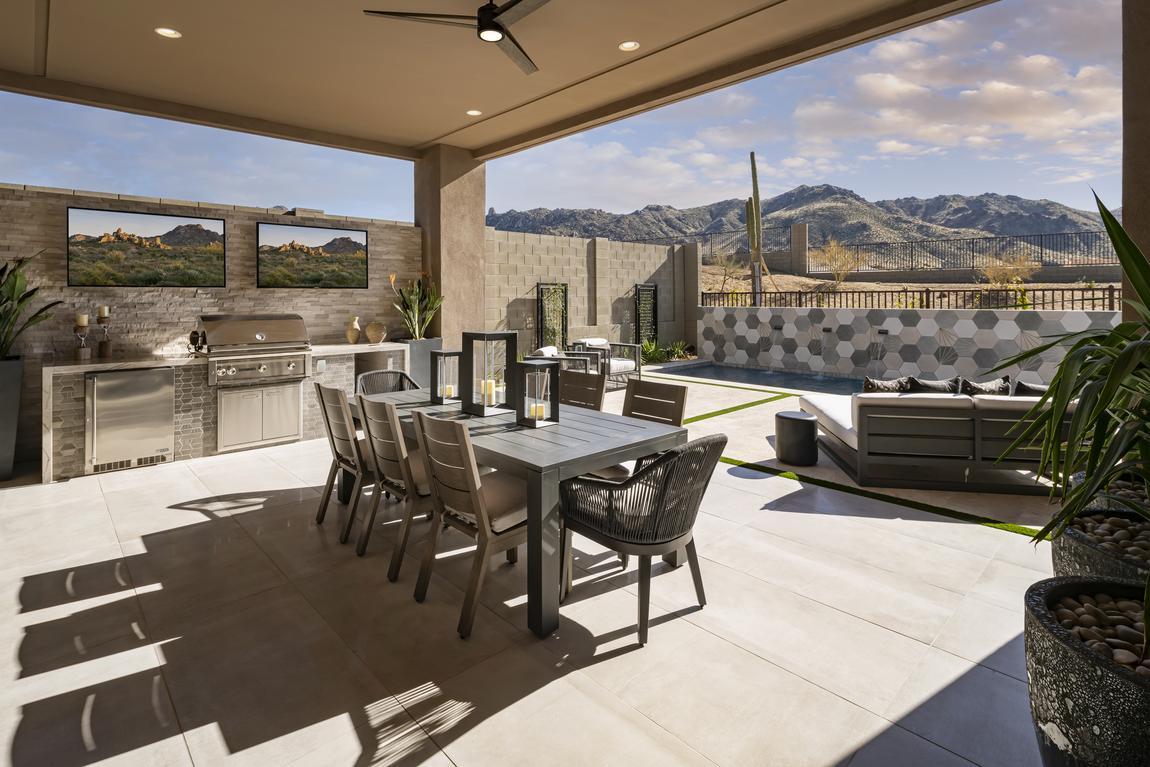 Why are indoor-outdoor spaces so popular? They come with a number of benefits:
Easier Entertaining:
If you're an avid host, a blended living space has many advantages. For instance, your guests can choose to sit inside or outside without feeling isolated from the action. Plus, you won't have to open the door a dozen times if you're eating outside, making serving and cleanup easier.
More Living Space:
In the same vein, indoor-outdoor living gives you a larger living space. You'll be able to host more people at the same time, without splitting up into different rooms.
Increased Natural Light:
If you love having a home filled with daylight, a blended living space provides much more natural light than windows alone can.
Be Closer to Nature:
When you combine your indoor and outdoor spaces, you'll be able to experience crisp breezes and better views of nature from inside your home.
Increased Home Value:
Because this trend is so popular, having an indoor-outdoor area in your home can increase its value, should you decide to sell.
Which Outdoor Living Space Ideas Are Best for You?
Once you've decided to invest in an indoor-outdoor living space, the next step is to decide what its function will be. Some people choose to simply have a porch area that opens up to their living space, while others might prefer an outdoor dining room or a lounge to watch TV in. It all depends on how you want to use the area.
Here are some of the most popular outdoor living space ideas to inspire your own design:
Outdoor Kitchens:
An outdoor kitchen is the perfect addition for those who love to cook. Most of these culinary spaces include spacious grills, sinks, cabinets, small refrigerators, stovetops, and even dishwashers. Just keep in mind that you'll need some sort of roof or covering to protect your appliances.
Outdoor Dining Room:
If your outdoor space is adjacent to your kitchen, you may want to turn it into a dining area. Enjoy alfresco dining any time without having to carry tableware and food too far.
Blended Lounge Space:
Looking for an area where large groups of people can hang out? Use your indoor-outdoor space as an extended living room or lounge by including comfy couches, chairs, recliners, and side tables.
Outdoor Entertainment Areas:
You can watch the big game outside with the help of an outdoor TV. Televisions and sound systems are the perfect focal point for an outdoor space under a patio cover.
Indoor-Outdoor Pools:
With an indoor-outdoor swimming pool, your family can take a dip no matter the weather. These water features typically have a garage door-style opening that can be raised or lowered when needed.
These are some of the most popular uses of indoor-outdoor spaces, but the sky is the limit when designing your home. You can mix and match these concepts or go off-script altogether, turning your blended area into a game space, workout area, or something else entirely.
Must-Have Design Features for the Perfect Indoor-Outdoor Area
After you've figured out how you want to use your outdoor living space, it's time to focus on the actual design. There are a number of design tricks you can use to make an indoor-outdoor space flow better. Here are a few:
Bigger Openings Work Better
The larger the opening between the two spaces, the more connected they'll feel. Sure, you can create an indoor-outdoor space with a simple French door, but it will be much more versatile and cohesive if you have a row of folding glass doors that can be pushed aside. This allows for better traffic flow and makes it feel like one large space instead of adjacent rooms.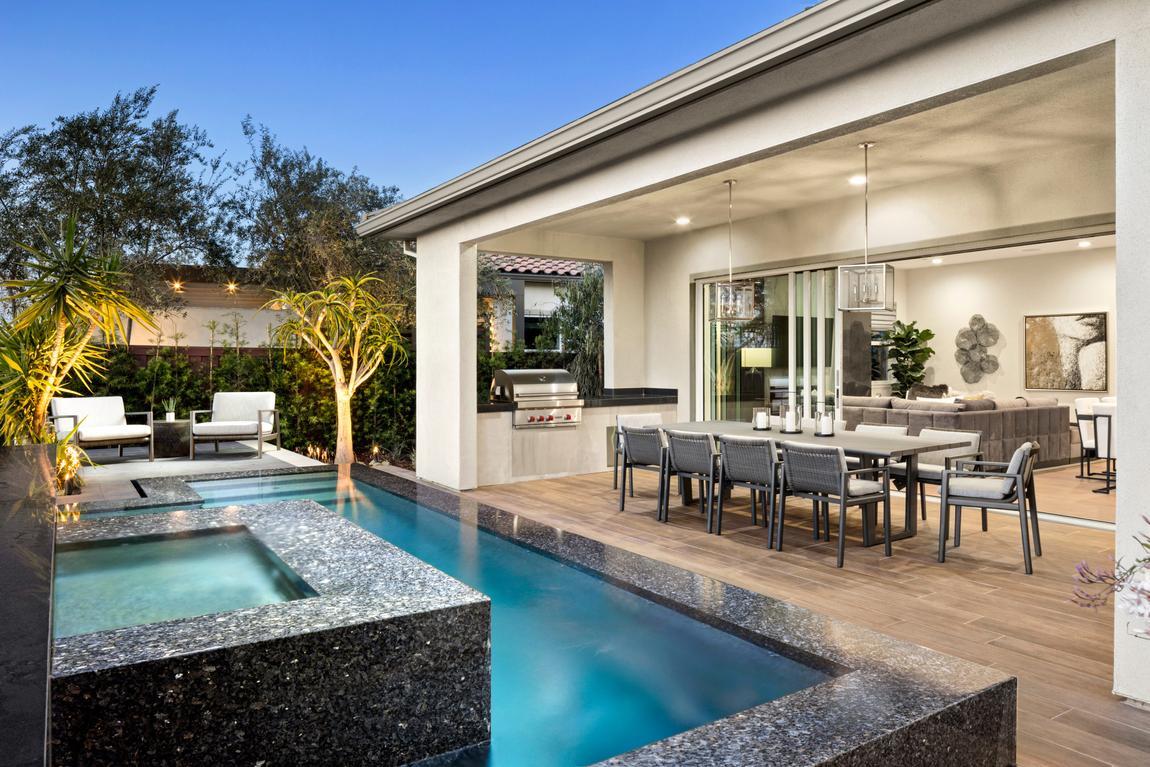 Keep the Floor Level and Uniform
Another way to ensure that your space flows is to avoid changes in floor level. When indoor and outdoor spaces are on one level, they'll feel more connected, and you can enhance this even further by using the same flooring inside and out. Just make sure it's durable enough to withstand inclement weather—tile or porcelain stoneware might be a good choice.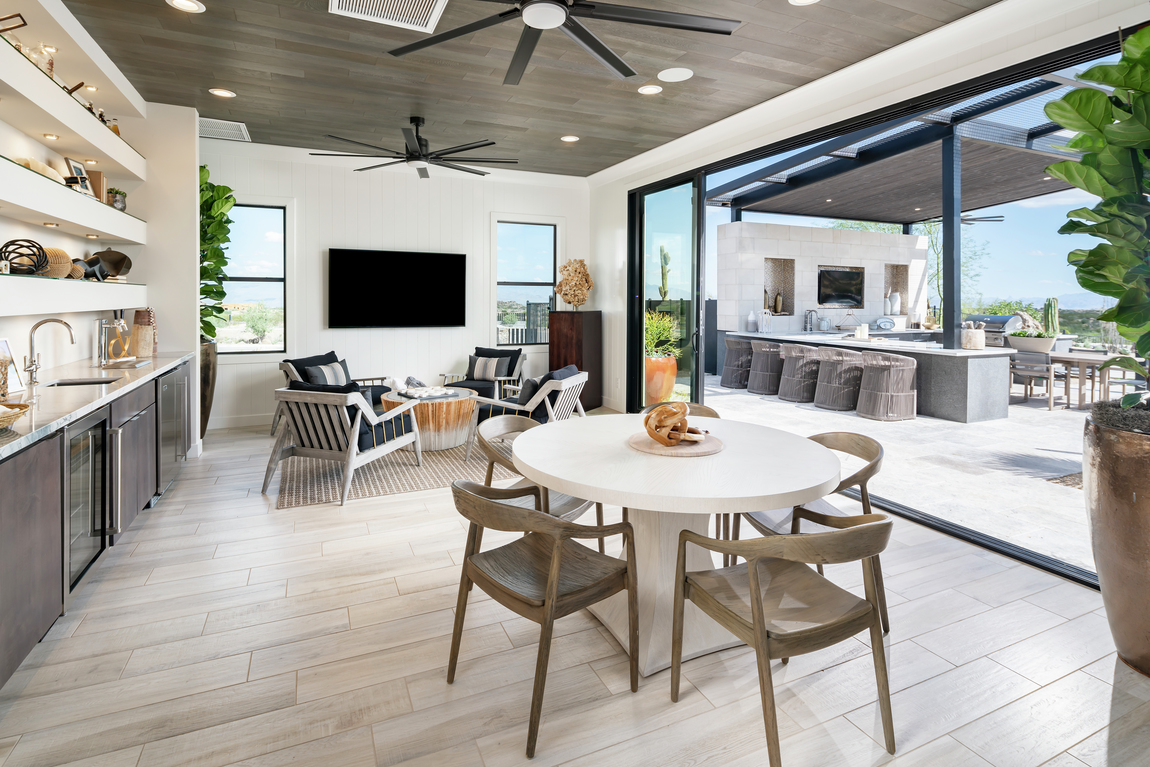 You may also want to continue other design materials outside, such as counters, fabrics, and matching fixtures.
Use a Cohesive Color Scheme
You can easily connect two spaces with the help of color. If you already have a color scheme picked out for your interior space, use the same shades outside.
It doesn't have to be the exact color palette, though. Using one or two colors is enough to create a cohesive vibe between the two areas.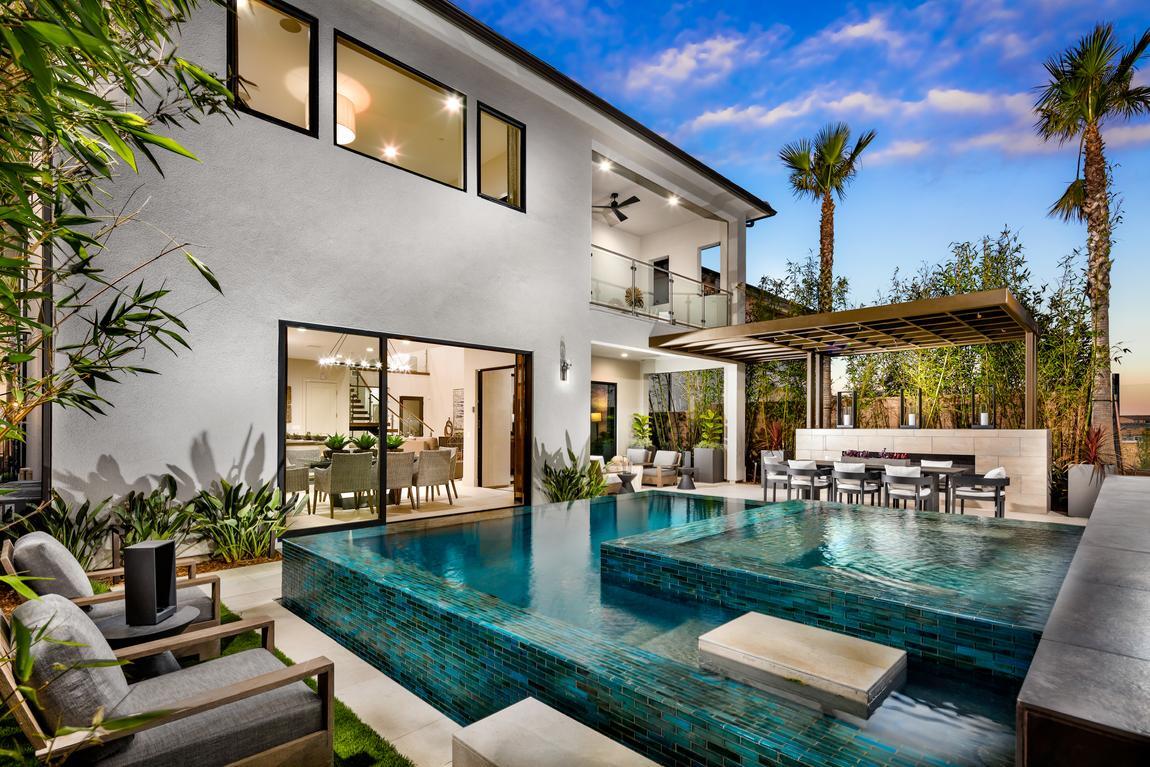 Choose Complementary Decor
If your home is filled with sleek, modern decor, it would feel disjointed to put rustic furniture outside. To make your outdoor space flow, you'll want to stick with the same decor style that you have inside the home. Not sure where to start? An interior designer can help you meld the two areas together in a tasteful, yet functional way.
Indoor-outdoor spaces give you the best of both worlds—you can enjoy your favorite activities, such as cooking, dining, and hanging out with loved ones, while basking in the beauty of your yard. Once you complete your new blended living space, you'll wonder how you ever lived without it. For more design inspiration, visit our website.
Toll Brothers design options vary by market, community and home design across the country. For more information regarding design options offered in a specific Toll Brothers community or home, please visit our website or reach out to one of our Online Sales Consultants.