Last updated on August 24th, 2022
Architects, builders, and homeowners across the country are recognizing the benefits of open floor plans and how they impact daily life. With an open design, the choice is yours to use the space just the way you want.
Whether you're thinking about investing in a home where you can grow your family or looking to move into a larger home where everyone has their own space, an open-concept floor plan may just be the key to pulling everyone together. Our partners at Western Windows explain how these architectural plans are created and present three advantages to living in a home with an open design.
1. Open Floor Plans Lead to Connectivity
A seamless connection between the interior and outdoor spaces help to create flow and togetherness. If your loved ones are always on the go or you'd like to keep a closer eye on a child while you're in the kitchen cooking, an open concept increases sightline and brings everyone into the same area.
According to Jennifer Carnevali, Toll Brothers Merchandising Project Lead, "a successful home design nowadays is all about accessibility and connectivity of space and people." Not only are open concepts trending but "the increased space and connection to all parts of the home is life-changing." If you'd like to spend more time with guests or family members in a central area or host large get-togethers, an open design concept is a perfect plan for you.
To experience a sample of Toll Brothers' open concept homes, tour our 3D Walkthroughs or visit our website.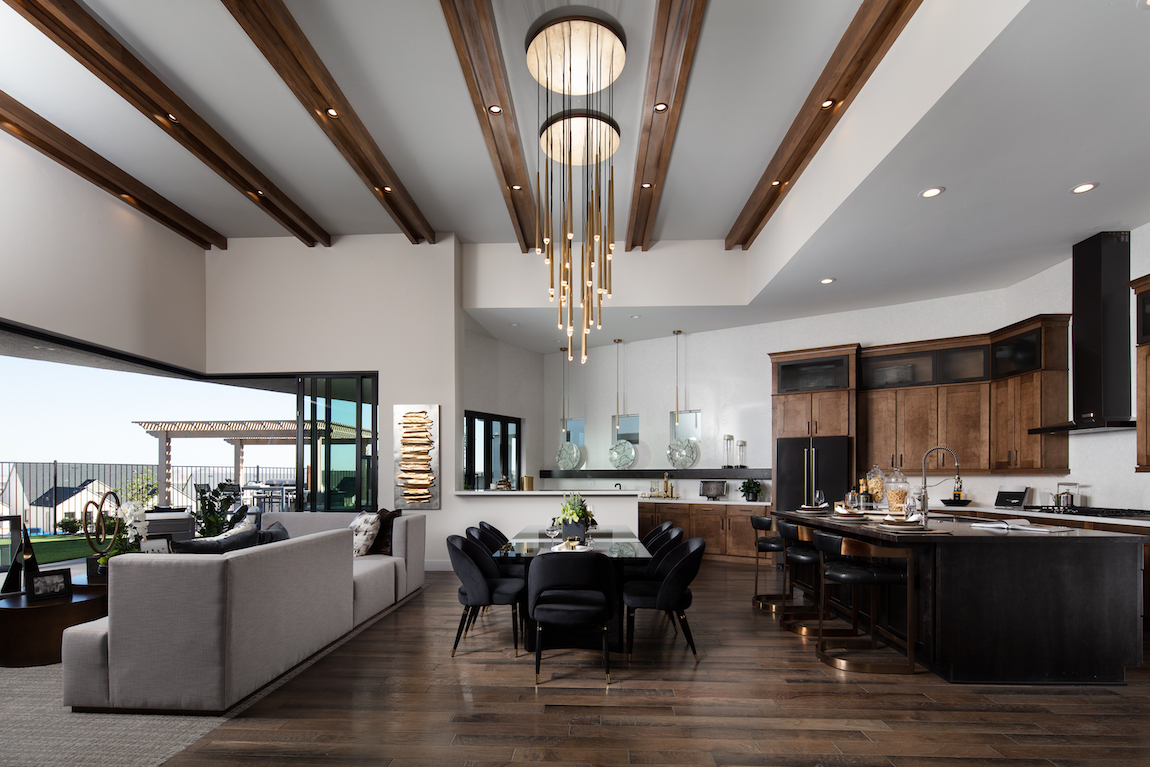 2. Unobstructed and Visually Stunning Space
A new home with a visually stunning interior that transitions to the exterior forms a cohesive design and creates a structural flow that makes your home appear grander. Incorporating similar flooring or wall and ceiling treatments will help you match your decor and make the transition feel seamless.
With the help of Toll Brothers' partner Western Window Systems, eliminating boundaries or barriers with multi-slide, folding, and pivot doors create clean, narrow sightlines and a contemporary design. Eliminating boundaries or barriers can also change the entire flow and make the room feel more open and welcoming.
"Large glass expanses with as few mullions (a vertical bar between the panes of glass in a window) as possible gives a divided space visual continuity," Carnevali says. "Maximizing on glass is the best way to visually bring the outdoors in, such as incorporating floor-to-ceiling windows or a moving glass wall."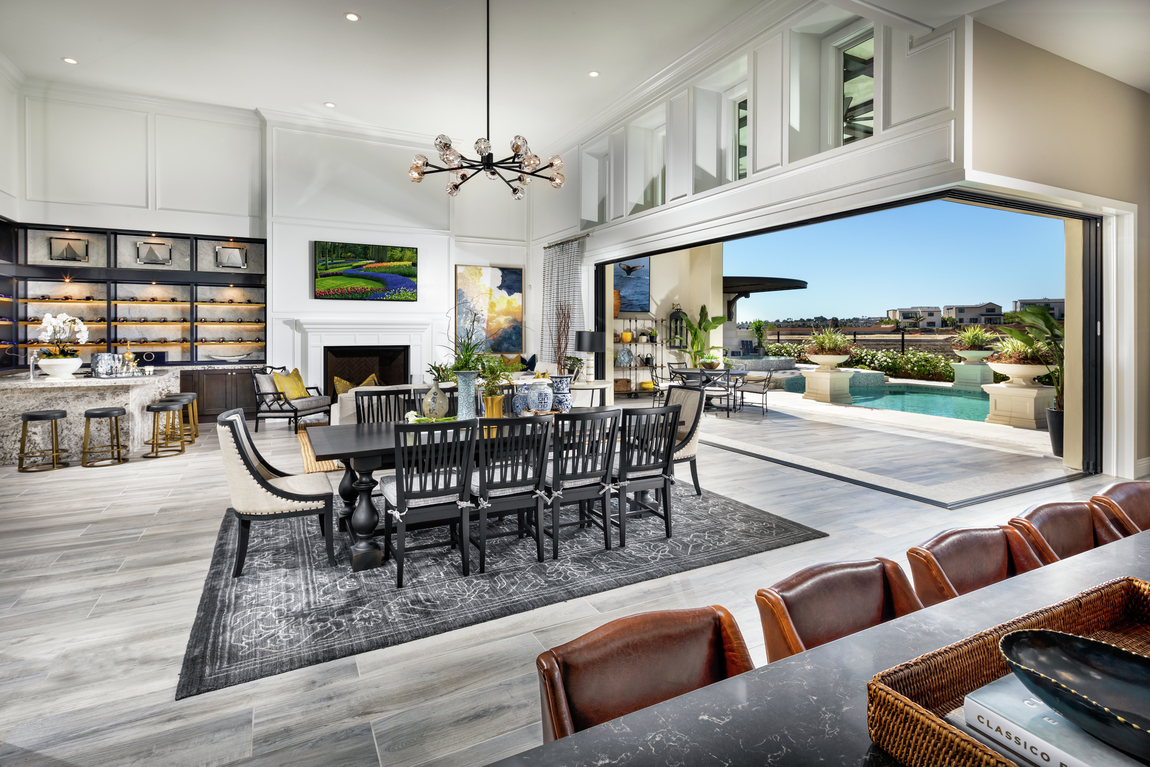 3. Open Floor Plans Provide Natural Light
Not only does large glass within an open concept floor plan give the appearance of a bigger living space or even a bigger home but it also provides all-important natural light. In Eastern and Midwestern climates, this feature can warm a room even on the coldest days and improve mood and mental health during those seemingly endless winters. With Western Window Systems' strides in increased efficiency, large windows and massive moving walls of glass are now giving Toll Brothers homeowners in the East the same energy benefits their West Coast counterparts have enjoyed for years.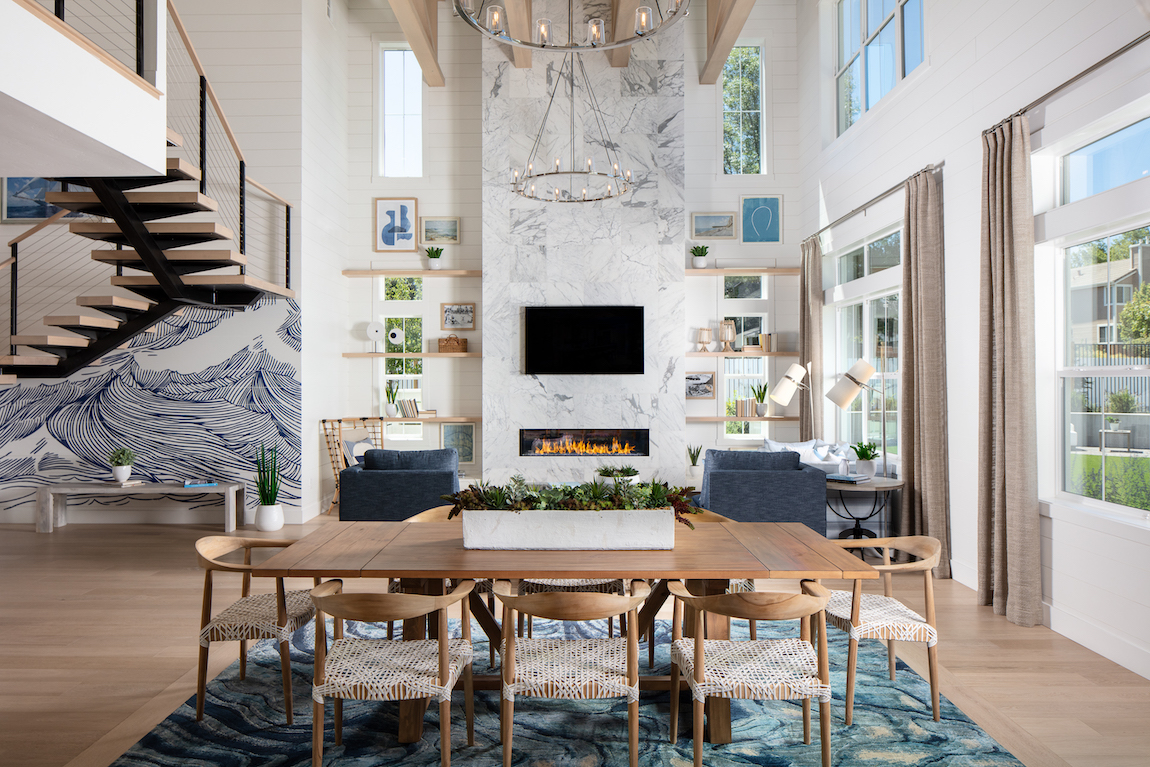 Embracing an open floor plan in your home opens up a new realm of opportunities for your family. In a world ruled by long work hours, busy schedules, and endless playdates, feeling a greater sense of connection to the people you love most in a beautiful home where you love spending your time makes all the difference.
Visit our website for more information on new luxury homes and open floor plans near you.
Western Window Systems contributed to this story.