Last updated on August 24th, 2022
Have you ever felt as though one island simply wasn't enough for your kitchen? If you're an avid chef or frequent host, you may wish you had more room for food prep and entertaining—in which case, a double island design might be an ideal feature for your next home.
Can you have two islands in a kitchen?
Yes! You can absolutely have two islands in a kitchen, the only constraints being available space and your design preference. Thankfully, many Toll Brothers kitchens today are being designed to accommodate more than one island should you wish.
Benefits of a Double Island Kitchen
Naturally, the main appeal of having two islands is that you have twice the counter space in your kitchen. Typically, one island serves a more functional role—great for food prep and may include a second sink or even a dishwasher, streamlining the cooking process.
The second island is then dedicated to entertaining or eating. It often has an area for bar stools, allowing guests to relax as you prepare a meal or for your children to do their homework while you whip up an after-school snack.
However, there are other benefits to this high-end kitchen design feature, as well. Double islands can help establish traffic patterns in oversized kitchens, provide more storage space, and even give you more room for appliances like wine fridges.
5 Double Island Ideas for Your Luxury Home
If you're designing a luxury home, you may want to incorporate a double island kitchen into your plan. First, make sure the room has enough space to accommodate two islands—otherwise, it may just end up feeling cramped. Then, you'll need to choose a layout for your islands. The following are five popular configurations to use as inspiration.
1. Parallel Islands
One of the most popular double island configurations is two coordinating parallel islands. This layout works best in a large, square kitchen. It also allows for uninterrupted conversation, as you can prep food at the "working" island while talking to those sitting at the other island.
You can make parallel islands the focal point of your kitchen with accents like waterfall countertops or fun pendant lights over each one.
2. Adjacent Islands
If your kitchen has a long, rectangular shape, you may want to consider two side-by-side islands. This layout would essentially be similar to having one long island that runs the length of your kitchen, except that there's a break in the middle for foot traffic.
This island style gives you ample room for cooking, which is great if you have children who like to help out in the kitchen. It's also ideal if you want to have a buffet-style gathering; people can make their way through the kitchen, picking up food off the islands, and then enter into the formal dining area to eat.
3. T-Shaped Islands
One double island option for smaller kitchens is a perpendicular or T-shaped layout. The "top" of the T is generally the working island, while the "stem" serves as a seating area—it could even replace a table, if you choose. The two islands can be connected, or you can have them separated by a few feet in larger spaces.
This layout is ideal if you want to be able to keep an eye on your children as they do their homework or even gather friends around to play cards or a board game.
4. Wrap-Around Islands
For optimal seating in your kitchen, you may want to consider a wrap-around or L-shaped island, which can accommodate a large number of people. Then, you can place a smaller working island in the middle for cooking and other food prep.
The larger island should have an overhanging counter where you can place bar stools or chairs—this will give your family members or guests a place to sit as you work on the meal. This layout is also great if you have an open floor plan and want to provide a bit of separation between the kitchen and other living areas.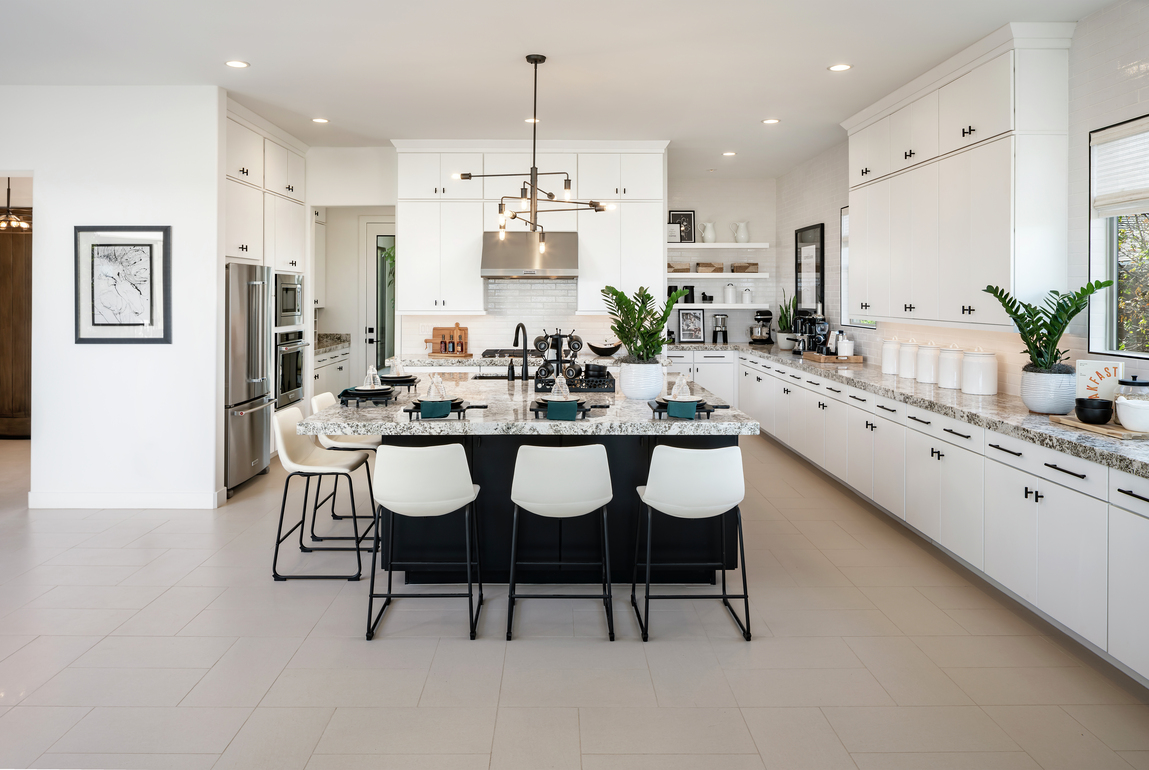 5. Mismatched Islands
If you have a more eclectic or modern style, you may want to consider double islands that don't match. The differences can be subtle, such as using different colors or materials, or you can go really bold and choose islands of different shapes. Just make sure the islands you choose fit well within your kitchen and complement each other to create a cohesive design.
As you design your dream home, keep these double island ideas in mind to help create the kind of kitchen that best fits your entertainment needs.
Visit our beautiful kitchen design blog post for more kitchen design inspiration.
Toll Brothers design options vary by market, community and home design across the country. For more information regarding design options offered in a specific Toll Brothers community or home, please visit our website or reach out to one of our Online Sales Consultants.