Last updated on August 24th, 2022
Striking the perfect work-life balance can be challenging, especially if you work from home. As such, home office design has become more important than ever, and the number of people who work from their residences has grown exponentially. Global Workplace Analytics reports that 4.3 million Americans currently telecommuting at least part-time.
It can be challenging for remote workers to accomplish all of their tasks and then decompress from a stressful day if that space is also the dining room table. As more couples and families start telecommuting, there's even more reason to delineate the ideal work from home environment.
Here are some ways to design the ultimate home office, as well as what to look for when you're seeking to build or buy a new luxury home with a dedicated workspace.
Create a Functional Home Office Design & Layout
Whether you're touring properties or in the process of building your dream home from the ground up, you'll need a well-designed and well-equipped workspace set apart from the noisy main hubs of the house.
While shopping for a new house, take stock of the floor plan and evaluate where your ideal home office can be set up. Consider where the family will congregate, as you'll want your workspace to be in a separate area. For instance, if the basement becomes a home cinema and game room, you probably won't get much done there.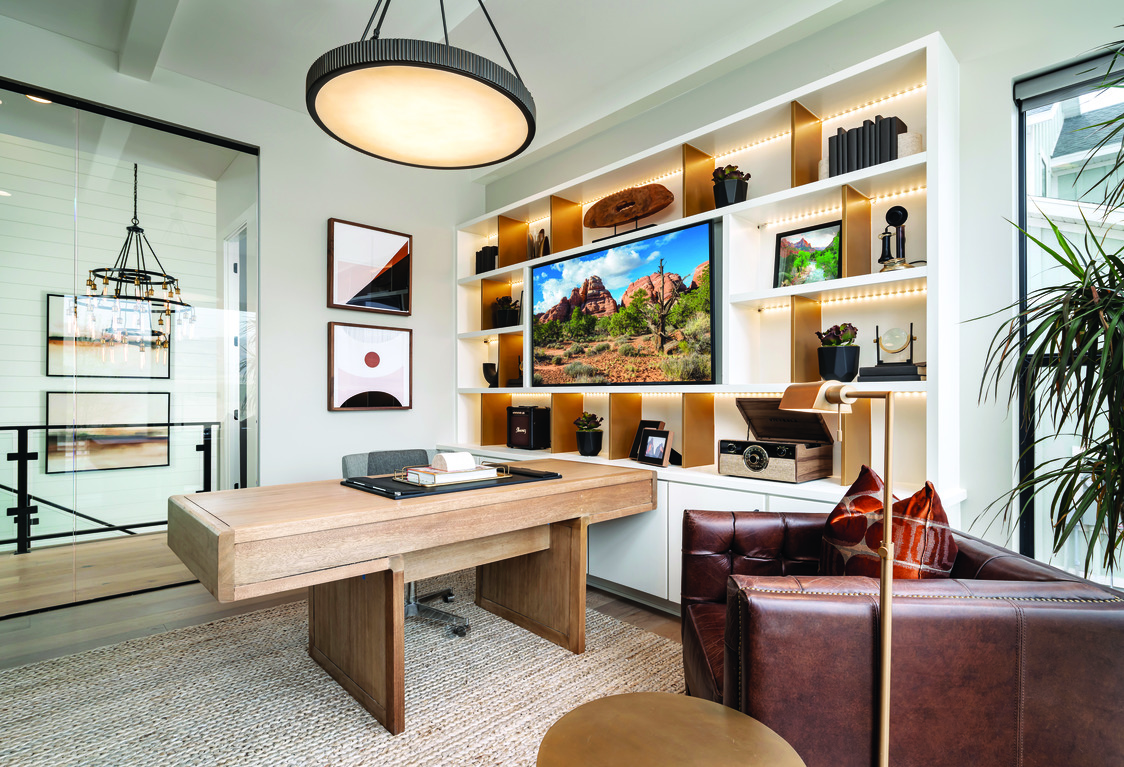 Select a spacious main floor den or upstairs bedroom from which to work. Also, make sure it has a door and a dedicated telephone line, so you can conduct business in private without being disturbed. Ideally, your remote office should feature windows that allow plenty of natural light and fresh air to flow in. Determine how much equipment and storage you'll need so you can designate the right amount of space.
The Best Home Office Colors for Productivity
Designing a home office that's conducive to creativity begins with a color palette that provides inspiration and relaxation. This is a space where you can experiment with bolder hues and textures, or layer several serene shades. You can create a formal look that resembles an elegant library or try something more playful, all with a coat of high-quality paint.
Feng shui experts cite purple as a color that exudes affluence and sophistication, while a pop of red or gold injects energy and excitement into the room. Grey and brown are associated with clarity and stability, while orange symbolizes optimism. Blue tones represent calm.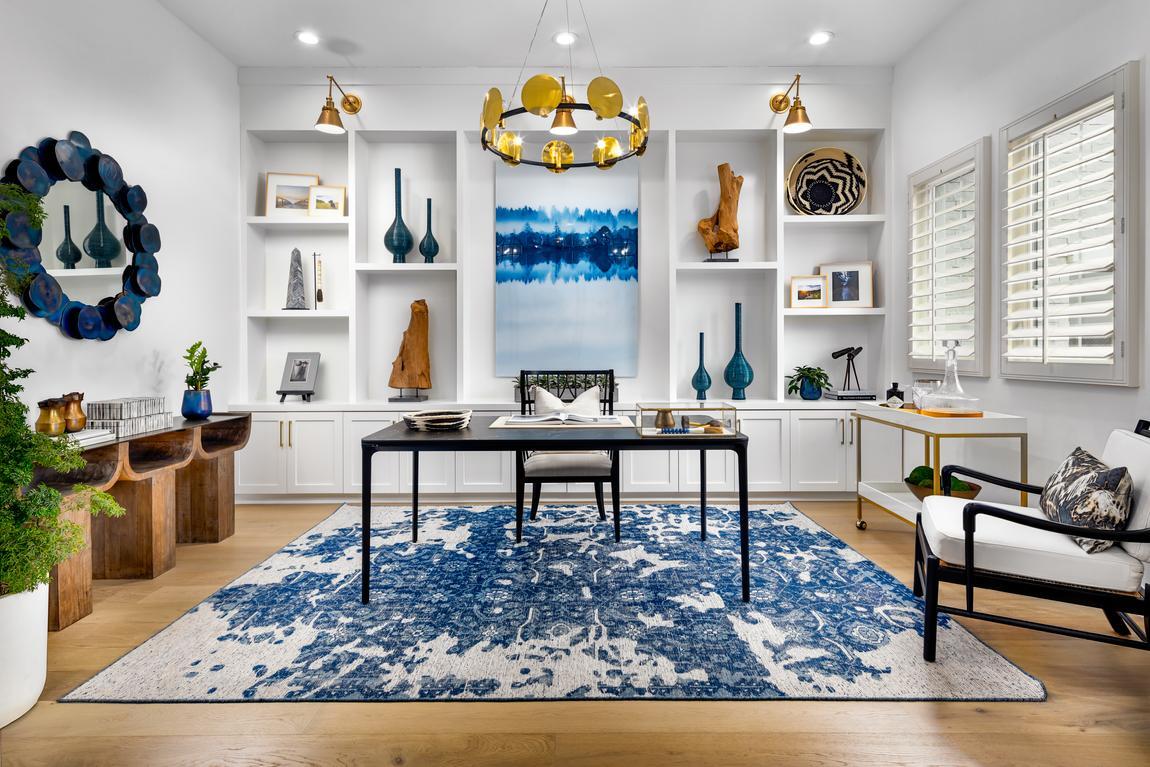 An accent wall is a perfect canvas to try a vibrant color of paint or wallpaper. You can also introduce brighter elements with desk accessories, decorative pillows, or throw rugs.
Home Office Layout & Furniture That Inspires Productivity
There's a reason kitchens are designed around a work triangle. Having the ability to move effortlessly throughout your home office space can boost productivity while allowing you to work in comfort. Reflective surfaces such as glass or chrome and open table legs can visually expand a room, providing an open, airy environment.
Carry the same flooring from the rest of the house through your office for a seamless look. A plush area rug adds warmth and comfort underfoot.
Depending on the type of work you do, you might need a large surface to spread out documents and computer equipment. If so, an L-shaped desk offers flexibility and enough space to toggle between several tasks. Pair your desk with an ergonomic chair that features many adjustment points, as well as excellent lumbar support.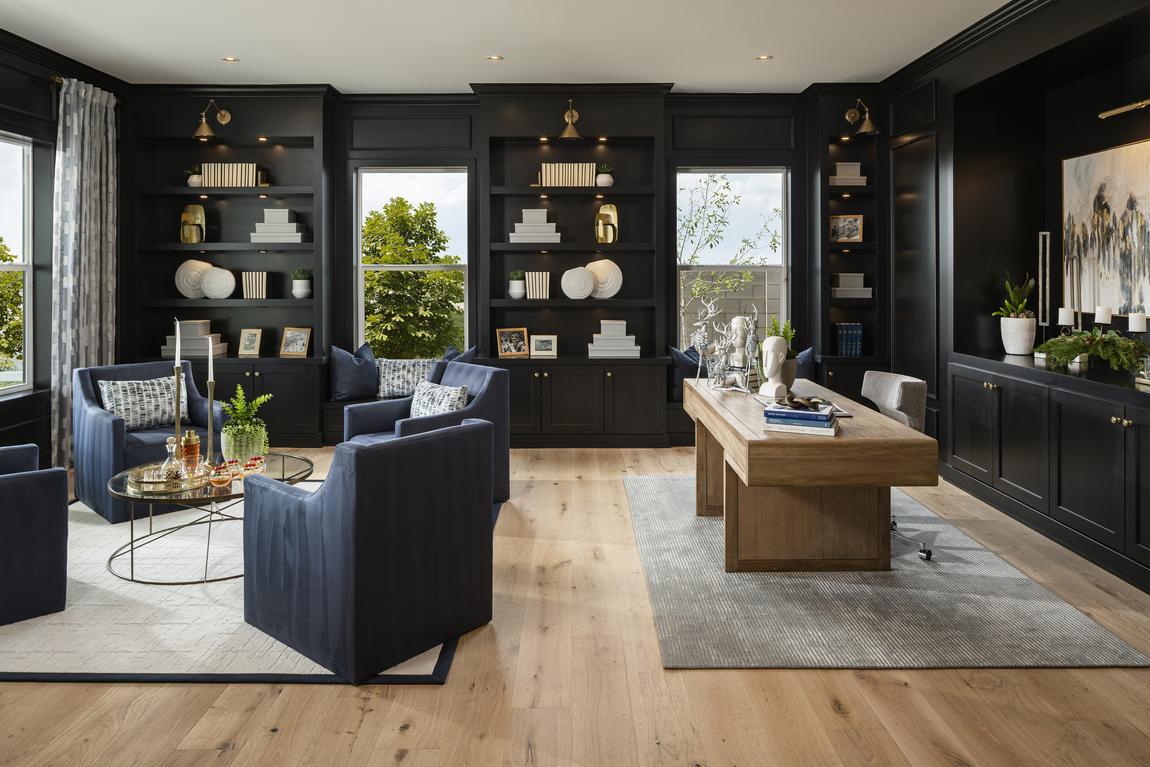 If you prefer to stand and move around instead of sitting, a standing desk can provide many health benefits. Such as reduced back pain and increased energy levels.
Proper Lighting Fixtures Essential for Focusing on Work
Optimal lighting not only reduces eye strain while you're working, reading, and writing, but it's also a proven mood-booster. The best home office design should include ambiance, task lighting, and where possible, natural sunlight.
Install sufficient recessed lights in the ceiling, on adjustable dimmer switches, so you can control the intensity. Chandeliers, decorative sconces, and standing lamps add interest and texture, while bright desktop lights allow you to focus on the work in front of you.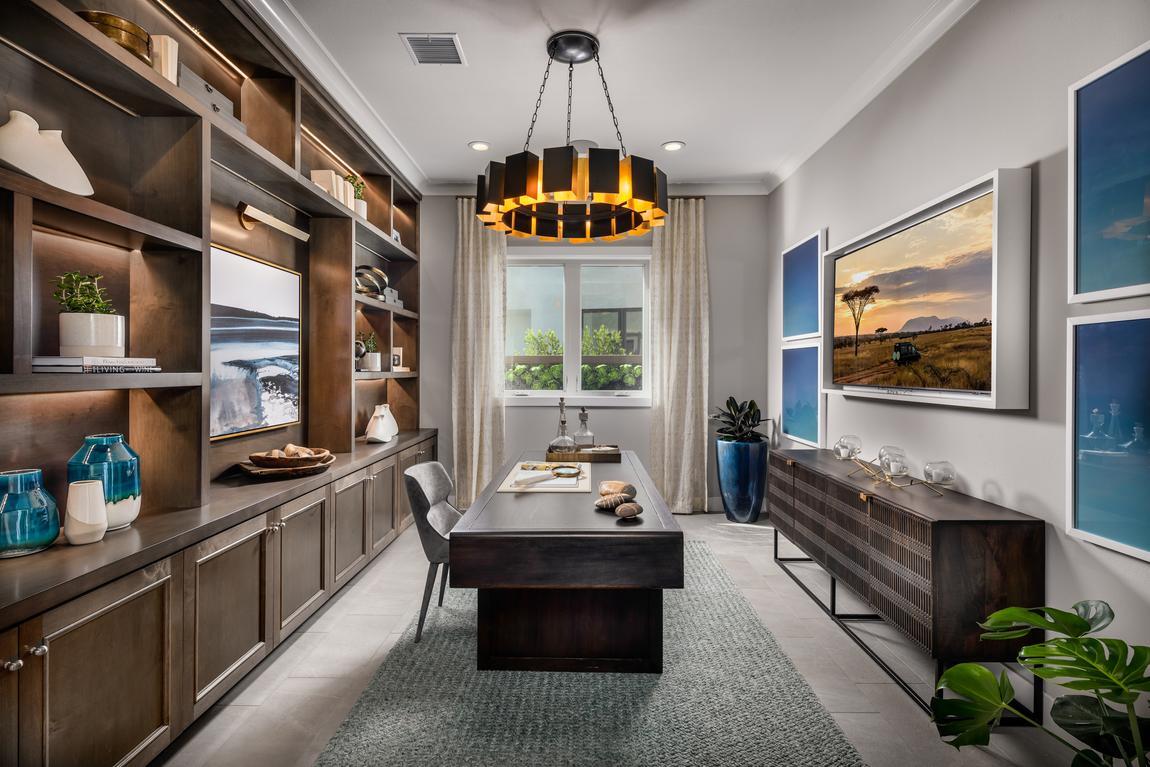 Storage Solutions for Home Office Supplies & Organization
As you consider which home to purchase, imagine how a large empty room can be outfitted to provide enough storage for all of your work from home necessities. Having your files and supplies in one spot allows for easy access and maximum efficiency. Allowing you to be focused and ready to work as soon as you step into your home office.
Floor-to-ceiling custom built-ins that feature a variety of open shelving, closed cabinetry, and deep drawers for files and bulkier office supplies are an ideal way to maximize space. You can opt to match the finishes with cabinets being used in your main living space or kitchen, or choose a contrasting material. Alternatively, pick from a variety of ready-made, modular freestanding or wall-mounted storage systems, which offer flexibility.
Desktop filing systems, stackable shelves, and different sized baskets can corral office supplies and paperwork, so your workspace stays organized. Take full advantage of vertical space by affixing vision boards, lateral filing slots, and other elements to the walls, the floor stays clear of visual clutter.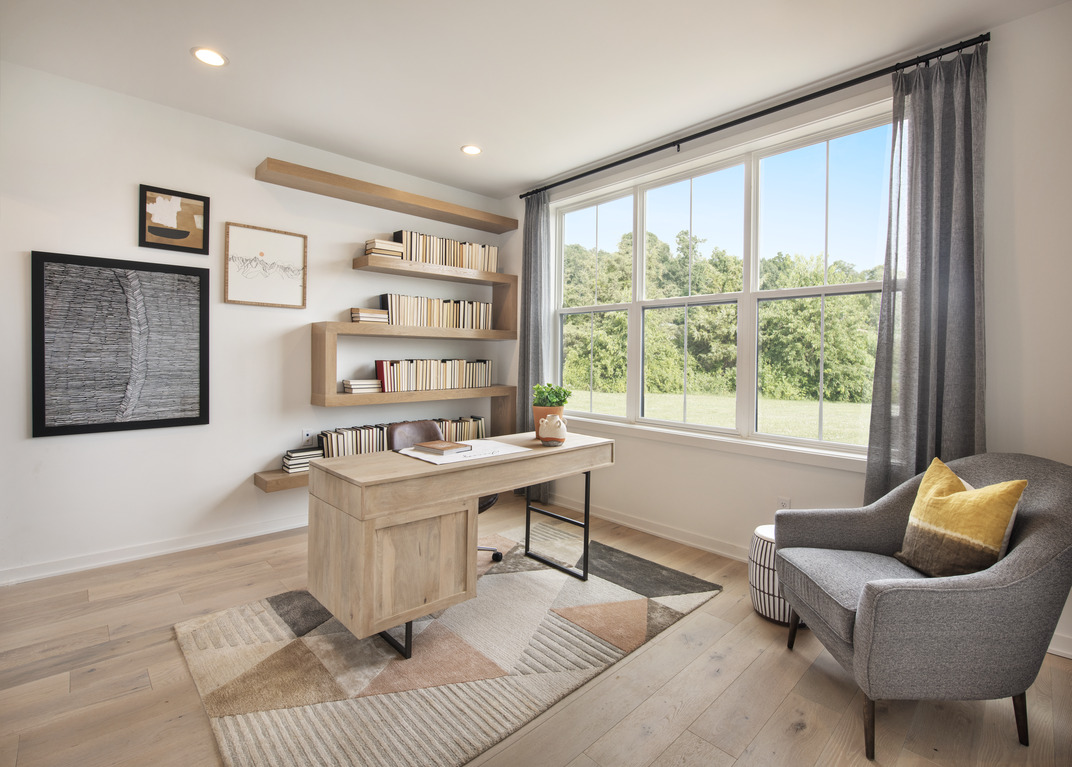 Stay Connected with the Proper Technology in Your Office or Work Area
Working remotely means communicating with clients and colleagues via the web or video conferencing, collaborative software, social media, and traditional email. Consider pre-wiring your home office to ensure maximum connectivity.
Many technology platforms, including Trello, GoToMeeting, Slack, and Google Hangouts, offer free trials or tutorials. Making it easier to decide which solutions will work for your remote office.
Be sure you get adequate bandwidth if you'll be sharing Wi-Fi with family members who are streaming movies or playing video games during your work hours.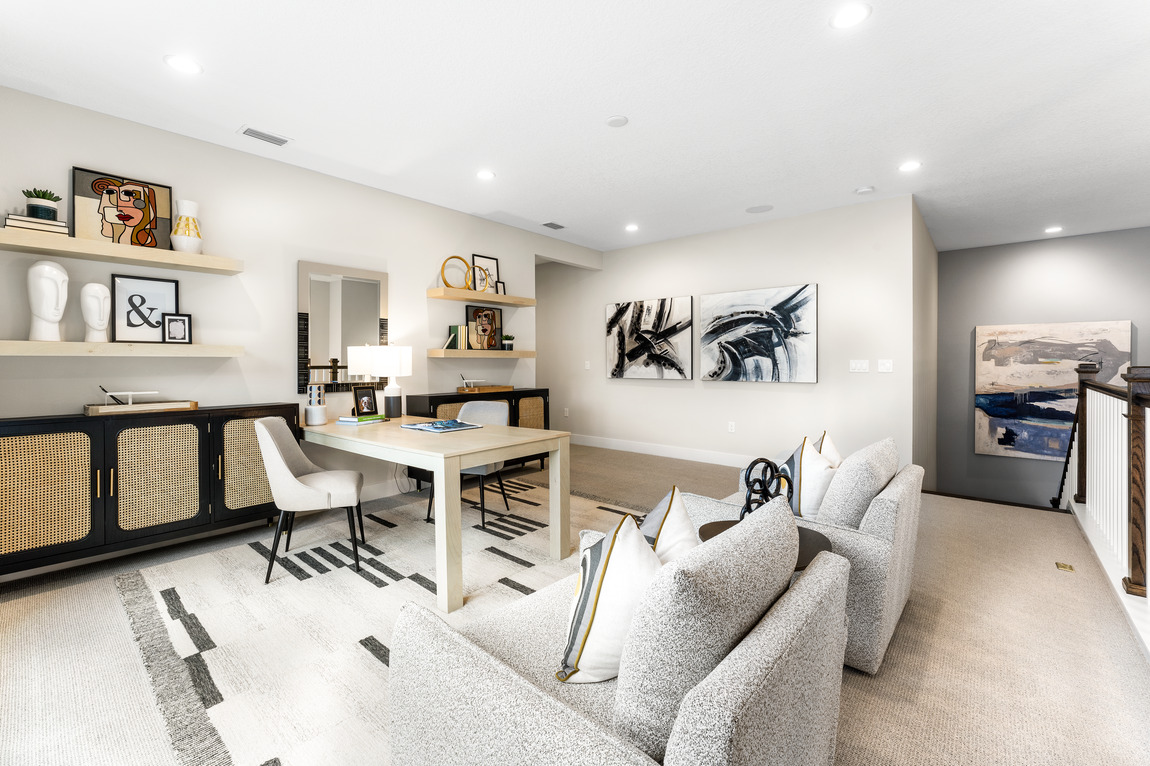 Add Your Unique Style to Your Home Office Design & Layout
Apart from the requisite furniture, equipment, and technology, the best home office design should also incorporate elements that capture your personal style. For example, original artwork on the walls, a plush sofa, or set of comfortable reading chairs all contribute to a positive workspace that encourages creative and critical thinking.
If you spend long hours in your home-based workspace, think about installing a luxurious fireplace. It will create a focal point that enhances the environment while infusing it with warmth.
No matter what kind of home office you seek, invest the time and imagination to customize it to your lifestyle. After all, you'll be using it every day!
For more design inspiration, check out our six tips to feng shui your home office to create a home office that best supports the way you work.