Last updated on August 24th, 2022
Color is a dynamic tool that can be used in any room of your home – just a couple of modifications can impact the atmosphere of your space. Here are a few unique and diverse ways that you can incorporate color into your new Toll Brothers home.
Add an accent wall
Change the focal point of the room with an accent wall. Select a bold, contrasting color from the room's current color scheme. Draw inspiration from a piece of artwork, fabric, or furniture piece. If you get stuck, paint your accent wall a few shades darker than your current wall color to add just the right amount of "pop." Read more about incorporating accent walls into your home.
Paint the ceiling
Transform the overall look by painting the ceiling a different shade. Use dark tones in large rooms to make the room feel cozy or select lighter shades for smaller spaces to accentuate and open up the area. Ceilings are often the forgotten "fifth wall," but by selecting bright or darker colors, you can creatively reinvent the space. Want something adventurous? Add embellishments such as patterns and borders.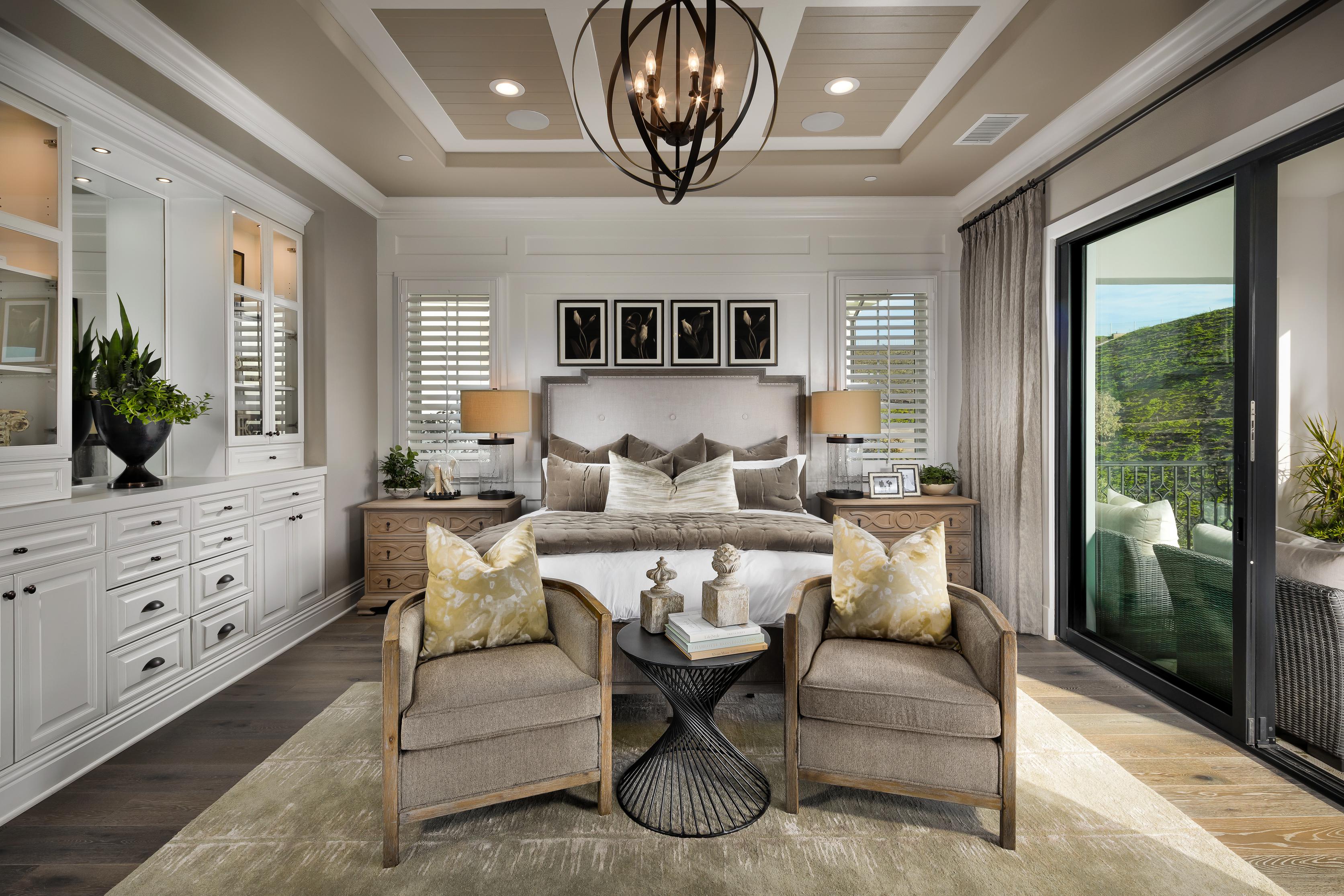 Create bold walls
For a bold, daring look, paint all of the walls with jewel-tone dark blues or bright greens. Create a brilliant contrast and balance the loud colors with neutral furniture that will inspire and delight.
Use colorful furniture
Rather than creating a bold wall, do the opposite. Paint the walls a neutral color and balance the neutral walls with colorful furniture. Using colorful furniture or accessories in a neutral room will change the focal point and allow the design to shine. Read more on how to make a room flow.
Incorporate pillows and curtains
Add pizazz to your favorite spaces by placing colorful throws, pillows, or multi-textured window treatments. Unify the room by coordinating fabrics and other accent pieces. Feel free to be creative and blend in contrasting colors to create visual interest.
Use colorful fixtures
Looking to update your bathroom oasis? Kohler®, a Toll Brothers vendor partner, has an entire collection devoted to colorful fixtures and bathroom sinks. Whether you decide to paint with colorful hues or reinvent your bathroom concept, here's a unique way to add color.
Painting colorful designs
Use the Sherwin-Williams® ColorSnap Visualizer® to envision your room's color scheme by uploading a photo of your room and selecting the wall, ceiling, and trim colors. This year, help Sherwin-Williams celebrate their sixth annual National Painting Week from May 25-June 4 and celebrate the transformative power of color. To discover design inspiration, explore new colors, and learn about volunteer opportunities, visit the 2018 National Painting Week website!

For more ideas on incorporating color into your luxury Toll Brothers home, visit our Color in the Home board on Pinterest, or for additional design inspiration, check out Kohler's Pinterest page and Sherwin-Williams' Pinterest page.