Last updated on August 24th, 2022
Find tranquility in a luxury bathroom built to pamper you. Relax into an expansive freestanding tub or step into a dual waterfall shower for the ultimate experience. Imagine the intricate tile, natural stone vanities, and curated lighting of your dreams, then let us show you how you can bring those dreams to life.
View our luxurious bathrooms & designs to get inspired for what's possible in your next home.
1. Modern Floating Cabinets
This luxurious primary bath features wall-to-wall floating vanities that accentuate the herringbone floor pattern. Unlike traditional vanities that are fixed to the floor floating cabinets visually open the space making this bathroom feel even more grand and luxurious.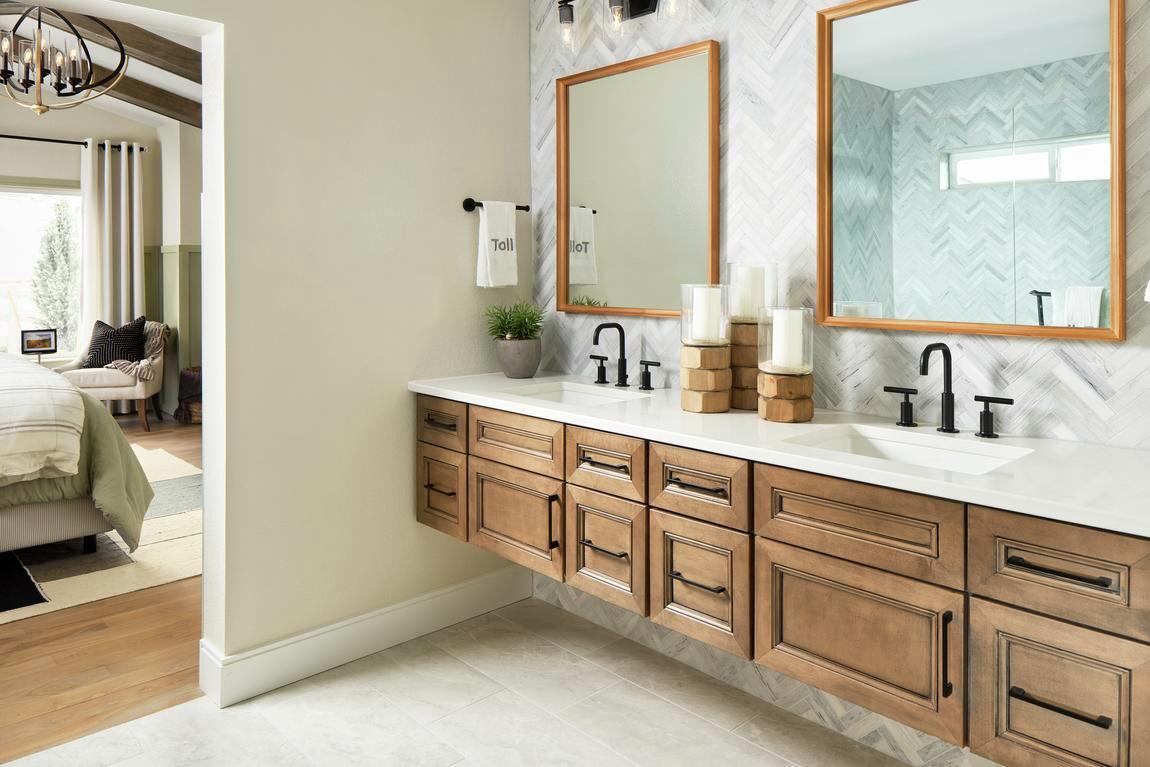 2. Modern Spa Bathroom
Update the traditional spa bathroom concept with the incorporation of bold colors, clean lines and accent lighting.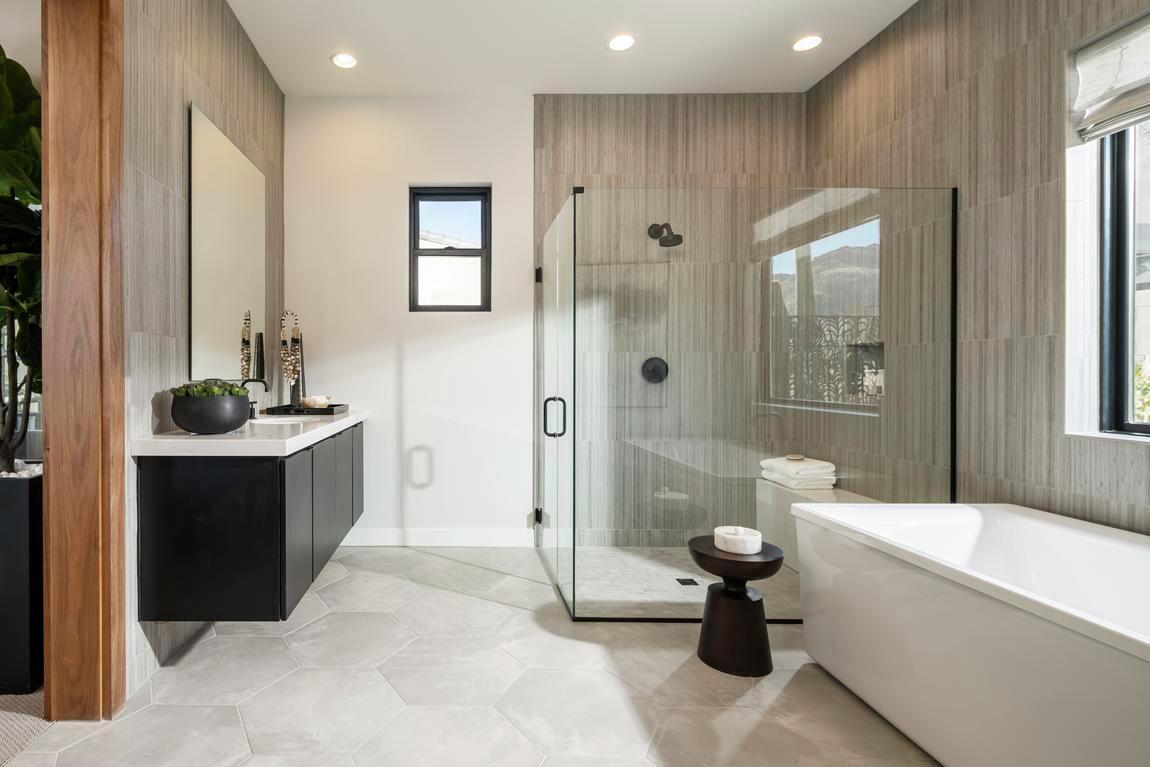 3. The Ultimate Shower Experience
This luxury bathroom brings a spa-like oasis directly to the home with a shower room including dual shower rain-heads, a free-standing tub, and a full-length bench.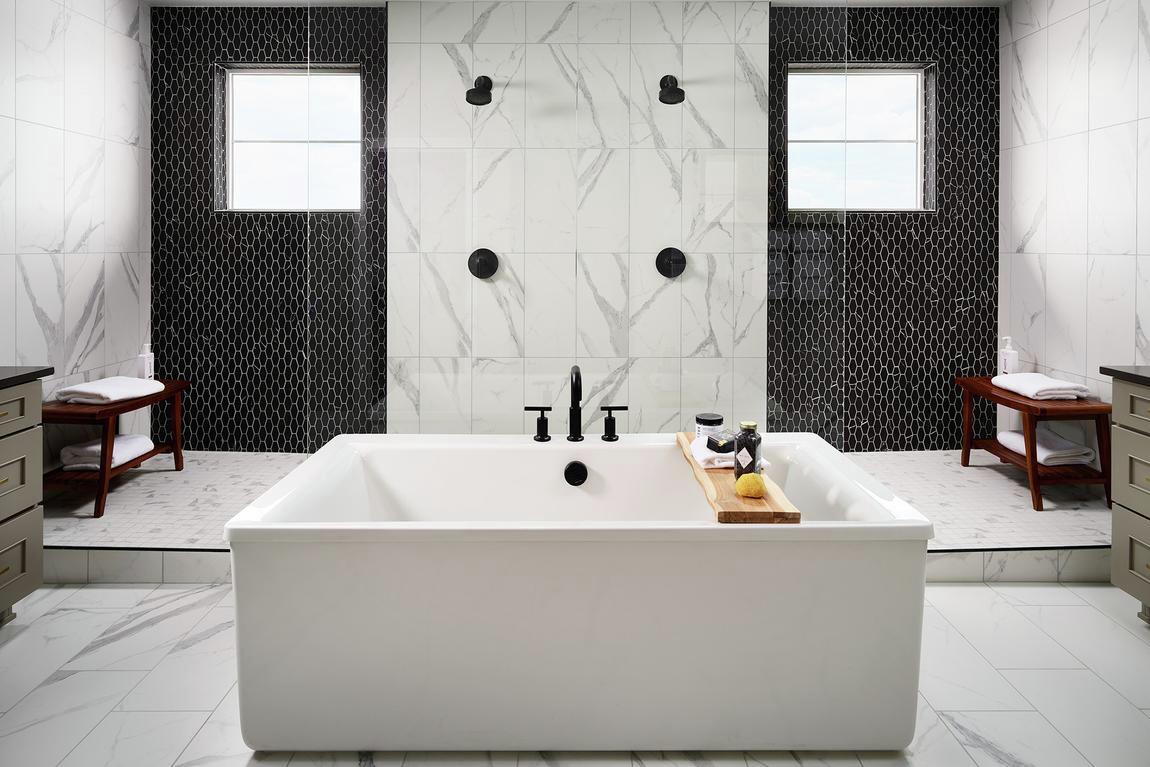 4. Shiplap Walls
Add dimension to your bathroom with the incorporation of shiplap walls. A material that was originally used in the construction of ships now finds itself repurposed inside the home. In contrast to traditional tile walls, shiplap adds an element of warmth that has recently made this a popular design choice in bathrooms.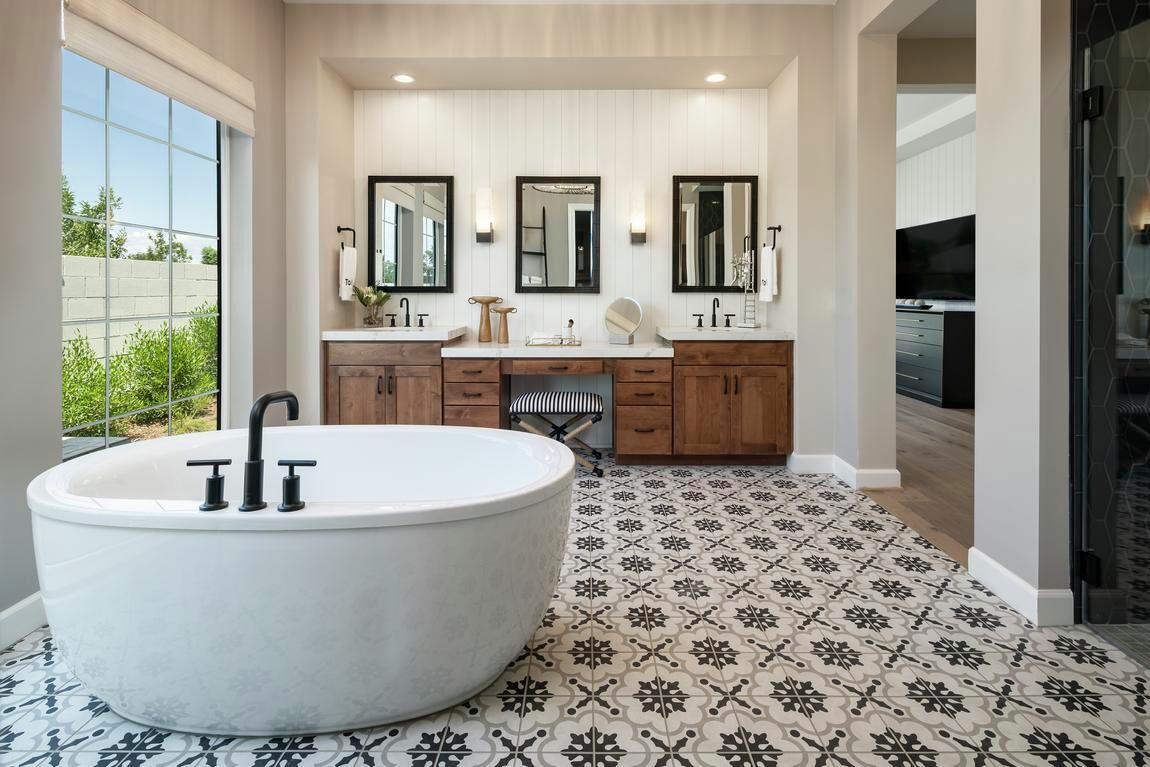 5. Zen Mosaic Backsplash
Bold, mosaic wall tile makes the vanity in this bathroom the true focal point. Incorporating the same mosaic tile as an accent on the bathroom floor ties this design element into the rest of the space creating balance and unity.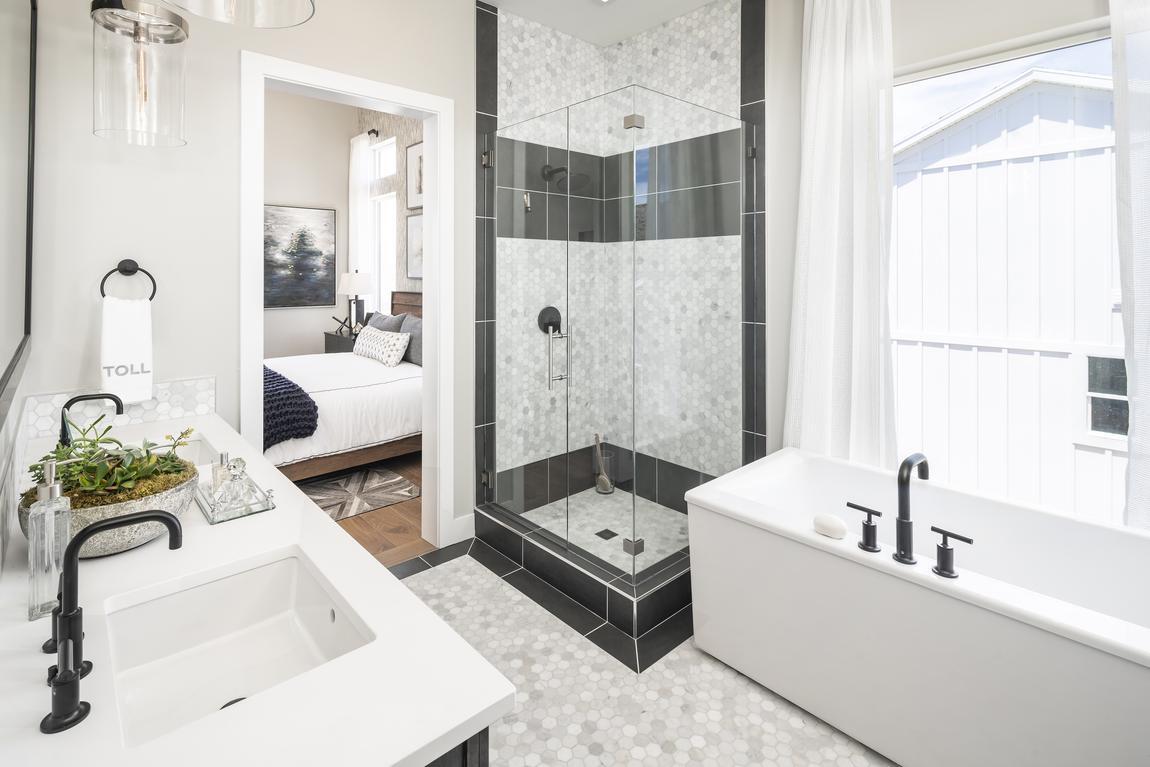 6. Luxury Indoor and Outdoor Bathrooms
Connect with nature and enjoy a serene setting whether inside or out! Incorporating a glass wall and extending the floor tile through the exterior space eliminates the boundary between the inside and outside of this Arizona home.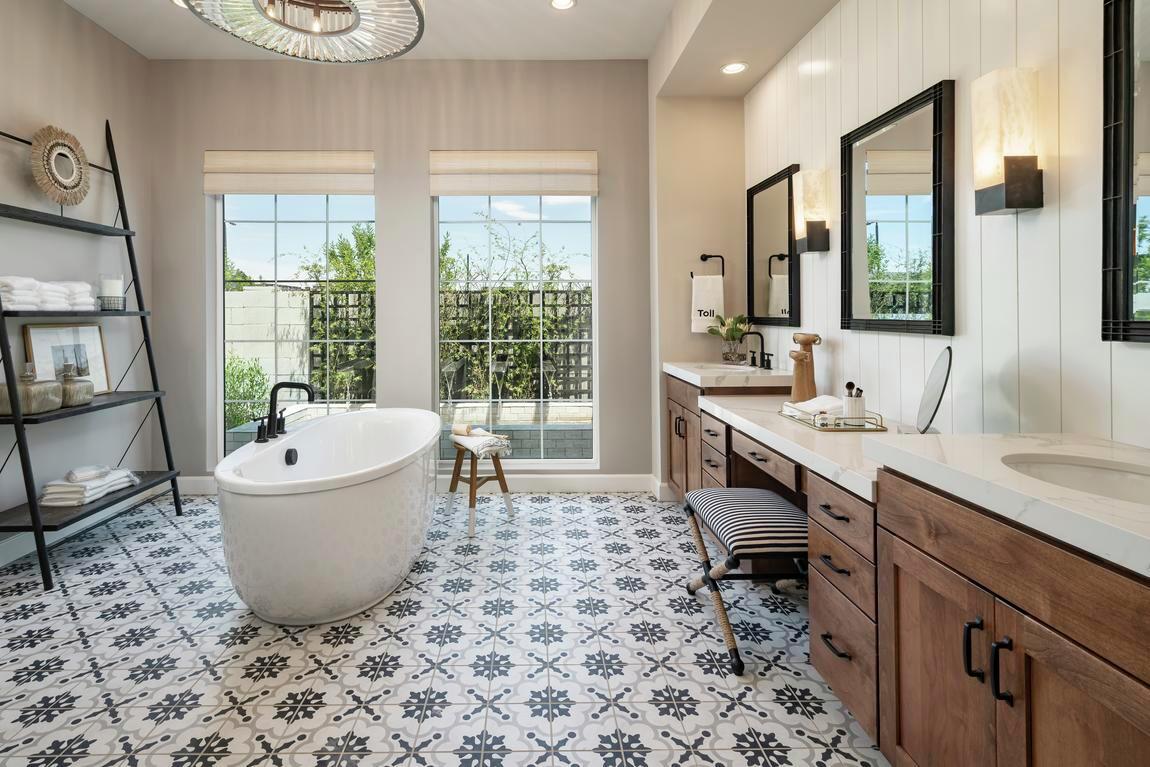 7. Picture Frame Tile in Shower
Large, dual rain-head showers have risen in popularity over recent years. Ensure this area becomes the focal point of any luxury bathroom by adding an accent such as this over-size picture frame tile.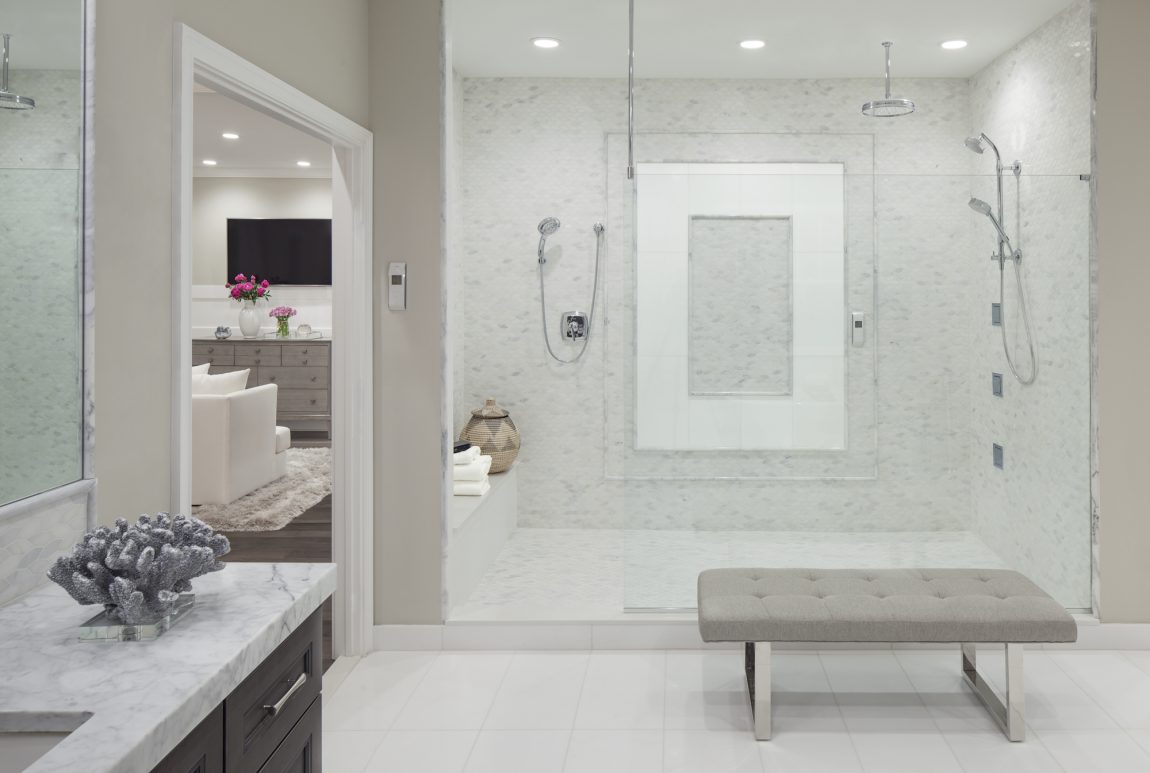 8. Industrial Style Sinks & Lighting
Industrial elements were once thought of as functional and lacking design. These same elements are now introduced to modern interior design as unexpected details that add interest and curiosity. The repurposed spigots in this bathroom are sure to be a topic of conversation in any home.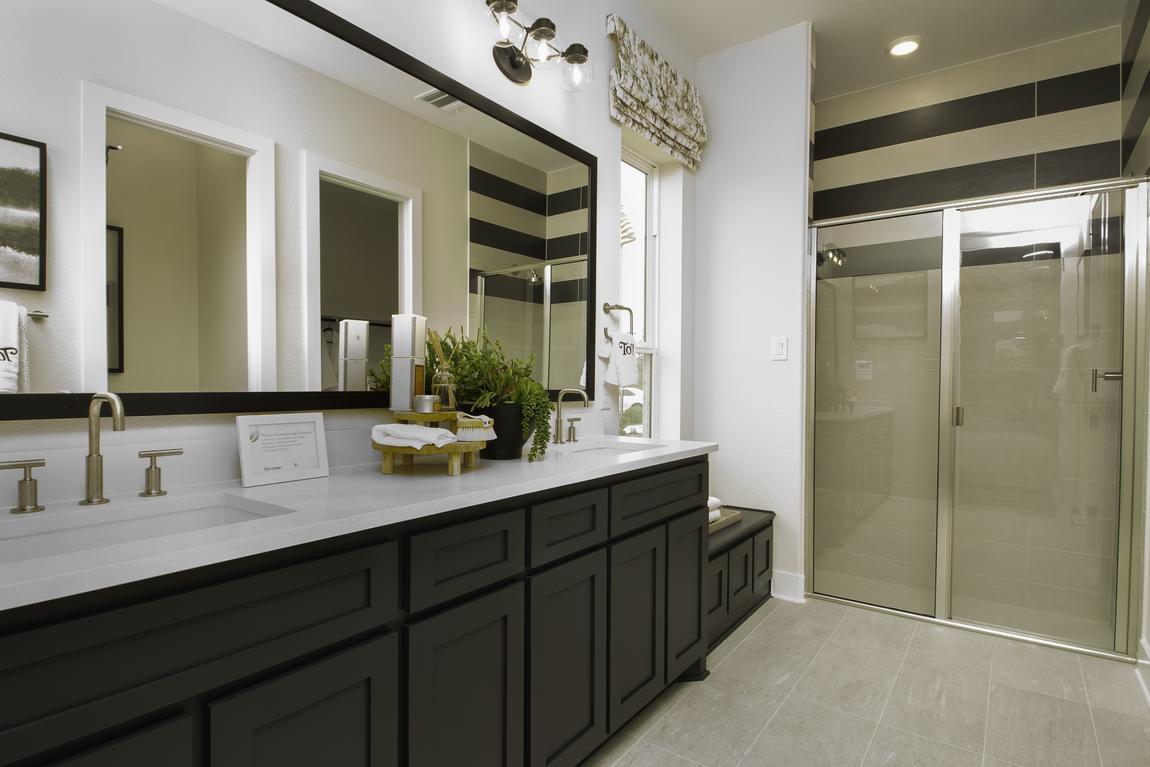 9. Relaxing Stand Alone Tub Feature
This bathroom features a free-standing tub, enhancing the spa-like feel of this luxurious space. The free-standing tub not only provides a luxurious bathing experience but also serves as a beautiful sculptural addition to any bathroom.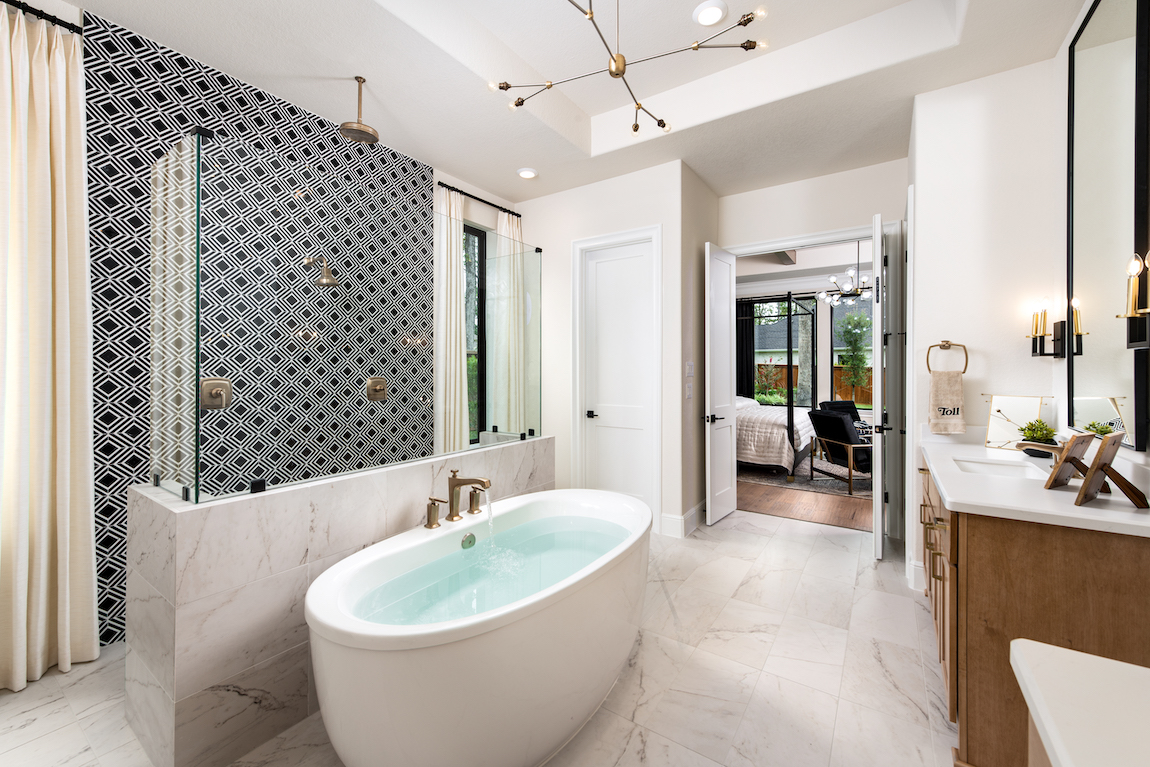 10. Modern Farmhouse Design
Combine natural, neutral, and industrial elements to achieve the ultimate modern farmhouse bathroom. The application of the natural wood vanity against the clean lines and bold contrasting fixtures elevates the otherwise relaxed, traditional farmhouse design to one of sophistication.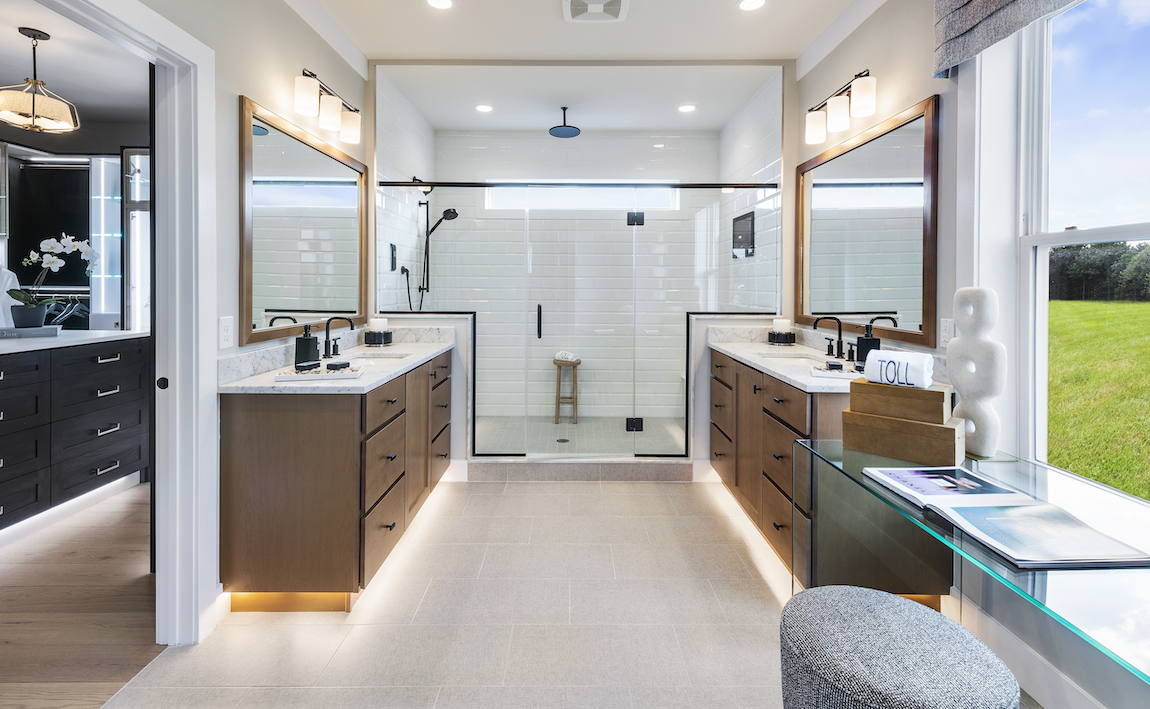 11. Sculpture Style Bathroom Features
Lighting and plumbing fixtures have become pieces of artwork in modern day design. The stunning sconces and sleek faucets are the perfect finishing touch to this large bath.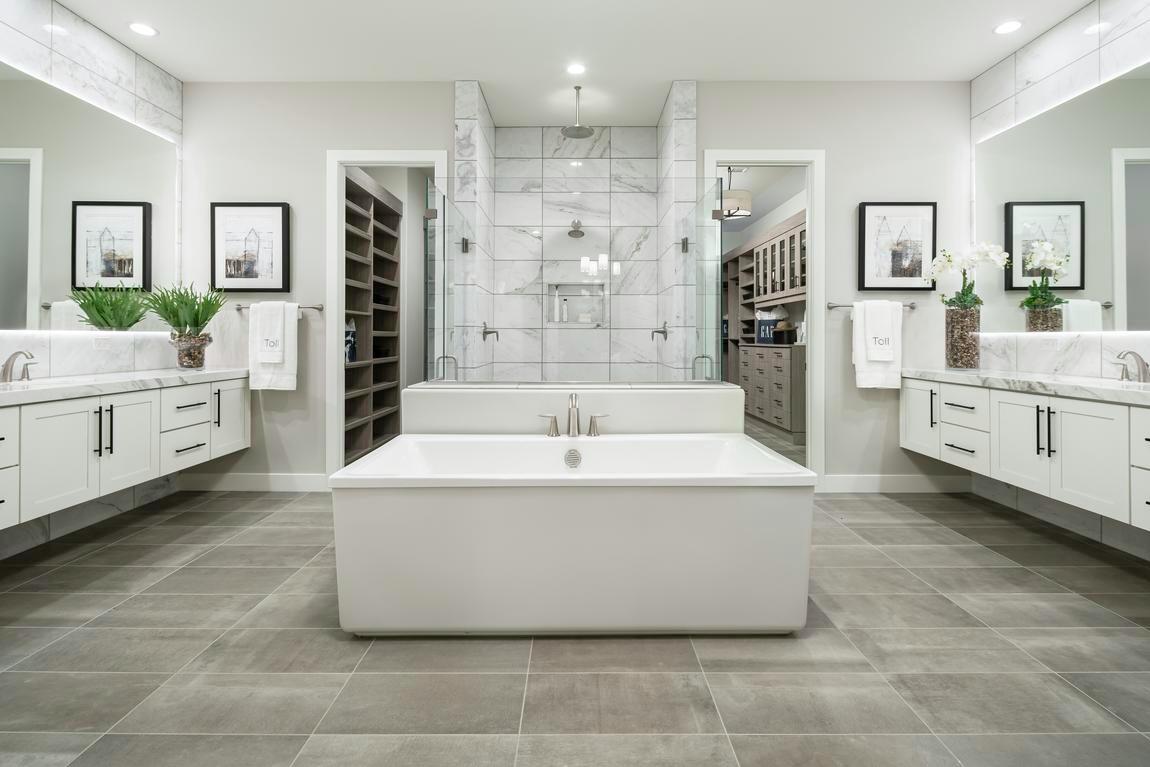 12. Luxury Clawfoot Tub
Clawfoot tubs are the original "free-standing" tub. The ornate detail on this tub lends itself to the traditional style of this bathroom.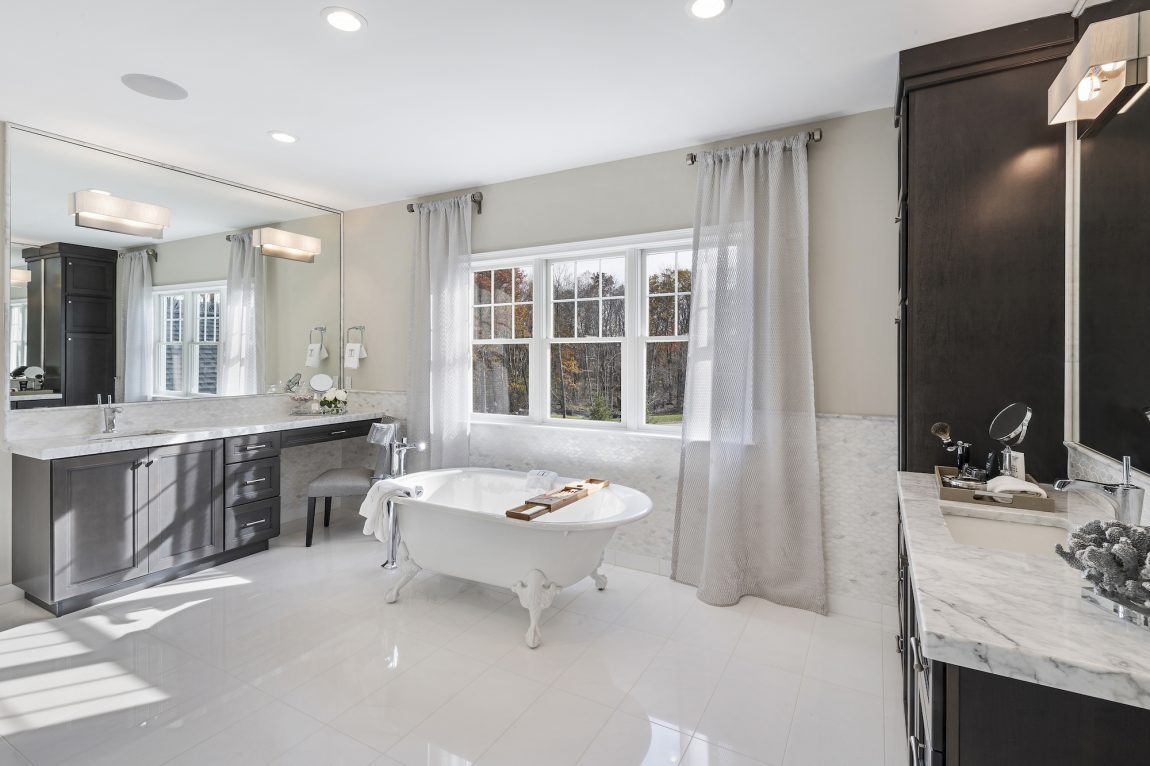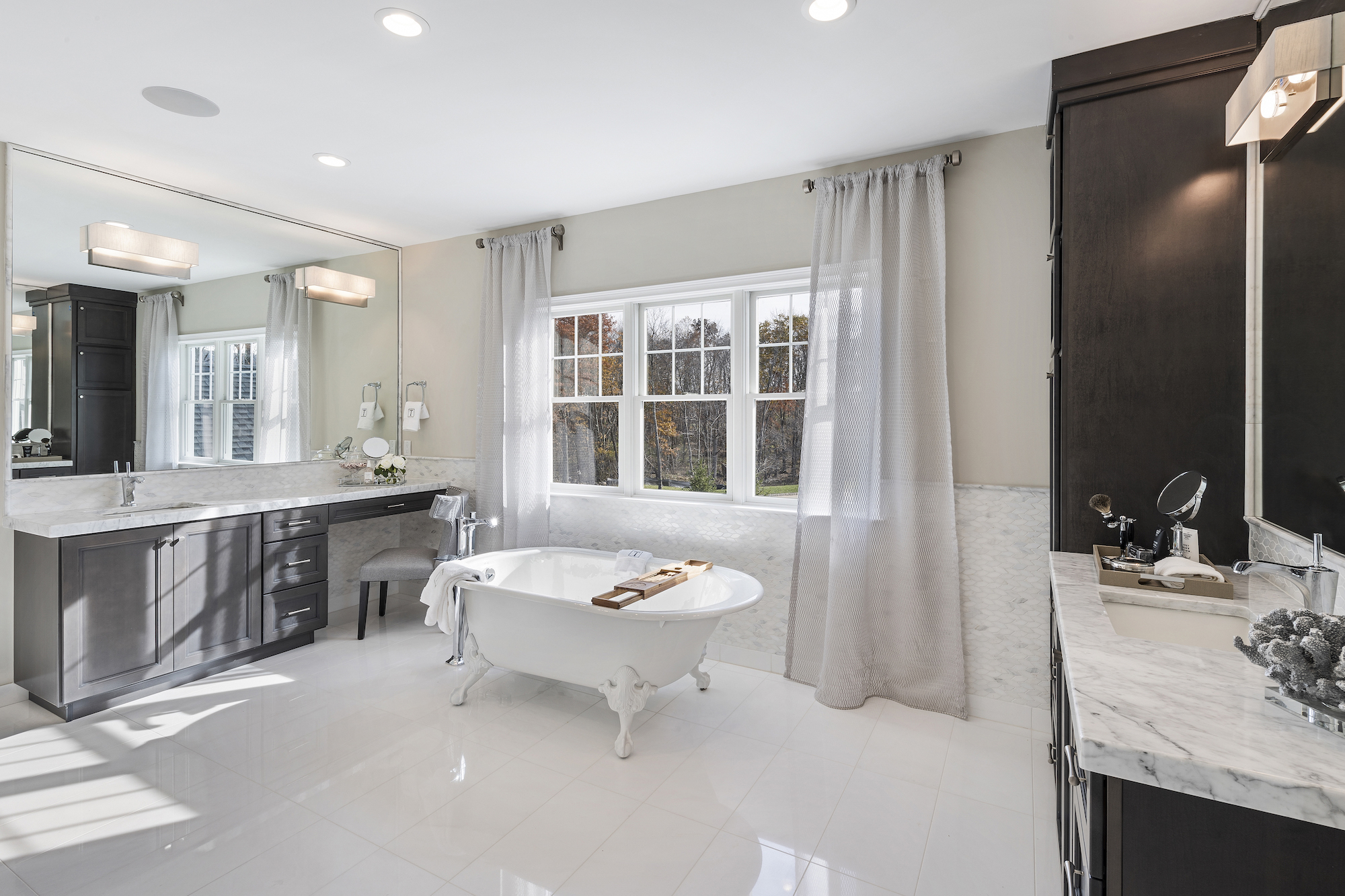 13. Classic Black & White Design
Clean, geometric lines with classic black and white details complete this bathroom with a style that will stand the test of time.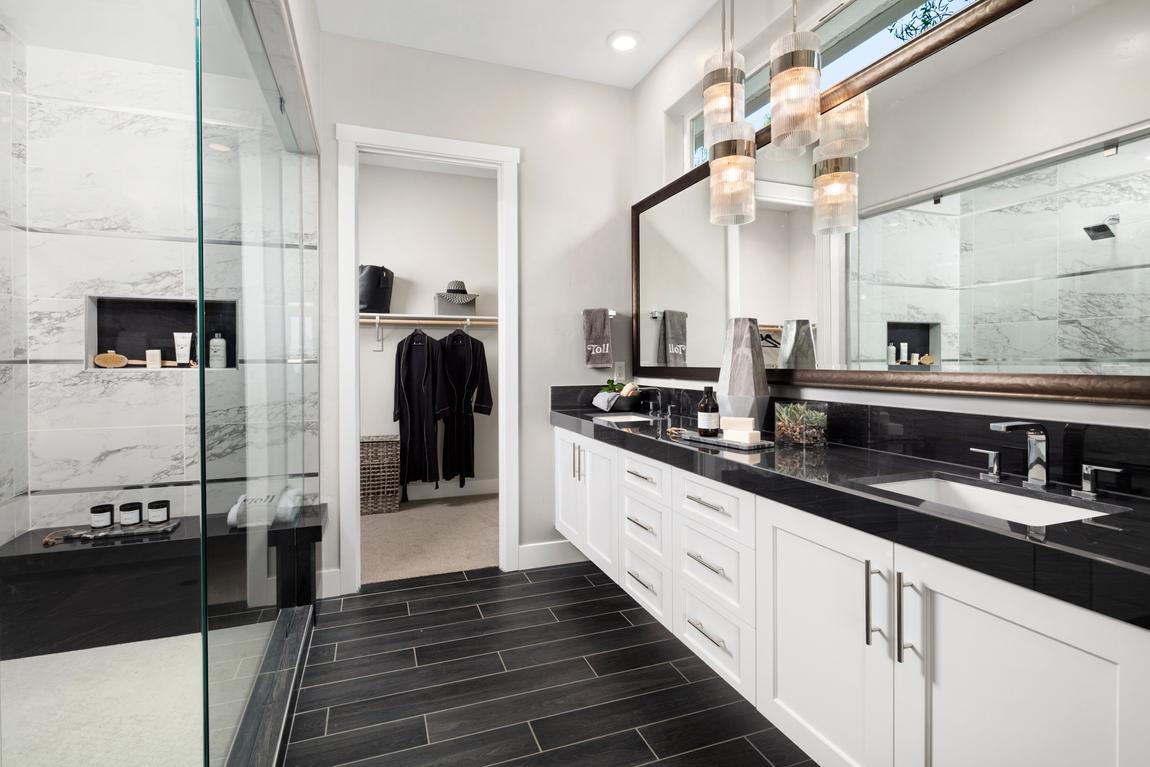 14. Frameless Shower
Frameless shower doors have minimal hardware and create an open feel to this large, but narrow shower.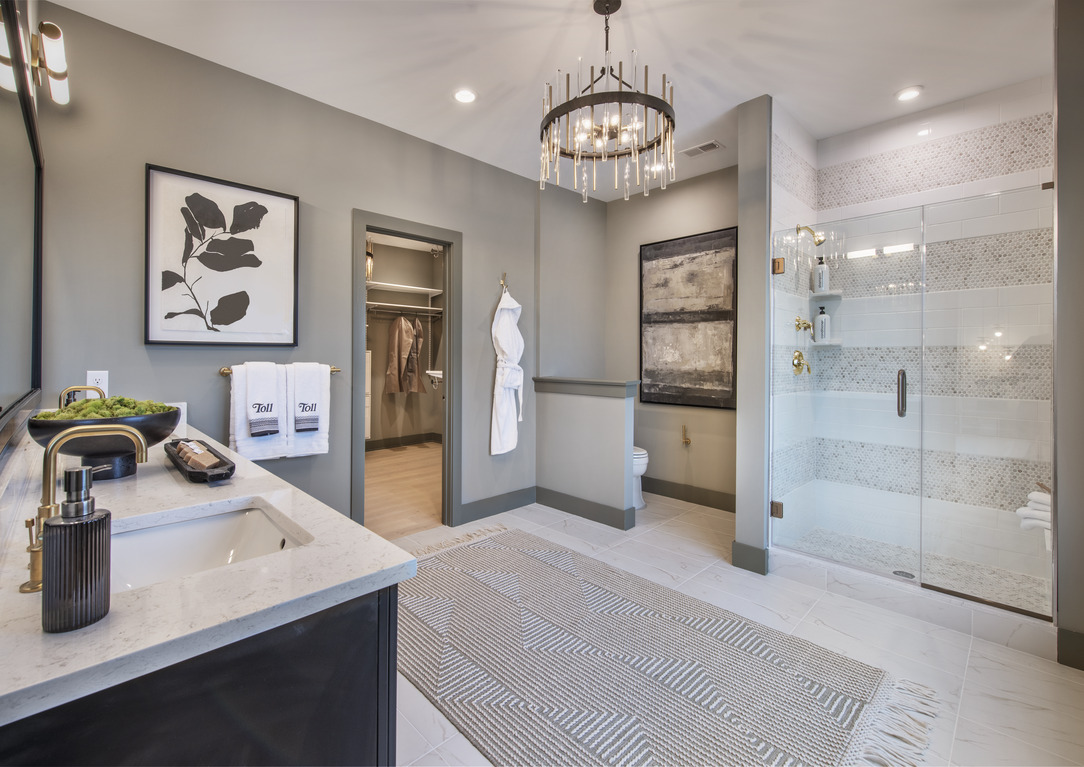 15. Marble Shower & Finishes
The marble in this luxury bathroom extends from the bath tub throughout the surrounding walls and is easily the statement of this large primary bath. In contrast to the busy and unpredictable vein of the natural stone, the stunning views are calming and serve as the perfect foundation for this design.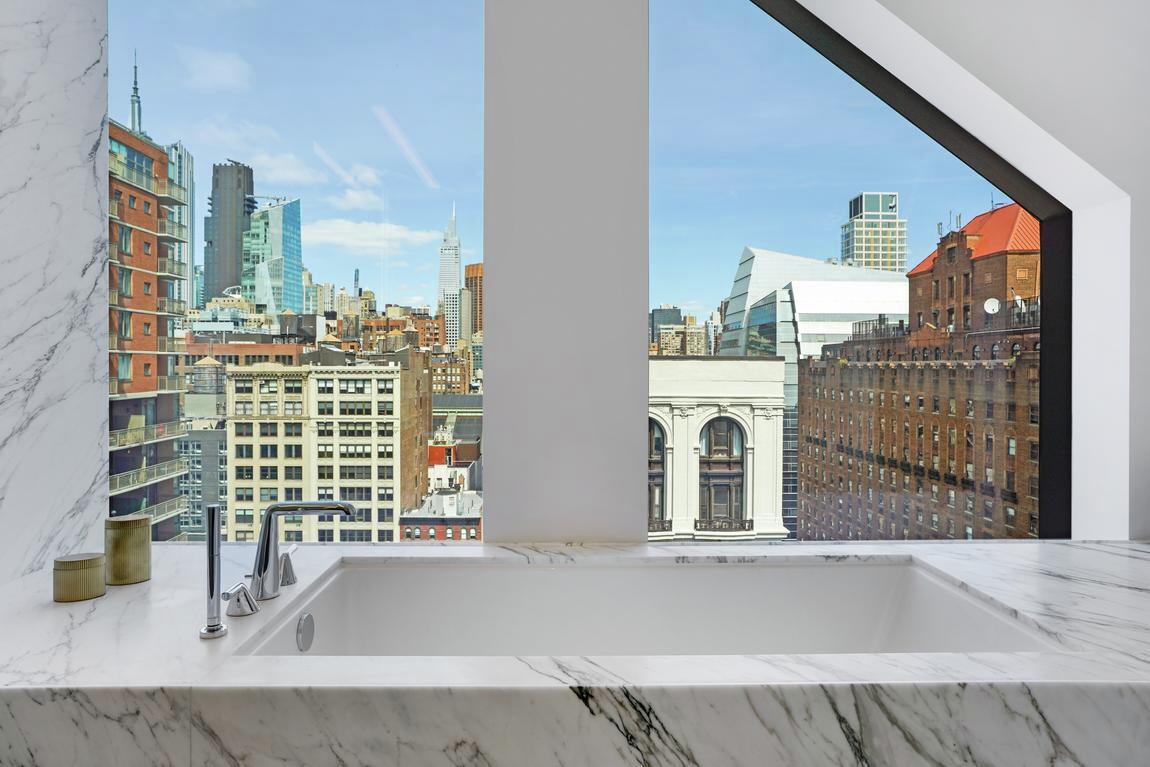 16. The Double Shower
Vertical tile accents provide a visual division of space in this double shower. Although defined as His & Her Drying Areas, these benches are multi-purpose allowing space for relaxation, storage of soap and shampoo, or simply drying as the name suggests!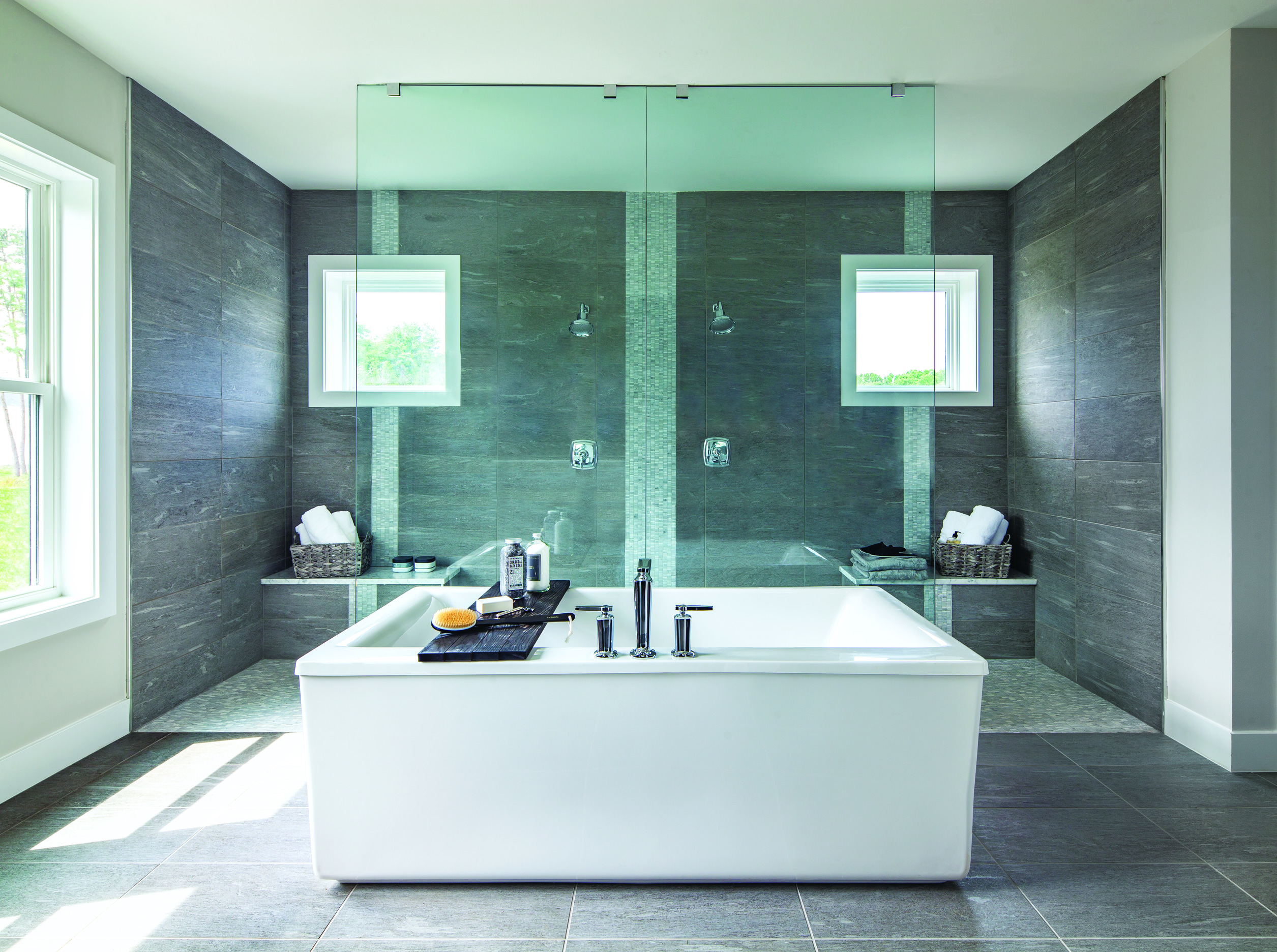 17. Wading Pool Sink
Wading pool sinks aren't just a luxurious aesthetic in this bathroom. The shallow nature of these sinks allows for additional storage below and is a great addition to the home.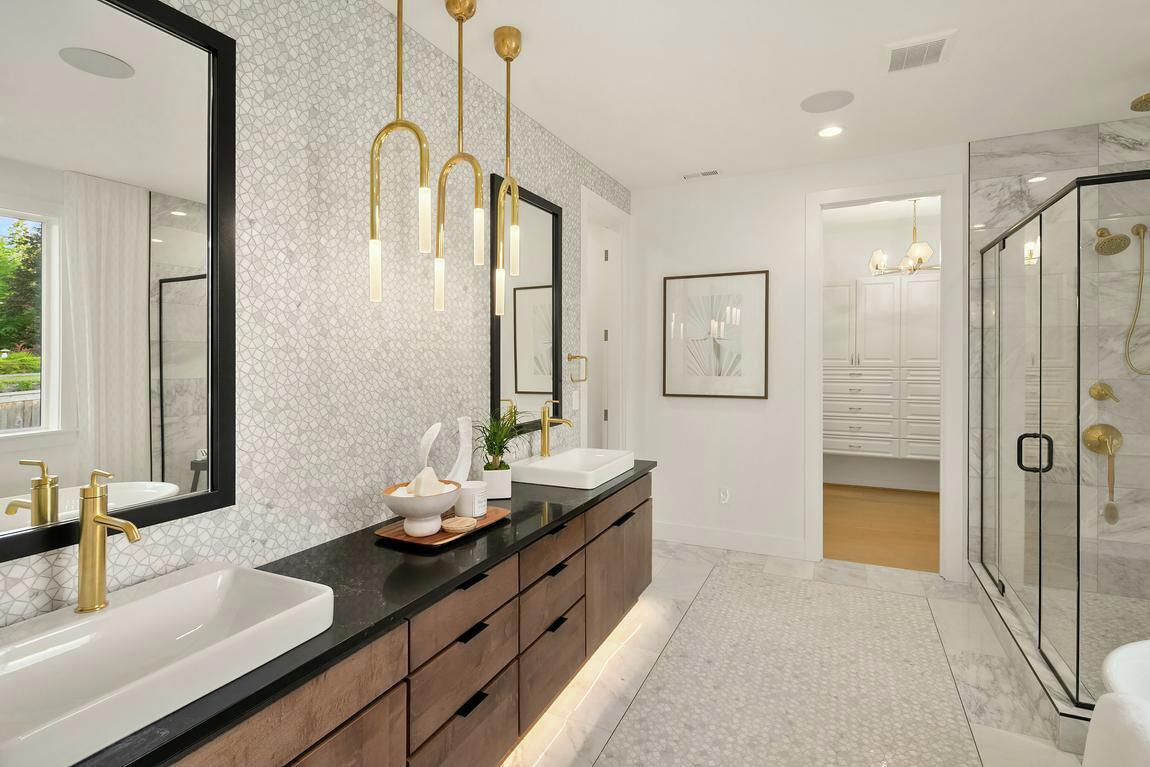 18. Embellished Floor Tile
Neutral finishes allow the intricate floor tile in this bathroom to tell its story without interruption. The detail in this floor tile is a true expression of the elegance this art form originates from, resulting in an enhanced, luxurious environment like no other.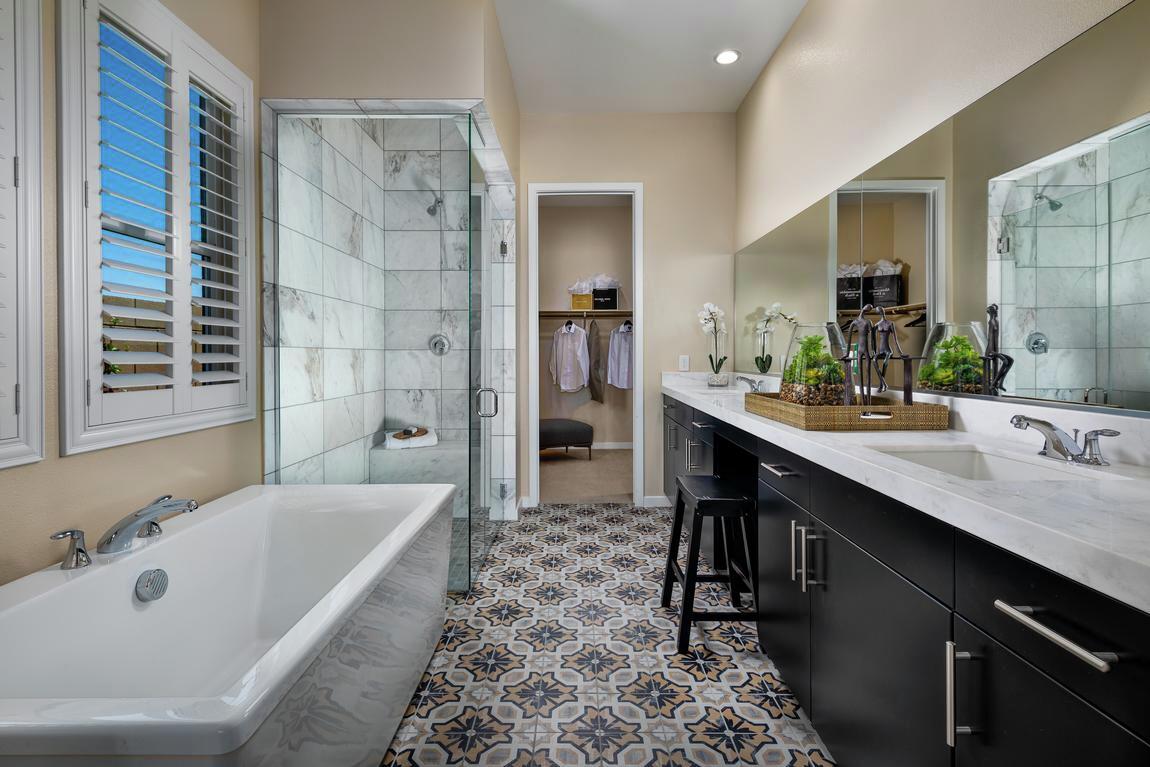 19. Wet Room
Elevate your showering experience with a wet room. Although this design concept originated to accommodate the incorporation of tubs and showers in small spaces, the wet room has transitioned into a "must have" in luxurious primary bathrooms.
20. Modern Urban Luxury Bathroom Design
Combine raw elements such as tile accents with clean lines to create an urban oasis. The monochromatic color scheme in this bathroom creates a soothing atmosphere.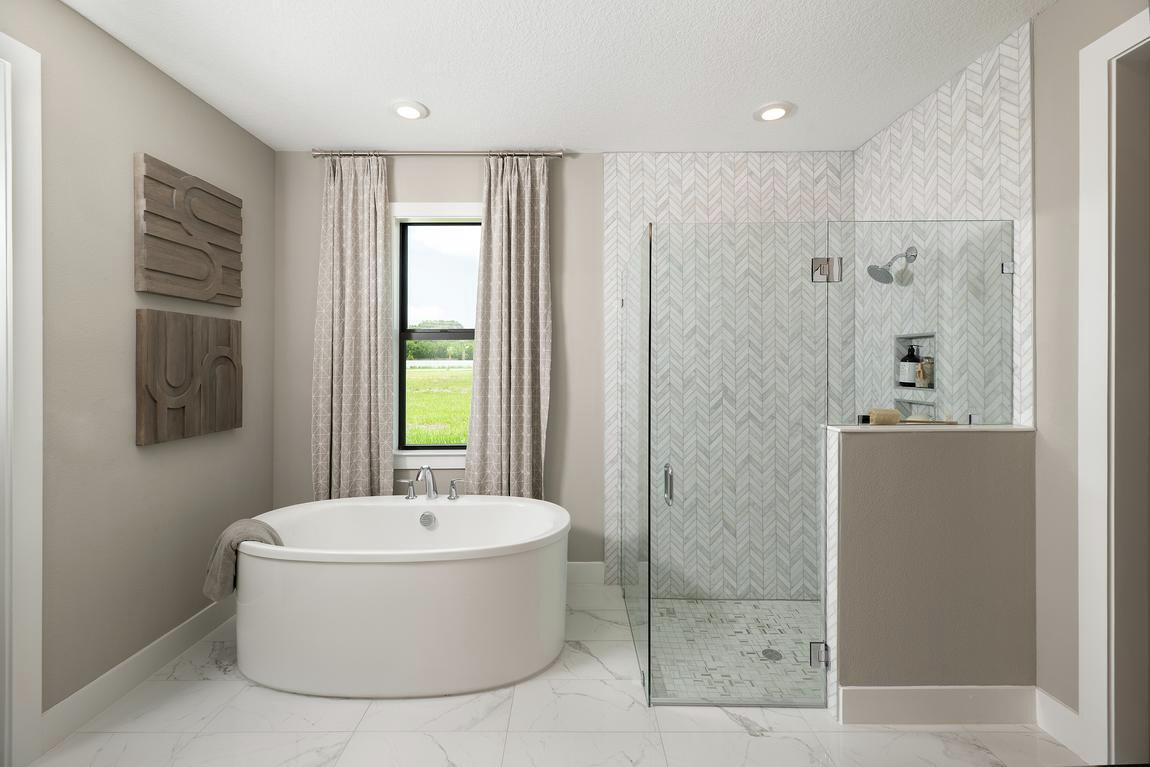 21. Romantic Bathtub
Nothing says luxury quite like a romantic bathtub setting. Create this ambiance by incorporating warm lighting and romantic fixtures such as this rug centered in front of the tub.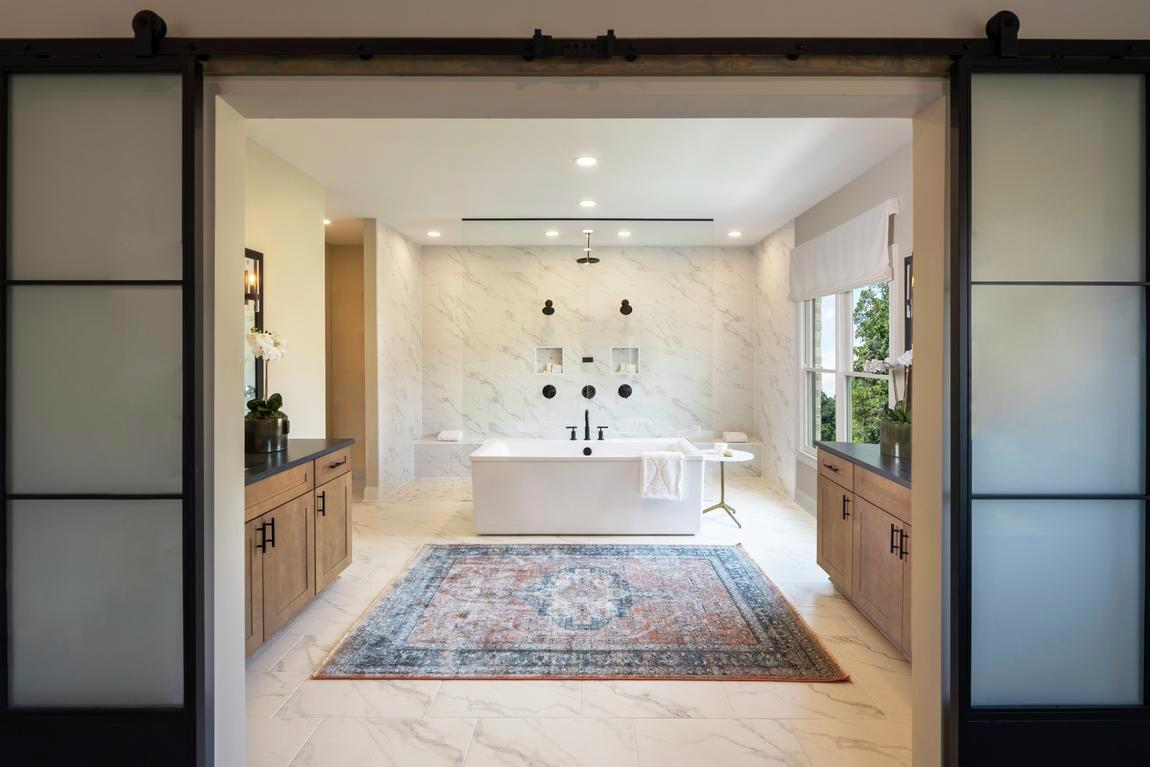 22. Luxurious Bathroom Designs
Vaulted ceilings, feature lighting, free-standing tubs, and decorative tile are common additions in today's luxurious primary bath designs. All four of these elements have been synchronized to create the centerpiece of this bathroom.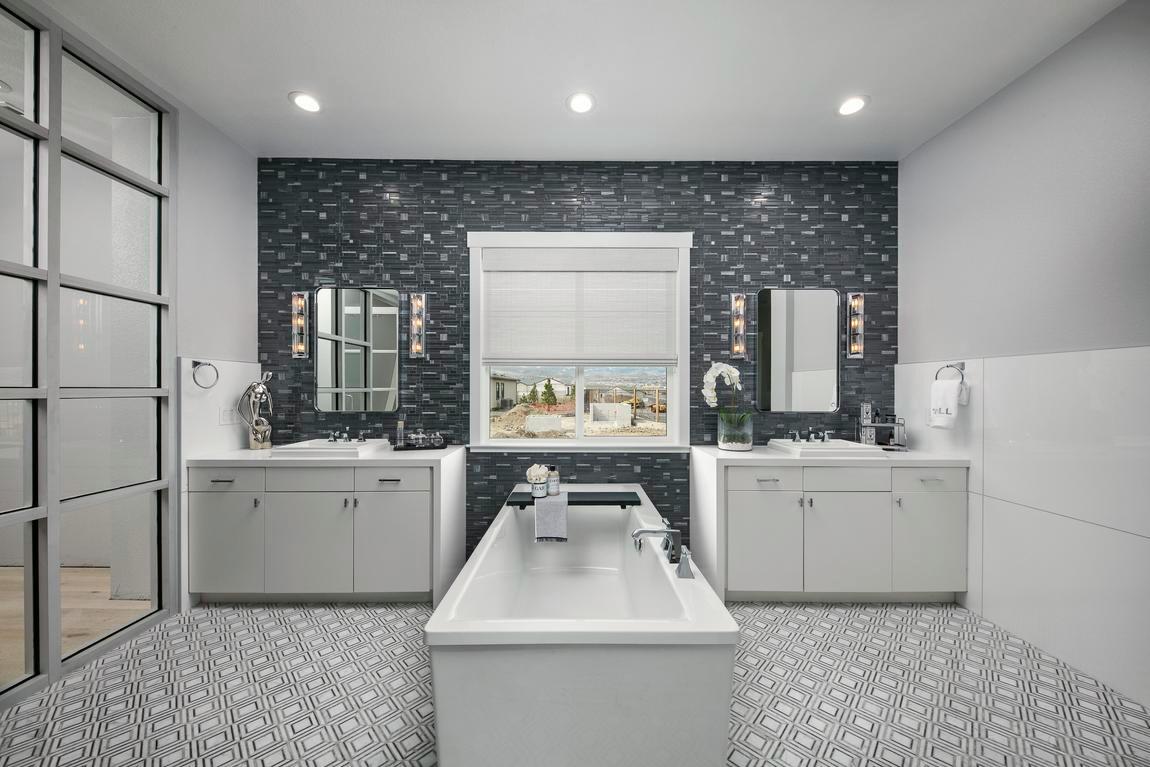 23. Open Shelving
Open shelving is a staple in minimalist and modern design. Incorporating open shelving into this bathroom has provided an opportunity for personal expression through the display of sculptural artwork and vases.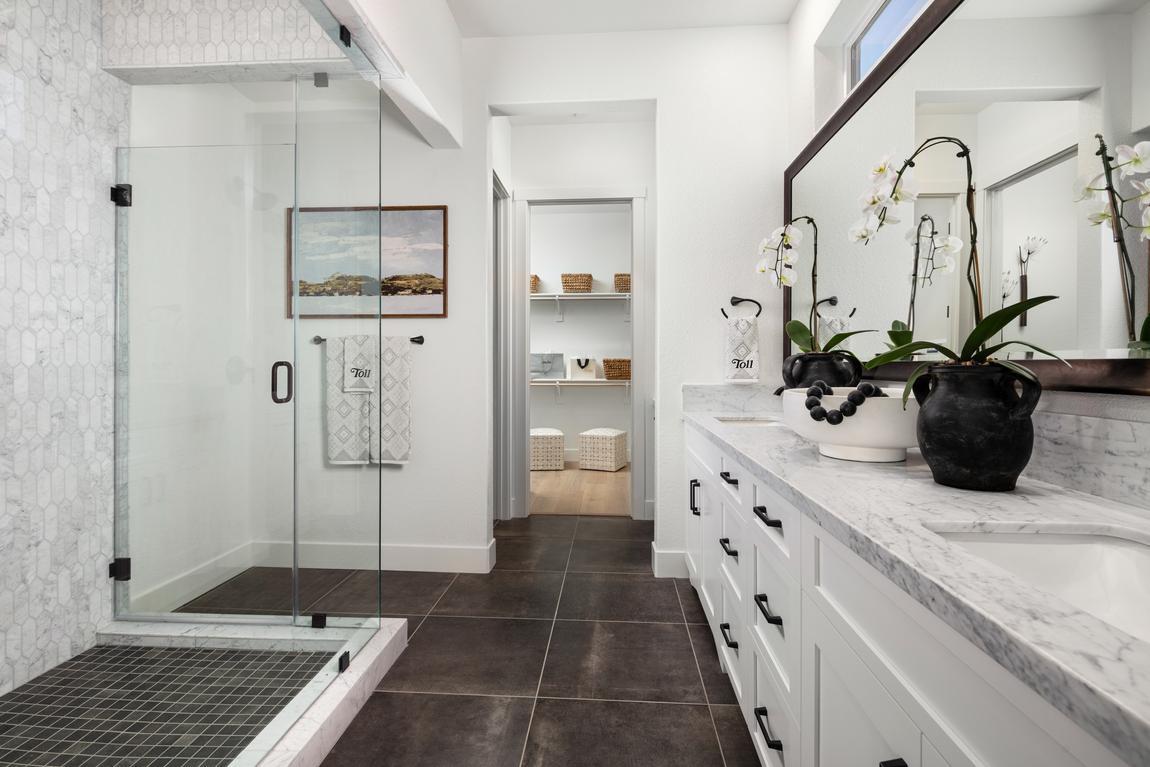 24. Modern Lighting Fixtures
Modern lighting accentuates the bright vanity in this fashionable bathroom.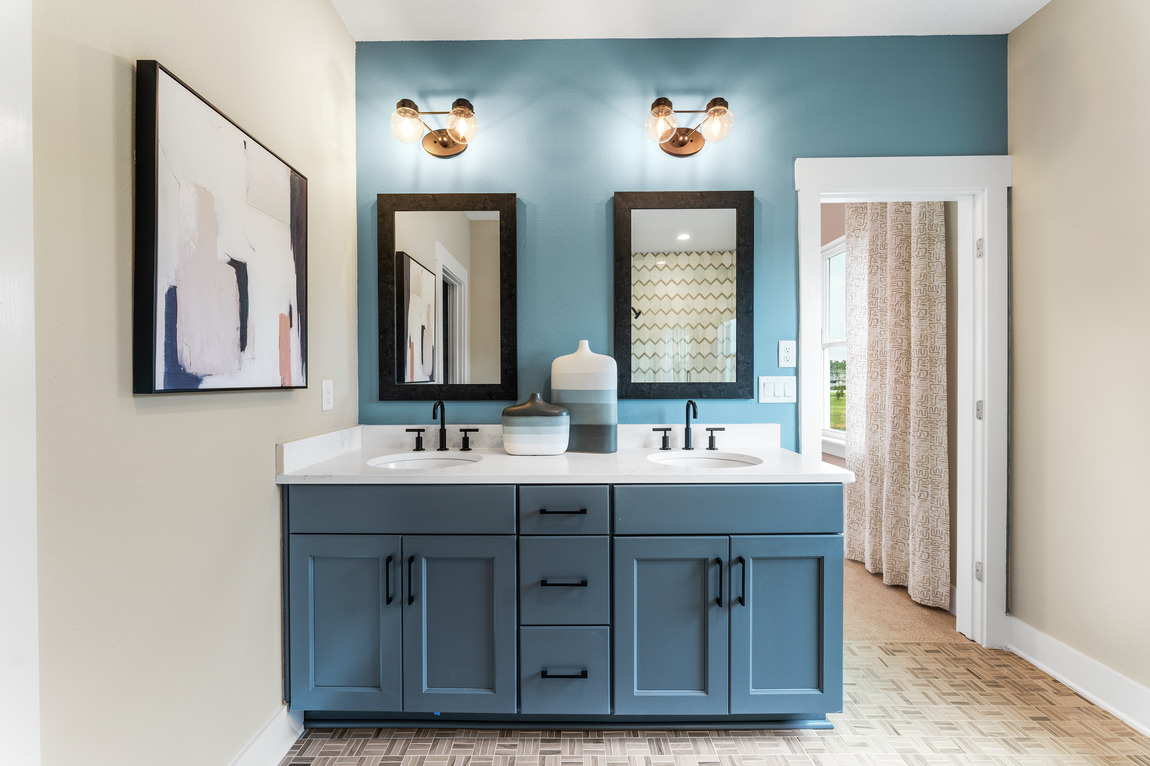 25. Clean Lines
The simplicity of clean lines on the vanity cabinets, bathroom mirrors and architectural elements are the perfect complement to the organic movements and various textures of this monochromatic marble bathroom.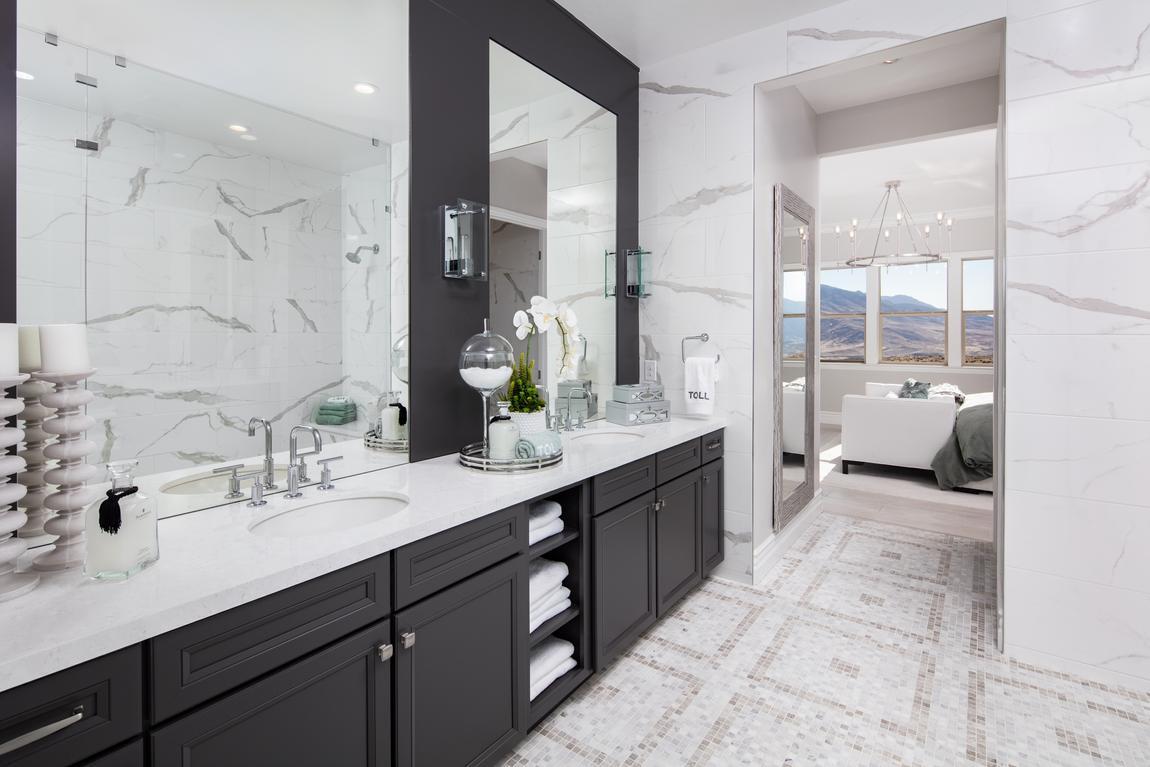 Check out more breath-taking designs for kitchens, bedrooms and get inspired to create your dream space.
Toll Brothers design options vary by market, community and home design across the country. For more information regarding design options offered in a specific Toll Brothers community or home, please visit our website or reach out to one of our Online Sales Consultants.