Last updated on August 24th, 2022
The American craftsman style house was born in the early 20th century, as a direct response to the Victorian homes that were so popular in the United States throughout the 1800s. As people began progressing beyond what they saw as "over-decorated" homes, the craftsman style, which was influenced by the British Arts and Crafts movement and rooted in simplicity and natural materials, began taking off in popularity.
Today, Toll Brothers homes provide various modern takes on the craftsman style, without losing touch of the traditional design features – such as low pitched roofs, covered front porches, tapered columns, and widow trims, among others.
Scroll through and explore 14 examples of craftsman homes that we designed and built throughout the country. If you're looking to get familiarized with other styles available in our communities, check out some of our favorite modern farmhouses.
1. A mix of clean traditional craftsman with modern interpretations
Model: Stewart
Community: Canyon Point at Traverse Mountain
State: Utah
The Stewart's Key Design Features:
Modern take on the traditional craftsman column
Low pitched roofs with clean bracket details
Generous roof overhangs pronounce the craftsman style
The wider than expected, low pitched single shed roof and horizontal windows with simple vertical grilles help pronounce the entrance and also provide a contemporary edge to the traditional craftsman style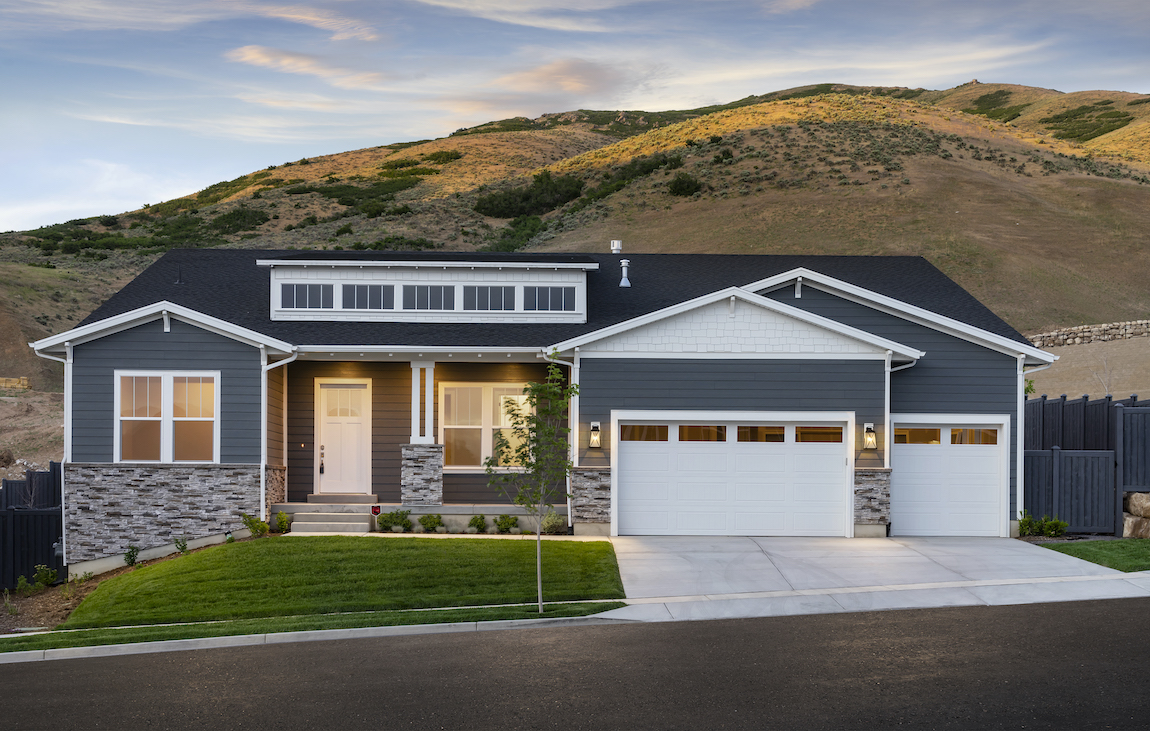 2. Play on trim colors
Model: Washington
Community: Canyon Point at Traverse Mountain
State: Oregon
The Washington's Key Design Features:
Classic craftsman window trim
Exposed rafter look with the large roof overhangs pronounce the craftsman style
Contrast between the traditional shake siding and the more contemporary siding detail in the gable
Stone pronounces the entry
Implies the use of natural materials – which is typical for craftsman homes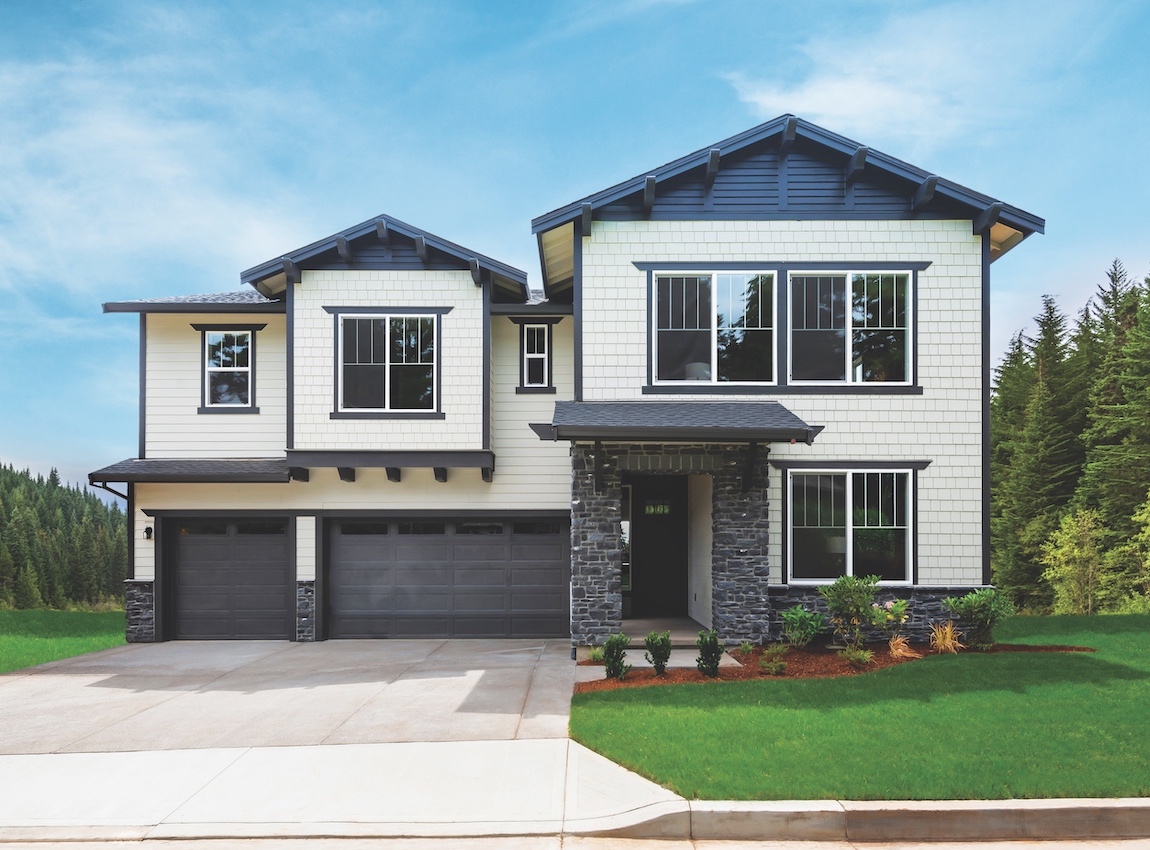 3. Bold gable color
Model: Cloverdale
Community: Sterling Grove
State: Arizona
The Cloverdale's Key Design Features:
Gables gives this house its interest as they contrast with the soft color palette of the rest of the house
Traditional craftsman trim over the garage doors and windows painted the same color as the main house keep the house muted and clean
Low roof pitches and bold gable brackets also keep this home craftsman in style
Warm stone and a large front porch make it very inviting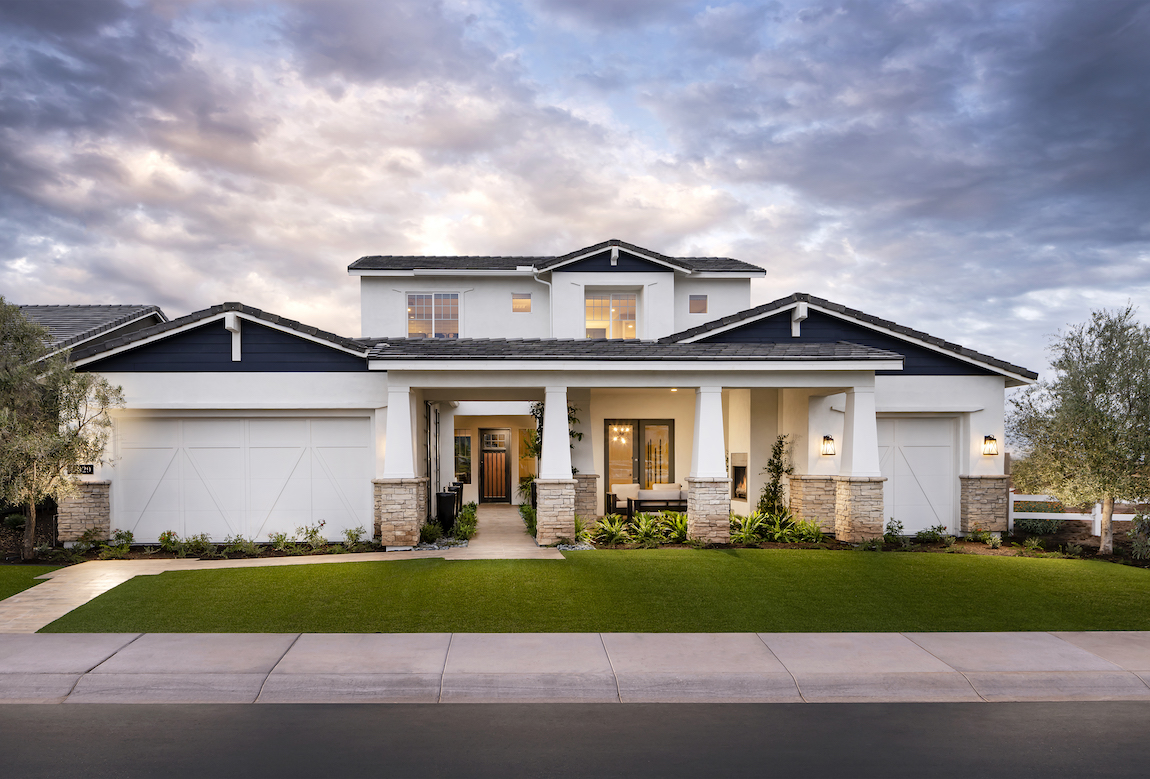 4. Signature covered front porch with tapered columns
Model: Ballantyne
Community: Sterling Grove
State: Arizona
The Ballantyne's Key Design Features:
Low pitched roofs, single hung windows
Soft color palette with natural and muted earth tones
Although the main body of the home is stucco, the house has a natural craftsman feel from the use of natural materials – the stone and the siding in the gables
A beautifully simple yet oversized gable bracket really sets the tone to pronounce the traditional craftsman gable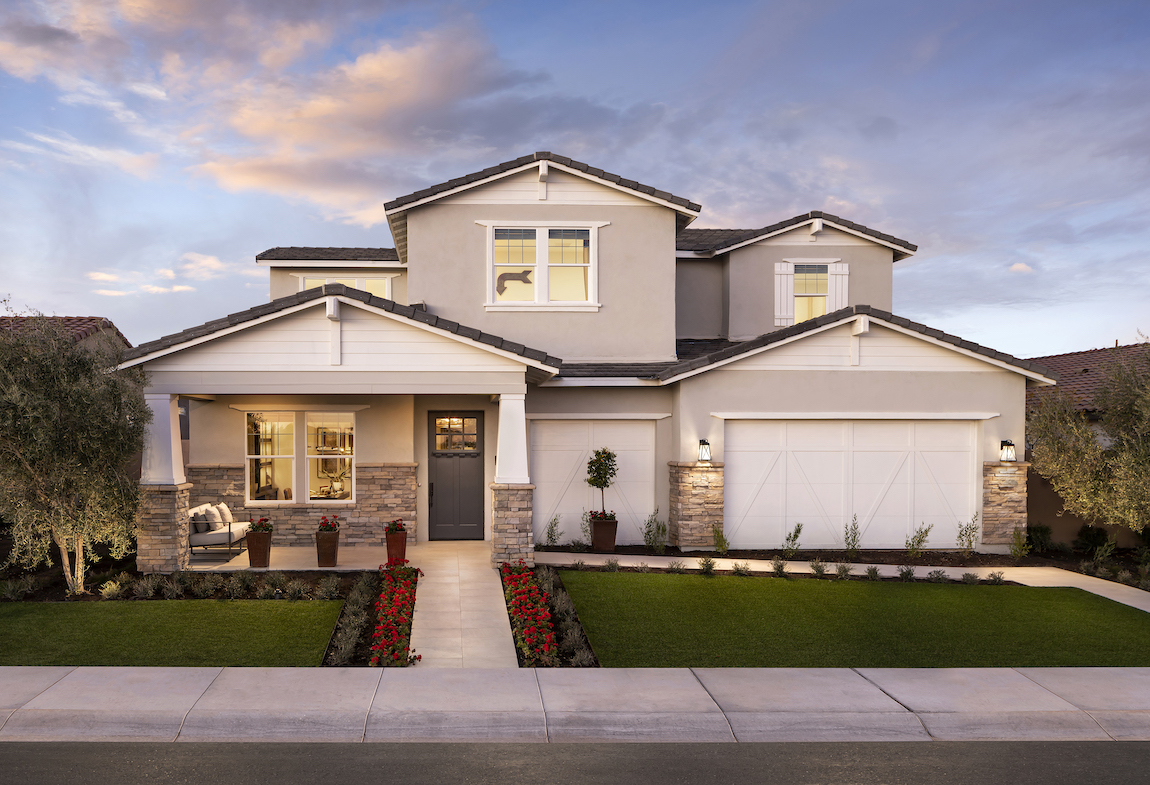 5. Gable brackets provide a pop of color
Model: Elliot
Community: Sterling Ranch
State: Idaho
The Elliot's Key Design Features:
Mixed up the palette with board and batten, instead of a traditional craftsman horizontal siding
The usable covered front porch provides a warm entry
Utilizes plenty of natural materials including wood and stone
The contrasting stone with the white siding give this home a bold statement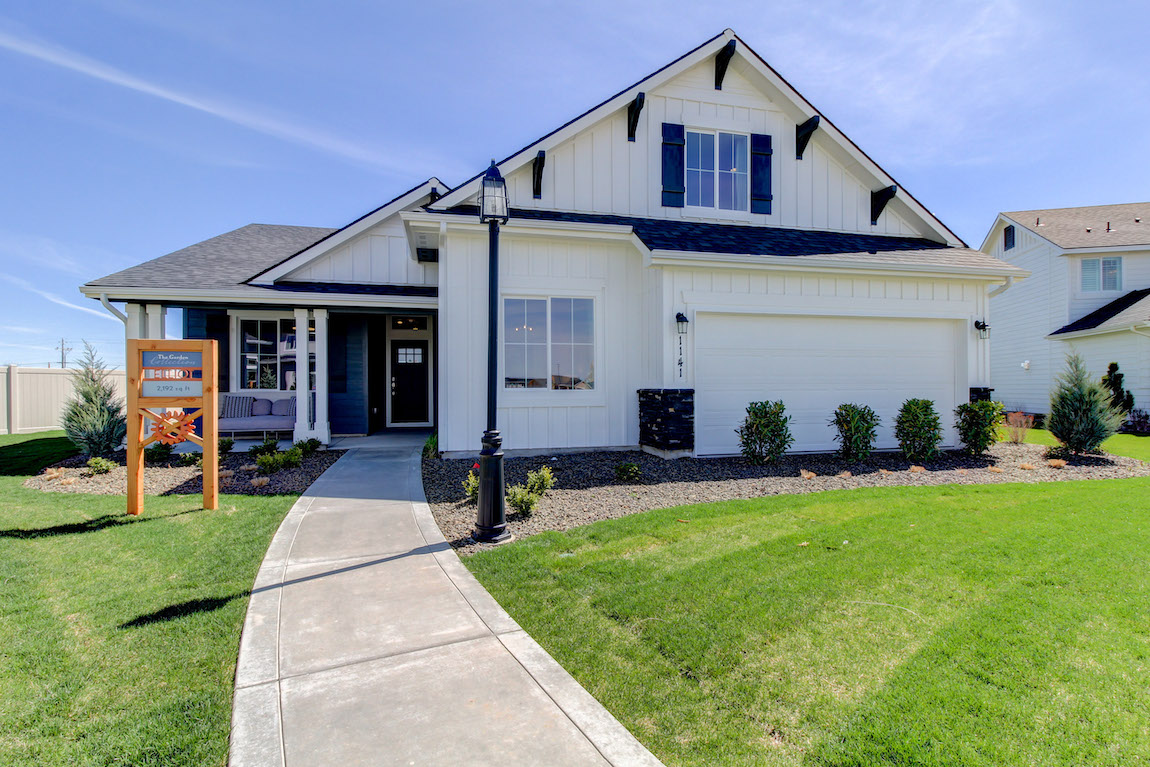 6. Warm and inviting natural color palette
Model: Madeira
Community: Lakeshore
State: Florida
The Madeira's Key Design Features:
Low pitched roofs
Exposed rafter look to pronounce the craftsman style
Tapered columns really set this porch off and draw your eye to the entry
A great mix of the warmth of the craftsman style with the coolness of contemporary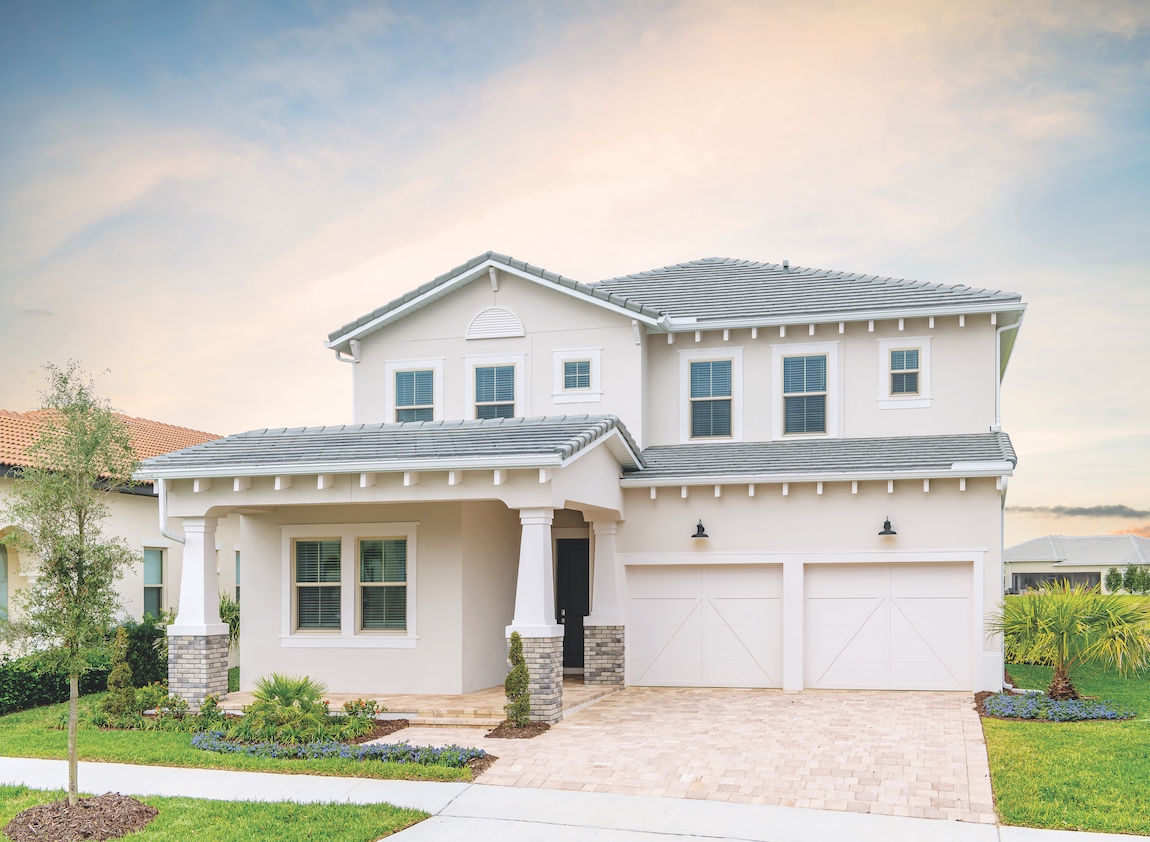 7. Contrasting lighter trim
Model: Mandigo Elite
Community: Edison
State: Florida
The Mandigo Elite's Key Design Features:
This home uses many traditional design details of the craftsman style -including a color palette which is warm and earthy
Metal roof detailing at the gables makes this house a true modern craftsman
The stone at the entry grounds this home and gives it a warm feel which helps balance the modern craftsman elements of the standing seam metal roofs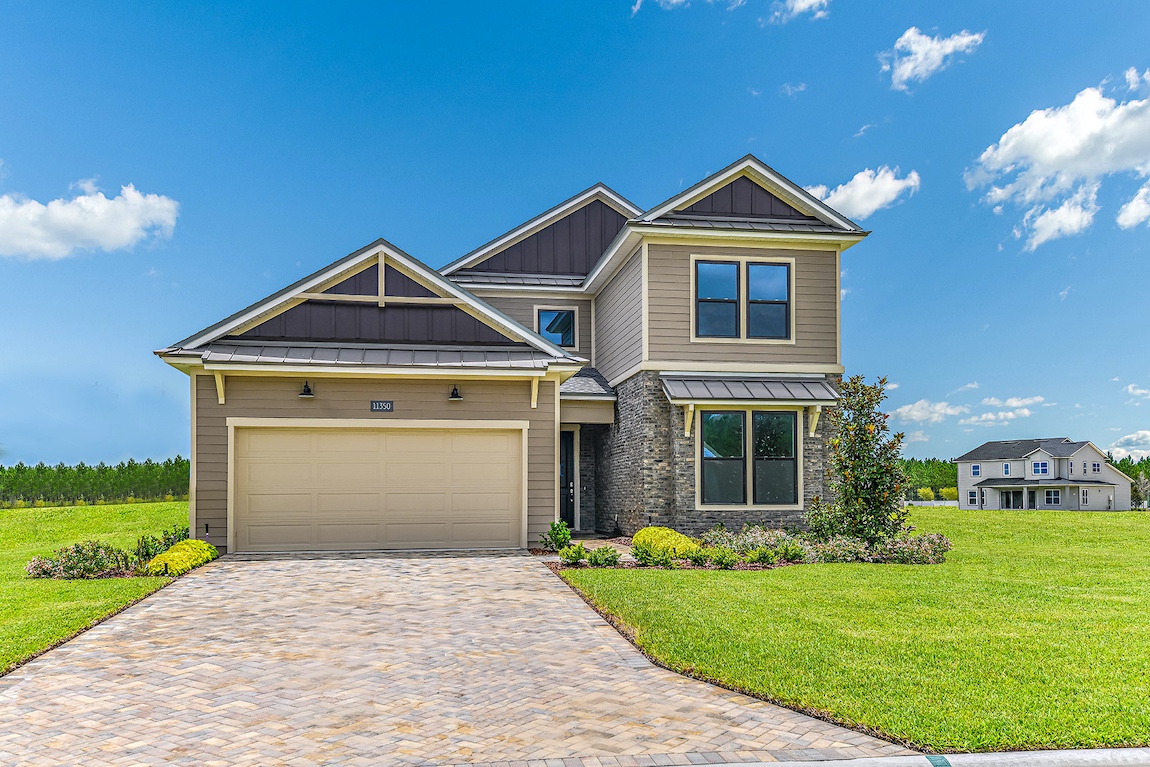 8. Single-hung windows with craftsman style grille pattern
Model: Dumont
Community: Linden Grove
State: Maryland
The Dumont's Key Design Features:
Warm color palette
Use of natural materials – wood and stone
Elegant sloped roof with accentuated and wide, contrasting trim
The front porch is a craftsman feature
Subtle gable brackets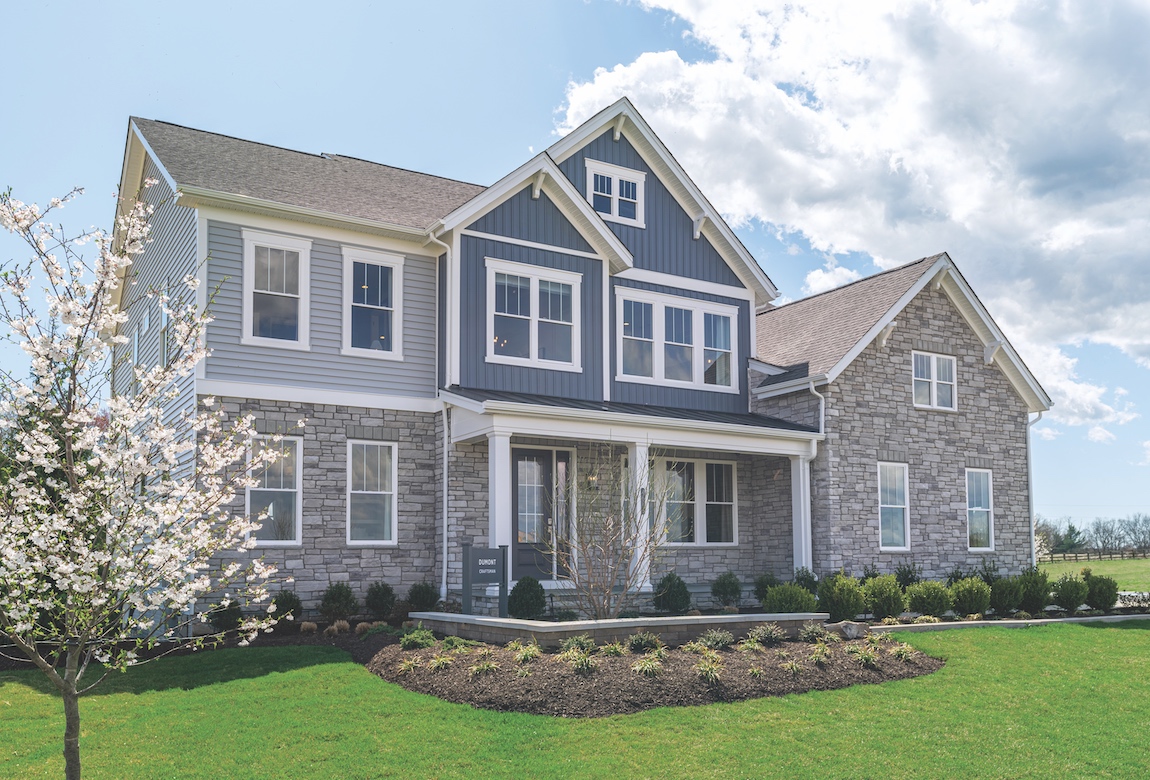 9. Beautiful front wrapping porch that showcases cleanly detailed tapered columns
Model: Anna Maria
Community: Toll Brothers at Shearwater
State: Florida
The Anna Maria's Key Design Features:
The muted palette is pleasing to the eye – is warm and contemporary at the same time
Single-hung windows with wide and clean trim provide prominent detail
The craftsman style is also showcased using brackets in the gables and wood detailing over the front windows
10. A bold modern craftsman
Model: Robinson
Community: Canyon Point at Traverse Mountain
State: Utah
The Robinson's Key Design Features:
The urban craftsman style at its finest – a great deep front porch that combines traditional elements such as the low pitched roof with sharp boxed columns and metal railing
Matching the trim to the paint also gives this house a modern crisp edge without sacrificing the detail that ultimately makes this house craftsman
Stone grounds the house and provides the warmth needed to contrast a mainly white sharp palette
Wide gable with deep overhangs is made modern with the white palette
Monotone paint color makes this home interesting and modern, as it uses a variety of craftsman elements such as board and batten, shake siding, and horizontal siding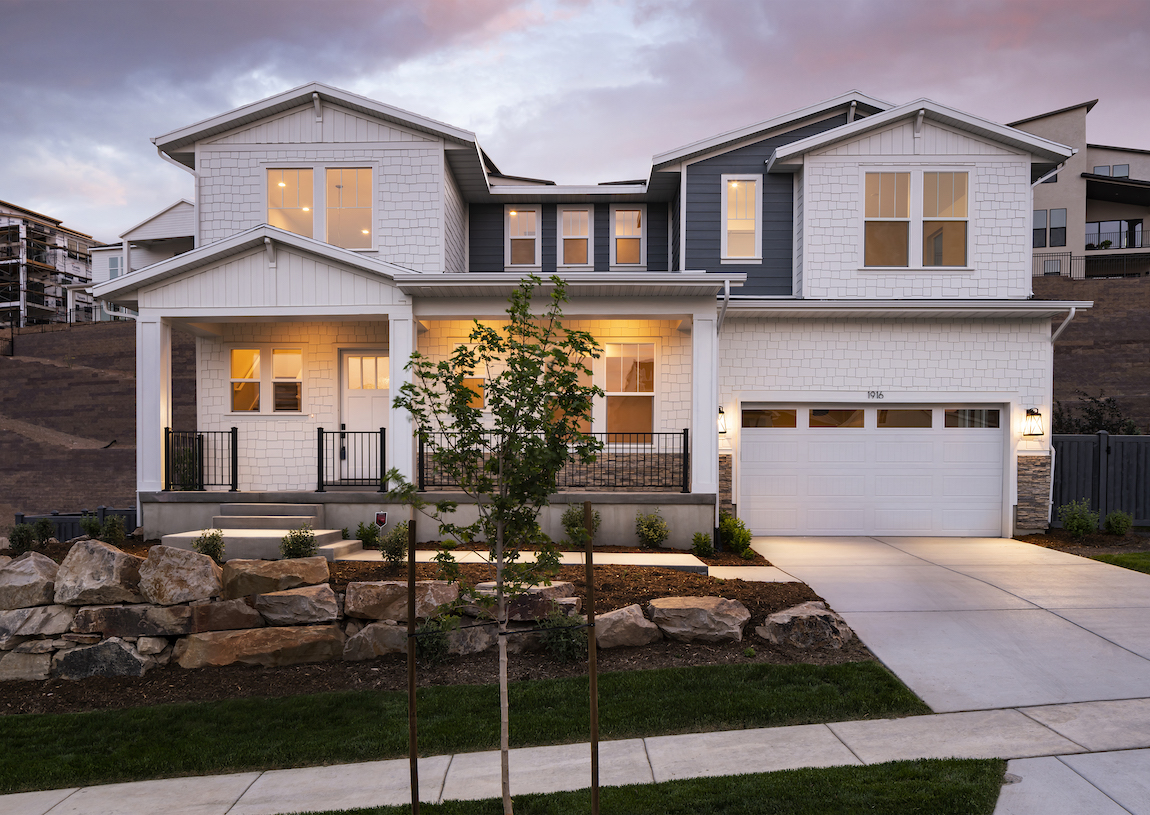 11. Small scale doesn't mean sacrificing a bold statement
Model: Del Ray
Community: Sterling Grove
State: Arizona
The Del Ray's Key Design Features:
This house really pronounces itself to the street by using bold, yet elegant trim over the garage and in the gables. 
The custom garage door, light fixtures, and beautiful dark blue front door really add elegance and contribute to the strong curb appeal
Although set back from the garage, the entrance is bold and draws you in with the extra-large tapered columns
12. Wide, unenclosed eave overhang
Model: Peak
Community: Cascade Canyon
State: Washington
The Peak's Key Design Features:
Decorative supports
Front porch here is proud of the house and draws you into the main entry – uses a contrasting color and makes a bold craftsman statement
Great mix of materials including shake, board and batten siding, and horizontal siding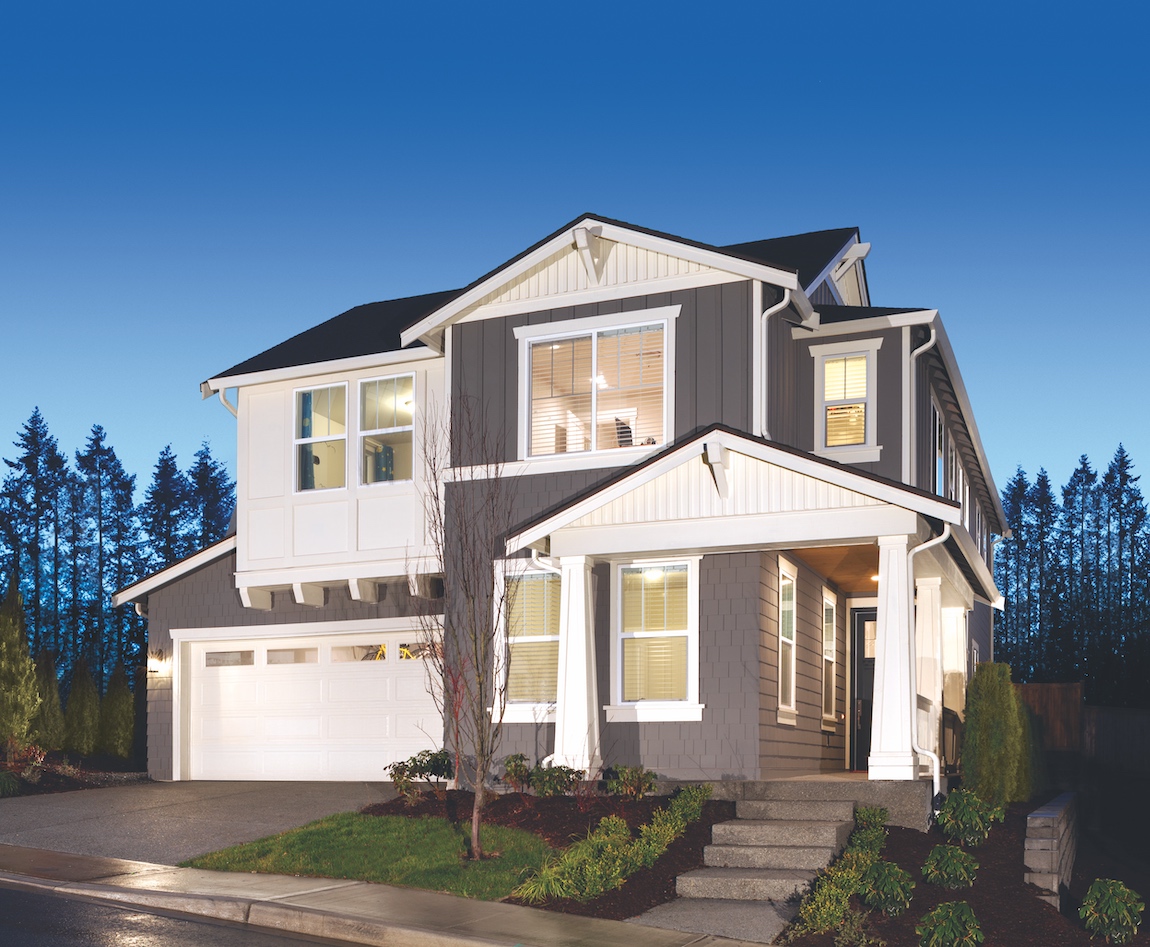 13. An upscale craftsman
Model: Abigail
Community: Edison
State: Florida
The Abigail's Key Design Features:
A simple front porch under an extended shed roof that showcases craftsman tapered columns on stone piers
This house uses contemporary glass garage doors and charcoal framed windows – a very distinct contrast against the traditional elements of the horizontal siding and gable support detailing
Also uses contemporary metal shed roofs that are supported by decorative craftsman brackets – this is very unexpected yet works together to give this home the upscale appeal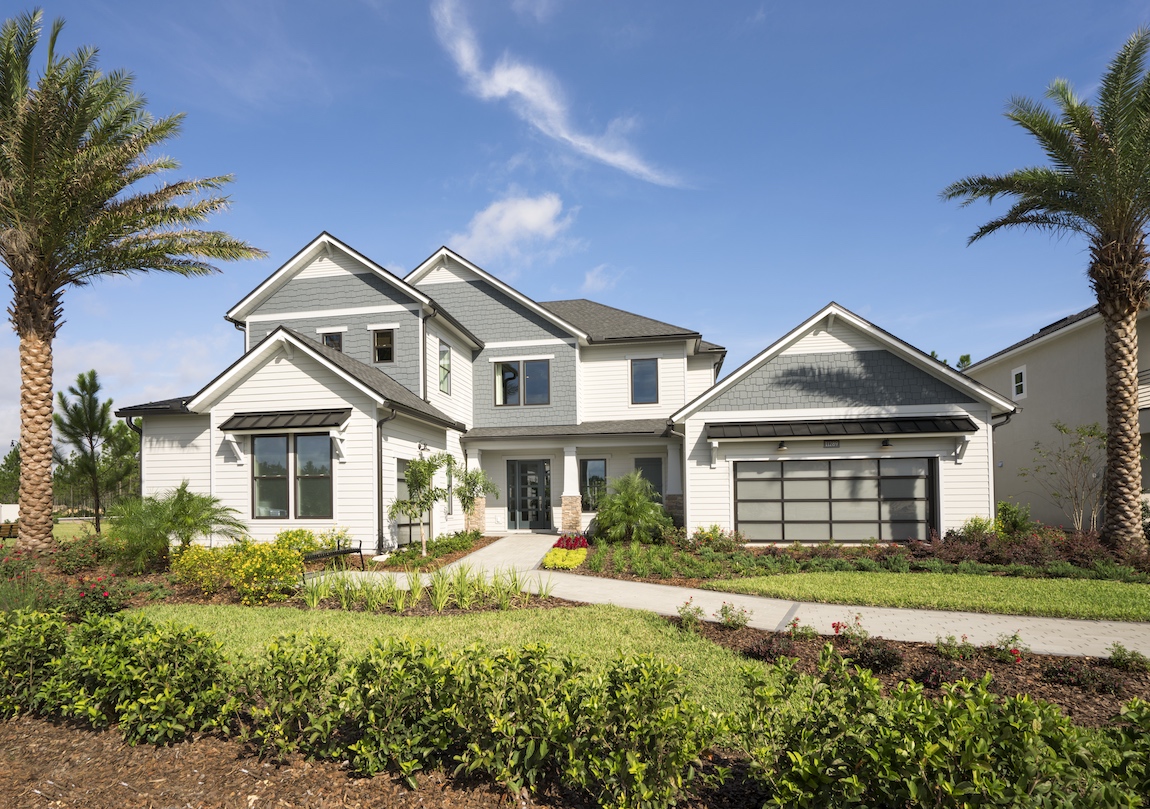 14. Minimalism meets craftsman
Community: Reserve at West Bloomfield
State: Michigan
The Berks' Key Design Features:
A modern, understated craftsman
Trending blue siding
Rich wide gable trim is contrasted with modern black windows
Modern shed dormer