Last updated on August 24th, 2022
The home bar is a popular feature that has taken on an expanded presence and role in today's home design. While primarily used for entertaining, the home bar has also become a place to make coffee, store juice boxes, and otherwise gather as a family. As such, it can be found in a central location or in multiple locations of the home. If you are thinking about adding one or more bars to your living spaces, we've got some tips on locations, themes, and stocking essentials that will help you create bar areas that fit your lifestyle and the décor of your home.
What is the Difference Between a Dry Bar and a Wet Bar?
The main difference is that a wet bar includes a sink, whereas a dry bar does not. Instead, it's a dedicated area for your glassware, accessories, spirits and potentially even a small refrigerator. While wet bars can certainly provide an element of convenience, dry bars still allow you to have a dedicated space for mixing drinks without the necessary plumbing.
Where is the Best Place for a Bar in My Home?
Home bars are popping up in all areas of the home, including outside living spaces. To help determine the best location, consider what the primary use of your bar will be and where those who use it gather most.
Basement Bar Ideas
Today's basements are made for entertaining. A wet bar paired with gaming tables, lounge chairs, and a flat-screen TV is a perfect combination for many gatherings. Chalkboard-painted walls create a fun way to post your wine and beer lists, along with any creative mixed drinks you may be featuring.
Living Room Bar Ideas
A living room is also ideal for entertaining guests; however, it is more formal than the basement. It is a great place to gather with friends over a drink or to sit down and converse after a long day. Incorporating a bar into the décor of a living room should feel seamless. Coordinating colors and accessories throughout the bar and sitting area make the room feel more intimate and comfortable. Use of complementary lighting also works to unify the space.
Off-Kitchen Bar Ideas
As the heart of the home, kitchens are where family members spend the most time. A bar in this area of the home can double as a station for coffee and kid-friendly drinks. To keep the bar nearby, it can be built into a butler's pantry, adjacent hallway, or nestled into a corner of a large kitchen.
Outdoor Bar Ideas
Outdoor living spaces, which are growing in popularity, are ideal places to entertain, cook, and dine, making full bars a welcome addition. Since people tend to gather around outdoor kitchens and covered patios, these areas are ideal for a bar. Pools are also popular spots to set up a bar, with swim-up versions offering a resort-like experience that everyone enjoys.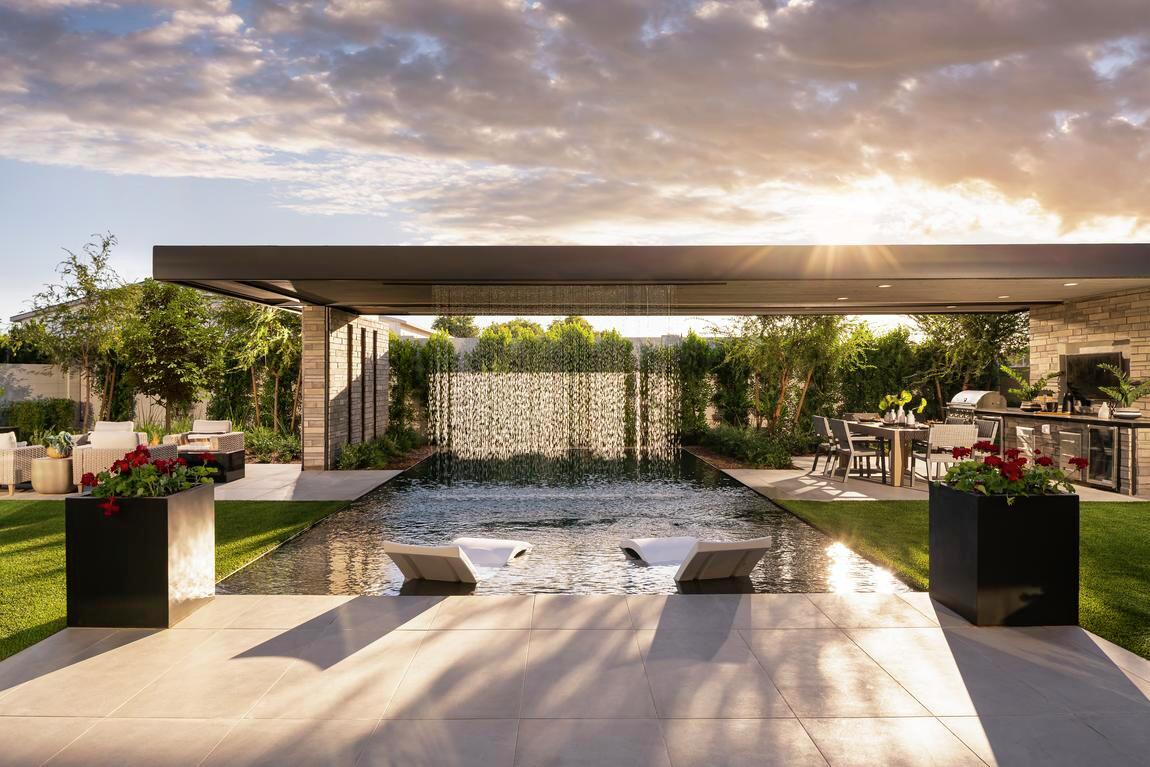 Home Bar Themes
The next step in designing a bar is to choose a style or theme that fits the space. In many areas of the home, a style that complements the surrounding décor is best. Casual locations like a basement or outdoor pool area are more appropriate for themed bars. There is no limit to the themes that can be used. Often, people create themes around their favorite hobbies, teams, or activities, like sports bars. Wine bars are also popular, especially since many basements contain wine cellars. Outside bars, especially those around a pool, often feature tropical themes. The sky is the limit when it comes to themes, so fire up your creativity to design a bar that expresses what you enjoy most.
Home Bar Accessories
There is a seemingly endless amount of stocking items available for bars. A good place to start is to write down all the drinks you want to serve and purchase the alcohol, mixers, and garnishes needed to make them. Although there are a lot of different bar tools that can be used to mix drinks, some basic essentials include a cocktail strainer, lemon zester, juice strainer, sharp knife, jigger measure, corkscrew, shaker, stirrers, bottle opener, and blender. There are also numerous options for glassware, but wine, martini, pilsner, shot, and drink glasses are must-haves. These items create a good foundation for entertaining and can be built on to create the bar of your dreams.
The popularity of home bars is a trend that is likely to become a standard in home design. The increased functionality of these areas for use beyond entertaining has made the home bar part of a family's daily life. No longer are they reserved for adult entertaining only; instead, they do double duty as self-serve stations complete with single-serve coffee makers and refrigerators stocked with kid-friendly beverages. From neighborhood gatherings and viewing parties to kids' birthday celebrations, the home bar has become a favorite area for the whole family.
For more design inspiration and ideas, visit our Pinterest.