12 Workspace Design Ideas For The Whole Family
In a world where remote work and personal pursuits often converge in one living space, creating a comfortable and dynamic home workspace can enhance both your productivity and the enjoyment of your new home. Whether you want a home office, an area for crafting or other hobbies, or a space where the kids can complete schoolwork, Toll Brothers has various home workspace design ideas to explore in our incredible model homes.
Embrace Natural Light for Versatile Family Workspaces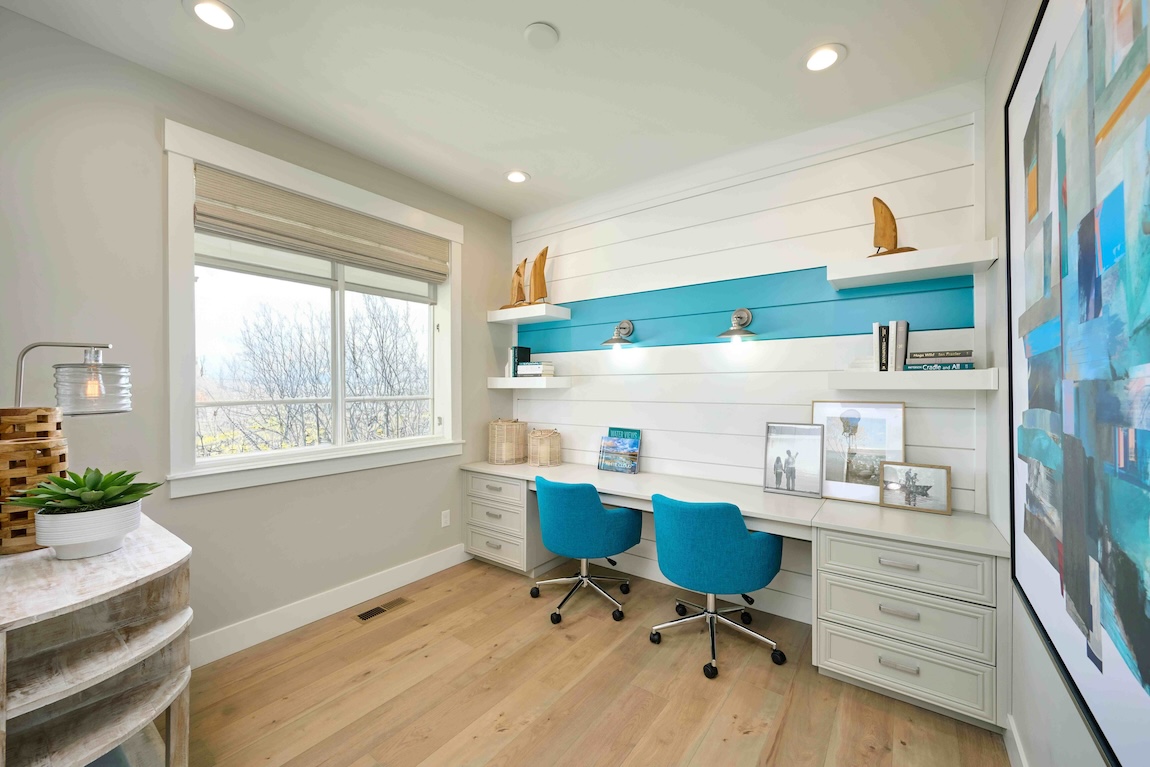 This airy flex room is filled with sunlight from a generously sized window. A built-in workstation is the perfect place to complete tasks on a laptop, jot down to-do lists, or spread out documents. A white shiplap accent wall with a blue stripe, metal sconces, and light wood floors complete this breezy, coastal workspace.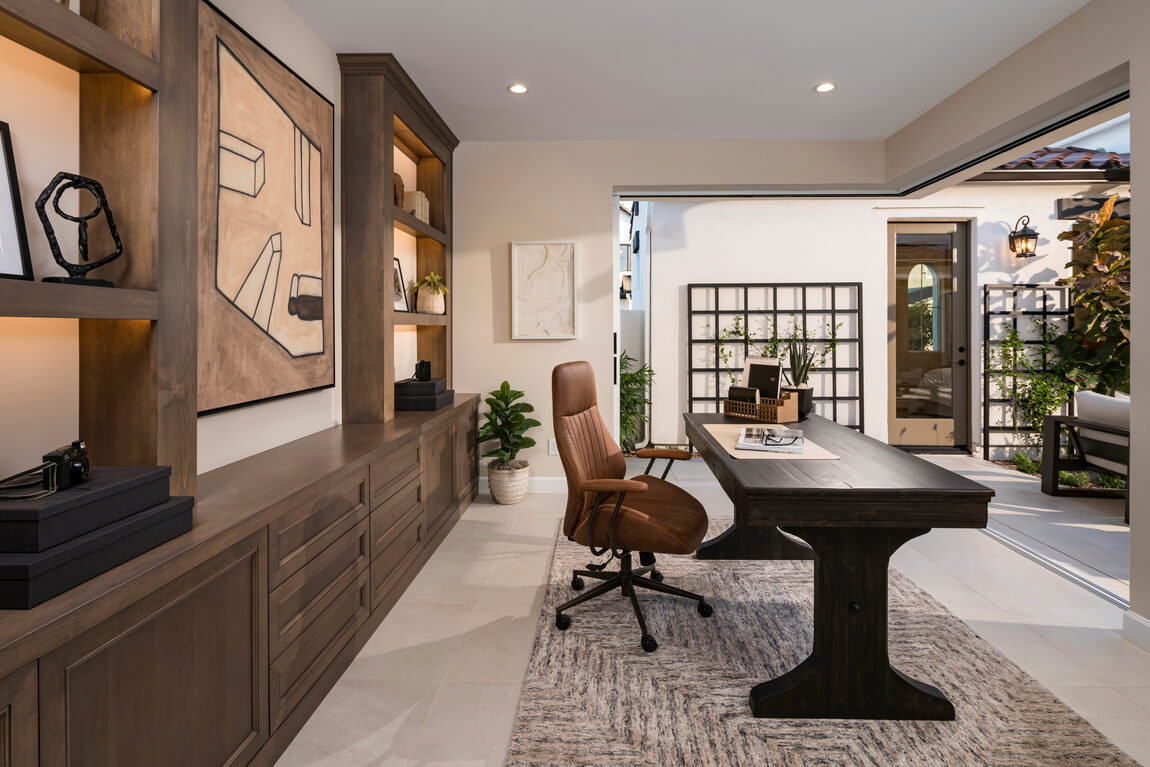 This elegant home office is bathed in stunning natural light from a spectacular indoor-outdoor space separated by beautiful glass multi-slide doors. A palette of neutral browns contrasted with black and cream accents create a sophisticated space for working at home or relaxing. 
Add Functionality to Your Home Workspace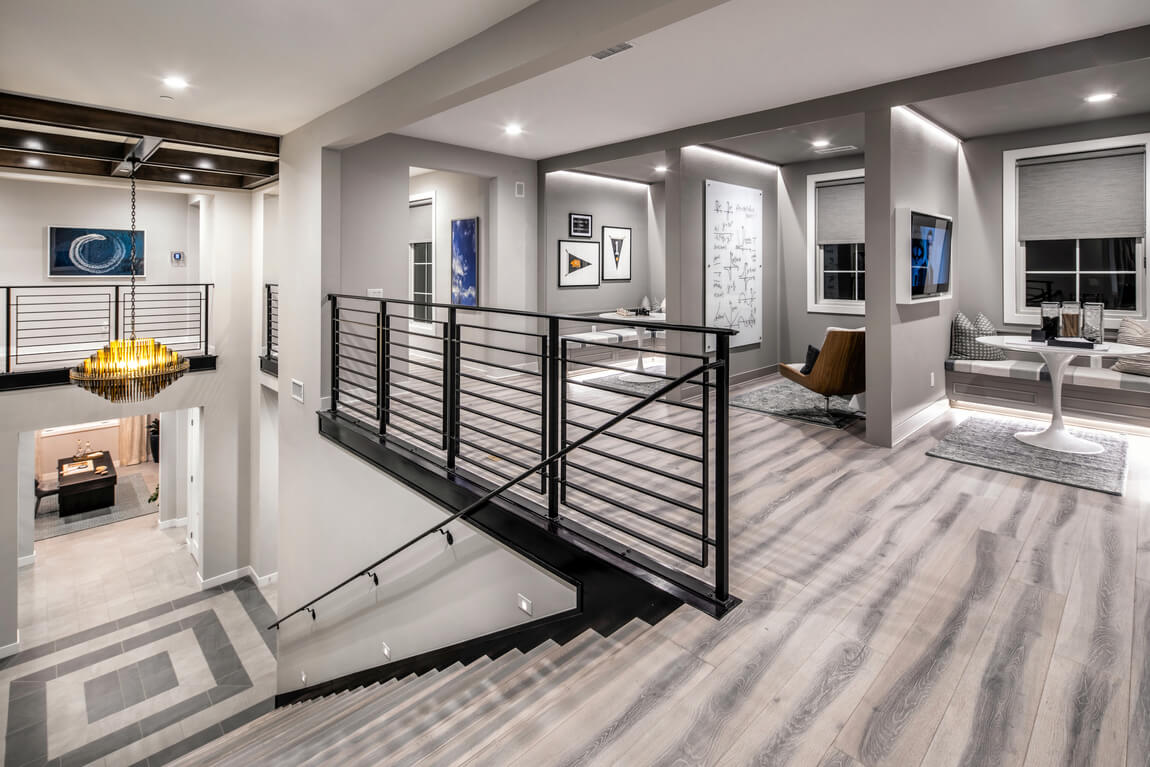 Whiteboards offer a versatile tool for visual and hands-on learners and can foster excitement and collaboration. Install a whiteboard in your home workspace to help demonstrate math problems, brainstorm new ideas, keep track of schedules, or enjoy games like Pictionary. This loft space was transformed into a multi-functional area for learning, creating, and lounging, with three separate areas for work and play.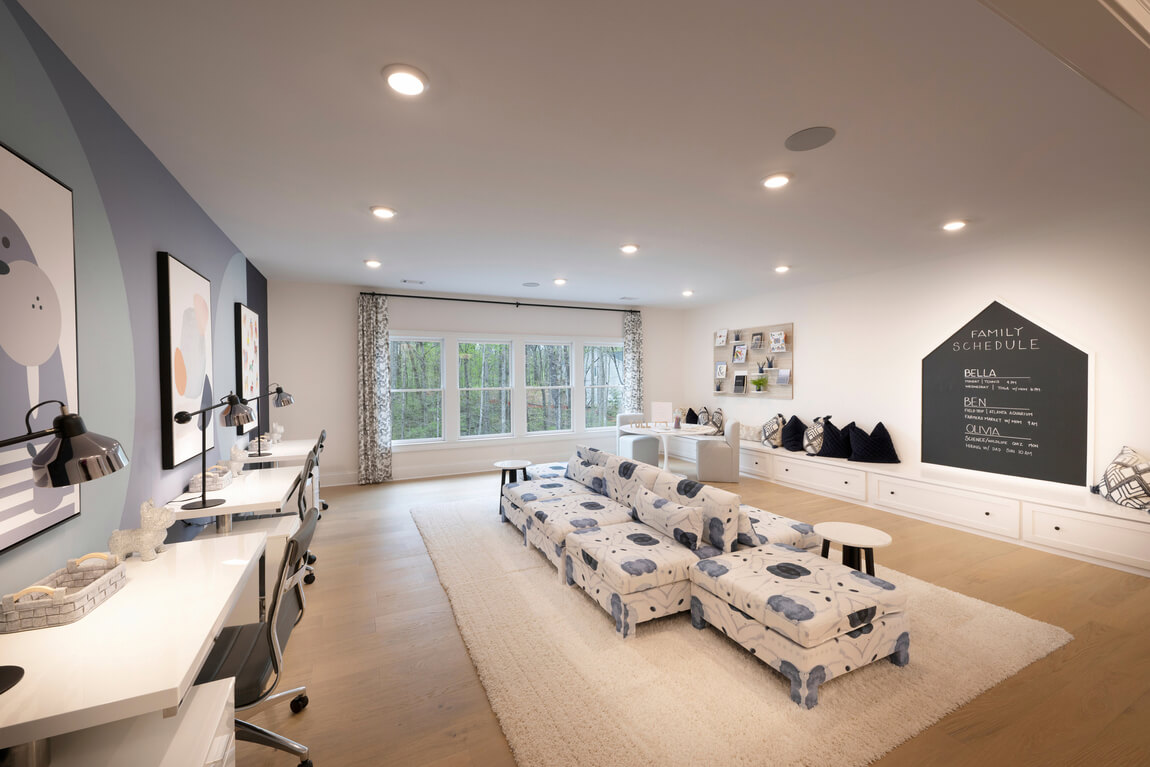 Chalkboards don't have to be boring; a fun shape is perfect for displaying a busy family's schedule and doubles as décor. Abstract shapes and art are a wonderful backdrop for three separate desks complete with task lighting, ergonomic chairs, and storage. A comfortable couch, a small seating area, and a variety of smart storage round out this exceptional family workspace.
Harmonious Shared Workspace Ideas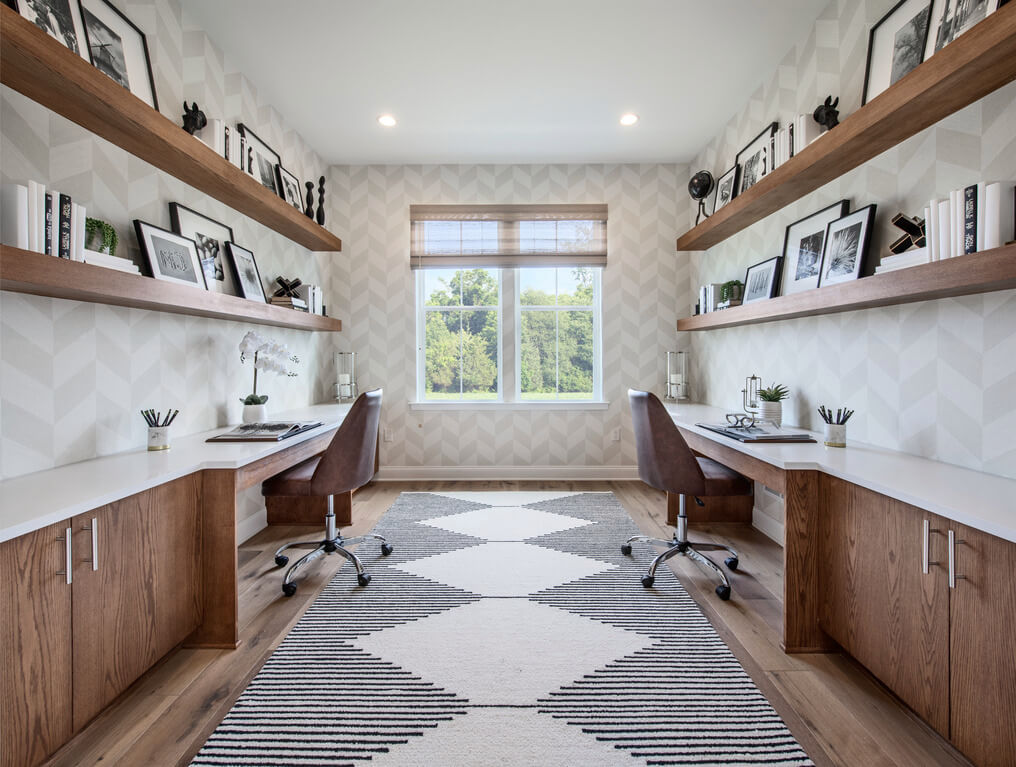 This lovely office utilizes wall space to create a contemporary two-person office layout. Open wood shelving is a great way to display artwork and décor while matching built-in cabinets keep clutter organized and out of sight. A graphic rug perfectly complements the patterned wallpaper, creating an airy shared space for work or hobbies.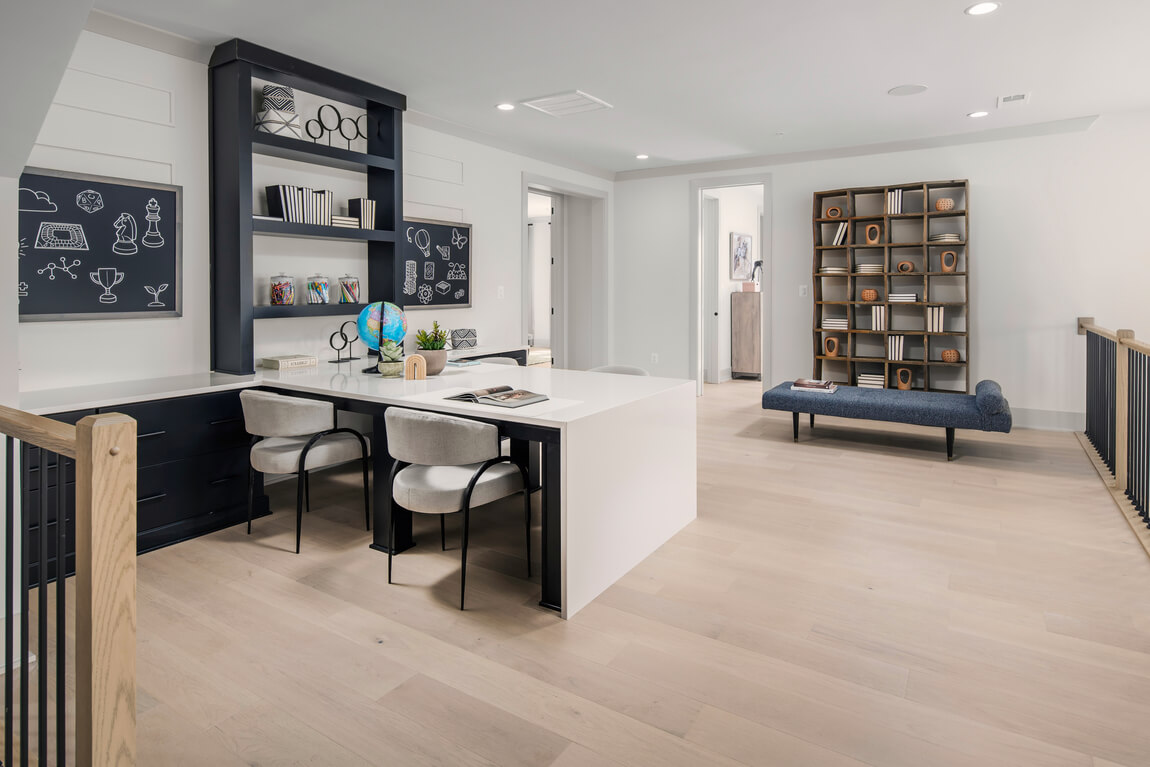 This clever loft workspace combines elegance and whimsy. A spacious desk in a "T" shape allows for plentiful surface space and seating for four. Built-in cabinets and shelving keep the area tidy while maintaining a modern look.
Maximizing Niche Home Workspaces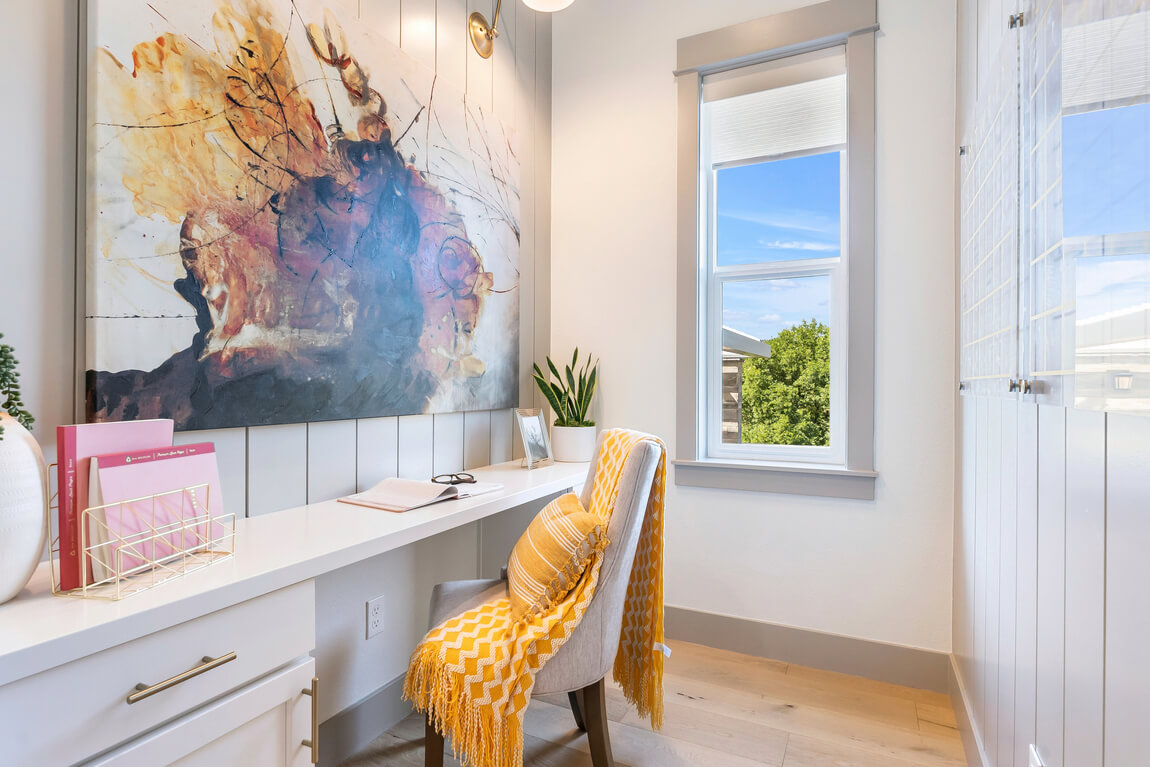 Unused spaces, closets, and quiet nooks can quickly become productive workspaces with the proper layout and storage. This chic workspace utilizes a narrow counter atop white cabinets and is accented by large abstract art, a comfortable chair, and a vibrant throw. Functional whiteboards affixed to the wall make it easy to stay organized.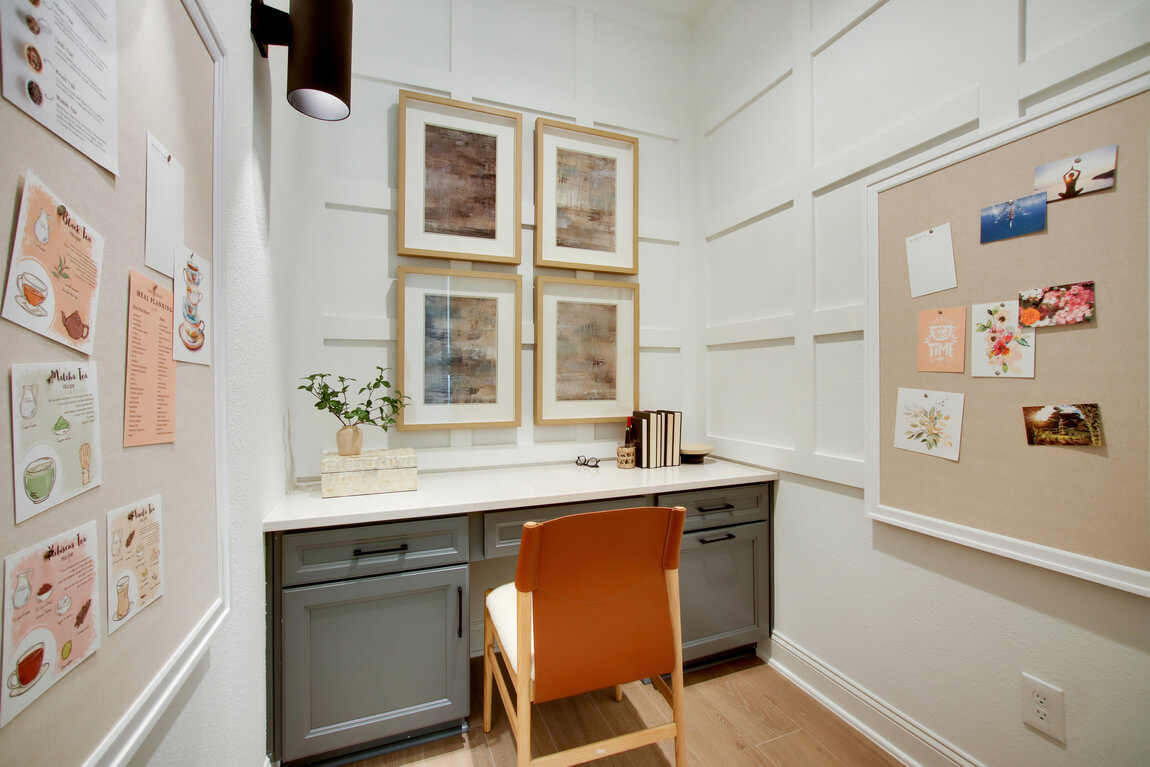 This charming workspace keeps inspiration close at hand with framed bulletin boards. Framed art above the desk area and stunning decorative paneling draw the eye up, creating a space perfect for floating ideas or finishing tasks.
Bold Accent Ideas for Home Workspaces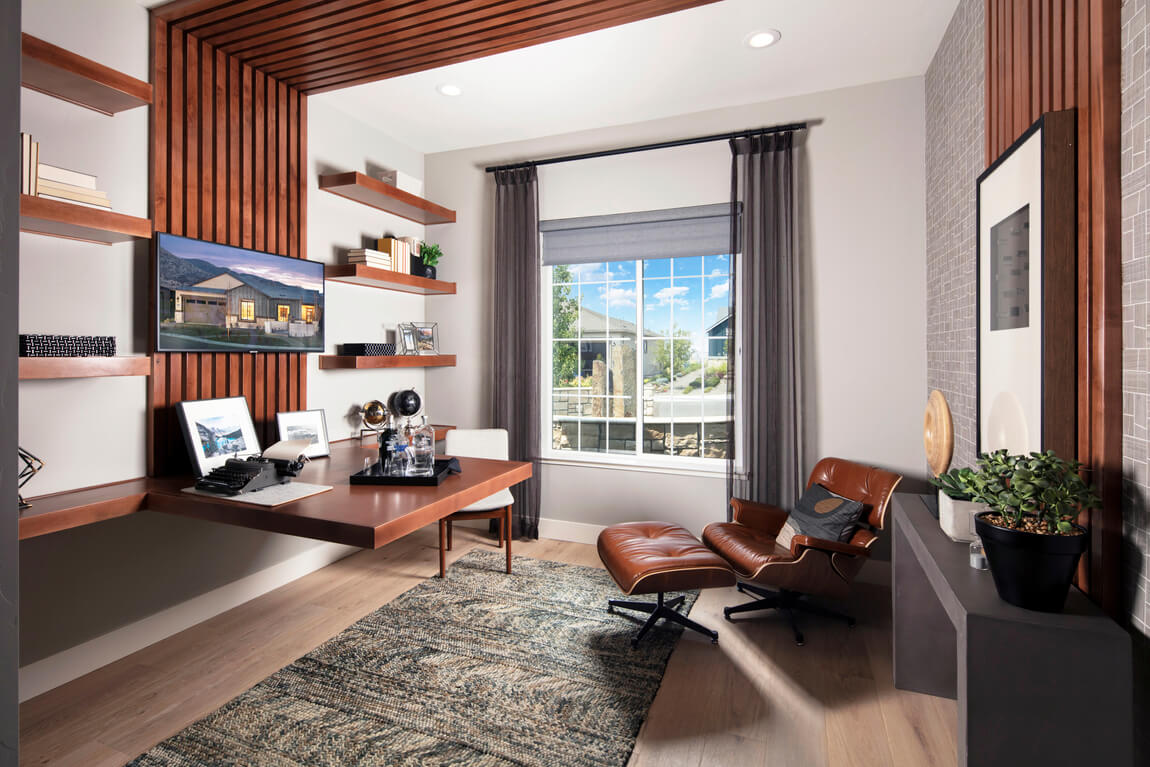 This handsome home office features unique wood accents bursting with personality. Beautiful warm wood paneling cascades down the walls into a floating desk, while matching shelves serve as functional storage.­­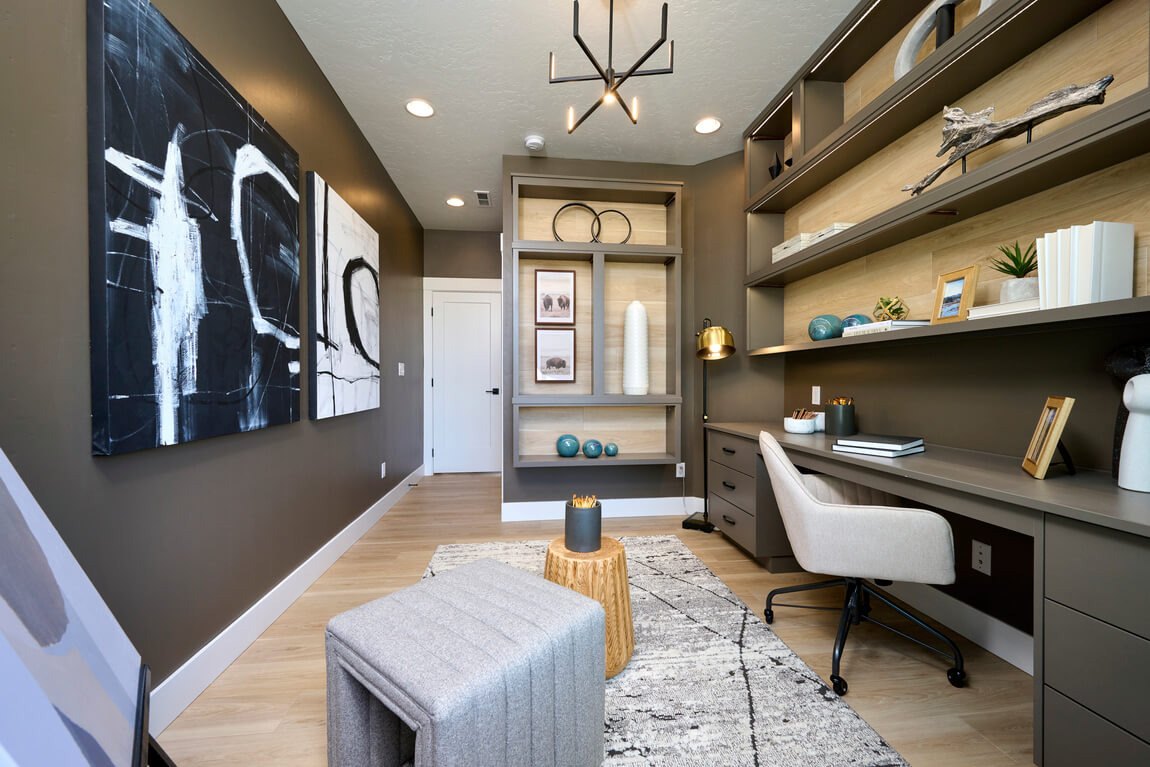 A pair of large black and white abstract paintings bring art and movement into this thoughtfully designed neutral office. Built-in shelving creates the perfect place to display additional art pieces, and cabinets help keep the space orderly.
Layout Ideas for Family Workspaces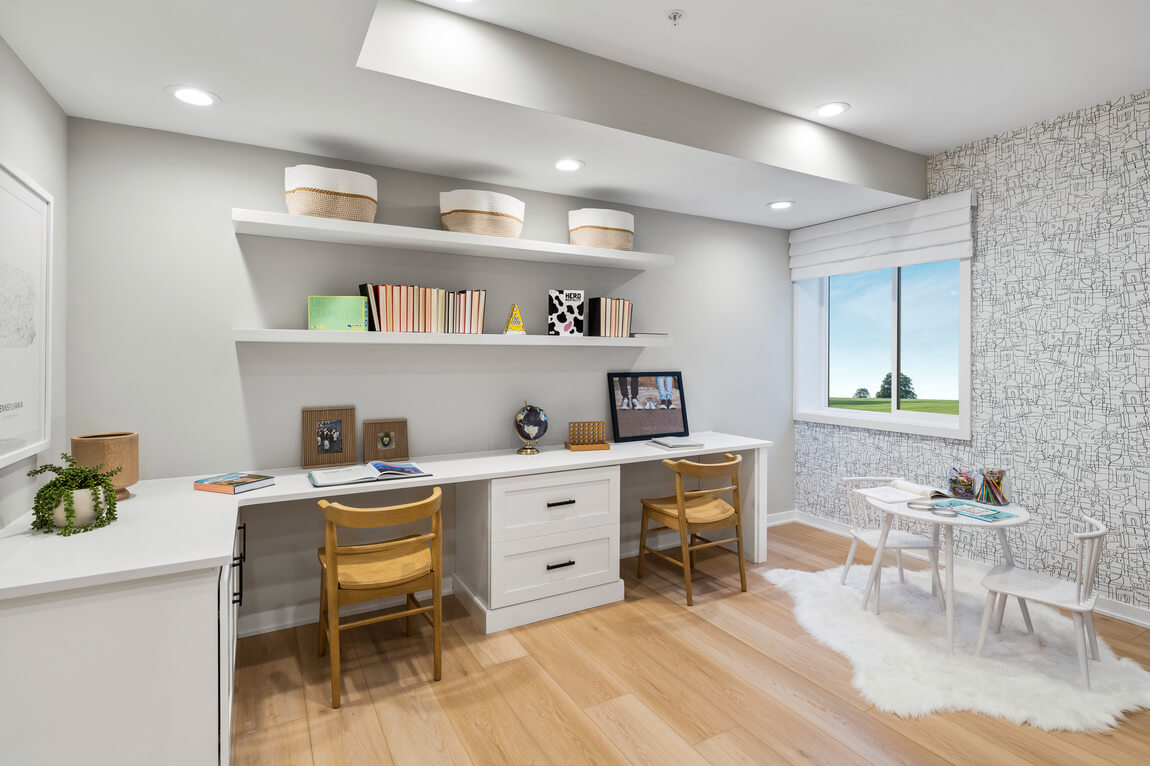 This "L" shaped desk layout creates plenty of space for laptops, textbooks, and art projects. Creating a table surface that follows the shape of the room helps maximize functionality and openness while freeing up space for other seating options, such as this adorable table and chair set.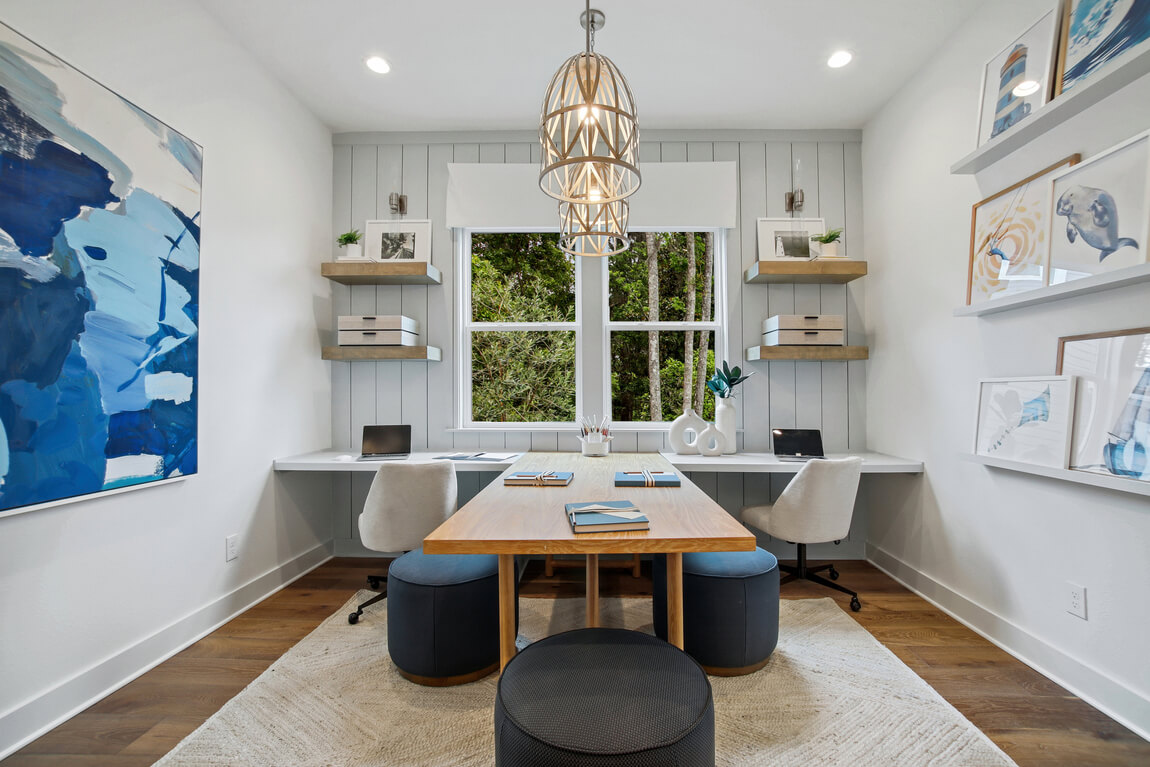 Splashes of blue make this workspace pop, but the real star is the unique workstation. Two white desks are set against a lovely shiplap accent wall with a window, and a perfectly positioned wood table offers even more seating and space for a variety of activities.
For more workspace design ideas and other at-home productivity tips, visit the Life in Your Home category on our blog.