Last updated on August 24th, 2022
Your kitchen is an essential part of your home. It's a place where everyone eats, converses, and spends quality time. A backsplash can add to your kitchen design and enhance the aesthetic or become a focal point. Emser Tile provides insight into the best ways to determine your ideal backsplash style, and gives backsplash ideas that perfectly coordinate with white cabinets or black cabinets—two of the most popular cabinet colors in modern kitchens—as well with other cabinet color variations.
1. Consider your personal style when choosing from backsplash ideas
Homeowners should first understand a couple basics in terms of their personal style. Dark and light cabinets are very versatile—you really can't go wrong by selecting either for your kitchen. Ask yourself if you prefer traditional, contemporary, or a mix of styles known as transitional. Then, select a color or colors that you like for an overall scheme. Determine if you want something neutral like greys and whites, or if you prefer brighter colors. You also want to understand if you prefer your kitchen to be very light and airy or if you prefer a darker, more formal feel. Once you understand these basic aesthetic choices for your kitchen, tile selection for your backsplash will be easier. In the end, choosing backsplash ideas that you like and that suits your own personal style is what's most important.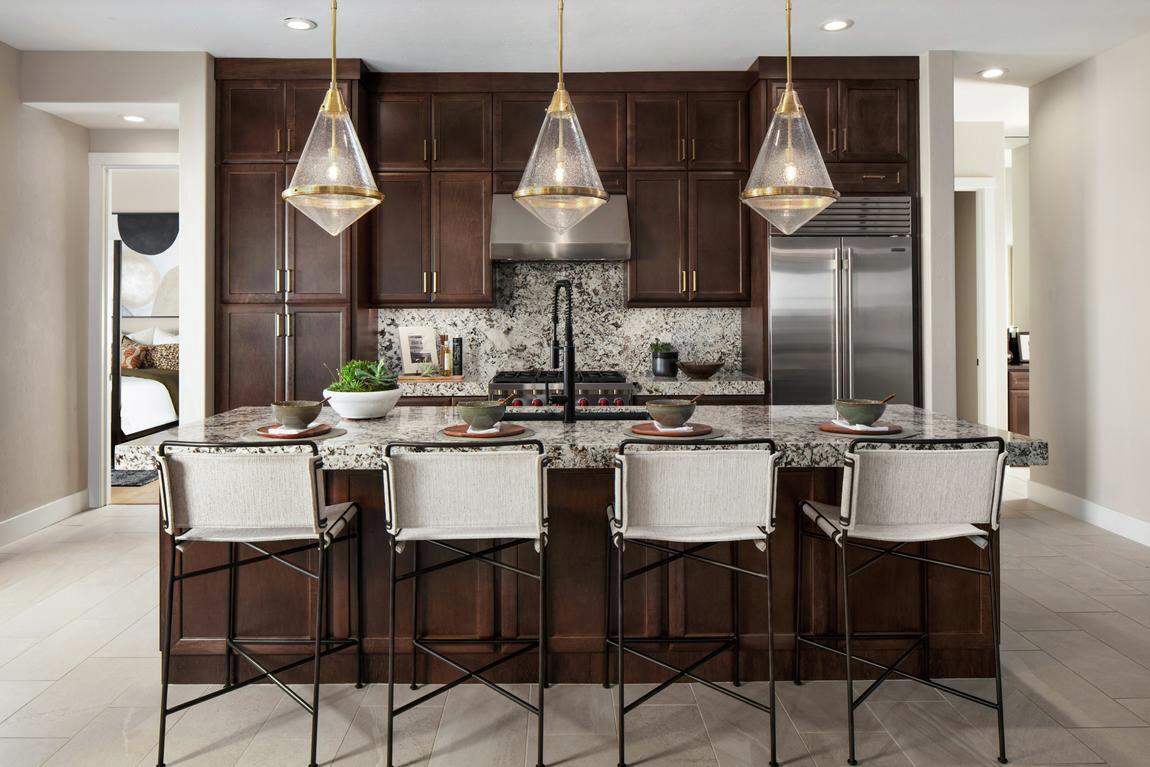 2. Find the right backsplash to pair with black, white, and other cabinet colors
Both darker and lighter cabinets offer you the opportunity to design a backsplash that contrasts or blends, so a good first decision may be what type of look you are going for, be it eye-catching or understated. In addition to black, we are seeing cabinets in other colors like sage green and navy blue making an appearance. Sometimes the cabinets are the star of the space and the backsplash is more complementary and functional. Or you can select a patterned tile that ties into the cabinet color and makes a bold statement overall.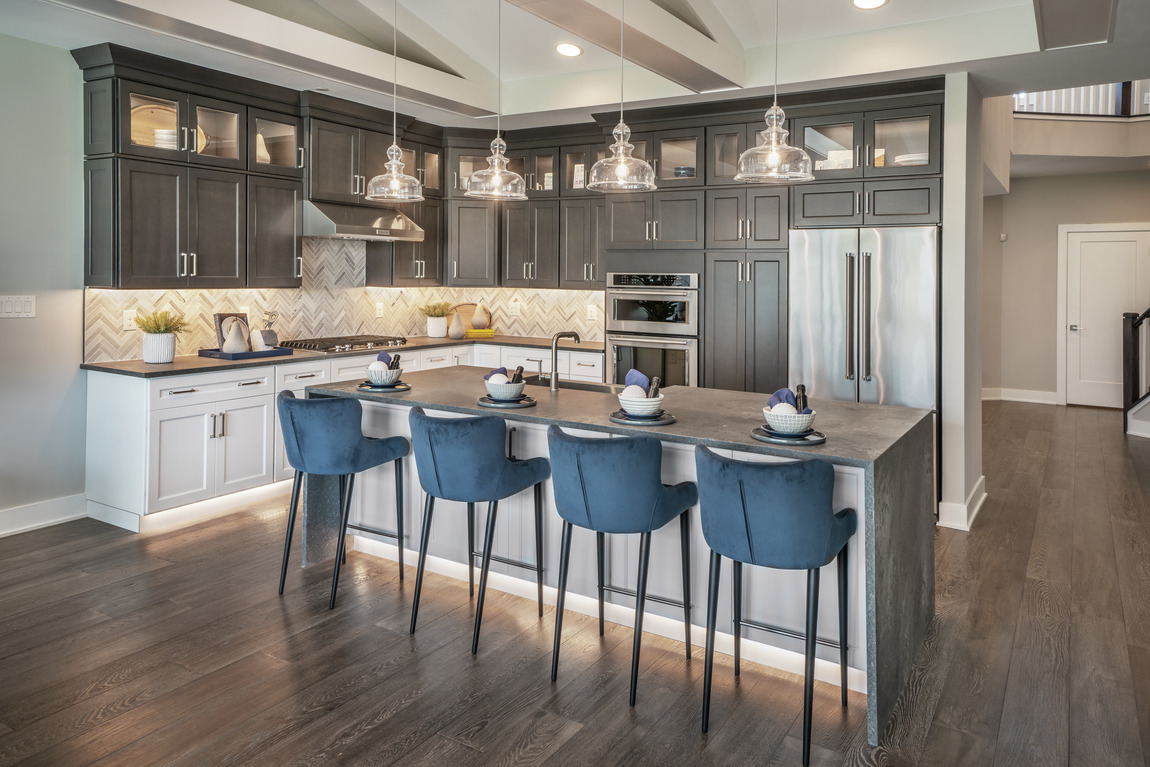 A popular choice that has stood the test of time is white subway tile, and it complements both dark and light cabinets. White cabinets provide a blank canvas and offer incredible flexibility when selecting which trend, color scheme, or style. Richly colored tiles or styles that offer a texture, pattern, or both offer a twist on standard subway tile and coordinate well with white cabinets. That does not mean you cannot include those same features when selecting dark cabinets. Rich-wood-toned cabinets are typically paired with a contrasting tile to brighten the space, but something within the color family of the cabinets works equally well. For example, black cabinets tend to marry well with tiles in the grey tones, while brown or earth tone cabinets marry well with warm beige tones.
3. Familiarize yourself with the various textures, shapes, and other backsplash details
Linear, subway, hexagons, and picket are all popular shapes. The texture on a backsplash can be a bit more work for cleaning purposes, but worth it. Mosaics with dimensional variation (high/low areas) can provide texture with easy maintenance. New technologies, such as grout-less stone mosaics, are making installation a breeze and provide new looks for backsplashes. In addition, we are seeing wall tile options with 3-D effects in the product or in the glaze, which adds interest.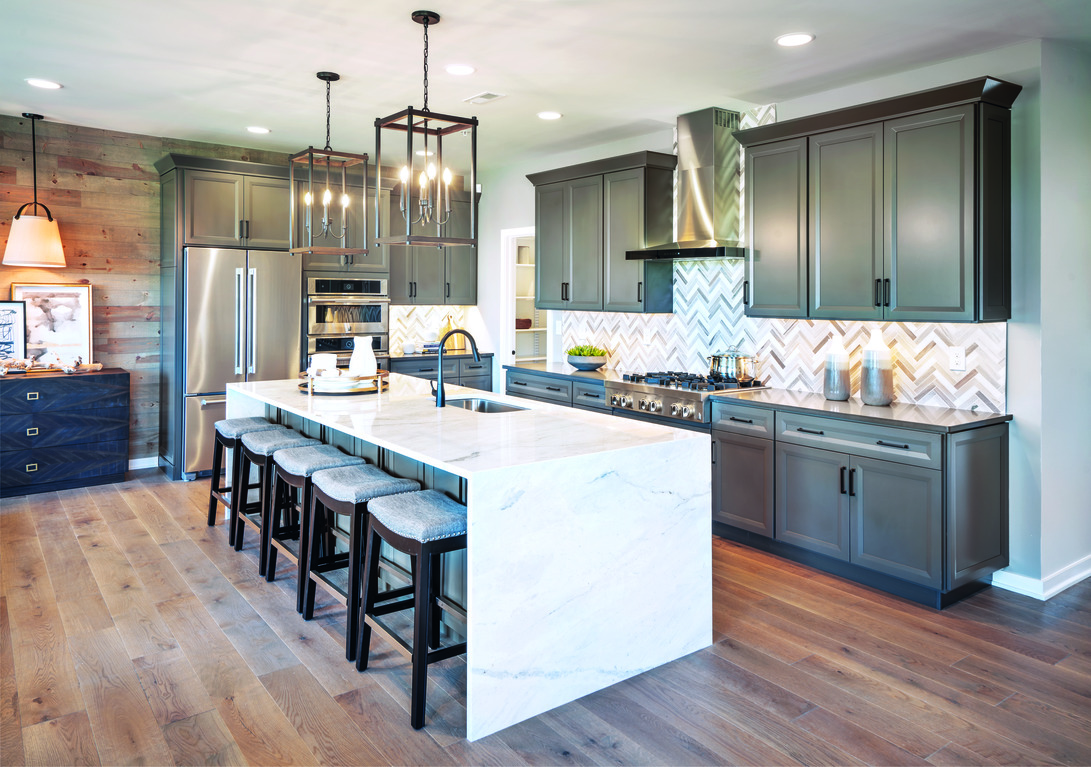 Another significant choice that will affect the look and feel of your space is the grout color you choose. It can either make the design or look more subtle and monochromatic or it can really highlight a unique shape to a tile. The contrast can also emphasize the geometric nature of tile vs. a more homogeneous look.
4. Be mindful of the kitchen cabinets
White cabinets provide a blank canvas to work with and offers flexibility when choosing a trend, color scheme, or style that suits you and your family. White cabinets are a stylish choice that brighten a space and can work with a modern or more traditional style, depending on the door style and profile. Dark cabinets are typically paired with a contrasting tile or something within the color family of the cabinets themselves, so if that color scheme and aesthetic resonates with you, darker cabinets may be your best bet.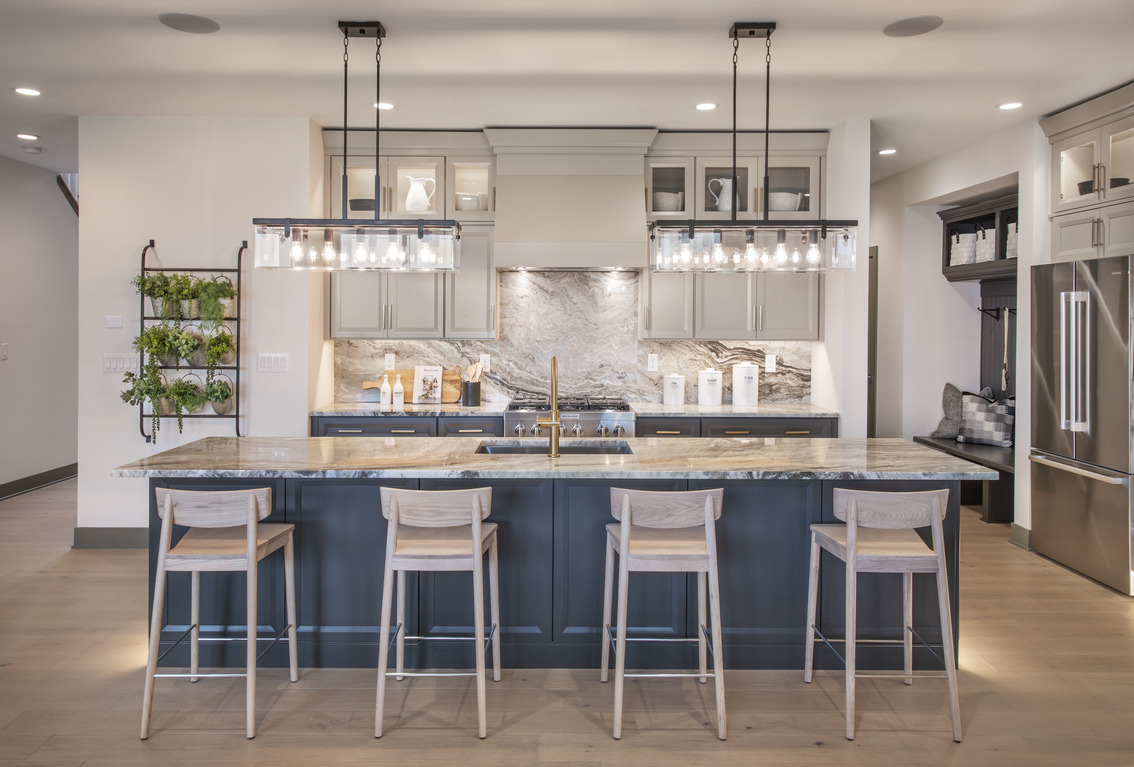 5. Go modern with your design
For a more modern look, staying with white, metals, and linear lines in natural stone or wall tile are great options. Combining shapes in shades of grey, white, or black will also help to create a modern look. We are also seeing the use of larger-format tiles for fewer grout lines to provide a more seamless, streamlined effect in modern kitchens.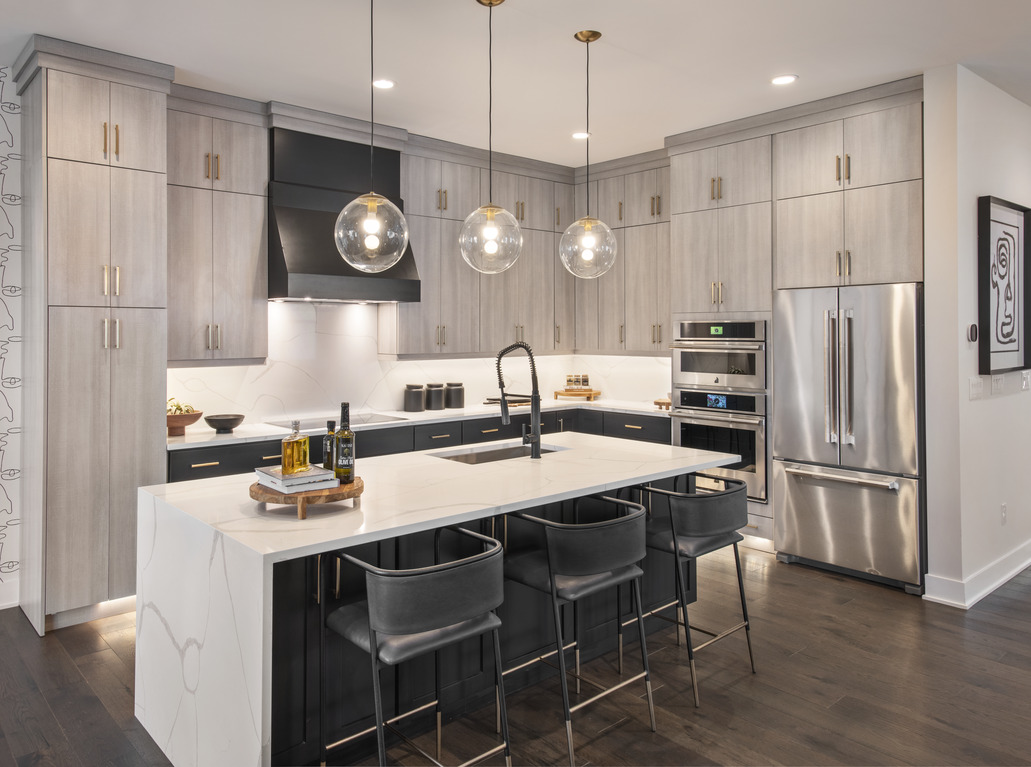 6. Stick with the ever-popular subway tile
We are seeing trends moving toward larger shapes and patterns such as herringbone or chevrons. We also see new twists on traditional subway tiles trending. Pops of color, in addition to perennial favorites white and grey, are becoming more popular. Colored tiles add character to the space and allow homeowners to express their creative side.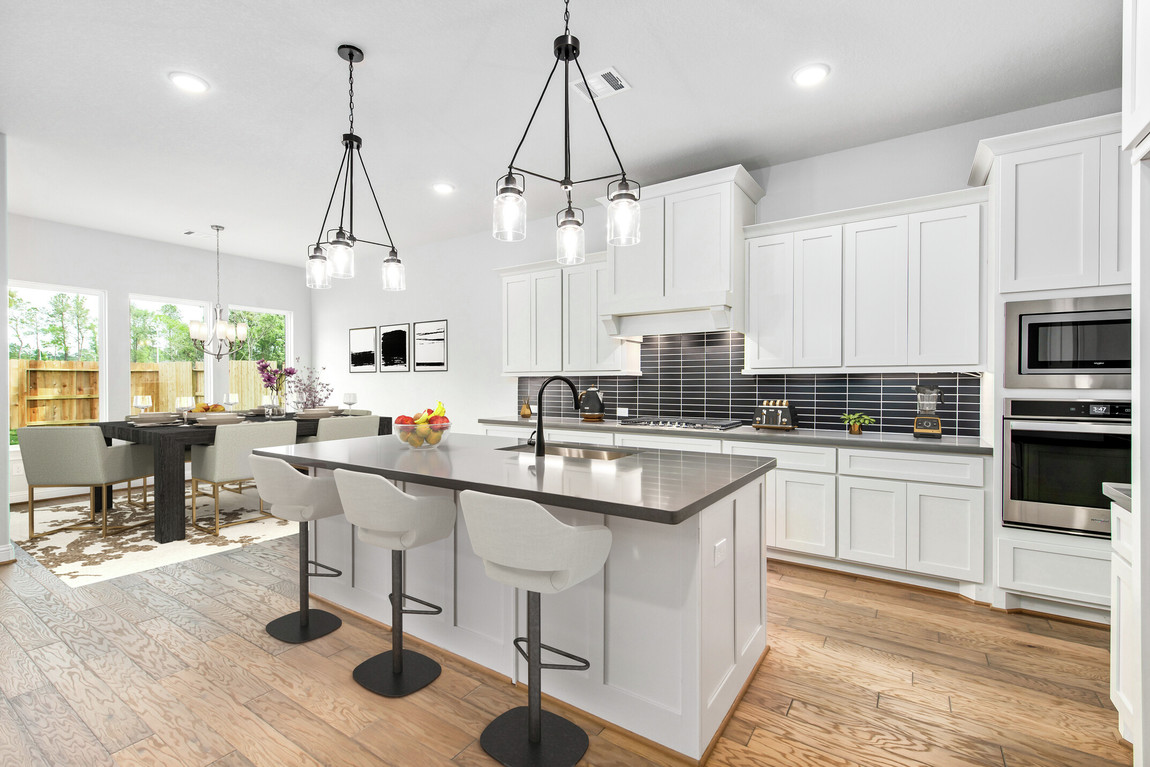 Mixed geometrics continue to do well. Today we see classic looks or previous trends being updated with new colors, textures, or slightly stylized modifications to give them new life. Consider selecting patterned pieces and combining them with solids to produce a unique and dynamic look that reflects individual personality.
7. Complete the luxury look with a white marble backsplash
White marble is the most commonly used material for those wanting to achieve a luxury look. These can be mixed with other materials or cut into unique modern or traditional shapes. Tiles that have an artisan or handmade quality also provide a unique and high-end look and feel in a kitchen.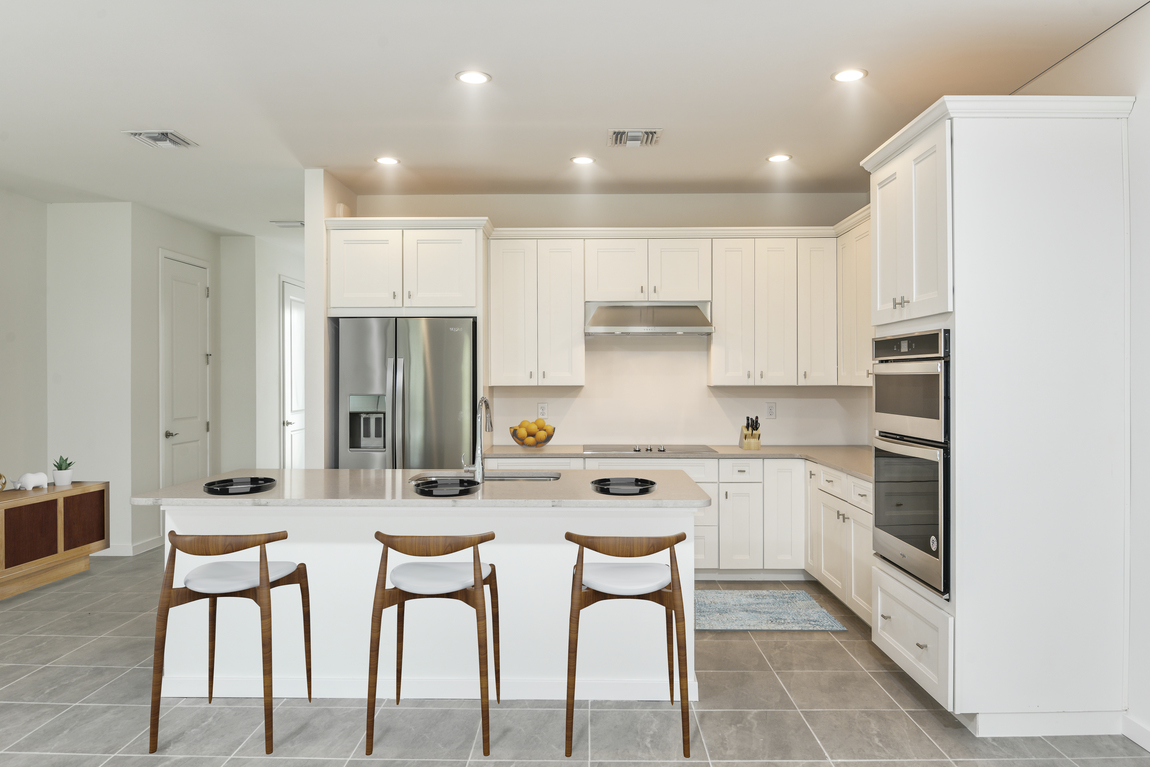 8. Commit to the backsplash color, shape, pattern, and price
The four main things to consider are color, shape, pattern, and price. The backsplash is one of the main focal points of a kitchen. Choose your style, color scheme, and price point and then shop with those factors in mind. Consider ease of cleaning as well. Textured tiles and natural stone can require more work, but the look and style may be worth a minimal amount of extra effort. Another tip is to search for kitchens you love on Pinterest and Houzz, as well as in magazines. Collect and save elements and backsplash ideas that you like, and over time you will see a theme emerge that will help direct your style.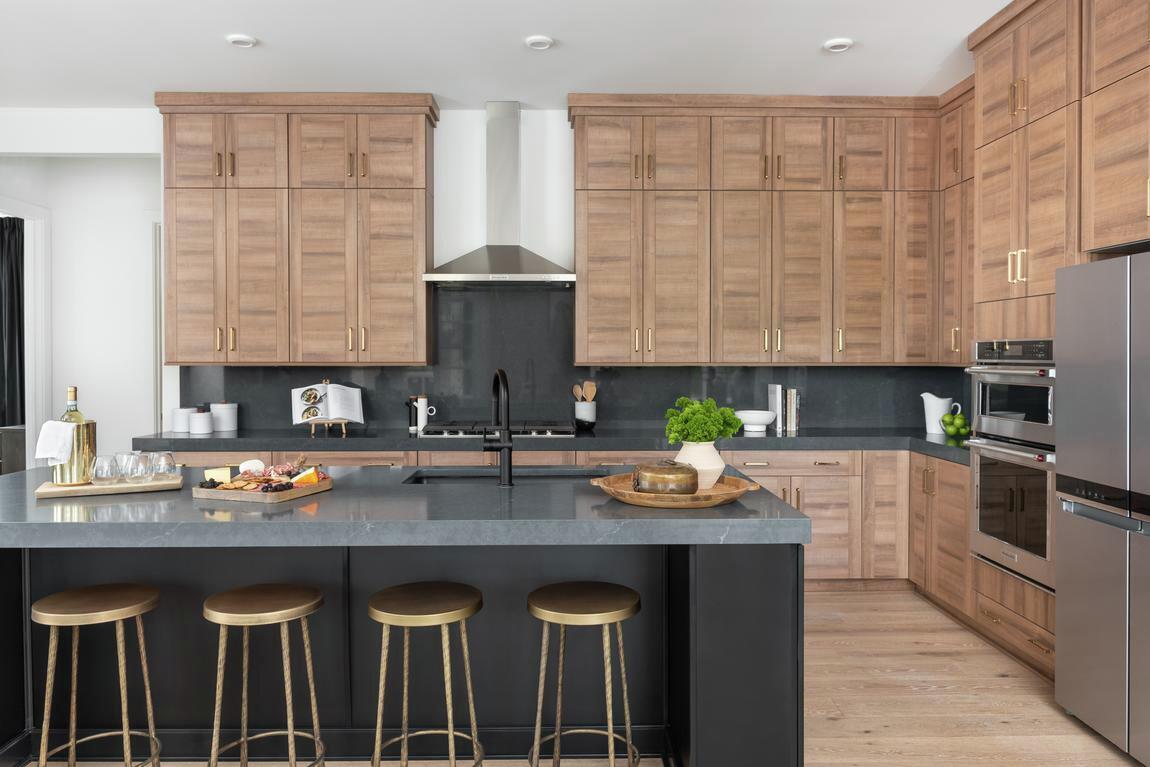 For more backsplash and luxury kitchen inspiration, visit our website.