Last updated on August 13th, 2020
Contemporary by definition means "existing or happening now," and the present interior design styles embrace the desire for simplicity. Contemporary home design is ever-changing to accommodate the shifting preferences, tastes, and needs of the people who live there. Let's take a look at five 2020 design trends gaining traction this new year.
Lifestyle Layouts: Creating a Social Space
In order to create a feeling of spaciousness, both contemporary and modern interior design styles adopt an open floor plan concept. For this concept, the kitchen frequently merges with the dining room or the great room with the kitchen. In today's world, people live more informally and want a home that truly focuses on how the family actually lives. Traditional furniture layouts are being challenged and replaced with unconventional, creative seating for today's active family lifestyles: back-to-back sectionals for multiple seating areas in a spacious great room, casual seating groups situated between the active kitchen and great room, and creative island designs to accommodate large entertaining.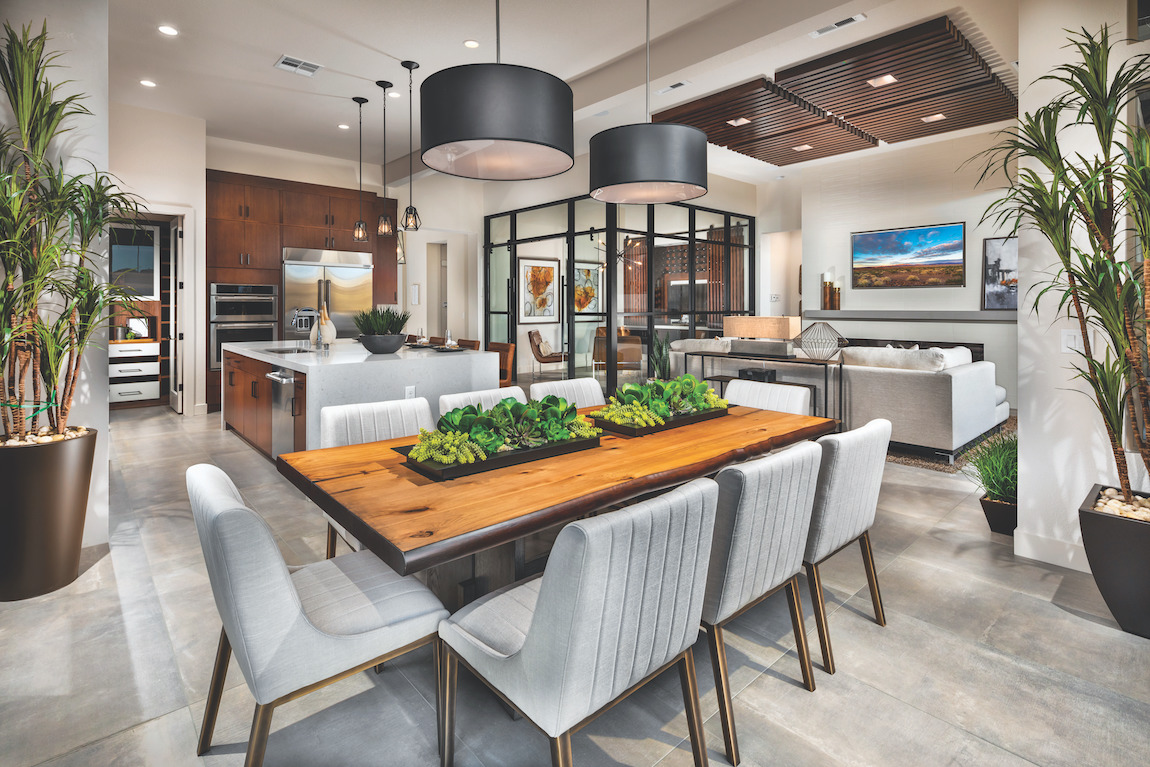 Architecture and Natural Elements
Design is an intrinsically collaborative process wherein architecture and interior design work harmoniously together. Meaningful interior design draws from and contributes to its architectural surroundings. There is a growing focus on texture within many 2020 design trends. The right combination of large format materials and natural elements applied in focal applications enhance the homes' modern architecture and add a layer of warmth and luxury. Elements include natural stone, patterned wood, marble, porcelain, concrete, steel, and other industrial-inspired elements. Natural materials used are an expression of a mode of thinking and feeling—an essential part of this modern age to feel connected to and in balance with our surroundings.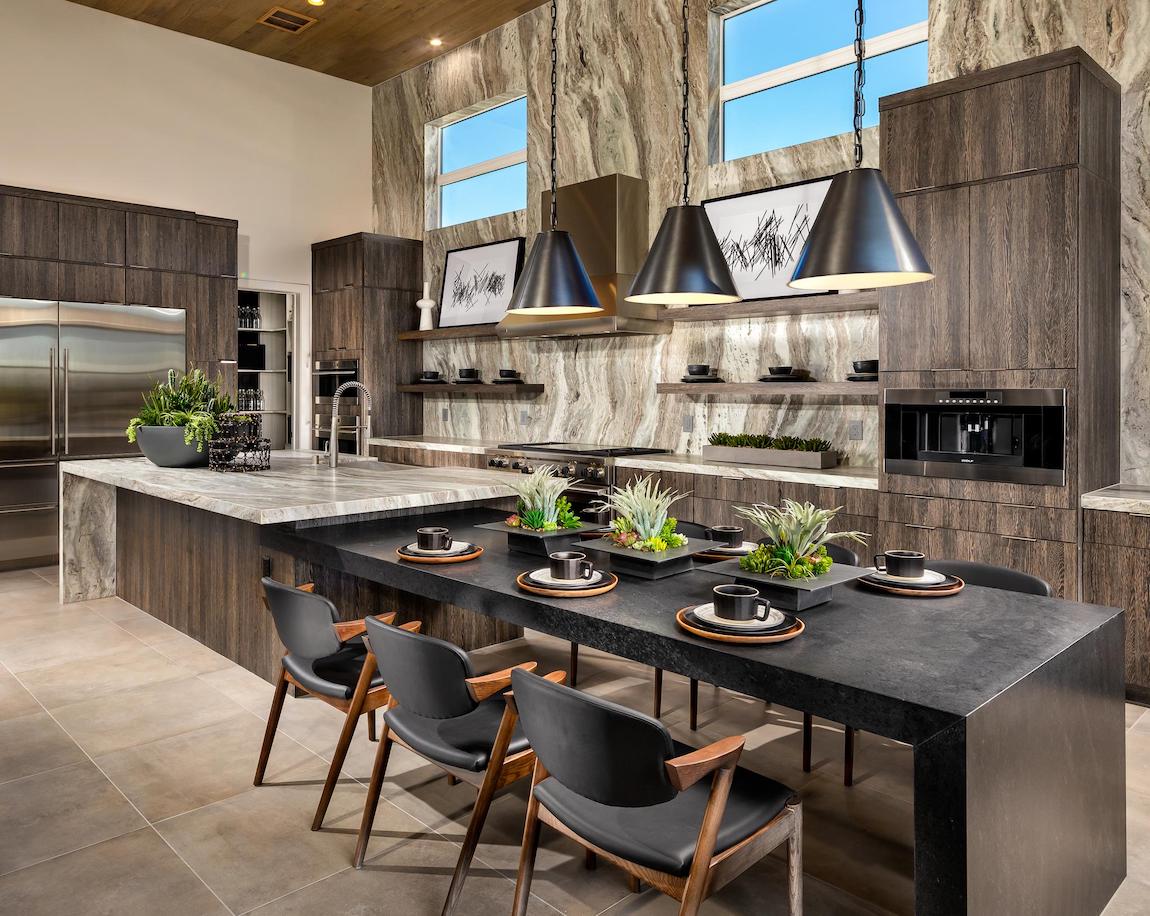 Sacred Spaces
Although we cannot deny that open floor plans give the feeling of spaciousness and offer communal experiences and socialization, we must also recognize that there are times when you need a sanctuary space. Luxurious primary baths and primary retreats are both sought-after private spaces to escape and relax. With features such as freestanding soaking tubs, double-sided fireplaces, and walk-in showers, primary suites are becoming personal in-home spas—a place to revive and renew.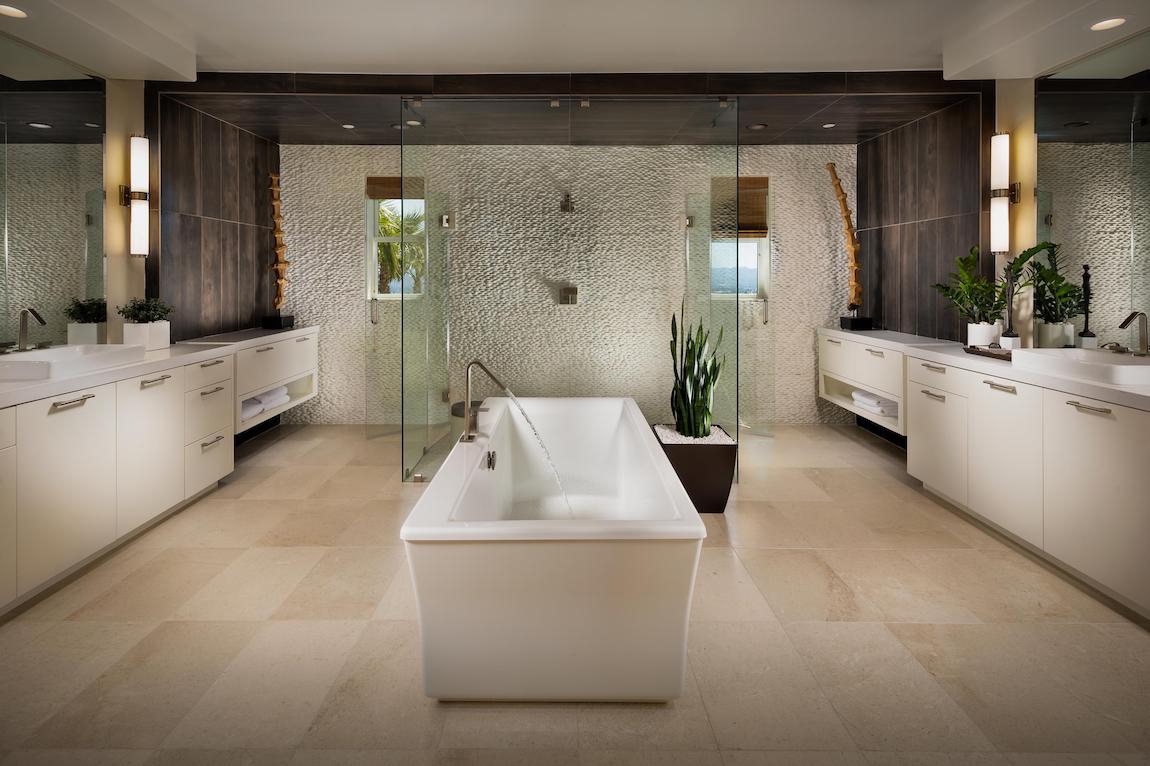 Blurring the Lines Between Indoor and Outdoor Living
We have embarked on a whole new level of lifestyle with the attention to detail in outdoor spaces and the connection to the interiors. This movement towards less formal spaces and large open concepts is achieved through the blending of floor and wall materials, the use of upscale outdoor furniture, decorative lighting, ceiling treatments, and lifestyle merchandising—pushing the boundaries and uniting the two worlds. Outdoor areas are outfitted with outdoor kitchens with stoves and grills, seating areas with fireplaces, outdoor games, and spa retreats, providing a creative way to extend the homeowner's living space.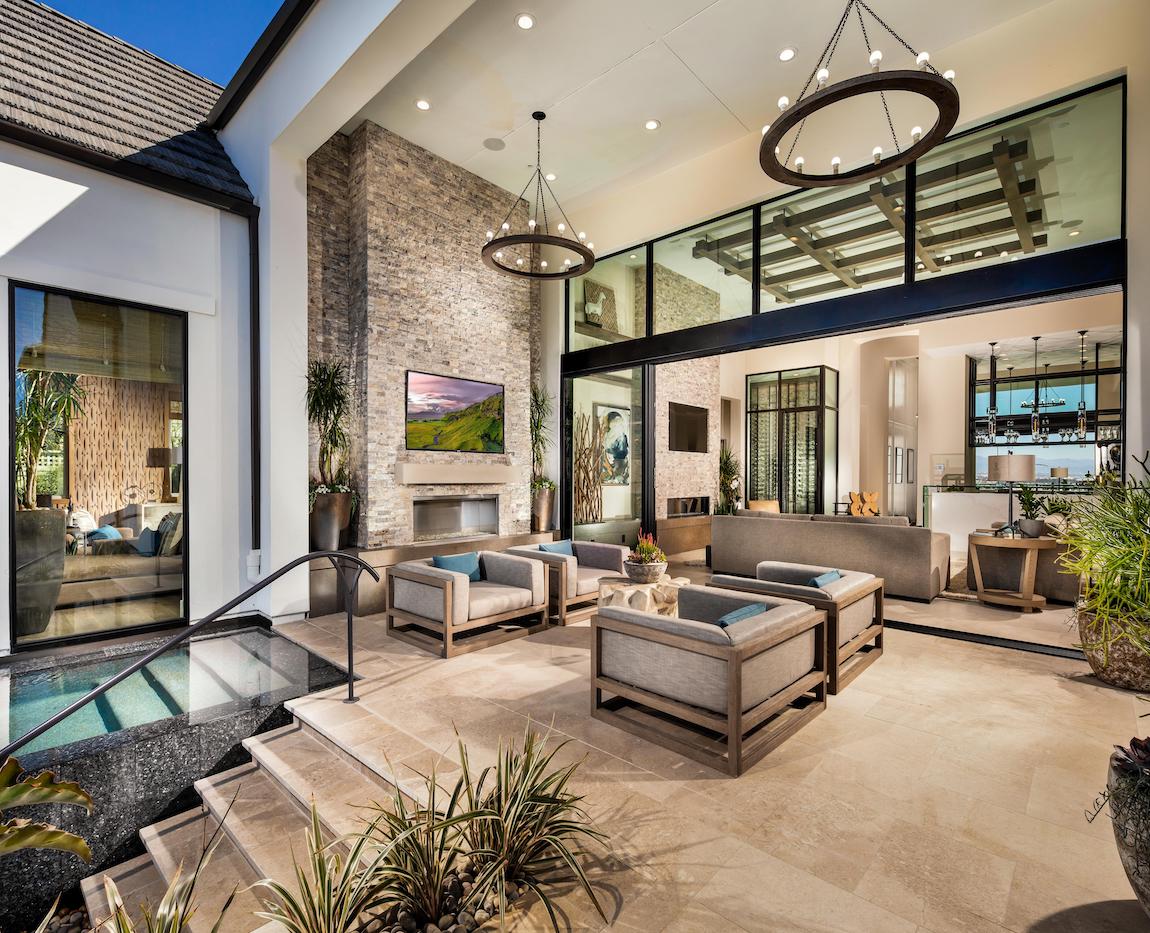 Celebrating Ultimate Entertaining
Although the disappearance of formal rooms has been a consistent trend, builders, architects, and interior designers are recently factoring in active functional elements like in-home bars and wine rooms to adapt to the homeowner's social needs, from a sit-down bar connecting the entry of the home to the living room to a walk-up bar in the center of activity or a dual-sided glass wine storage connecting two rooms. Modern bars are gaining momentum and offer the ability for a whole new level of entertaining.
We use our homes to make purposeful and deliberate statements about ourselves designed to reflect our attitudes, goals, values, and priorities. As our priorities and family dynamics change, what we want from our spaces change. There is a reason why home is so important to us. It reflects important milestones in our lives. It is the place we relax, enjoy our family and friends—an indication of what we value. Use these fresh 2020 design trends to create a home that you value and view as a reflection of your personal taste.
*Michele Coseo, co-founder and Creative Director of Savannah Design Group, contributed to this story.