Home is more important than ever before. As people spend more time in their homes – everyday and during the holidays – they are rethinking how they are using their spaces.
Homes with open floor plans, versatile lofts or basements, and flexible rooms offer the space to make the most of every moment. Whether you're looking to cozy up on a quiet night or preparing to host the party of the year, the following tips will help you take advantage of all the spaces in your home and keep it organized for every day and every occasion.
Enjoy the Benefits of an Open Floor Plan
Choosing an open floor plan for your home comes with obvious advantages, including grand visuals like two-story foyers and abundant natural light. But perhaps most important of all, an open floor plan provides the connectivity to spend more time with family in a central area or easily host guests for both small and large get-togethers.
For everyday, kitchens with waterfall islands that open into a casual dining area or expansive great room create an ideal space for simultaneous activities, such as the kids working on homework while the parents make dinner. At the holidays, this same location provides the quintessential spot to prepare, serve, and entertain at the same time.
Beyond the kitchen, floor-to-ceiling multi-panel glass doors seamlessly create the perfect opportunity for festivities to flow from indoors to out and back without missing a beat. Second-floor lofts with an overlook to the downstairs offer a separate space, ideal for work, school, gift wrapping, or even game nights, that still feels connected with the rest of the home or party.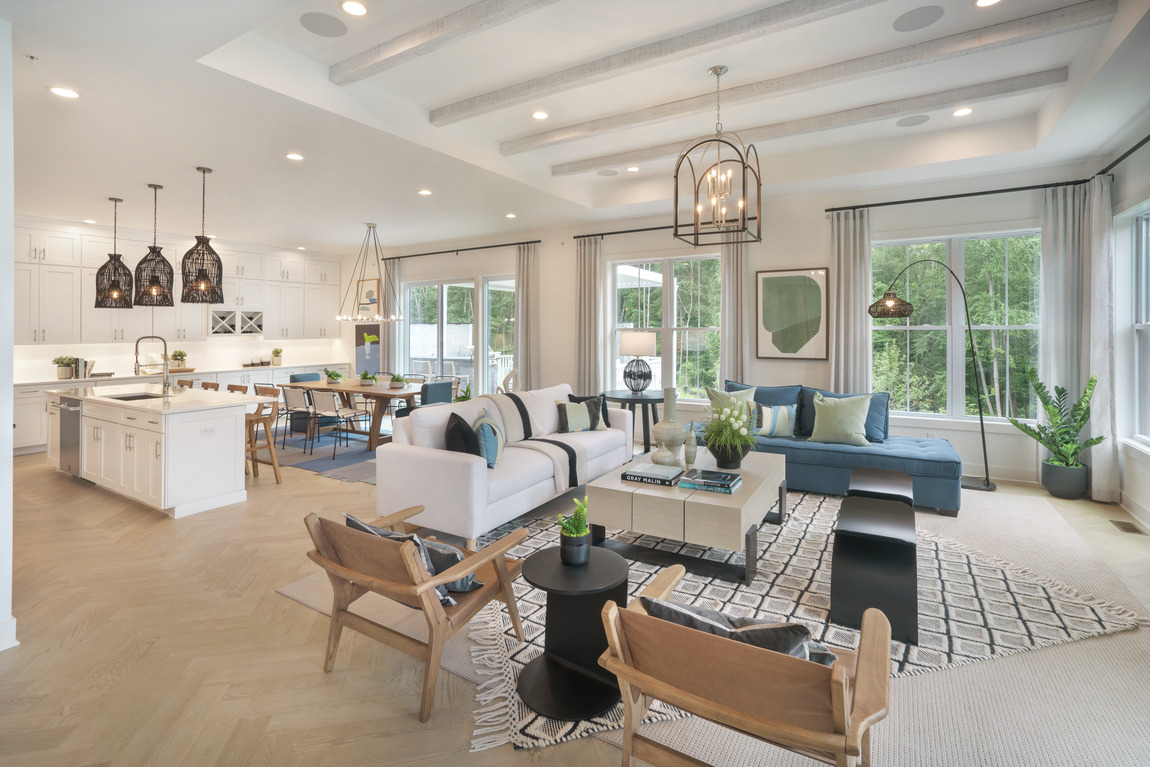 Configure Furniture Placement for the Ideal Flow
There is no question your main living spaces, such as the great room or kitchen, tend to get the most traffic in both everyday life and when entertaining. In these spaces, it's important to consider both aesthetics and function.
When it comes to furniture placement, consider foot traffic patterns and allow for ease of movement throughout. Create symmetry by choosing furniture that doesn't overcrowd the space and complements a primary focal point, such as the fireplace in your living room or the island in your kitchen. If you're hosting a large event, this allows guests to move about freely and you, as the host, to feel engaged with all your guests at once. Plus, you'll have the space to add accent furniture pieces that create small vignettes for more intimate conversation.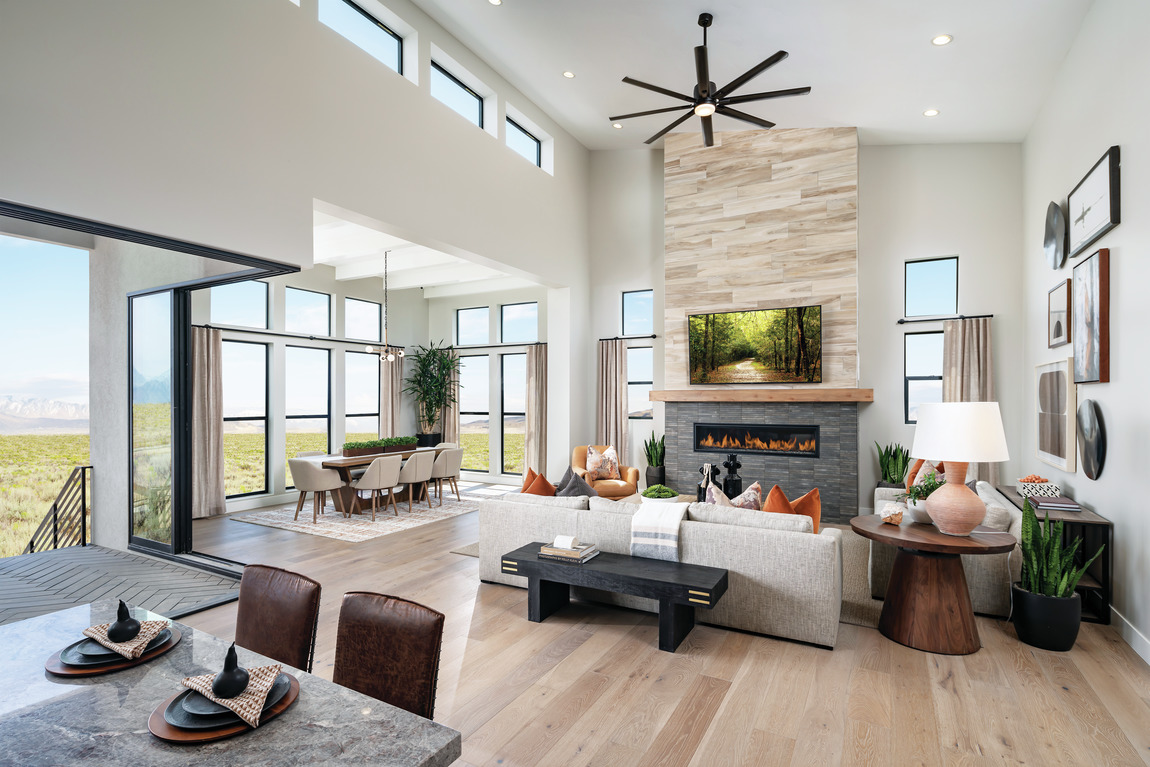 Incorporate Ample Storage Options for an Organized Home
The recent trend toward minimalism has many homeowners embracing the many built-in storage options available in new home design.
Stacked cabinets in the kitchen create the perfect combination of storage and aesthetics. Choose clear or frosted glass doors with interior lights to showcase some of your favorite accent pieces and solid doors around the perimeter to store holiday decor that may only be used once a year. This frees up your easy-access storage spaces like walk-in pantries and linen closets.
Reducing quantity in favor of quality means more time and energy to focus on the things you love most. Donate books you've already read to create breathable space on your shelves. Fill your closet with timeless pieces and empty it of those that feel outdated. Declare a dedicated space for drop items like keys, mail, and shoes. This will reduce disarray and keep spaces clean, especially when unexpected guests drop by around the holidays.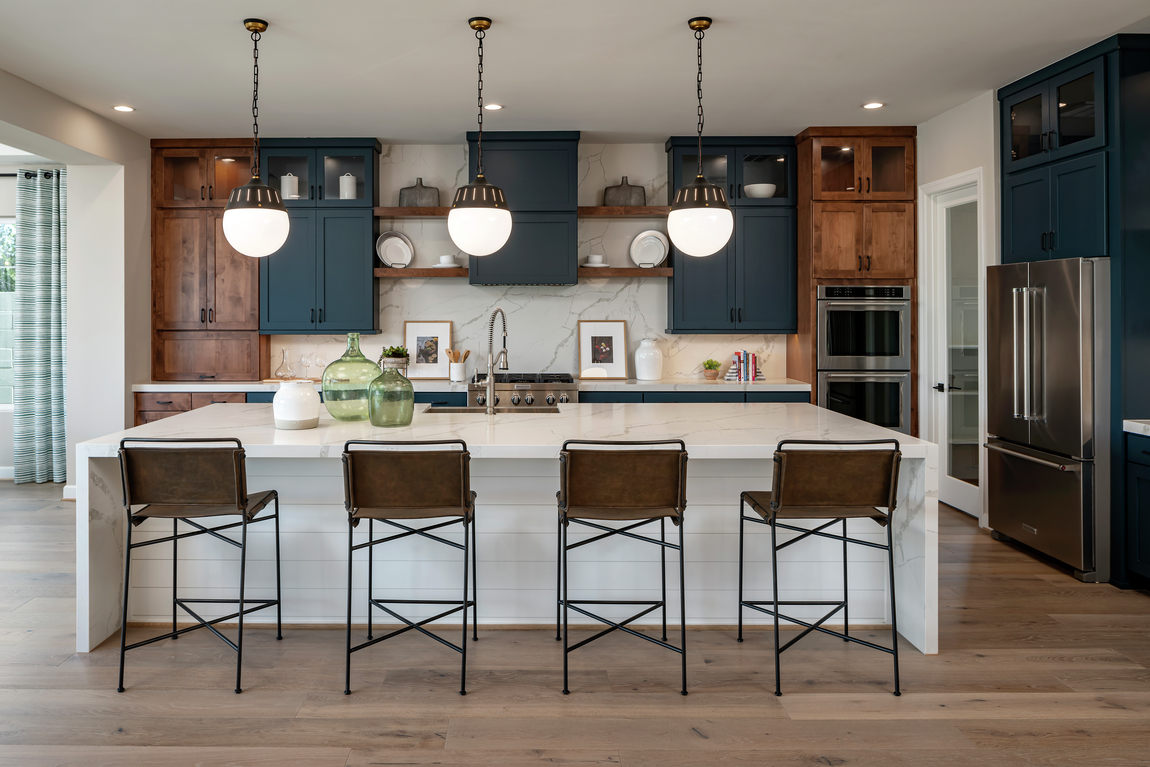 Rethink How to Use Your Rooms and Flex Space
One of the greatest advantages of building a new home is the opportunity to design your home to fit your lifestyle and not the other way around. Formal dining rooms are no longer considered a necessity, while dual home offices and multi-generational living suites are a must-have for some home buyers. A new construction home can allow you to create the space that best suits you.
Flex spaces have become a major focal point in home design, and the ways in which people use them are personal. Our Toll Brothers Design Studio Consultants reach out prior to your appointment to learn how you want to live in your space so that we can help make it perfect for exactly how you plan to use it—from color to organization, and even electrical options.
Flex rooms are used in a variety of ways by homeowners. Some choose to dedicate a room to their favorite hobbies like reading, yoga, painting, or crafting, while others may create a massive room-sized closet, home theatre, or home gym. During the holiday season, a flex room may be entirely dedicated to party planning and gift wrapping. These rooms can often become one of the favorite spaces in the home because the possibilities are truly limitless.